If you're fortunate enough to have a job that you can do from home, you've no doubt gotten very used to video conferencing in the past several weeks. Unlike TP, there is no shortage of web conferencing software options, though many organizations now use Zoom to conduct meetings, interviews, classes, church services, and more.
If you don't use Zoom, you've probably heard about it in the news thanks to recent discoveries of its security issues. Zoom is taking swift actions to fix these, but if it's looking like video calls will be part of your daily workflow for any extended period of time — and it does — it might be worth exploring other options, like Skype from Microsoft.
Keep reading for our detailed comparison of Zoom vs. Skype, or save yourself some time by using our Web Conferencing Software Buyers Guide to get a free list of video conferencing software recommendations based on your needs.
Overview of Zoom vs. Skype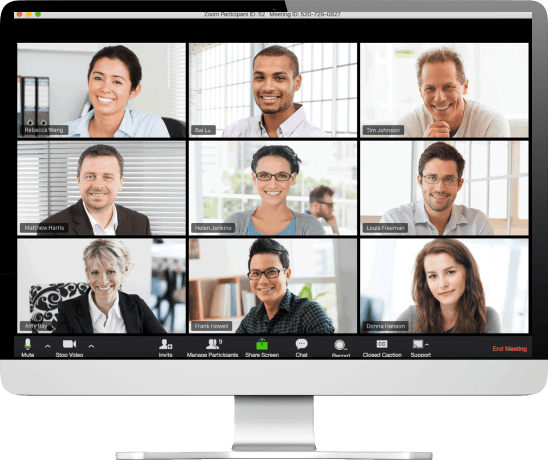 Zoom is a relative newcomer to the video conferencing market, but in the short time that it's been around, it has soared in popularity. According to CNN, Zoom was the most downloaded app on the Apple AppStore in March 2020, with tens of thousands of people turning to the app to stay connected with friends, family, and colleagues during the COVID-19 pandemic.
Proponents of the software praise its stable, high-quality video calling, ease of use, and integrations with popular apps like Google Calendar, Microsoft Outlook, and Apple iCal. Eric Yuan — former VP of engineering at rival Webex — founded Zoom in 2011 and took the profitable unicorn public on the Nasdaq in 2019.
Also read: Webex vs. GoToMeeting: A Virtual Conferencing Software Comparison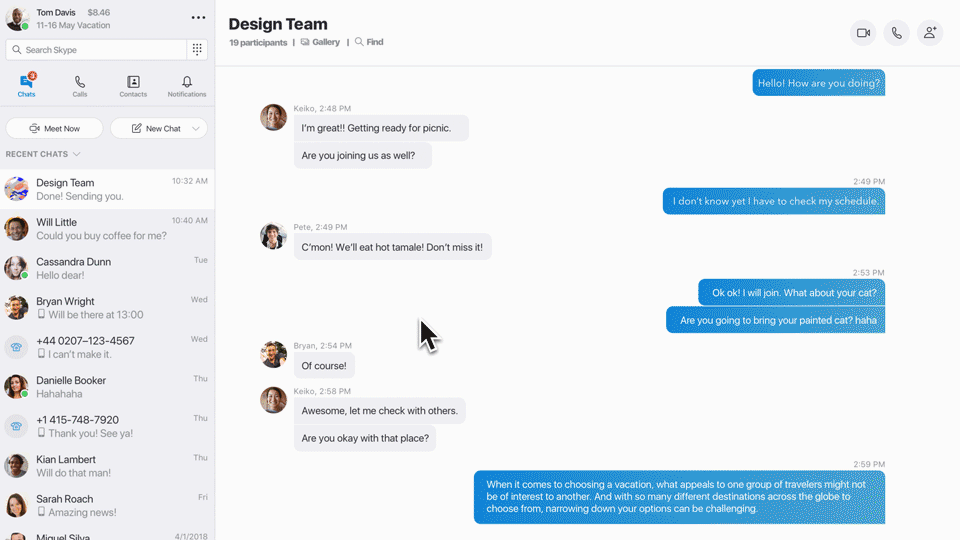 By contrast, you may have thought of Skype as little more than a precursor to Apple's FaceTime. But Skype can do so much more than video calling, and it's not strictly limited to Apple devices. Originally released in 2003, Skype started out as a way to send instant messages and make video and audio calls over the internet, mostly for personal use.
However, many businesses around the world use Skype today for their video conferencing needs, citing pros that include quality, simplicity, advanced features, and native integration with Microsoft apps.
Major features
In terms of core features, Zoom and Skype offer very similar products. Both apps include these basic capabilities:
Video conferencing
Digital audio calling
Instant messaging
Screen sharing
Call recordings and transcripts
Virtual/blurred backgrounds
Most of the important distinctions lie in call length and participant limits, special features, and security.
Call length and participant limits
Depending on which plan you go with, Zoom imposes limits on video call length and number of participants. For free users, you can host group meetings for up to 40 minutes with up to 100 participants. It's important to note that the 40 minute limit only applies to calls with three participants or more — Zoom offers unlimited one-on-one calls for its Basic plan users.
For its free users, Skype offers unlimited calls for up to 50 people. This includes calls with three or more people, making Skype a perfectly suitable option for business meetings involving multiple stakeholders. Just like Zoom, the free version of Skype also includes screen sharing, file sharing, and call recordings.
Special features
Both Zoom and Skype come packed with additional features that make them much more than video calling tools. Many of these features are only available in Zoom if you pay extra, but the free plan also comes with some noteworthy features, like whiteboarding and instant meetings. It's true that Skype also supports instant meetings, but at the time of publishing, this is a very recent feature that seems to be a response to the massive demand increase for video conferencing software.
Additional special features in Zoom include:
Advanced user management and admin control tools
Option to boot users from calls (Pro plan and above)
Disable video call encryption
Chat
Notifications
You can also pay for add-ons, like extra cloud storage for call recordings, a Call Me feature for starting meetings automatically at their scheduled times, and toll-free meeting numbers so people can audio call into meetings from a landline or cell phone.
You'll find most of the special features in Skype in Microsoft Teams, formerly known as Skype for Business. But even the free version of Skype comes with cool features like free cloud storage for recorded video calls and live video transcription. The live transcription feature in Skype will even translate calls in real time, essentially adding subtitles to Skype calls as they're happening. The translation feature supports 10 languages for video conferencing and up to 60 languages for chat.
You can also buy credits or start a subscription to make Skype audio calls to landline or mobile phones, and you can purchase local telephone numbers and assign them to your Skype account.
Security
Security is a hot topic for Zoom right now, but the company deserves some credit for how quickly it's responded to the public scrutiny of its security issues. Zoom recently:
Added password protection to all meetings
Gave users the option to create waiting rooms in an attempt to prevent Zoombombing
Hired a former Facebook chief of security as an outside security counsel
Formed a council for recommending security best-practices
Controversy over the company's encryption claims persists after The Intercept reported on March 31 that Zoom doesn't actually support end-to-end encryption as advertised, only transport encryption.
By contrast, Skype does support end-to-end encryption, unless you call into a Skype call from a phone. As long as you're communicating from Skype to Skype, your video calls, audio calls, and chat messages are encrypted using 256-bit Advanced Encryption Standard (AES) encryption. Like Zoom, you can also create instant meetings in Skype by generating a meeting link, but at the time of publication, Skype does not let you password protect meeting links.
Supported platforms
Zoom definitely has a leg up on Skype when it comes to integrations. These include popular social collaboration tools like Slack, HipChat, and, yes, Microsoft Teams. You can download desktop applications for Mac, Windows, and Linux, and you can download a Zoom browser extension for Firefox, Google Chrome, and Safari. Zoom also integrates with Outlook, Google Calendar, and iCal for easy access to meeting links.
Skype also offers applications for Mac, Windows, and Linux with additional apps for Xbox One and Amazon Echo. For instant meetings, its web client currently only works on Chrome and Microsoft Edge. This is only a problem if the person you're meeting with doesn't have the Skype app, Chrome, or Microsoft Edge, but it does exclude Firefox and Safari users.
Which video conferencing tool is right for you?
Choosing between Zoom and Skype isn't as straightforward as it may seem, but these aren't your only options. Use our Product Selection Tool to get a free list of the best video conferencing software for your business. We'll ask a few questions to learn more about your needs and then match you with five vendors we think you'll love. Getting your recommendations is free and takes five minutes or less.
Technology Advice is able to offer
our services
for free because some vendors may pay us for web traffic or other sales opportunities. Our mission is to help technology buyers make better purchasing decisions, so we provide you with information for all vendors — even those that don't pay us.