Kanban is a popular visual methodology for project management. Its fundamental principles center on transparency and limiting how much work is performed at any moment. And much like other strategies such as Scrum and Agile, creativity and flexibility are crucial.
Although Kanban is a favorite among high-tech businesses, its history dates back to the 1940s. At the time, the methodology was invented to optimize production at Toyota automobile factories in Japan. In fact, the Japanese word "kanban" roughly translates to "signboard," which reflects the methodology's highly visual approach.
Let's learn more and discover if Kanban is right for you.
What does Kanban involve?
Kanban pulls concepts from both Lean and Agile. It revolves around a visual tool called the "Kanban board." This aid organizes tasks by status, such as "In Progress" or "Complete." Think of it like a Plinko board from The Price is Right, with tasks getting dropped into vertical columns.
Teams frequently use software to manage a digital Kanban board—some example titles include Jira, Trello, and Asana. But if you prefer a classic approach, a classic chalkboard is an option.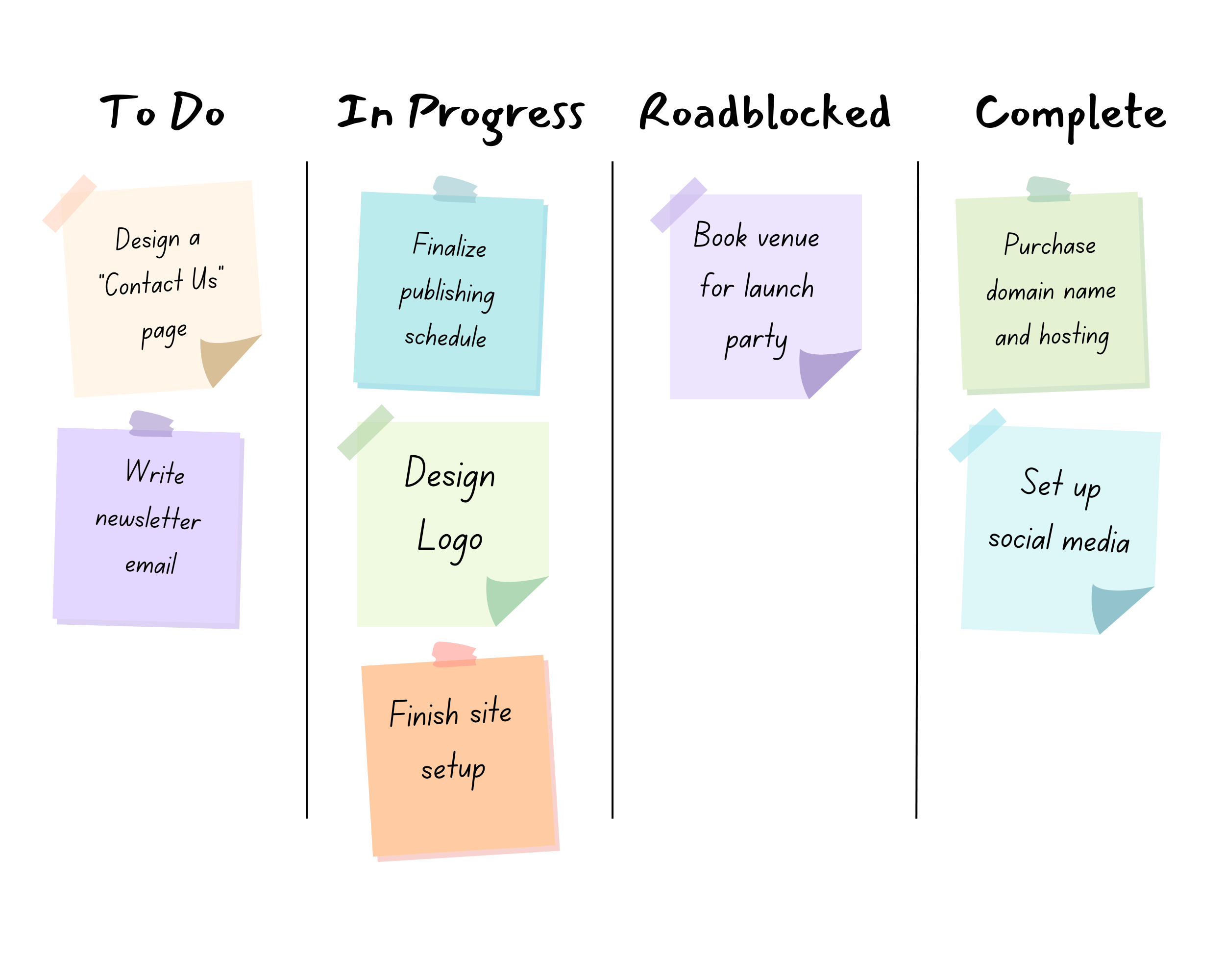 Keep in mind that a cluttered board harms efficiency. Less is better when it comes to a tidy, easy-to-read project roadmap. So, stay mindful of how many items are on deck at once to ensure everything is clear.
Progressing in Kanban
Unlike Scrum and other methodologies, Kanban has no formal roles or milestones. Teams can maintain their existing hierarchies or grant everyone more autonomy per project.
Kanban is known for its "pulling" system of assigning work. Team members snag, or "pull," tasks from the to-do list only after completing a prior item. This system contrasts a "pushing" system that requires managers to dictate assignments regardless of in-progress items.
Once some work's done, you'll get together with workers and customers to yield feedback. Once your team completes this frank chat, you'll work on improvements before yet another collaborative meeting. This cycle is known as a "feedback loop."
When is Kanban ideal?
Unsurprisingly, teams loaded with visual learners are ideal matches for Kanban. And if your team pulls from a pool of unassigned tasks, like how an IT team pulls from a pool of tickets, then Kanban could be a good fit.
But you'll also need a team that's chock full of open-mindedness and creativity. That's because the methodology relies on feedback loops, meaning plans can change on-the-fly in response to people's feelings.
Kanban team members must also have trust and chemistry with one another. As mentioned above, there are no strict roles or predetermined ceremonies to serve as checks and balances. As a result, workers must police themselves.
Here are some other crucial characteristics of a successful Kanban team:
Receptive to constructive criticism: Feedback loops, known as "cadences," are part of Kanban. Honest discussion and improvement are critical to success.
Open-mindedness: Kanban thrives on outside-the-box solutions. Strict adherence to predetermined rules is not compatible.
Relaxed deadlines: The methodology encourages throttling work rather than overloading. Hence, projects may take more time.
Quality over quantity: Following the point above, Kanban's lax attitude about time favors creative, open-ended tasks versus repetitive, routine ones.
Smooth, well-oiled workflow: Since Kanban's inception in the 1940s, it's always focused on increasing efficiency and slashing waste. Disjointed teams, complicated processes, and excess red tape are incompatible.
Bottom line, Kanban emphasizes simplicity, efficiency, and constant adaptation to feedback.
When is Kanban not appropriate?
If you must adhere to rigid guidelines, then Kanban won't fly. This disqualification is due to the methodology's need for creative solutions and ever-changing priorities. As a result, if there's only one way to approach work, consider a different project management strategy.
Indeed, this need for flexibility means many industries won't qualify. For example, healthcare businesses under strict HIPAA guidelines are not ideal Kanban candidates.
What's more, businesses that operate under tight deadlines aren't ideal, either. As mentioned above, work assignments use a pull system that caps in-progress tasks. So if you regularly need your team to double-time it, Kanban is not for you.
Here are some other scenarios that will not mesh with Kanban:
Strict organizational chart: Kanban encourages transcending roles and centralized authority. Enforcing a rigid chain of command destroys this approach.
Large workloads: Teams accustomed to a seemingly endless slate of tasks will not succeed with Kanban's focus on limiting work and keeping things simple.
Lack of transparency: Workers are charged with clearly communicating their tasks without formal roles and mandatory meetings. As a result, transparency is fundamental.
Rigid guidelines: If there's only one way to make your product, your team won't survive the numerous feedback cycles and improvisation involved in Kanban.
Don't worry if Kanban isn't suitable for you. Some alternatives, like Scrum or Waterfall, involve more formal, unyielding guidelines. Meanwhile, other strategies, such as the adaptive project framework (APF) methodology, double down on flexibility and add other perks.
Give Kanban a try
If your team is chock full of visual learners that crave autonomy, then Kanban is a superb choice. Remember, you'll need to illustrate work via a Kanban board constantly. Plus, you must feel comfortable without strict roles and meeting schedules (Kanban mandates neither).
Ultimately, Kanban's comparatively lenient approach isn't for everyone. Consider that many people using Scrum switch to Scrumban as an easy way to adopt some Kanban principles. So if you're not ready to tackle Kanban fully, consider this hybrid option.
Kanban FAQ
1

monday.com
monday.com Work OS is the project management software that helps you and your team plan, execute, and track projects and workflows in one collaborative space. Manage everything from simple to complex projects more efficiently with the help of visual boards, 200+ ready-made templates, clever no-code automations, and easy integrations. In addition, custom dashboards simplify reporting, so you can evaluate your progress and make data-driven decisions.
2

Rocketlane
Rocketlane is purpose-built to run customer facing projects. It uniquely ties project management, document collaboration, and communication to help teams hit their project goals, accelerate time-to-value, and elevate the customer experience.
3

Wrike
Wrike is the ultimate solution for managing projects.
Discover the power of Wrike's award-winning project management software. Maximize productivity using Gantt charts, Kanban boards, and calendars. Streamline resource allocation, drive team alignment, and enhance forecasting. Benefit from AI-driven automation to save time on admin. Deliver impressive results, hit deadlines, and stay within budgets while elevating your team's performance.
Technology Advice is able to offer
our services
for free because some vendors may pay us for web traffic or other sales opportunities. Our mission is to help technology buyers make better purchasing decisions, so we provide you with information for all vendors — even those that don't pay us.