Key takeaways
Trello is a popular project management tool that uses simple kanban boards to keep you organized.
If you need more functionality and insight from your project management tool, you might also consider monday.com, Asana, Basecamp, Wrike, Microsoft Planner, or Smartsheet.
People use Trello for everything from agile software development to managing content calendars to planning weddings. Trello is fantastic for straightforward, ongoing projects, but for larger, more complex projects, it can be difficult and frustrating to use.
Fortunately, the project management software market is bursting at the seams with great tools, so if your needs have evolved beyond what Trello can accommodate, you have options.
To give you a place to start, we've put together a list of six Trello alternatives. Without further ado, let's get into it.
Why Trello may not be right for your business
Trello, in many cases, is an excellent tool for many project managers, but it may not be perfect for everyone. Trello is a lightweight solution for assigning and managing tasks across teams, and it works particularly well for remote offices by creating cards that have a sense of physicality to them.
However, Trello falls short for businesses and projects that run information-rich tasks because Trello's kanban cards are not designed to hold a massive amount of information. You can expand the cards to look at additional details not on the card face, but if you're doing that all the time, then it's not the most efficient fit for your needs.
Read Also: Top 5 Project Management Software & Tools for 2023
Trello's scheduling features are also suitable to lean operations, so once a team requires task dependencies or communication between multiple teams, Trello begins to strain. Trello has lots of add-ons, or "power-ups," but if you find you're relying quite a bit on power-ups, you probably need a stronger option with those features already built in.
While Trello may struggle under heavy burdens alone, it still acts as an excellent supplemental piece to a project management system. We've pulled together a list of some more robust project management solutions that will pick up the slack that Trello may leave behind.
monday.com is best for cross-team collaboration.
Asana is best for simplifying complex projects.
Basecamp is best for centralizing project info.
Wrike is best for digital marketing and media teams.
Microsoft Planner is best for simple visual task management.
Smartsheet is best for multi-project tracking.
Top Trello alternatives
monday.com: Best for cross-team collaboration
monday.com is a project management software solution that provides a higher degree of flexibility over Trello. While Trello's board creation is straightforward and streamlined, monday.com offers a similarly low bar to entry. Project boards can be categorized however a project manager sees fit and further customized down to a personal level by team members.
Why choose monday.com over Trello
Trello and monday.com both offer a high-level overview of workloads for both internal and external stakeholders, though monday.com's default is a list view where Trello's is a kanban view. But monday.com offers more customization so your team can better tailor their workspace to fit their needs.
monday.com can filter and sort your tasks however you need—and you can save those filtered options in a personalized view that pulls from the team's main board. So anyone can return to a view of their own tasks with a click of a button. You can also hide fields within those personalized views to keep things simpler as you move through tasks.
Asana: Best for simplifying complex projects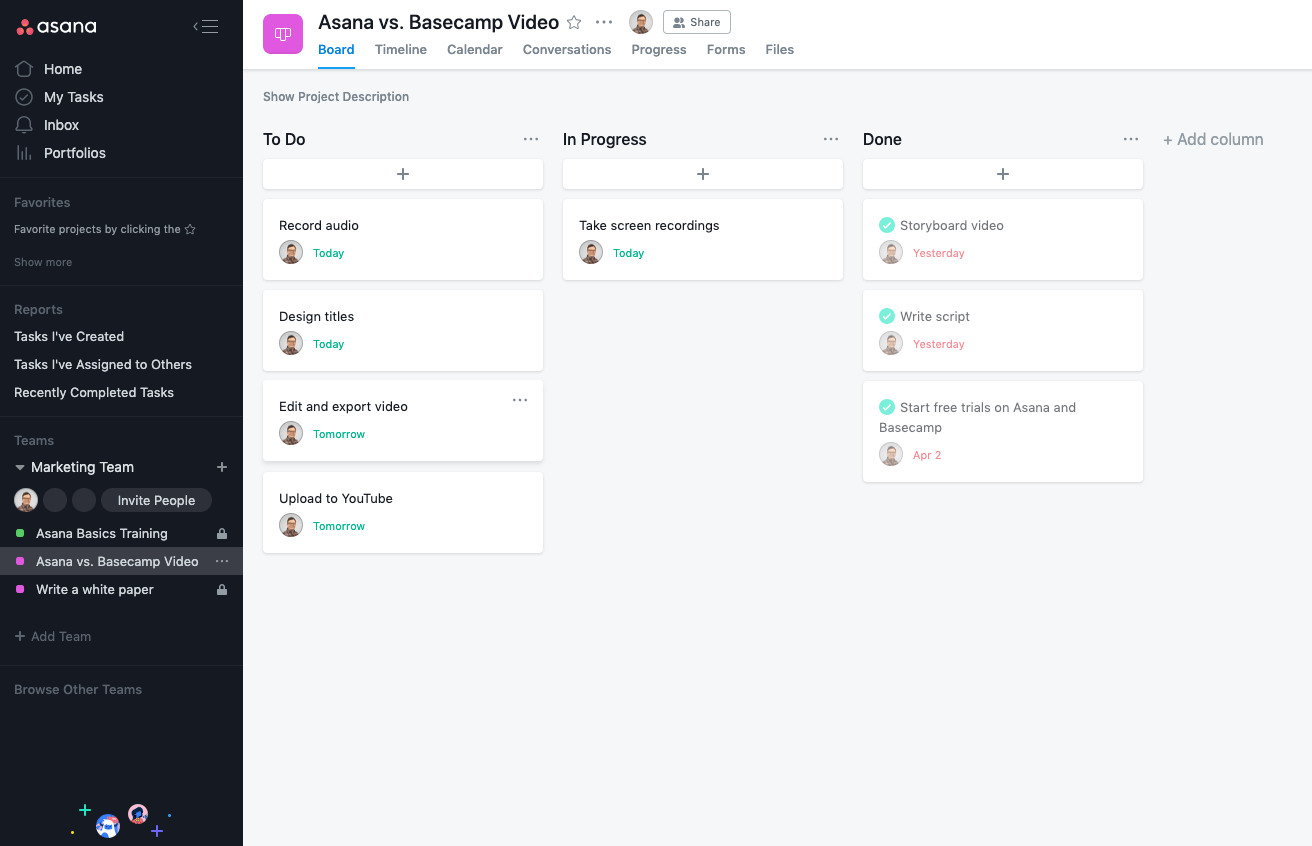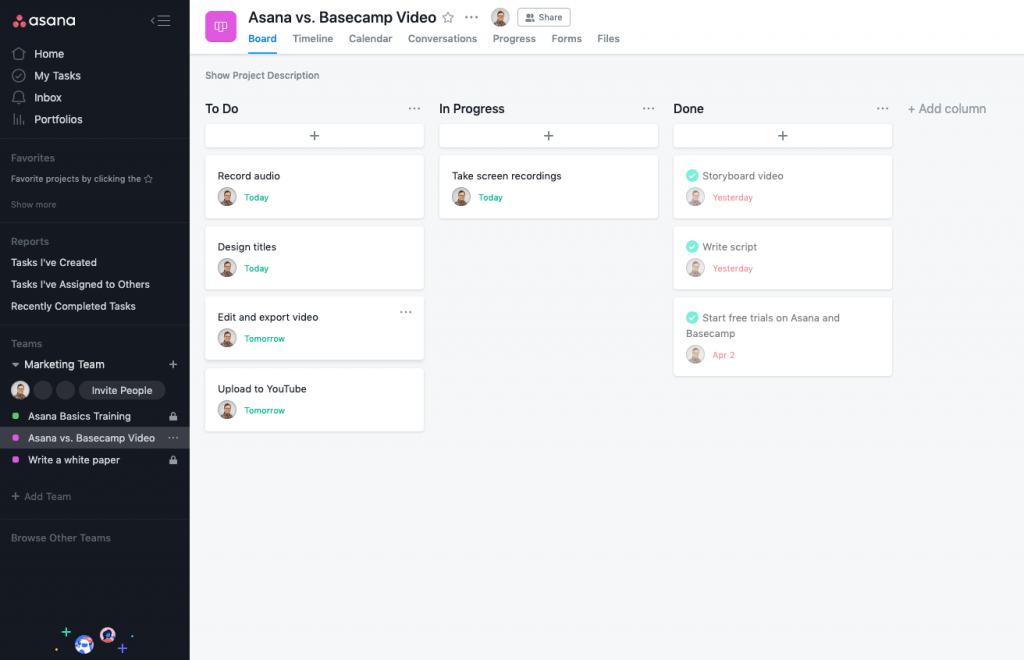 Asana is a software solution that is built on a solid foundation of project management principles. Its scheduling, communication, and task management is quite basic in the grand scheme of things, but Asana's simplicity translates to a lower learning curve for team members so you can get right to it without much trouble.
Read Also: 8 Asana Alternatives for Project Management
Why choose Asana over Trello
Like many options on this list, Asana is simply more robust than Trello. Asana also offers kanban boards similar to Trello's default boards, but even with the free plan, you also have list and calendar views at your disposal. It's still a pretty simple project management solution, so it's still pretty easy to hit the ground running after exploring the software a bit.
Additionally, with Asana, project progress is centralized in a single place, giving higher managers and project managers a view of multiple projects at once with the portfolios feature. Asana also lets you build in simple task dependencies without having to search a secondary market for plug-ins, and Asana has custom fields, among other things.
Basecamp: Best for centralizing project info
Basecamp can help manage your projects efficiently, and it's excellent for keeping project conversations within a single space. It has nifty chat features within the software and opportunities to collaborate within tasks and files. So if your team prefers asynchronous chatter, Basecamp can help pull scattered conversations together for more efficient collaboration.
Why choose Basecamp over Trello
Trello approaches simplicity by maintaining a lean base experience for its software, and Basecamp expands on that experience by leaps and bounds. Basecamp also differs from Trello by providing access to expanded features in Slack, Google Drive, Dropbox, and many other apps.
And one of Basecamp's more prominent features is the ability to organize projects, shared documents, and chat rooms into "camps." This gives project managers a higher degree of control over their project portfolio.
Wrike: Best for digital marketing teams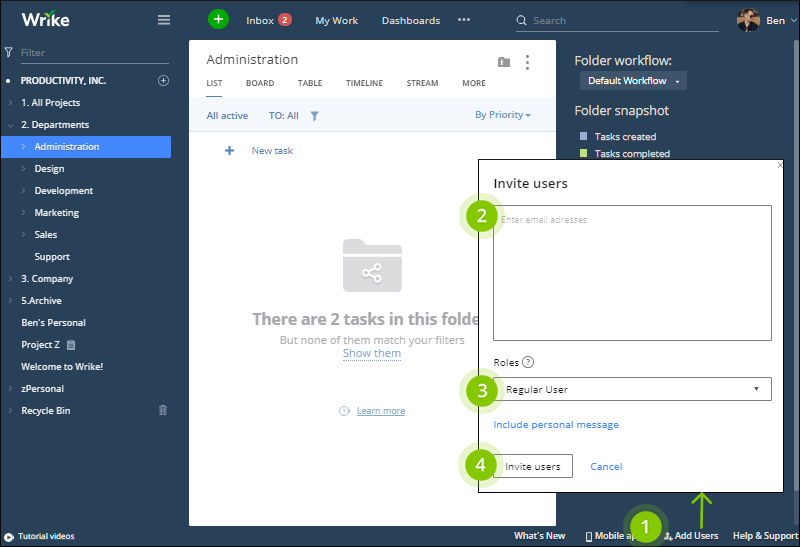 Wrike is a project management tool that integrates machine learning into its infrastructure to give project managers insights into risk factors and allows users to automatically extract text from scanned documents (printed or handwritten).
Wrike has quite a few features that are built with creative and marketing teams in mind, such as a proofing feature where team members can comment directly on images and compare file versions—and it offers integrations with popular creative apps, like Adobe Creative Cloud.
Why choose Wrike over Trello
Wrike's machine-learning risk management gives it a great deal more utility over Trello. Trello's functionality is primarily manual, which means that risk management, organization, and predictive estimations will be something you have to do yourself or leave to a third-party app or service.
Additionally, tasks in Wrike can span across multiple projects. So if, for example, your developers are creating a specialized tool that applies to several projects, you can link their tasks to whichever projects they apply to for maximum visibility across departments and teams.
Microsoft Planner: Best for simple visual task management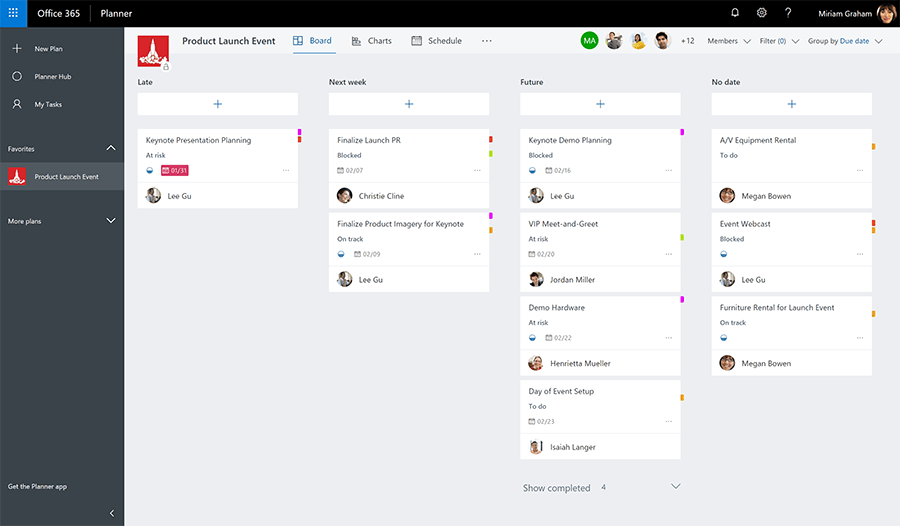 Microsoft Planner will feel familiar to teams used to Trello since its primary task management feature is also a kanban board. But Microsoft Planner also includes other views for easy chart reporting and task planning, and its inclusion with the Office 365 suite makes it an attractive option for frugal offices already outfitted with the software suite.
Why choose Microsoft Planner over Trello
Because Planner is built to mesh with Microsoft's other office tools, it plays well with the rest of the suite right out of the box. Like Trello, users can create tasks that contain content-rich details, such as due dates, color-coded labels, and files. One place where Microsoft Planner differs is how it uses these tasks to create visual pie and bar charts without manual setup or much onboarding.
Microsoft has many other PM tools that pair with Microsoft Planner, such as Microsoft Project and To Do, so you can create an ecosystem that is easy and more intuitive for teams to navigate.
Smartsheet: Best for multi-project tracking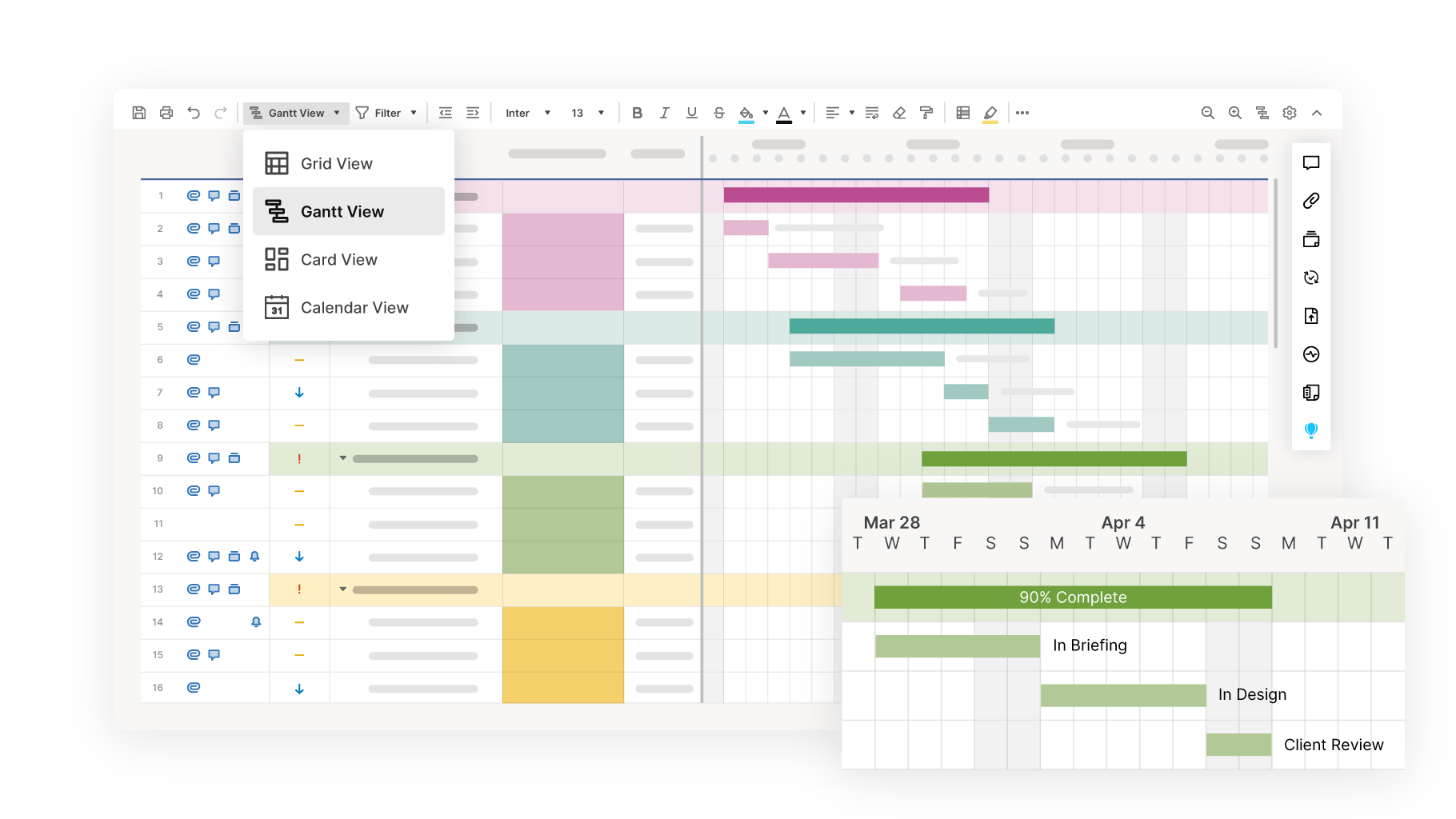 Smartsheet is a spreadsheet-based project management tool full of alerts and automations. You can set reminders and notifications to simplify team communication, and customize your project boards with spreadsheet-like formulas and setups. There are even formulas to bridge various project boards so different teams and departments can manage requests and tasks more easily across the business.
Why choose Smartsheet over Trello
Having customization features like formulas can be a bit of up-front work, but it'll also provide a lot more long-term rewards. You can take a lot of the manual bits out of team and cross-departmental processes, meaning you'll have less to juggle and more mental bandwidth to focus on higher-value tasks.
Vendors and clients without sheet access can also review content proofs, keeping them in the loop without having to jump through any hoops. Plus, Smartsheet offers integrations with several apps to enable real-time synchronization and visibility, so teams and external stakeholders can view up-to-date information across all systems without having to switch apps.
Methodology
We sifted through product recommendations and user reviews to build our list of Trello alternatives, and to give you the most valuable information, we dug through product offerings and tested free software plans to get a sense of what each had to offer.
Choose the right alternative to Trello
Trello is popular for a reason—but that doesn't mean it's the best fit for everyone. Hopefully you were able to find a fitting solution in our list of alternatives, but if not, hop over to our other project management favorites for a few other options.
Featured partners: Project management software
1

Wrike
Tackle complex projects with Wrike's award-winning project management software. Break projects into simple steps, assign tasks to team members, and visualize progress with Gantt charts, Kanban boards, and calendars. Manage resource allocation and forecasting with software that's easy to launch. Automation and AI features strip away time-consuming admin tasks so you can do the best work of your life. Streamline your practices, align your team, and ensure you hit deadlines and stay on budget.
2

monday.com
monday.com Work OS is the project management software that helps you and your team plan, execute, and track projects and workflows in one collaborative space. Manage everything from simple to complex projects more efficiently with the help of visual boards, 200+ ready-made templates, clever no-code automations, and easy integrations. In addition, custom dashboards simplify reporting, so you can evaluate your progress and make data-driven decisions.
3

Smartsheet
Smartsheet is an online work execution platform empowering organizations of all sizes to plan, manage, automate, and report on work. Over 80,000 brands rely on Smartsheet for project and work management.
Technology Advice is able to offer
our services
for free because some vendors may pay us for web traffic or other sales opportunities. Our mission is to help technology buyers make better purchasing decisions, so we provide you with information for all vendors — even those that don't pay us.