Quick summary:
Trello is a popular project management tool that uses agile methodology boards to keep you organized.
If you need more functionality and insight from your project management tool, you might also consider Asana, Basecamp, Wrike, and Monday.com (click to jump).
---
People use Trello for everything from agile software development to managing content calendars to planning weddings. Trello is fantastic for straightforward, ongoing projects, but for larger, more complex projects, it can be difficult and frustrating to use.
But the project management software market is bursting at the seams with great tools, so why tie yourself to Trello if your needs have evolved? This article examines four Trello alternatives that offer more powerful and nuanced features for a comparable price.
If you're short on time, click the banner below or complete the form on our project management software page. We'll take about five minutes to learn more about your business's specific needs and then send you a short list of the best tools for you. For a closer look at four powerful project management tools, read on.
Asana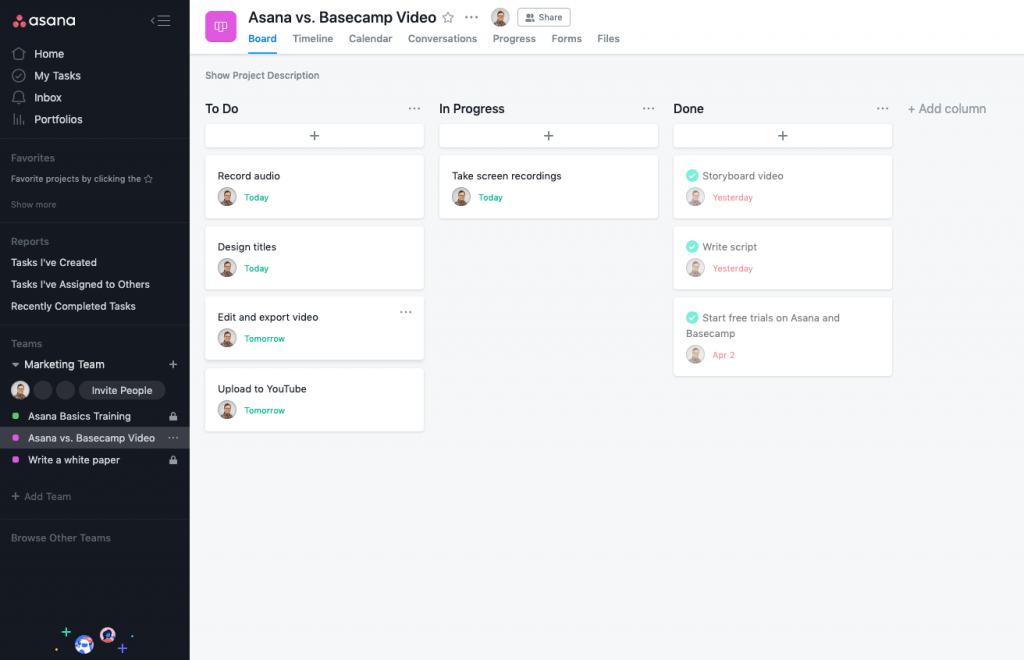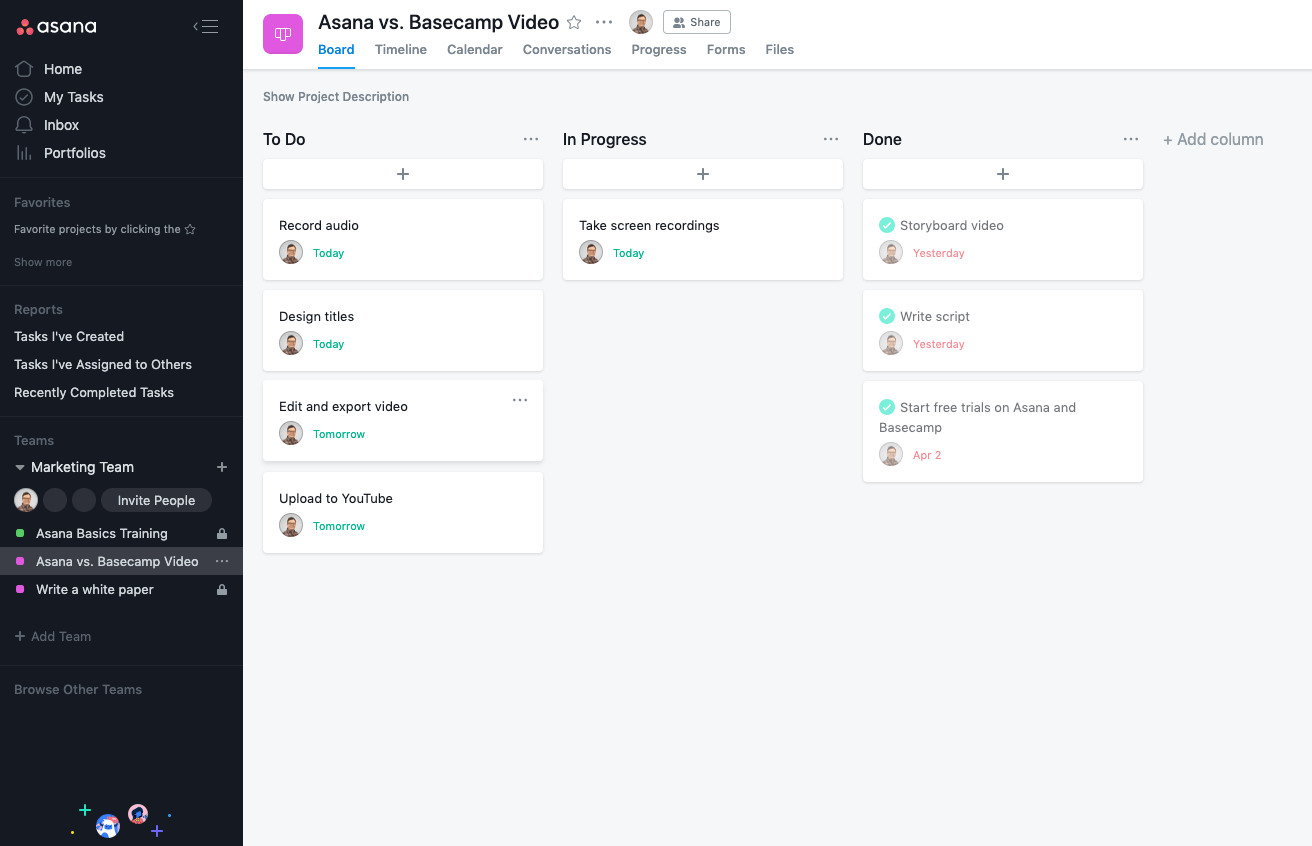 If you're fond of the Kanban-style boards found in Trello, you won't sacrifice anything by switching to Asana. Depending on the plan you choose, you can also view projects in a list and calendar view, see progress on multiple projects at once with the Portfolios feature, make tasks dependent on others, add custom fields, and more. With pricing comparable to Trello, Asana is a great choice if you need more visibility across multiple different projects.
Basecamp
Don't let the higher price tag scare you — Basecamp offers many of the same features you'll find in Trello and Asana in addition to other features found in Slack, Google Drive, and Dropbox. Instead of switching between Boards as you do in Trello, Basecamp lets you organize projects, documents, and chat rooms into Camps. You can also send team members automated pulse checks to reduce time spent in weekly meetings. Considering Basecamp's functionality, its flat pricing model is attractive compared to paying by the user for multiple different tools that don't offer as many features.
Also read: Don't Choose Between Basecamp vs. Slack — Use Both
monday.com
Trello and monday.com both offer a similar dashboard that provides a high-level overview of workloads for both internal and external stakeholders. Where Trello and monday.com differ is in the customizable capabilities of the dashboards. monday.com has flexibility in choosing features that fit a specific project's needs whereas Trello does not. monday.com is a great alternative if you like the features Trello offers but want more freedom in customizing your dashboard.
Also read: Wrike vs. Asana: Which Should You Choose?
Wrike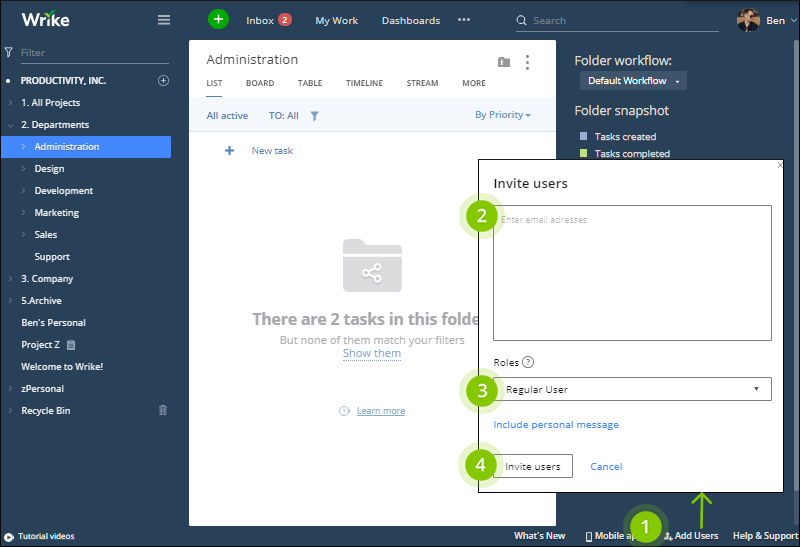 Wrike is the one of the market leaders when it comes to project management software. As with any project management tool, features vary depending on which plan you select, but every plan lets you view tasks in Kanban boards, manage tasks, share and store files, and view projects as spreadsheets. With some of the more feature-rich plans, you can also view projects as Gantt charts, connect to Salesforce, create and share dashboards, and increase security with features like two-factor authentication and password policies.
Also read: How Using Jira For Project Management Can Make Any Team More Productive
Microsoft Planner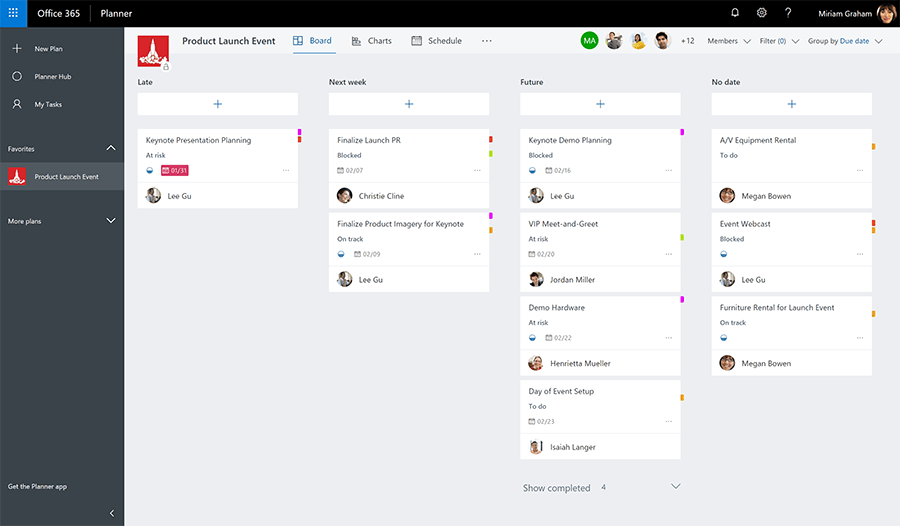 Microsoft Planner also uses Kanban boards as its main task management feature but includes other views for scheduling and chart reporting. Planner is included in the Office 365 suite, so teams that use Microsoft tools such as Excel, Teams, and Word will find Planner the best option for easy and quick integration. Like Trello, users can create tasks that contain content-rich details such as due dates, color-coded labels, and files. Where Planner differs is in the ability to use these tasks to create visual pie and bar charts without manual set up.
You may be thinking that Microsoft has many PM tools — and you'd be right. Microsoft offers Project, Planner, and To Do. How do you know which to use and when for your projects? Here's a quick guide:
For personal task management and solo projects, use To Do.
A simpler team projects, use Planner.
For more complex projects that require dependency and cost tracking, use Project.
Smartsheet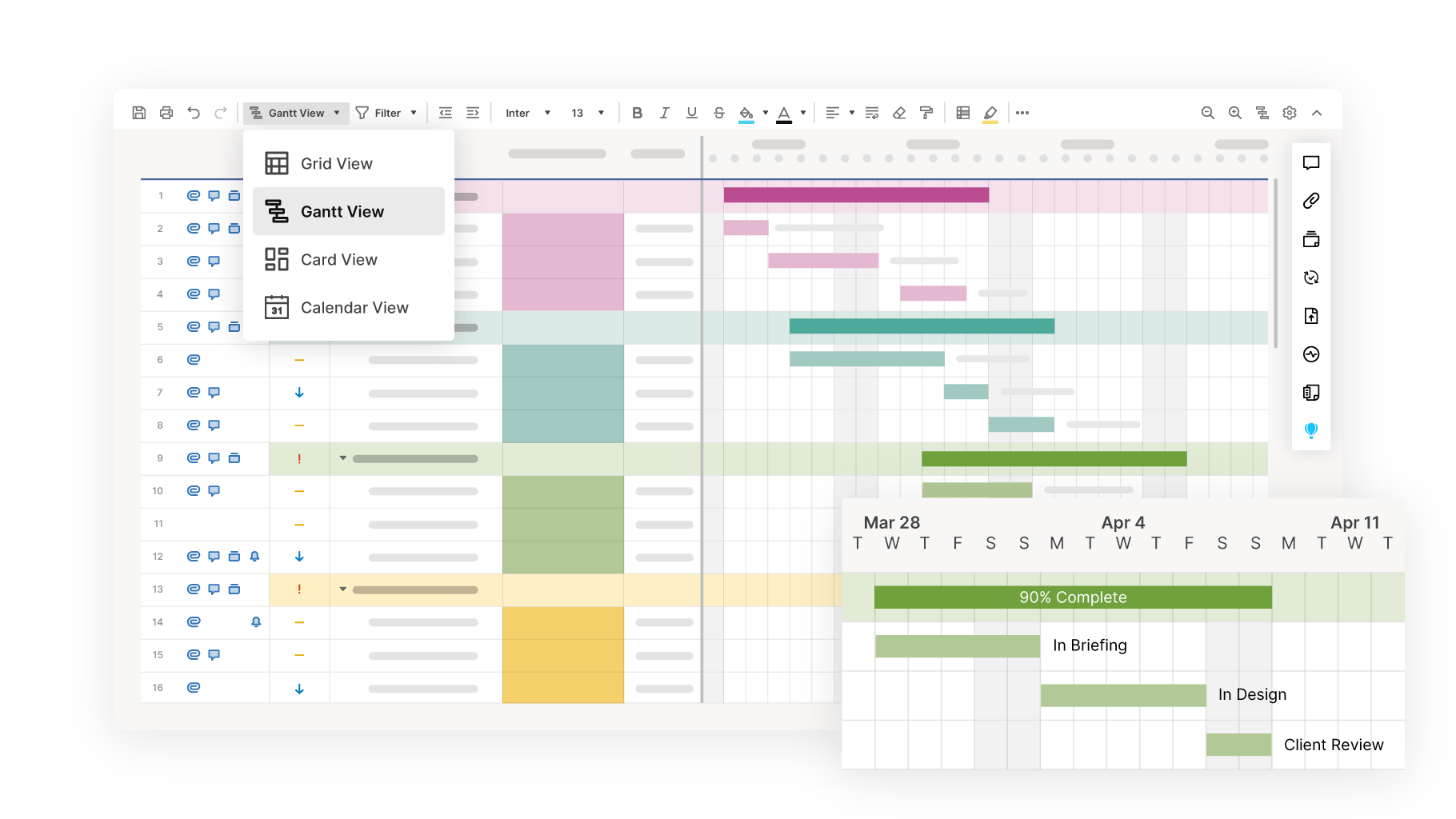 Smartsheet provides a flexible tool for planning projects, capturing information, managing work, and automating processes. It offers multiple views of projects that users can switch between including grid, card, Gantt, or calendar view. Teams can add custom fields, images, and color coding to cards, and cards and lanes are filterable to view workflows from different perspectives. Alerts and reminders keeps projects on track, and colleagues, vendors, and clients without sheet access can review content proofs. Smartsheet offers integrations with a great deal of apps to enable real-time synchronization and visibility. This allows your team and external stakeholders to view up-to-date information across all your systems without having to switch apps.
Take the pain out of finding the right project management tool for you. Talk to a Technology Advisor today!
Finding the right project management tool is a project in and of itself. We can't make the choice for you, but we can surely make it a lot easier. Fill out the form on our project management software page or contact us today for a free, five-minute consultation. Our Technology Advisors will send you a shortlist of the best project management tools for your specific needs.
Technology Advice is able to offer
our services
for free because some vendors may pay us for web traffic or other sales opportunities. Our mission is to help technology buyers make better purchasing decisions, so we provide you with information for all vendors — even those that don't pay us.