Smaller businesses often take a hands-off approach to project management (PM) — not because they don't care, but out of necessity. The best-of-breed software products that larger organizations use would blow the roof off of their budgets, and they typically can't afford to hire a dedicated project manager or set up a project management office.
Especially in product-driven companies, the universal imperative is to do more with less. These businesses often serve niche markets and are driven more by expertise and innovation than strategic planning. Projects are run by department heads or by team members themselves. In some cases, there is no structure in place for managing process, and teams coordinate tasks manually. Projects are organized through a deluge of messages across multiple channels (emails, spreadsheets, handwritten memos, etc.).  
According to research from the Project Management Institute, only 42 percent of companies report that their projects align with organizational strategy. This lapse in planning correlates strongly with strategic failure on a larger scale. The Economist Intelligence Unit reported last year that 44 percent of all strategic business initiatives were unsuccessful.
If you fail to plan, you plan to fail.
All of these factors make small businesses perfect candidates for project management software, especially cloud-based products that offer simplicity and versatility. We've put together a list of four solutions in this category to help you keep your team on track without breaking the bank or complicating the development process.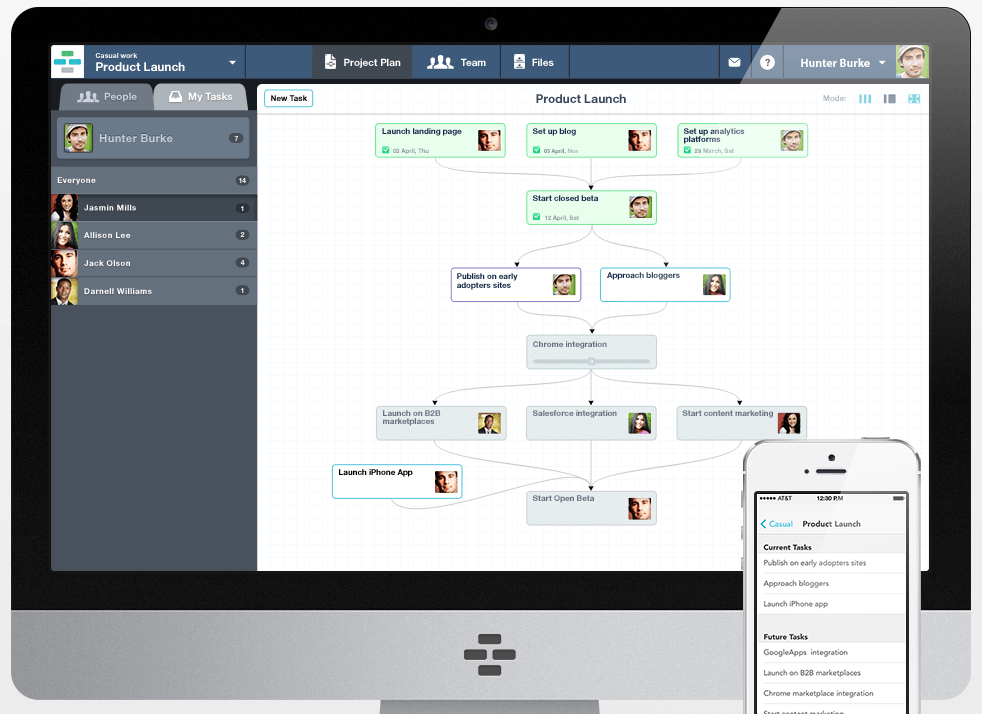 Casual is an online project management tool specifically designed to help non-project managers orchestrate repeatable projects for small and growing teams. PM programs can sometimes be highly specialized and even require the intervention of your IT, but Casual cuts to the chase with its clean, attractive interface and "casual" approach to management.
It doesn't rely on Kanban boards, Gantt charts, or task lists, but instead organizes work in an intuitive flowchart style that lets you visualize project status from one central dashboard. Casual helps you construct a project lifecycle by creating individual tasks with cause/effect relationships and defining the order of execution. Manage milestones, deadlines, team member assignments, time records, and share documents from the web service or separate mobile application when you're on the go.
Of the products we'll be looking at in this article, Casual is about as basic as it gets. But if you're a PM outsider looking to bring a little order and predictability to your projects minus the complexity of a corporate system, Casual is a smart choice.
KanbanFlow is a lean project management tool developed by Swedish software company CodeKick AB. The application uses its namesake — the Kanban board technique — to organize projects and project players visually. This is an excellent collaboration method, as it allows all stakeholders to view each other's progress and tasks in real time from the same interface.
One unique feature of KanbanFlow is its built in "Pomodoro" time-tracking feature. Pomodoro is a technique in which workers focus on their tasks in 25 minute stints with breaks in between. Team members' time stats are recorded as they work, which gives management the ability to analyze productivity.
Essentially, the KanbanFlow tool lets you create tasks and subtasks, upload files to the tasks, make comments, track time, and conduct some useful analytics on the whole process in real time. The software is simple, but efficient. It's designed for speed and ease of use — the company even promises that users can learn how to use KanbanFlow in less than two minutes. The basic version, which already includes unlimited users and boards, is free, although they do offer a premium version with faster support and the added features of email integration, board templates, filters, swimlanes (further categorization), data import/export, access controls, and time management.
 Redbooth is an online collaboration platform for team and task management with a large suite of project management tools and an on-premises option for businesses that would rather house it on their own servers. Though it's not typically celebrated as a small business solution, Rebooth's scalable pricing model puts its sophisticated features well within reach of even the most budget-conscious companies.
The application lets you manage tasks and projects and provide your team with valuable communication tools like built-in chat and video conferencing, screen sharing, and file sharing. Redbooth also integrates with Outlook and Gmail, so you can keep emails connected to relevant projects, as well as create tasks from emails and discussions with one click.
Redbooth comes in eight different languages and is compatible with desktop and mobile through a native app. The nice thing about their pricing model is that it doesn't exclude features from the low-end tiers — which, again, means it's a viable option for a small business, depending on how many users will need access. Notable companies like Subaru, eBay, and US Airways have already turned to Redbooth for their project management needs.
Podio is a cloud-based project management tool that focuses on helping businesses see the bigger picture by connecting projects with the entire business paradigm. With over 500,000 clients, Podio is one of the most popular PM solutions of its kind. Some of its success is owed in part to the 2012 buy-out by Ft. Lauderdale software company Citrix.
Podio lets your teams collaborate on different kinds of projects — whether they be design, IT, sales, or marketing-related. From the main interface, users can see the status of open projects, upload attachments, and post comments in real time. Unlike other less customizable products, Podio doesn't limit you to one visual format; administrators can choose from a number of different displays, like simple tables to dynamic card boards, depending on their needs. The interface is drag-and-drop, so you can also pick and choose the features you need and don't need with minimal exertion.
Podio comes with built-in chat and video conferencing features, as well as social-media-style commenting, status updates, and activity streams to reduce inbox clutter. Connect your inbox to the task board using unique, task and app email addresses, and access all of it in or out of the office on the Podio mobile apps for Android and iOS.
Podio offers a basic free version for up to 5 users, or a full-featured paid version; both come with the company's vow of "stellar support" from its centers in San Francisco and Copenhagen.  
*
Too often, small businesses dodge this kind of IT expenditure because they think they can't afford it. Even if you're not designing software or managing large-scale, global manufacturing projects — even if all you need to do is get your team to collaborate and meet a few deadlines each month within a set budget — a small business project management application can help you do this in a way that aligns with your business strategy consistently and efficiently, keeping you competitive and profitable in the process.
Technology Advice is able to offer
our services
for free because some vendors may pay us for web traffic or other sales opportunities. Our mission is to help technology buyers make better purchasing decisions, so we provide you with information for all vendors — even those that don't pay us.