If you're looking to choose a system to streamline your manufacturing business processes, you've probably come across Enterprise Resource Planning (ERP) and Material Requirement Planning (MRP) software. They seem to have similar capabilities and features, so what's the difference?
For the sake of simplicity, here's a quick list:
ERP
distinguishing features
Used for integrating and managing main business practices to streamline information and processes across the entire organization
Used with any department such as HR, sales, logistics, etc.
Can manage large numbers of projects at a time
Can include features such as marketing automation, email marketing, customer help desks, etc.
More expensive and expansive than an MRP
MRP
distinguishing features
Used for managing manufacturing processes for planning, scheduling, and control over materials
Specifically designed for the manufacturing industry
Generally handles smaller projects — is overall a simpler software
Doesn't include customer-facing features
Considered to be a subset of ERP, so is often included as a feature within ERP software
We've outlined dependable solutions for both MRP and ERP software (in no particular order) so you can decide which would be more beneficial for your business. If you want to speed up your research, use our free ERP Software Product Selection Tool.
Top ERP Vendors
NetSuite ERP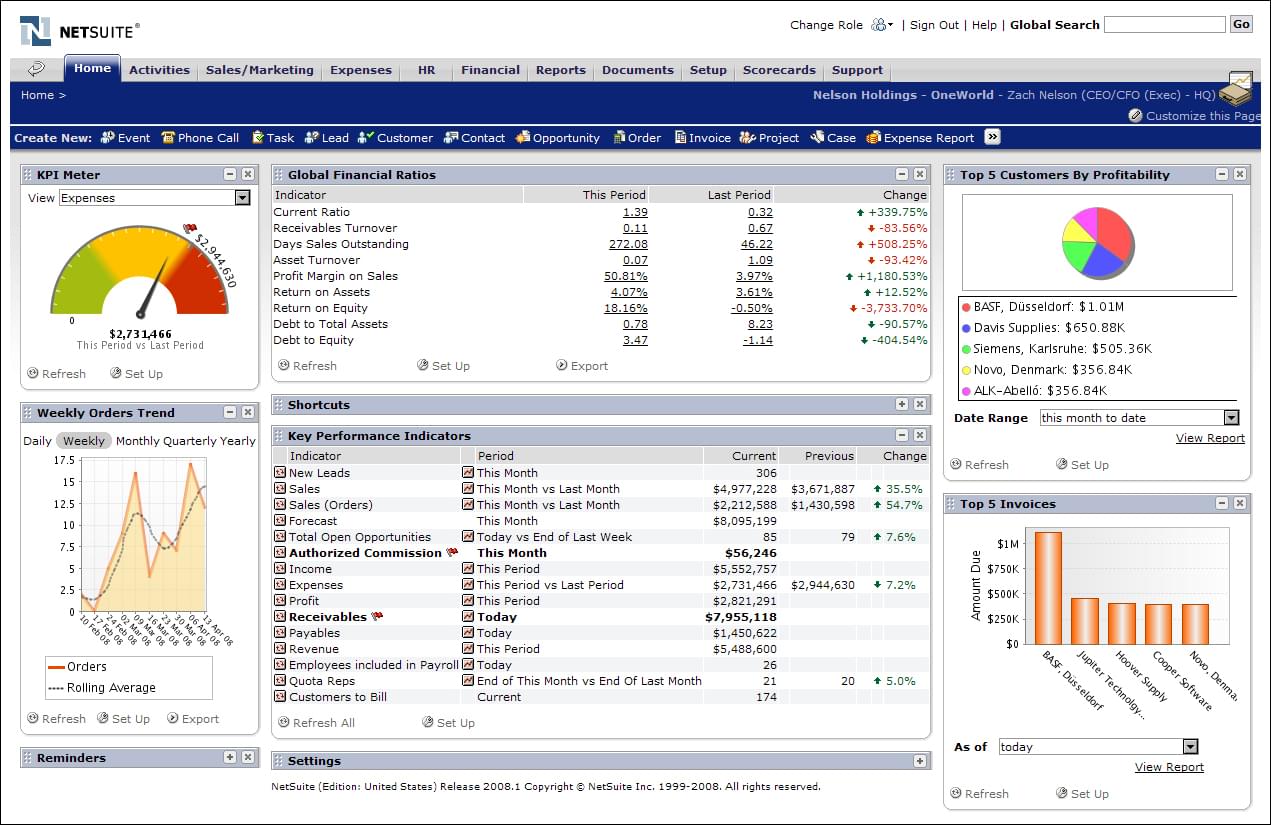 NetSuite is a popular cloud-based ERP solution that houses a multitude of features and capabilities to streamline all business processes. Among these features is Demand Planning, where an MRP can be used to balance demand and supply. NetSuite is flexible and scalable, allowing users to customize and add to the functionality as the business grows. It's difficult to list key features in an ERP solution, because it seems to do everything, but the software offers financial management and planning, order, production, and supply chain management, and warehouse and fulfillment capabilities. Expect implementation to take anywhere from 2-6 months.
---
Workday
Workday is a cloud-based ERP that combines finance, planning, and HR into one platform. It comes with features for enterprise planning, financial and human capital management, analytics, and professional services automation. Users can manage employees throughout the lifecycle, configure regional requirements, and automate workforce transactions. It can take an average of 7 months to implement and integrates with products such as ADP, Box, and Google Cloud.
---
Infor ERP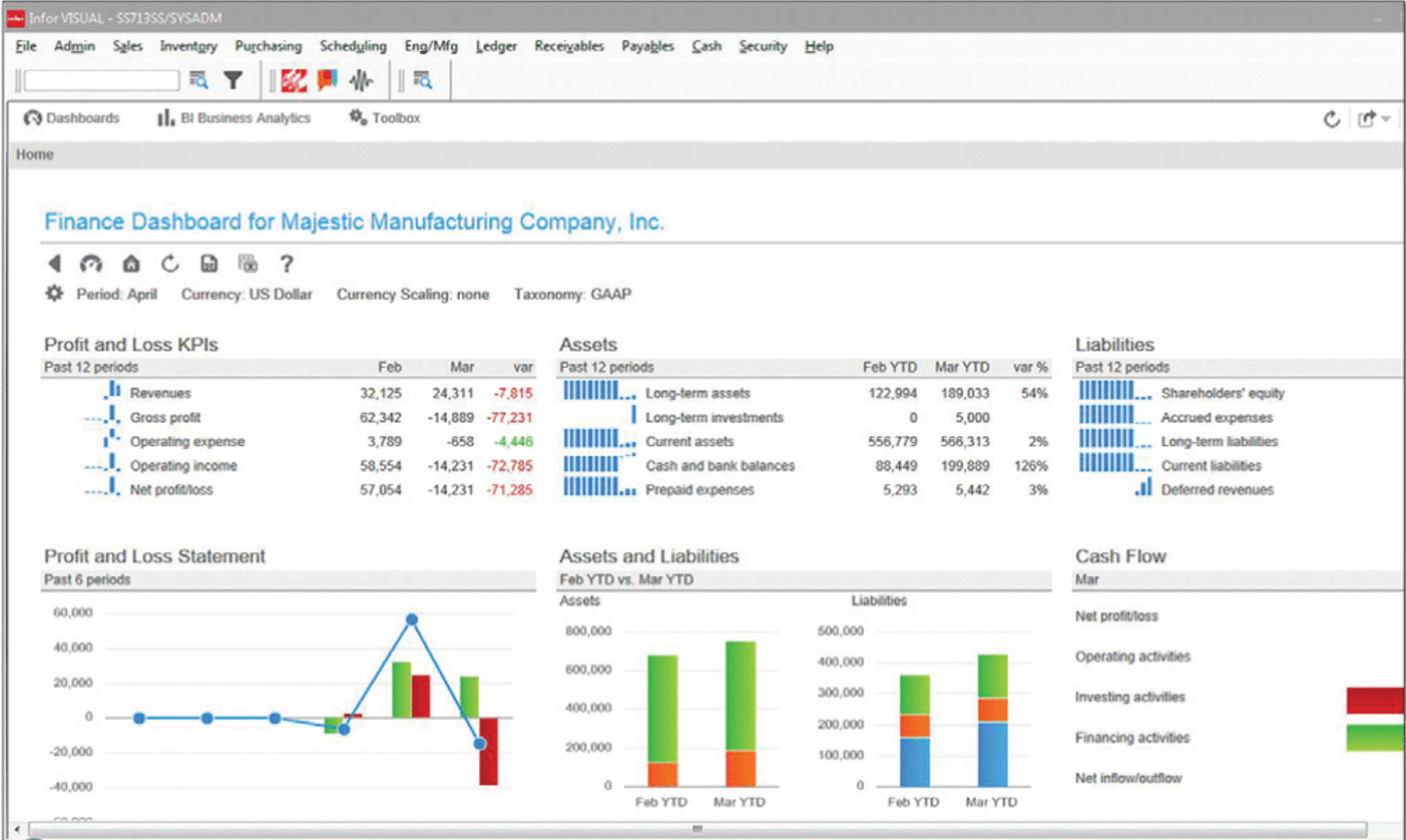 For SMBs and enterprise businesses, Infor ERP offers cloud products created for specific industries. Each designed for a different industry, their ERP products include CloudSuite Financials, CloudSuite Industrial, Distribution SX.e, LN, and M3. For example, Distribution SX.e is built for wholesale distributors, while CloudSuite Industrial is for discrete and process manufacturers. This way, your ERP is tailored to your business's needs. Amazon Web Services hosts Infor to promote scalability.
---
SAP Business One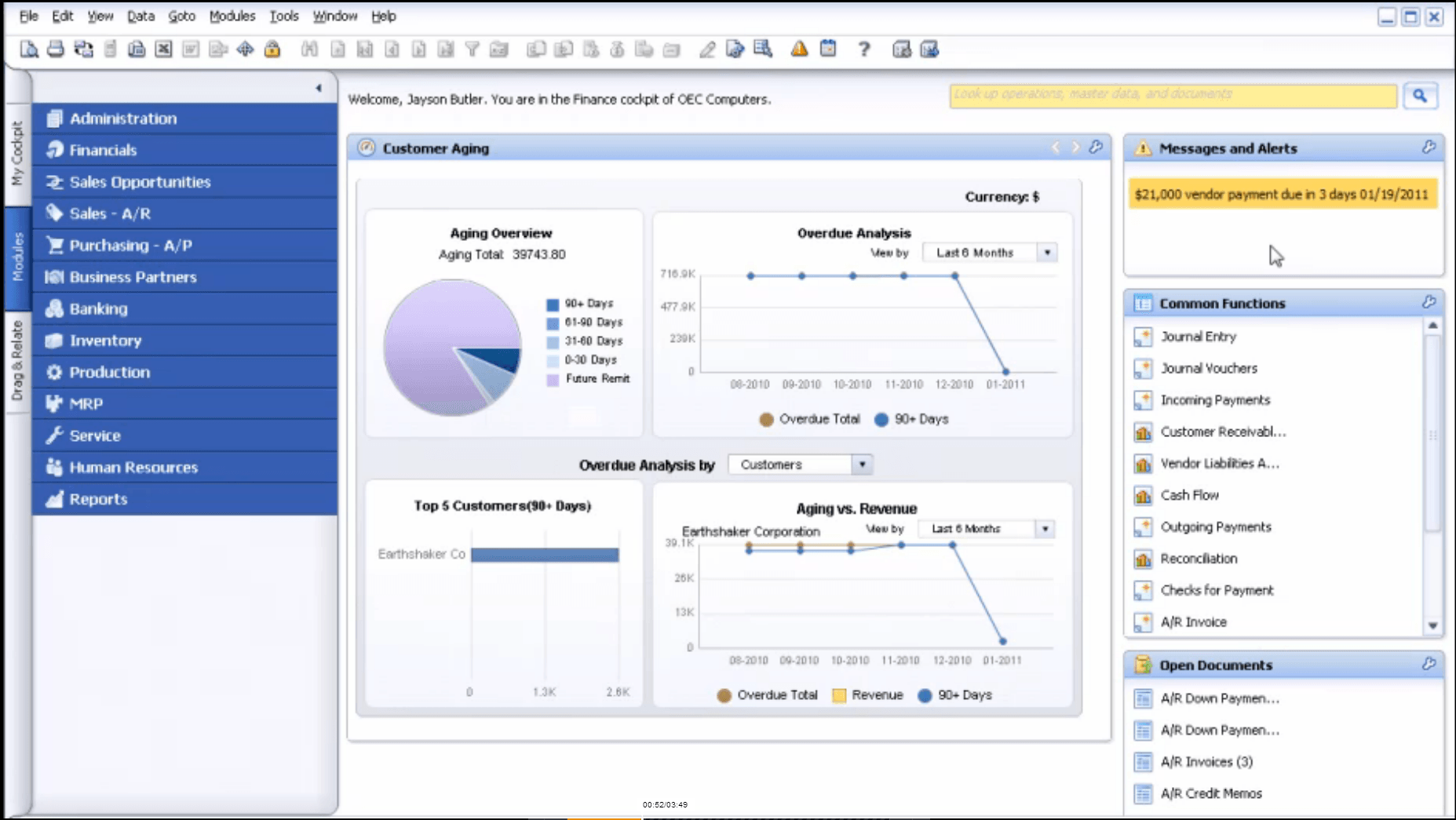 SAP Business One is an integrated ERP software suite designed for small businesses. Its features include financial, sales, and customer management, purchasing and inventory control, business intelligence, and analytics. Industry-specific capabilities are included, and the software can be deployed on-premise or through the cloud. Business One offers an MRP module for purchase and production orders based on the current status of transactions in the system. The ERP system integrates with SAP HANA and can take three or more months to implement.
---
Top MRP Software
MRPeasy
MRPeasy is a make-to-stock manufacturing MRP software for small manufacturers. It offers features for production planning, stock control, CRM, and purchasing. Get a clear history of your stock operations and reschedule or cancel orders with a drag-and-drop Gantt chart. MRPeasy offers a CRM feature that sends invoices, prepares shipments, and dispatches customer orders to your production team. The interface offers an overview of your company performance such as managerial statistics, cost control, and utilization reports. MRPeasy serves almost any industry from 3D printing to aerospace and defense. Out-of-the-box integrations include Pipedrive, Xero, and Quickbooks, and pricing has 4 tiers to support a range of budgets.
---
Katana
Katana MRP is a cloud-based manufacturing and inventory software built for scaling businesses. It streamlines manufacturing, warehousing, purchasing, and sales into one online platform. Plan production, have control of your inventory in real-time, and purchase missing raw materials from suppliers. Katana integrates with e-commerce, shipping, and accounting platforms and supports a range of industries (such as coffee roasting and bath and soap). Pricing starts at one base price and increases when users, warehouses, or e-commerce channels are added.
---
IQMS
IQMS' manufacturing software is technically an ERP, but focuses on the manufacturing process from end-to-end. It includes modules such as Advances Planning and Scheduling, Forecasting, Warehouse Management, and yes, MRP. The MRP system internally manages requirements for manufactured items and sub-assembly processes. It offers automated raw material ordering, hard and soft allocation, ideal vs. existing analytics, and min/max planning. The MRP module is fully integrated into the IQMS ERP to facilitate activities within the entire supply chain.
---
MRP and ERP don't rival each other by any means, but rather work together to create a cohesive and streamlined supply chain. If you want more options for ERP or MRP, use our ERP Product Selection Tool to receive five recommendations that are tailored to your specific needs. It's free and takes less than five minutes.
Top ERP Software Recommendations
Wrike is an enterprise resource planning software trusted by 20,000+ companies worldwide. Improve your enterprise resource planning using resource management and allocation, performance reports, Gantt charts, time tracking, workload overviews, and company-wide visibility all in one place. Integrate Wrike with 400+ applications to accelerate your everyday processes. Customize workflows and reduce the need for emails, meetings, status updates, and more. Work smarter, not harder with Wrike.
Acumatica Cloud ERP offers best-in-class functionality for small and mid-sized businesses to thrive in the new digital economy.

Born in the cloud, Acumatica's business management system is built for remote collaboration and rapidly integrates with mission-critical third-party applications.

Its consumption-based licensing charges for resources used, rather than per individual user, and its future-proof platform drives value and delivers flexibility, efficiency, and continuity of operations.
Technology Advice is able to offer
our services
for free because some vendors may pay us for web traffic or other sales opportunities. Our mission is to help technology buyers make better purchasing decisions, so we provide you with information for all vendors — even those that don't pay us.