Larger corporations have been practicing customer relationship management (CRM) for years by using databases and CRM software in their service departments. Small retailers, on the other hand, often hesitate to license a separate, stand-alone system for relationship management in addition to the point-of-sale (POS) and inventory systems they already pay for. They see CRM as a luxury, and you can't really blame them.
But does this mean small retailers are confined to old-fashioned, manual relationship management – i.e. trying to remember "regulars," keeping sales records that aren't customer specific, etc.?
Absolutely not. The answer is to consolidate. There are many affordable POS and retail management systems (RMS) on the market – which stores already use for processing transactions and managing inventory – that include retail CRM features. You don't have to be a multi-million dollar enterprise to get the most out of your customer relationships.
Consider a few benefits of CRM for small retail stores:
Understanding your customer base: CRM data and basic analytics can distinguish between VIP and casual customers, helping you make important decisions about discounts, pricing levels, and rewards.
Continuity: If you have more than one or two associates, it can be difficult to maintain consistent familiarity and rapport with customers, depending on who's at the register. CRM will tell your employees what they need to know about a customer so they can call him by name and be aware of special requirements or preferences.
Record-Keeping: A customer needs to return an item they bought last week, but she can't find her receipt. What do you do? With CRM, you can pull up the customer's purchase history by phone number or name, reprint the receipt, and refund the total to her credit card without a hitch.
Target your marketing: Customer information stored in your system can be used to select certain customers for targeted marketing — people who purchased a certain item or who have shopped with you in the past 30 days, for example. You won't waste time and effort trying to attract unresponsive customers.
Loyalty Tracking: Ever check in at your local coffee shop and the barista tells you there's a free drink on your account today? Feels good, right? This is another function CRM offers that your basic POS software may not. Get better data about who deserves a reward and when they're supposed to get it.
Here are five retail POS systems with integrated CRM functions that are appropriate for small retailers:

This cloud-based POS system is designed for iPad use in retail stores, coffee shops, restaurants, bars, and kiosks. Shopkeep incorporates transaction processing, inventory management, customer tracking, and analytics features all into one suite that can go with you anywhere that has internet access. It's also compatible with apps and add-ons like Paypal, Quickbooks, and LevelUp (a loyalty program).
The CRM features of Shopkeep let your associates add customer information to the system, keep detailed records, and use analytics tools for specific customers or items. You can also design custom email receipts that connect to your store's social media profiles and communicate directly with customers after they leave.
Shopkeep does not have its own credit card processor, but does partner with payment security company MagTek to provide encrypted swipers.
Pricing starts at $49 per month, per register. For retailers with one or two registers per store, this is a particularly good rate.
---

Cashier Live is a great option for retailers with limited budgets. The starting price per month – $20 for up to three registers – will barely make a dent. At that rate, you might expect the system to skimp on features, but that isn't the case. Cashier Live works with iPhones, iPads, or computers and offers cashier, inventory, personnel, and CRM functions.
The software helps you get the most out of your interactions with customer information tracking, loyalty/rewards programs, and email receipts.
Some of the things that make Cashier Live unique include integrated card processing (at a 2.7 percent rate) and compatibility with Bigcommerce, which lets you take your store online and link the two accounts for easy inventory transfer.
---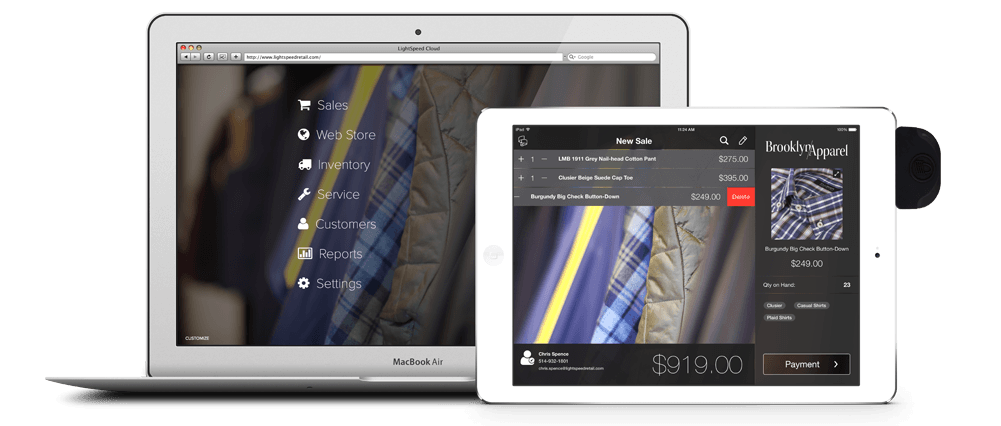 This POS system caters directly to the specialty retail and boutique market. Existing clients include fashion and apparel, photography, bike shops, and nutrition stores. The price is higher than our first two options, starting at $79 per month for cloud-based services on one register, with up to five employees. So if your business is still young or struggling to grow, this may not be the best choice yet.
Lightspeed Retail is centered around inventory management, but also has a thorough list of CRM features, including contact information, notes, purchase history, layaways, credit accounts, email marketing integration, and email receipts, among others. If you're interested in gamifying customer loyalty, Lightspeed integrates with Perkville so you can offer rewards to your best customers.
Lightspeed sells POS hardware or gives the option to use your own.
---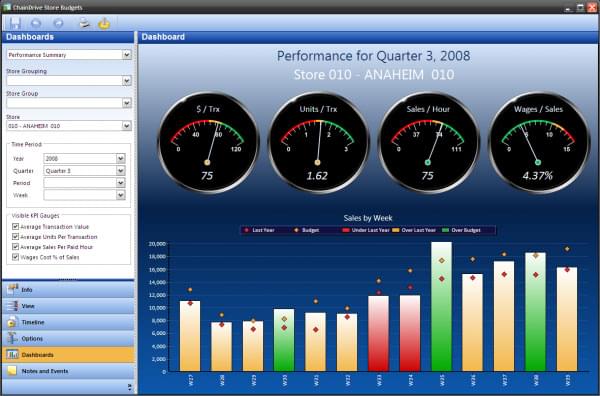 ChainDrive is a Retail Management System (RMS), which means it offers more comprehensive, integrated features than a basic POS system. If you have stringent requirements though, this may be a convenient way to one-stop-shop and get some great CRM features along the way.
The system comes with a laundry list of features, including the ability to filter and analyze customer information; access transaction history and purchase details; connect with customers through direct mail, email, or mobile; and manage loyalty cards to increase sales. The utility of ChainDrive for relationship management almost competes with stand-alone, enterprise CRMs, which can be good or bad, depending on how much information your business has an appetite for.
---
Brightpearl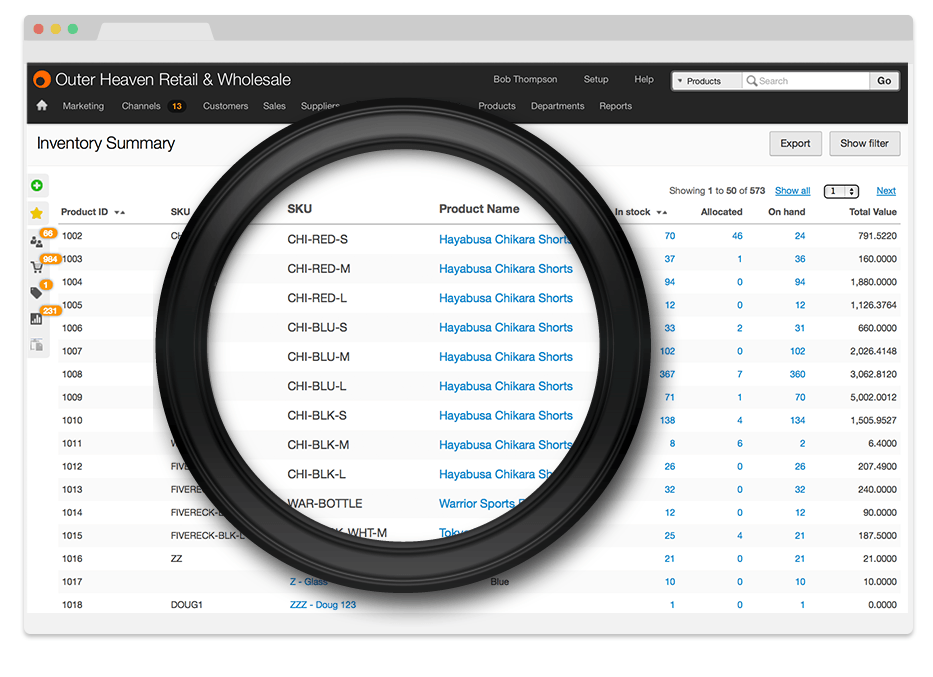 Many of Brightpearl's clients are online retailers, although some use the POS functionality of the system in-store or while traveling to events and conferences.
The CRM functions are similar to most other systems of this caliber: customer info and transaction recording, email integration, follow-up reminders, and data segmentation are all standard. One nice feature that other POS system's don't have is Brightpearl's built-in online customer portal for checking order statuses. You can also assign customers to specific associates, set credit limits, send invoices, and assign pricing levels.
Brightpearl is the most expensive option out of these five, starting at $89 per user per month, depending on sales and inventory volume. Again, whether or not this solution is right for your business will depend on your budget as well as how comprehensive your needs are.
Small retail businesses, perhaps more than any other industry, rely on the patronage of their customers to stay alive, which makes CRM invaluable. When you choose a POS or RMS system that integrates effective relationship management tools, you're better equipping yourself to attract, keep, and capitalize on loyal customers.
Top CRM Software Recommendations
Big ideas aren't simple to execute. So we're here to help you tackle any project, no matter how complex. We're Quickbase.

Quickbase helps customers see, connect and control complex projects that reshape our world. Whether it's raising a skyscraper or coordinating vaccine rollouts, the no-code software platform allows business users to custom fit solutions to the way they work – using information from across the systems they already have.
GreenRope is an all-in-one, complete CRM, marketing automation, and customer service solution designed for businesses doing big things. GreenRope combines sales, marketing, and operations into one, highly customizable software solution built for your business.

GreenRope includes advanced marketing automation capabilities, drag-and-drop customer journey mapping, sales automation, customer service tools, AI capabilities, and a tool box of other features to help manage and operate your business.
Learn more about GreenRope Complete CRM & Marketing Automation
HubSpot is an intuitive CRM that makes managing your sales pipeline a breeze. Everything you need to track important metrics, set up time-saving flows and automations, manage clients seamlessly, and grow your business is available in one tidy dashboard. Plans are available for businesses at every stage of growth, starting at 100% free. Start taking the guesswork out of business management today with HubSpot CRM.
Need a Little Help?
Talk with a software expert for free. Get a list of software that's great for you in less than 15 minutes.
Technology Advice is able to offer
our services
for free because some vendors may pay us for web traffic or other sales opportunities. Our mission is to help technology buyers make better purchasing decisions, so we provide you with information for all vendors — even those that don't pay us.