The difference between "big data" and useful data is having the right tools to analyze data. In an era when almost every department is flooded with information about clients, prospects, processes, and operations, effective data analysis can easily become a source of competitive advantage.
Business intelligence (BI) software aids this process by pulling data from your various client-side and back-end systems and providing visualization and analysis tools. By transforming your raw data into intelligible reports, dashboards, and illustrations, you can gain quicker insights, make better decisions about your business, etc.
If you're shopping for a business intelligence solution, you've probably come across Domo and Tableau — two of the most prominent vendors in the space. Both offer powerful BI solutions that can process data from numerous sources for any job role, but they don't offer the same utility and value in every area.  
ALSO READ: Tableau vs. Spotfire: Business Intelligence for the Non-IT Guru
To help you decide between Domo vs. Tableau, we'll compare the two systems based on pricing, dashboards, reporting capabilities, and data integrations. Let's take a look.
Domo vs. Tableau: Company Overview
Tableau is a relatively young platform — but then, consumerized business intelligence isn't exactly ancient history. The company was founded in Mountain View, CA in 2003 and has since grown its customer base to 35,000+, with over $653 million in revenue.
Their mission is simply "to help people see and understand their data." They market their solutions to "anybody and everybody," but based on their price point and client list, their customer base favors mid-market companies and enterprises.
Notable Tableau customers include Deloitte, Citrix, Space-X, Coca-Cola, and Dell.
Domo was founded just six years ago (2010), but their self-service platform, "business cloud," is quickly becoming a contender even among established BI vendors like Tableau. 
Domo boasts over 1,000 customers in various industries — not the least of which are eBay, MasterCard, National Geographic, and Sage.
Systems and Pricing
In many cases, the way a product is packaged and priced will determine whether it's a good fit for your business. This is especially true with business intelligence apps. It's also one of the biggest points of differentiation between Tableau and Domo.
Both vendors divide their offerings into three main tiers, but with very different implications. Beyond their free, introductory package, Domo's editions are primarily divided by number of users, support level, and administrative options. The enterprise edition offers unlimited storage, data sets, personalized data permissions, and advanced admin controls. All of their product tiers are cloud-based and priced on a monthly subscription (with annual contract).  
Domo Editions: 
Starter (for small teams)
Professional (increased users, data, and admin control) 
Enterprise (no limits, enterprise-grade controls) 
Tableau, on the other hand, divides their product tiers by implementation and use intent. Tableau Desktop is available with a fixed-price, perpetual license and is installed on a physical device. Customers build workbooks, visualizations, and dashboards using Tableau Desktop and distribute and share these assets using Tableau Server or Tableau Online, which are priced more like SaaS products.
Tableau Editions:
Tableau Desktop (used to visualize and analyze data, create workbooks, visualizations, dashboards)
Tableau Server (used to edit and distribute BI assets) 
Tableau Online (hosted version of Tableau Server) 
Domo offers a lower per-user cost up-front for most tiers, but they charge a hefty "platform fee" for professional and enterprise accounts. As is usually the case, your "best value" option will depend on your number of users and implementation plans.
Dashboards
The ability to create custom dashboards is arguably one of the most important features in any business intelligence solution. Dashboards give you the ability to organize data sources, reports, and custom objects in a central location that (ideally) stays updated in real time.  
Tableau doesn't disappoint here. Users can easily create interactive dashboards using custom filters and drag-and-drop functionality. Dashboards can be shared through Tableau Online or Server, or embedded into wikis, corporate portals, or web pages. Options include executive dashboards, operational dashboards, dashboard applications (e.g., a "home finder" web app), and ad-hoc dashboards.
Some users have criticized the Tableau interface and dashboards for being a little on the bland side, but visual appeal should probably be less of a concern than functionality.
To give you a better idea, here's an example of a customer dashboard: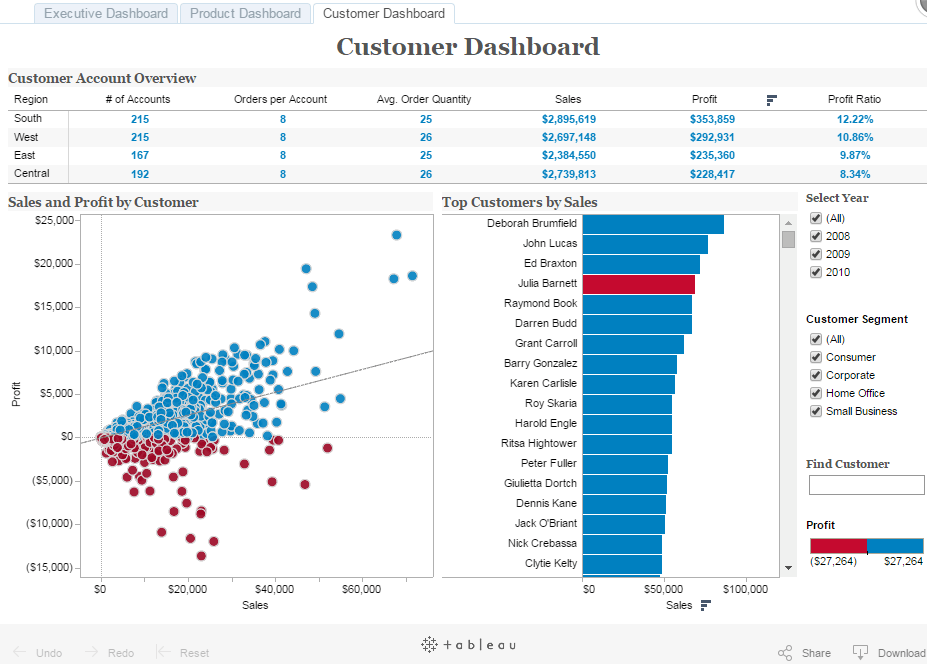 Domo, at its core, is a cloud-based dashboarding tool. When they say their platform can serve as an "operating system for your business," they mean it can provide insight and visibility into all of your data sources.  
Domo dashboards tend to provide a little more vibrance and a pleasant user experience, compared with Tableau. They offer a number of different pre-built pages that can self-assemble based on data inputs (e.g. Finance, HR, Marketing, Sales, Retail), or you can drag and drop to build custom visualizations with the Card Builder tool.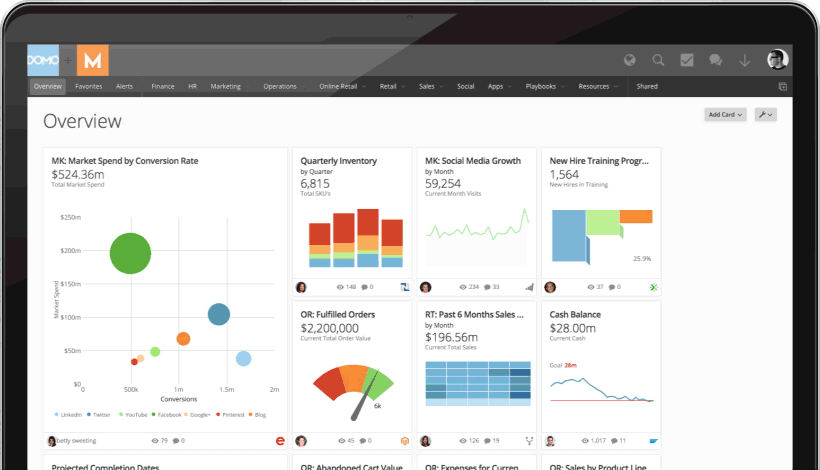 Reporting and Analytics Capabilities
One of the major selling points of both platforms is that they make enterprise-class analytics accessible to the common line-of-business user. That means companies can process and understand their data without going through the IT department.  
Ignorance is bliss, but if you're signing a year-long contract, you should at least have a basic idea of what's "under the hood."
Tableau uses a hybrid model that consists of in-memory and in-database analytics architectures. In laymen's terms, they adapt to your local processing power and database size and sync data quickly under almost any circumstance.
Their analytics features cover data discovery, data visualization, geocoding, survey analysis, time-series analysis, social analytics, and more. It integrates with R statistical programming language, and provides mobile BI access with touch-optimized features for tablets.
Tableau's unique data preparation feature let's you connect to "messy" spreadsheets and fix/configure data while you sync. Pivot cross-tab data back into normalized columns, remove extraneous titles, text, and images, reconcile metadata fields, and so on.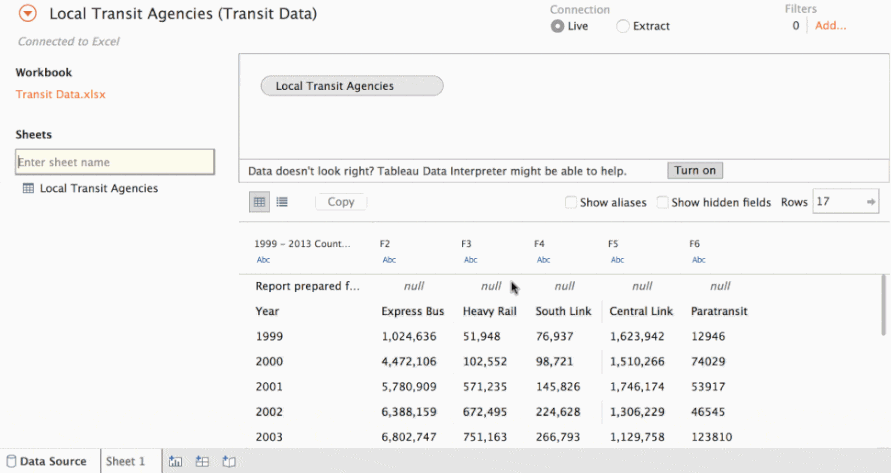 Domo gives companies the ability to analyze and cleanse their data, no matter the source. It simplifies ETL processing (extract, transform, load), so you can find the value in your data, even without formal SQL training. The DataFusion feature also lets you merge data from multiple sources.
Domo can connect to nearly any data-source, virtual or physical, but it does all of its processing in the cloud. That will certainly reduce the load on your own servers, but it may mean slower speeds in some scenarios.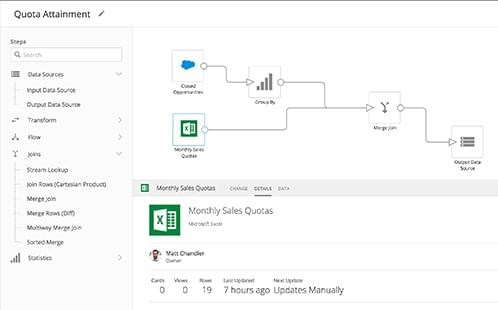 Data Connectors
Business intelligence applications are only useful insomuch as they integrate with outside data sources like business systems (CRM, marketing automation), servers, and databases.
Tableau and Domo provide a set of native data connectors, which means they can seamlessly pull data from those sources without custom configuration or coding. An advantage in this area can make a BI platform vastly more usable.
Tableau offers native connectors for hundreds of different sources, among them: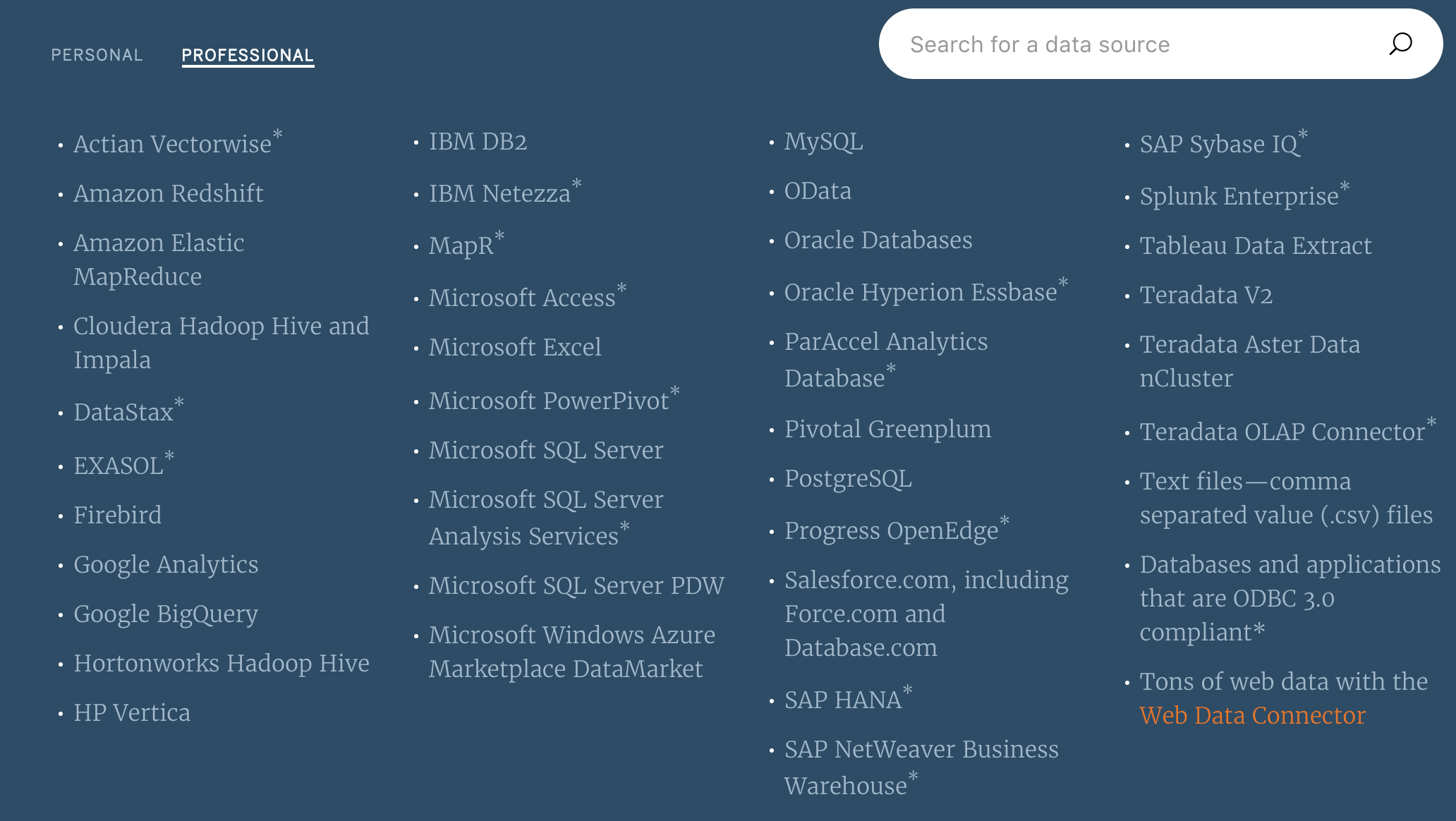 Domo boasts over 350 native integrations in their "connector library." They also have a proprietary app store with pre-built solutions for different roles and industries, which could make a big difference if you're looking for a flexible solution.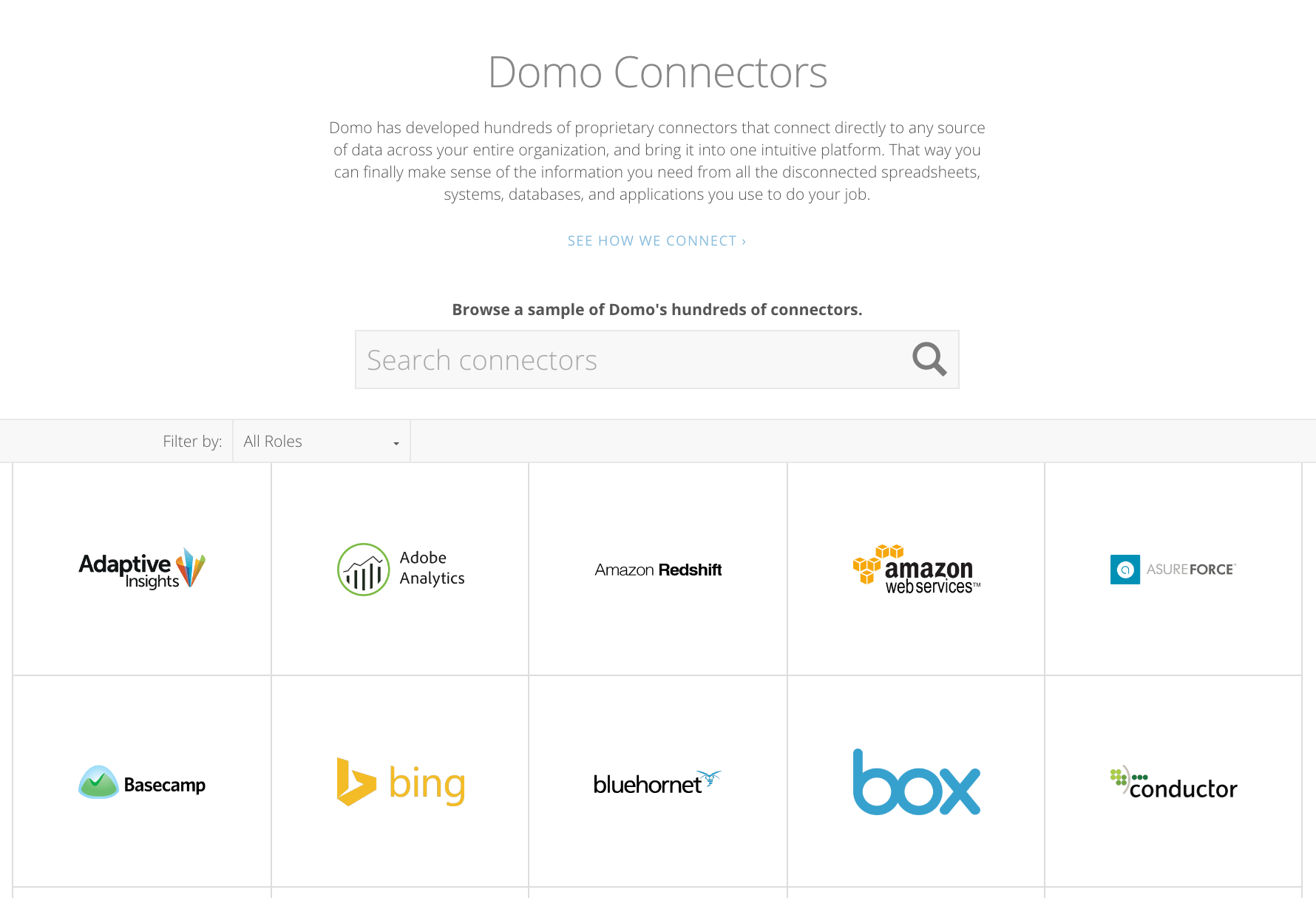 Keep in mind, any databases or applications not listed will presumably require API integration and/or middleware to sync.
Making Your Final Decision
Both platforms can help businesses mine data, visualize data, and make better decisions across departments. Both offer broad horizontal integration and the ability to scale as your business grows. They both even have mobile apps.
The biggest differences center around implementation and pricing. If you're looking for a strictly cloud-based app to build attractive dashboards and share access among the whole team, Domo may be the better choice. If you work in a hybrid environment and would like to provide desktop access to a few power users, consider Tableau.
And don't forget, Tableau and Domo aren't the only BI solutions on the market. Use our our Product Selection Tool to get a customized list of options based on your needs.