Nonprofits deal with specific set of financial, accounting, and tax difficulties to gain or maintain their status. Standard accounting software is sometimes prohibitively expensive, and a dedicated bookkeeper may be out of the question.
ALSO READ: 4 NonProfit CRMs That Help Increase Donor Retention
Nonprofit accounting software comes in several different forms, and not all solutions meet the needs of every organization:
Dedicated nonprofit accounting software

provides a solution to this problem, with specialized funding, contact organization, and tax compliance features. These options simplify accounting for many organizations, but they can run on the pricey side.

Accounting software with nonprofit-friendly features

is another option, but will require some time investment to get up and running.

The least expensive but most time-consuming options are

free accounting software

programs. Think of these as accounting facilitators: you'll need a dedicated accountant or bookkeeper with significant experience to use these programs successfully, but they're free.
Browse options for the first two categories below:
Dedicated Nonprofit Accounting Software
Nonprofit organizations and churches will find a dedicated nonprofit accounting, fundraising, and donor management system with Aplos. They offer a free, 15-day trial of their direct double-entry software that handles accounting, budgeting, and true-fund accounting. You'll have complete control over your contributions management with statements and reporting.
Track individual donors through bulk donation uploads and online transactions. Aplos will integrate with 3rd-party donor management apps like Kindful and Bloomerang to keep your donor lists up to date, and you can add donor relation capabilities for a monthly fee. Manage donations on your organization's website with recurring or one-time debit/credit card transactions.
Aplos even offers support for multiple organizations with roll-up reporting, including outstanding tasks. Free support is available for all subscribers M-F from 8-4. If you want an even better reason to try Aplos, they currently offer a QuickBooks buyback program where they'll pay $300 to cancel your QuickBooks subscription for Aplos.
FUND E-Z built three separate products with nonprofit needs in mind: fundraising, accounting, and Medicaid. The accounting software includes account charting and different options for your funding source like grants, donations, sites, and departments. Use filters and segmentation to build granular reports and split your transactions across segments.
Secure your data with automatic backups and roll-back protection for all accounts.
Extra features include bank reconciliation, budgeting, and direct/indirect funds allocation. The companion fundraising software includes custom donor fields for your segmented reporting and matching gift functions to organize corporate matching programs. This software will also help you with your fundraising campaigns through email and letter tracking, as well as household or individual donor mailings.
FUND E-Z offers a customized price quote based on your organization's needs, and there are paid online training classes to help you get setup.
Abila offers several different accounting systems, including a dedicated non-profit version. Because of its sheer number of features, this software is not for beginners. You'll want to have an accountant or bookkeeper on-hand to help.
Abila comes hosted in the cloud or on-premise, depending on your security needs. You can track your financials, report internally and externally, and update your systems based on your organization's changing needs. Print checks and forms from the Abila online catalog. Special features for FASB and GASB compliance come standard.
Of the options listed here, Abila's system best prepares your organization for tax requirements and audits. It also offers core HR features, association management, and CRM with certain products.
General Accounting Software
Intuit QuickBooks is probably the best known accounting software on the market. Although it offers some nonprofit-specific tools, but the program was built mainly for small businesses.
Use the QuickBooks class tracking feature for compliance. Recurring billing sends invoices or receipts to donors automatically. Send your end-of-year donation summary letters with account summaries.
QuickBooks will sync with all your accounts including bank and credit cards, which helps you track all of your accounts in one place. Your online funds transfer apps will also integrate (e.g. Square, PayPal, Method:Donor) and automatically log outside donations that don't come directly to your bank account.
Sage offers accounting software for businesses of all sizes, and this is their under-50-users version. While it's a powerful accounting tool, there's nothing particularly nonprofit-friendly about it, other than its adjacent CRM and reporting features.
The program itself runs through a desktop client, but you can also access it online for mobile accounting. Features include tab-based navigation, workflow visualizations, reporting, and in-app support documents to help you through setting up the product. Repeat invoicing is available, which is useful for your recurring donations. Build custom income, balance sheets, and cash flow statements.
Sage's support documents are quite complicated, so this tool is not for the untrained bookkeeper. As with several of the options on this list, you'll need some accounting background or a consultant to set it up properly.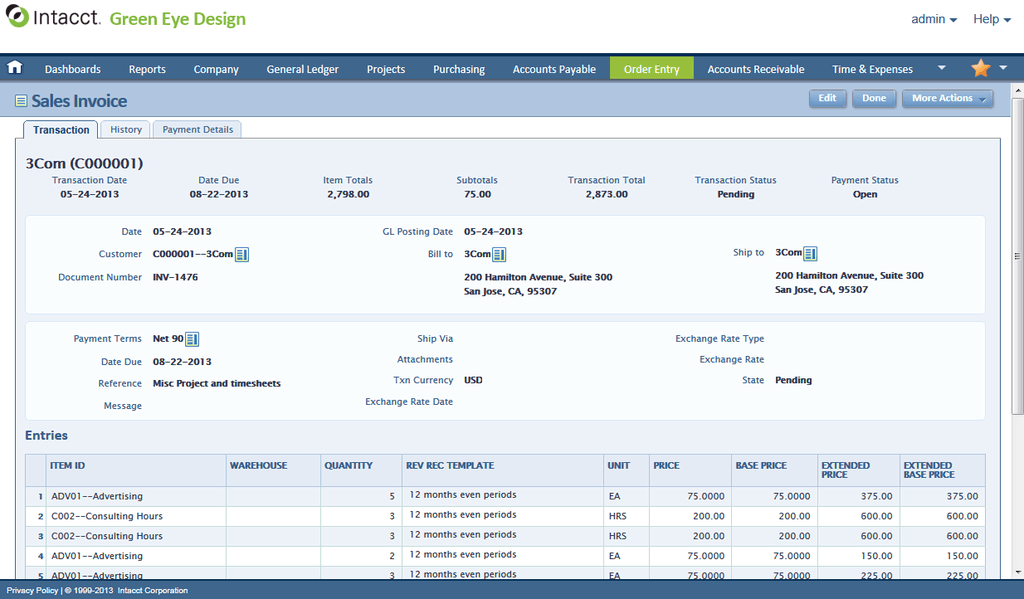 Intacct is a powerful ERP that's also suitable for nonprofit organizations, especially those that need reporting for multiple organizations under a single plan. This software is unique on this list in that its design is also appropriate for complex philanthropic organizations that supply funding and grants to other organizations.
Intacct's features include dashboards, reporting, and funds allocation automation built into the system. It also supports project-based accounting that attributes revenue directly to project-specific accounts.
Xero's accounting software provides a 25 percent discount for nonprofits and easy uploading of your data from multiple types of legacy systems. Monitor and report on your cashflow, invoicing, payments, and payroll with unlimited users (!) and mobile access.
Invoicing capabilities feature automated recurring payment statements and receipt notifications when they're opened. You can keep an eye on your financials with custom reporting dashboards and export them to share visibility with other stakeholders.
Xero does address sales and employee tax management, but there is no nonprofit-specific tax information for auditing and compliance purposes.
* * *
Whether you choose dedicated nonprofit accounting software, a general accounting tool, or a free option, you'll want to take an honest look at your accounting capabilities and the time you're willing to spend on-boarding. Every accounting tool will require a time investment for implementation, but the surrounding costs and possible bookkeeping fees vary.
Need help building your nonprofit technology stack? Contact our technology advisors. They'll help you choose the best software options for accounting and beyond.
Top Human Resources Software Recommendations
Simplify payroll, automate processes, and stay tax compliant, all in one spot. Our tools help you tackle the day-to-day, so you can focus on your people. Empower employees to view checks, request time off, clock in/out and update their personal data with Employee Self Service. Pull expense reimbursements into paychecks and run custom reports to get the data you need. Build a better future for your organization with a scalable solution focused on your business outcomes, priced for your budget.
Rippling is the first way for businesses to manage all of their HR, IT, and Finance — payroll, benefits, computers, apps, corporate cards, expenses, and more — in one unified workforce platform. By connecting every business system to one source of truth for employee data, businesses can automate all of the manual work they normally need to do to make employee changes.
Justworks makes it easier to start, run, and grow a business by giving entrepreneurs and their teams access to big-company benefits, automated payroll, compliance support, and HR tools in one simple platform. Using Justworks means that you can focus on what matters most – running your business. Justworks also offers access to ancillary benefits like 401, life/disability insurance, workers' comp, and more, all seamlessly integrated into the platform. The best part? Justworks offers 24/7 support.
Need a Little Help?
Talk with a software expert for free. Get a list of software that's great for you in less than 15 minutes.
Technology Advice is able to offer
our services
for free because some vendors may pay us for web traffic or other sales opportunities. Our mission is to help technology buyers make better purchasing decisions, so we provide you with information for all vendors — even those that don't pay us.