Employee engagement is more than a number. But according to the O.C. Tanner Institute's 2020 Global Culture Report, when a company focuses on improving their employee experience, they also see
3x fewer layoffs
2x more likely to increase revenue
7x more likely to have innovative employees
An LMS is a perfect way to help positively guide an employee's experiences in their work, their learning, and their career growth. This software can also produce valuable feedback and analytics for HR departments on individual employee goals and career aspirations.
We've chosen the best learning management systems for employee engagement features, but these aren't your only options. TechnologyAdvice can help you narrow your research to software that meets your needs. Click on the banner below to get your list of recommendations based on your feature requirements.
The best learning management systems for employee engagement
We chose the best LMS tools based on features that promote real employee engagement and drive measurable value for the company. These features are
Goals and objectives
From the moment an individual signs with your company, they should have clear objectives and goals to work toward. These goals should evolve with the employee as their skills improve and their role changes.
A good LMS will give trainers and learners an opportunity to define
The purpose of the training
The employee's reason for engagement in the exercise
Whether the learning helps them improve in a job skill, leadership skill, or another vital skill
Whether the learning gives them a path to career advancement or a lateral move
Setting goals and marking progress toward them helps HR understand where the individual is going and why they're headed in that direction.
Best LMS for employee goal setting: eloomi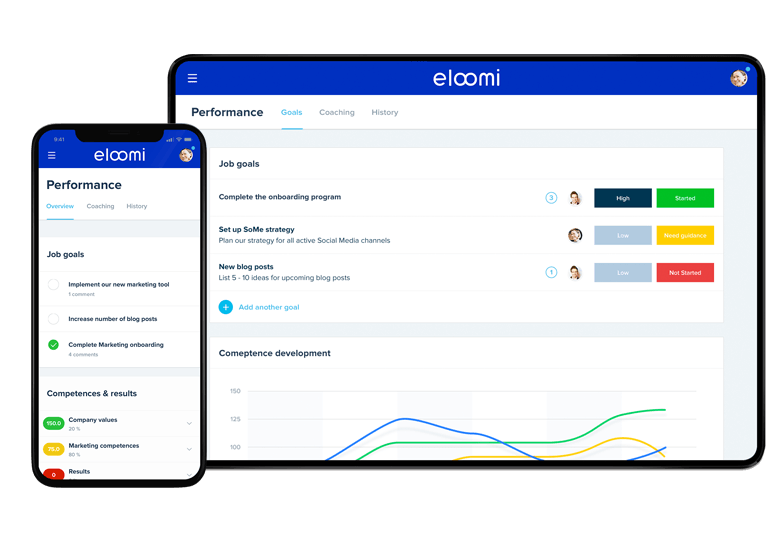 eloomi is an employee experience platform that provides goal setting and appraisal throughout the employee lifecycle. Use the coaching tools to set short and long-term employee objectives, assign individualized learning outcomes, and follow up quickly. The conversational coaching keeps managers and their direct reports connected through shared content. eloomi also offers pre-made content in several business verticals to speed training, onboarding, and skills expansion.
---
Microlearning
Modern learning experiences look much different than yesterday's hours-long video courses. Small quizzes, mini-lessons, short 1-2 minute videos, and microblogs can help individuals learn in their downtime and between larger tasks during their day.
Many microlearning tools in an LMS will prompt the learner to complete lessons throughout the day. This way individuals don't have to set aside large chunks of time to devote to training. And most tools with microlearning are built for mobile access, letting employees access their training on their commute or in down time.
Best LMS for microlearning: Gnowbe
---
Social learning
News feeds, comment sections, and status updates are all features that keep us hooked on our social media apps. Some LMS tools use these features to engage and deepen learning in a business context. Tools like comment sections and news feeds help individuals process their learning, post articles and videos they see out in the wild that will help others understand concepts, and bring learners together around critical conversations that deepen learning.
Best LMS for Social Learning: docebo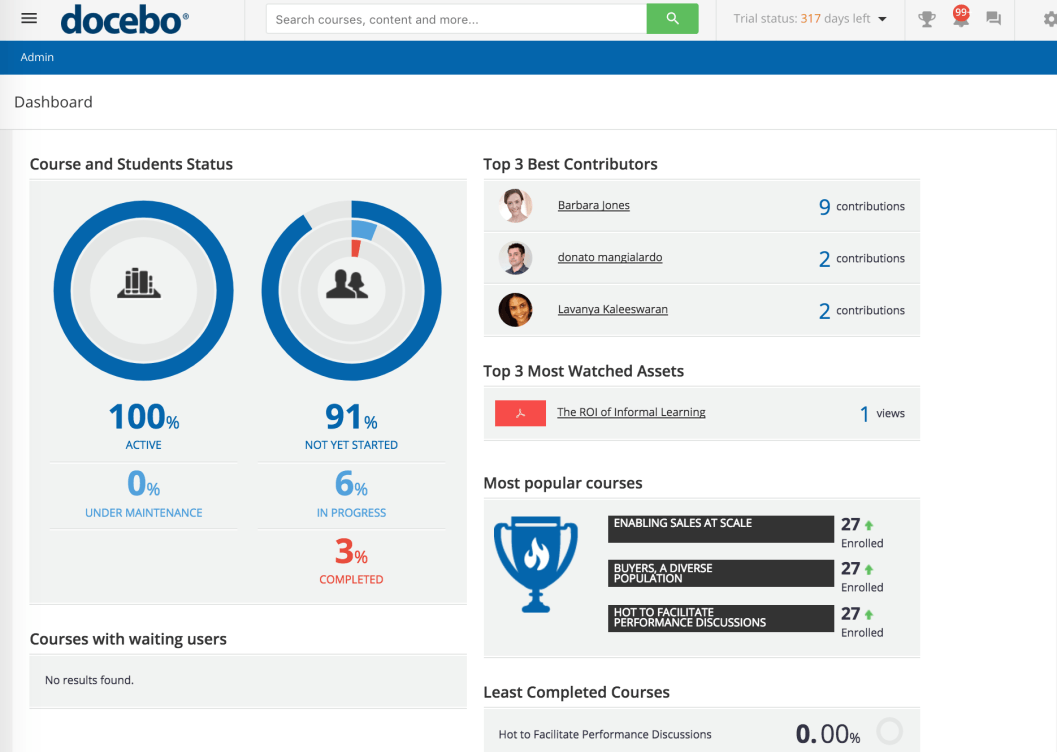 docebo LMS provides a platform for social learning that uses the 70-20-10 rule to prioritize learning experiences. Individual contributors can upload real-world learning, training, and ah-ha! moments in the form of videos or social posts. These are automatically tagged and searchable, and other users can view, like, and upvote the posts to share socially. The content is accessible through the docebo learning platform for individuals to search when they come across a problem, so individuals get real-world training when they experience difficulties, instead of waiting for a colleague or supervisor to give in-person instruction.
Also Read: 4 Best of Breed HR Tools That Actually Work With Your Existing Software
---
Independent learning
Many of us think of an LMS in the traditional sense: a trainer produces hours upon hours of class notes, videos, and lessons to follow up with quizzes. HR, management teams, and trainers use these longer formats to deliver the most essential learning. While these professionals are probably not wrong about the core learning needs of their employees, many employees prefer to self-direct. Independent learning tools let learners drive their own curriculum, either based on pre-approved content or through a connected network of available learning content.
Best LMS for independent learning: Bridge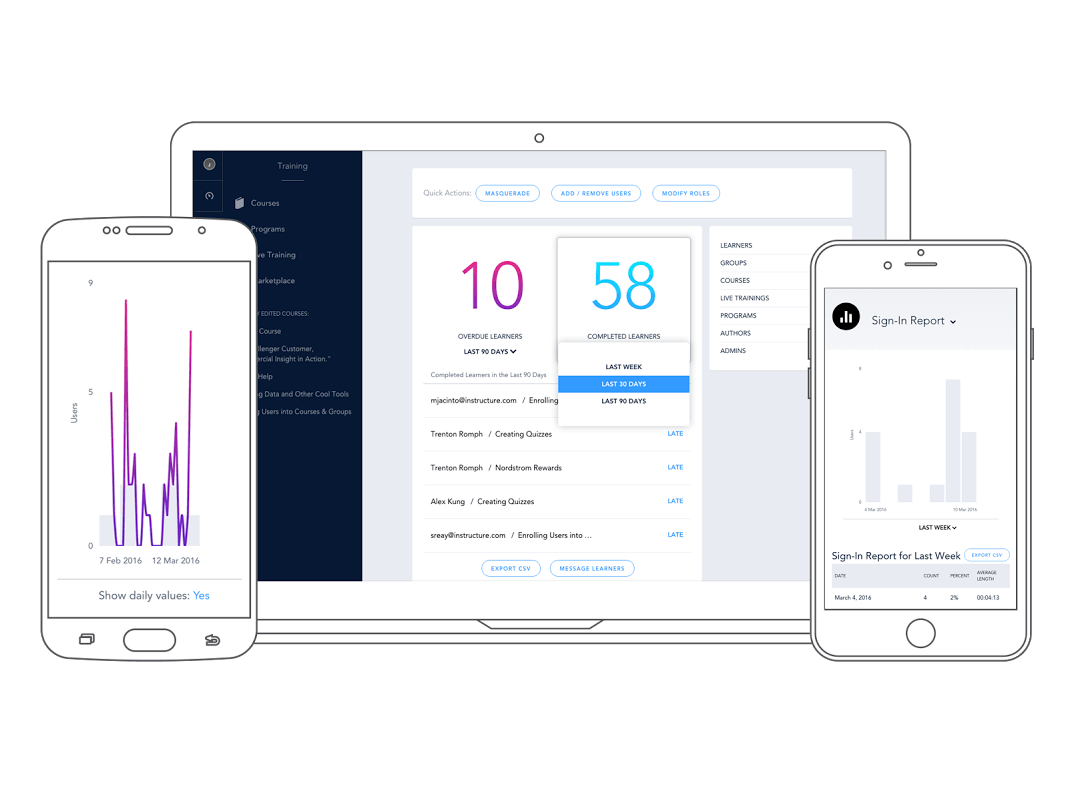 Bridge is an employee engagement and learning platform built to increase communication and learning at all levels of the company. The Bridge employee portal includes a to do list, goal progress, personal achievements, and a record of independent learning so they can take control of their own growth. They can also access assigned courses and additional training through a connection to the Lynda.com platform and other content partners. Managers have direct insight into the individual's learning progress, can keep direct reports on track through 1-on-1 agenda items, and view where they should focus further training. And administrative teams can gain valuable feedback through company-wide analytics of skills learned and needed.
Choosing the best LMS for employee engagement
While these are the best LMS tools for employee engagement features, they may not be the right fit for your company's needs. We can help you by pairing you with the best LMS for your feature requirements, company size, and budget. Visit our Learning Management Systems Product Selection Tool to get your custom recommendations.
Top Human Resources Software Recommendations
Rippling is the first way for businesses to manage all of their HR, IT, and Finance — payroll, benefits, computers, apps, corporate cards, expenses, and more — in one unified workforce platform. By connecting every business system to one source of truth for employee data, businesses can automate all of the manual work they normally need to do to make employee changes.
Elevate your HR with a modern, easy-to-use HRIS designed for small businesses. GoCo is a secure, compliant hub for sending, digitally signing, and organizing your sensitive HR documents and data. Manage records, performance, time off, onboarding, benefits, and more – all in one place. With the best support in the industry, every GoCo customer is assigned a dedicated Customer Success Team that is readily available to provide guidance and ensure a smooth and reliable HRIS experience.
Paycor's HR software modernizes every aspect of people management, which saves leaders time and gives them the powerful analytics they need to build winning teams. Paycor provides a full suite of HCM solutions with a single source of truth for employee data, so users never have to switch platforms, log-in to multiple systems, re-key data or open multiple spreadsheets. Everyday processes become simplified, allowing organizations to focus on their most important work.
Need a Little Help?
Talk with a software expert for free. Get a list of software that's great for you in less than 15 minutes.
Technology Advice is able to offer
our services
for free because some vendors may pay us for web traffic or other sales opportunities. Our mission is to help technology buyers make better purchasing decisions, so we provide you with information for all vendors — even those that don't pay us.