Research from 2019 shows that 84% of employers offer an employee wellness program, but only 20% to 40% of employees take advantage of these offerings. In this guide, we've compiled the top corporate wellness program providers below to help you choose a vendor that maximizes employee engagement, wellness, and productivity at your company. 
Top Employee Wellness Program Solutions
Healthper
yes
yes
yes
yes
yes
yes
no
MoveSpring
no
no
no
yes
no
yes
yes
Tango Card
yes
no
no
no
yes
no
no
Wellable
no
no
yes
yes
yes
yes
yes
Wellness 360
no
yes
no
yes
yes
yes
no
Woliba
no
yes
yes
yes
yes
yes
yes
 
Product
Compliance
Health Risk Assessment
Social
Reporting
Rewards
Wearable Device Integration
Educational Content
Healthper
Healthper provides a comprehensive wellness and engagement platform where a company can create a customized wellness program that reduces healthcare costs.
Healthper offers several of its own wellness programs that can be tailored to fit your business needs:
Healthy Mind for stress reduction and mindfulness
Healthy Habits coaching program
Healthy Heart for cardiovascular health
Healthy Living for guidance on a balanced, healthy lifestyle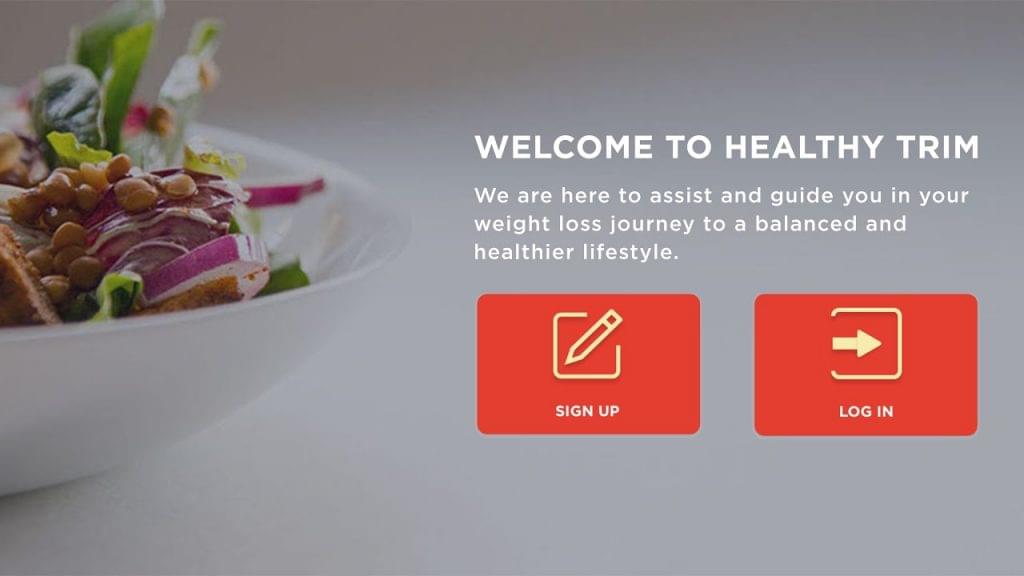 With Healthper your company can set up a customized team or individual challenge. Choose from Healthper's collection of more than 200 challenges.
Employees stay motivated with Healthper's 1,000+ selection of rewards in the form of merchandise, travel packages, e-gift cards, and more.
Consultants at Healthper work with your company to craft a white-labeled wellness program that integrates with your existing tools and engages participants through a variety of channels, including:
Email
Text
Interactive Voice Response (IVR)
Snailmail
Healthper's software portal integrates with biometric, payroll, and reward vendors and is compliant with SOC 1/ ISAE 3402, ISO 27001, HIPAA.
MoveSpring
MoveSpring is an employee wellness platform that is popular mostly among mid-market companies. It includes nine challenge models to keep employees motivated, including:
Streak: Number of consecutive days of activity
Target: Goal number of activities for an individual within a set timeframe
Leaderboard: Competition among colleagues
Virtual race: Visualization of member participation in a challenge
Stick to it: Goal number of activities for a group within a set timeframe
Administrators can set up a challenge in less than a minute.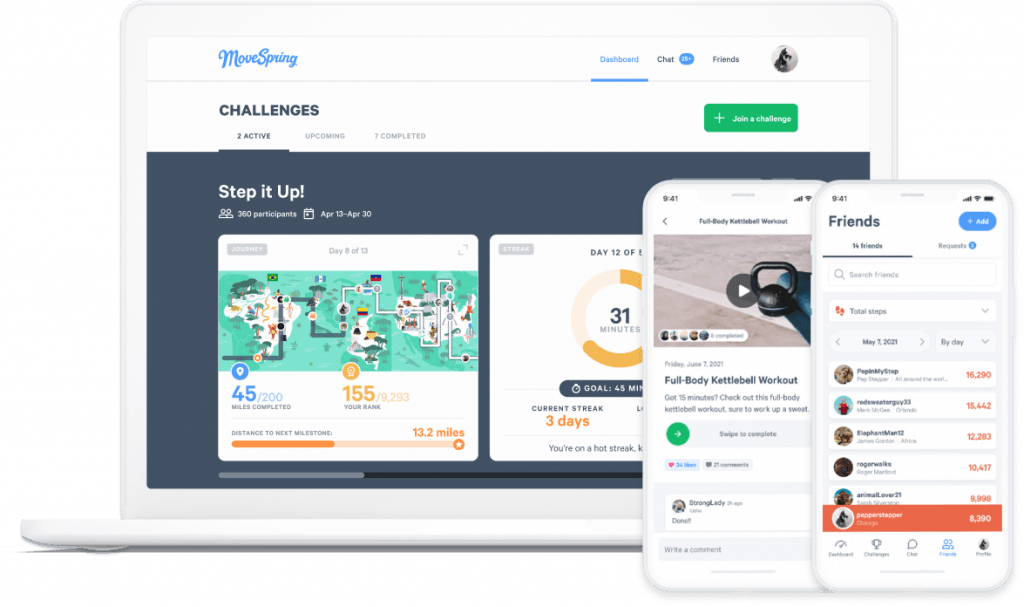 MoveSpring also includes an integrated chat function to keep employees connected, especially those who work remotely. Administrators can also send announcements to all participating members from one central portal. MoveSpring uses badges as its reward model, but it's unclear what employees get from accumulating badges.
Participants can learn about fitness and wellness topics on their own with MoveSpring's collection of educational content.
MoveSpring doesn't include a health screening for participation and therefore does not include compliance features. It is less invasive in employees' baseline health metrics over all. MoveSpring is a good fit for companies who want to employ wellness initiatives to foster a connected workplace culture above all else.
Tango Card
Tango Card is a Rewards-as-a-Service (RaaS) company specializing in rewards and incentives to boost engagement, including for employee wellness.
Tango Card boasts an extensive collection of rewards, from gift cards to cash payments. It offers more than 350 popular gift cards to encourage employees' smart decisions about various aspects of health, including physical, emotional, and financial wellness.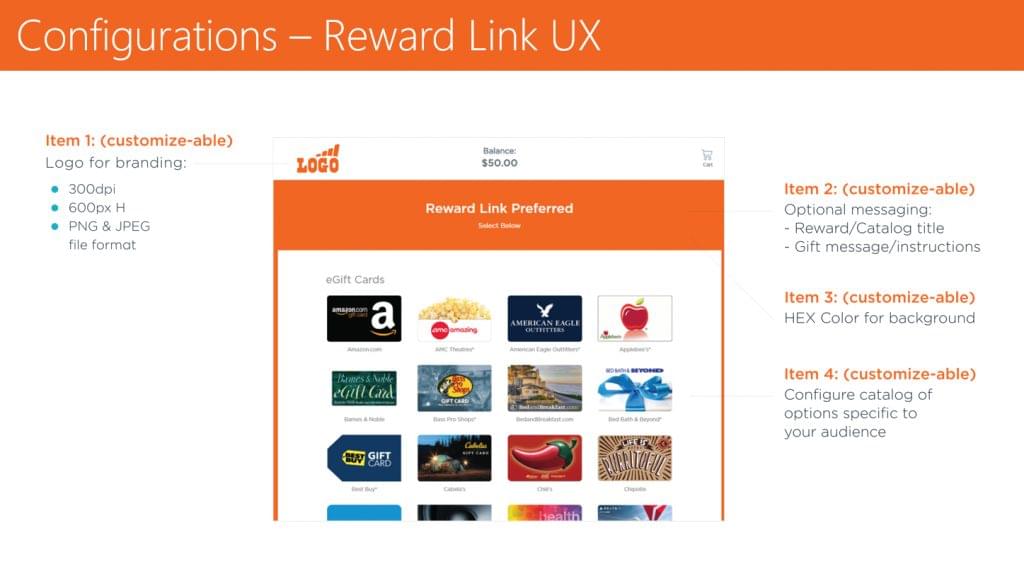 Tango Card makes it easy for administrators to reward employees. Administrators can deliver e-gift cards in bulk or personalized to individuals in seconds, providing an easy, secure way to reward employees.
Tango Card offers templated messaging, for instance, for "Employee of the Month" or a referral bonus to save administrators time. Messages and the portal can be branded for your company as well.
Tango Card does not offer fitness programs and challenges like other vendors but easily integrates with employee wellness programs and health insurance providers.
Wellable
Wellable offers a wellness platform and modules that helps companies craft employee wellbeing programs to support employees' physical and mental health, improve employee relations, and boost productivity.
It's set up in modules so companies can pick and choose the solutions that work for them or commit to the entire platform:
Educational content
Holistic health coach
On-demand fitness and mindfulness classes (400+)
Wellness platform
Wellness events and activities (on-site or virtually)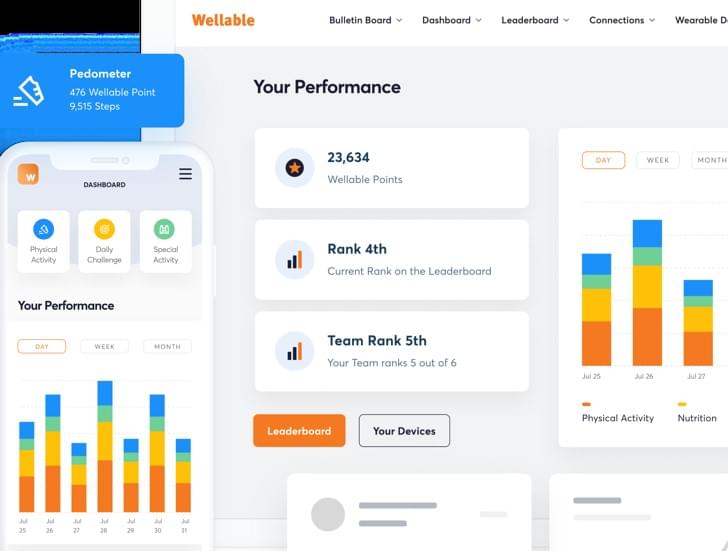 Instead of conducting a Health Risk Assessment, Wellable has a Personal Wellness Assessment (PWA) that asks each participant questions about their lifestyle across eight dimensions of health and wellbeing, including occupational, social, and intellectual aspects. The participant then receives personalized educational content based on their responses.
Wellable offers a variety of reward types, including:
Cash contributions via payroll or HSA
Gift cards
Paid time off (PTO)
Premium differentials
Wellable offers a lot of individually-focused content and programs, but administrators can also set up customizable challenges to encourage healthy competition in the workplace.
Wellness 360
Wellness 360 is an employee wellness platform that offers wellness programs, challenges, and more. It includes the following features:
Health coaching
Team or individual challenges
In-person or virtual events
Rewards engine
Reporting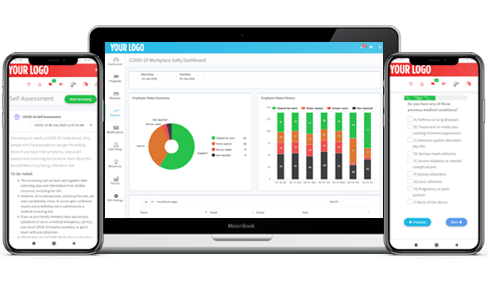 It can be tailored to meet your company's unique needs and the interests of your employees. Wellness 360 offers challenges for steps, stretching, daily physical activity, and more. Administrators can send out branded messages and push notifications to participants using available templates.
Users can then set up their own profiles, track their progress, browse educational content, and view a newsfeed to see how their co-workers are performing.
Wellness 360's rewards engine operates on behavioral economics and social mechanics to promote healthy habits. It's fully customizable and allows administrators to  create reward campaigns, track earned and redeemed reward points, and generate a report on rewards accumulation and use.
Woliba
Woliba is an employee wellness platform that accommodates the needs of SMBs as well as enterprises. It allows administrators to:
Administer rewards
Crowdsource and curate content
Set up events (in-person or virtual)
Track and gather data on usage through various report types
Employees can use Woliba to:
Track their personal progress
Compete with colleagues in challenges
View their progress in leaderboards
Give and receive recognition
Learn more about health topics that interest them

While other vendors provide content, Woliba serves as a home for your in-house or external health-related content. For instance, users can share recipes with one another, and administrators can curate a collection of videos and articles related to health and wellness.
Benefits of Employee Wellness Programs
Without employer-sponsored wellness programs, companies lose money on preventable health expenses, which makes health and wellness programs a critical factor in operations overall. When workplace wellness programs are successful, the business benefits are significant:
Reduced sick leave and absenteeism
Lower health-related costs
Decreased workers' compensation and disability claims costs
Higher employee satisfaction
More employee trust in employer
More attractive to most job candidates
What Motivates Participation in Employee Wellness Programs?
Increased healthcare costs and diminishing worker productivity make the success of employee wellness programs more critical than ever. One way to measure that success is through employee participation and engagement.
More companies are reaping the benefits of digital corporate wellness programs, fostering enthusiasm around those workplace wellness programs. Embracing technology and incorporating gamification boosts user engagement and rewards their participation.
Gamification employs the following elements to make the most of wellness programs:
Incentives: Employees are more motivated to participate when rewards are involved.
Social support: Participants in online health communities are more likely to change behavior when they receive encouragement from friends and coworkers online.
Communication: Providing employees with progress metrics, customized recommendations, and positive, timely feedback creates a feedback loop that lays the foundation for habit-forming healthy behavior.
Empowerment: People are motivated to manage their own health when you give them the right tools paired with the above factors.
How to Compare Employee Wellness Programs
Corporate wellness programs should include the characteristics above, as well as the following features:
Wellness screening
Wearables integration (Apple Watch, Fitbit, etc.)
Educational content
Personalized goals
Health coaching or recommendations
Social network or support
Company-branded interface
Analytics and reporting for human resources administrators
Most wellness programs are deployed as a monthly, subscription-based SaaS (software-as-a-service) platform. Though most vendors offer turnkey solutions for quick implementation, most can be customized to meet your company's unique needs.
Which Employee Wellness solution is right for your business?
Common Applications for Wellness Programs
Enterprise
Enterprise businesses have the power to reframe how thousands of people view health, thanks to their massive reach and influence on employees. Corporations are in a unique position to shift the lifestyle of employees through small, daily habit changes.
Gamified employee wellness programs for enterprises vary, but one prominent feature is a company-specific social network with a customizable user interface.
Sometimes called a social wellness platform, these networks allow employees to assess and manage their health, share their goals and progress, integrate with fitness trackers, and give coworkers virtual high fives for progress.
Midsize Businesses
Many mid-market employee wellness programs offer functionality that is comparable to enterprise solutions, but often with a narrower scope of features.
Instead of providing a full online social network for companies, vendors catering to midsize companies substitute social integration with existing platforms like Facebook or Twitter.
Small Businesses
Though wellness plans for small businesses are often less complex than their larger counterparts, they can yield benefits at a reasonable cost with little or no IT help.
Most employee wellness vendors in the small business arena are web and mobile-friendly and offer integration with popular fitness trackers. They also often feature game elements, social features, and incentives.
Small businesses should focus on scalability to ensure the program can keep up with a growing workforce.
Choosing the Right Employee Wellness Program Solution for Your Company
When choosing a workplace wellness program, be sure to ask the right questions:
What will motivate your employees?
Which rewards make the most sense?
What kind of feedback is important?
Do we need a platform or modules?
Will the solution integrate with existing tools?
Don't rely too heavily on extrinsic motivators like financial incentives. Build a culture of participation to encourage employees to set goals, talk about them, and interact outside of work. Be sure your program balances competence and challenge to keep users engaged.
Lastly, make sure to provide timely, supportive feedback to promote long-term healthy behavior.
Above all else, an employee wellness program should be fun. Engaged employees are healthy employees, and healthy employees are less costly, have fewer absences, and are more productive. The research and buying process can be complex, so seeking out third-party help is common.
How to Create Executive Buy-In
To ensure successful adoption and long-term ROI, it's important to get buy-in from stakeholders in the company — especially leadership. They should agree with the need for an employee health and wellness program and understand the value it will add. Here's how to approach various members of the C-suite.
CIOs and IT Managers
CIOs and IT managers aim to identify technology that best meets an organization's current and future requirements. Your IT department can help you create a shortlist of providers to evaluate for long-term viability. Chances are they'll be concerned with the logistics, like whether a program leverages wearable technology and if so, how that impacts current BYOD policies. 
Integration with current systems and robust security guarantees is also important, so involving your IT team early on is necessary. Be sure to discuss benefits, such as little required investment in new infrastructure or hardware, as most wellness programs are cloud-based.
CFO
Your chief financial officer will want to know how much a wellness program will cost on the front-end and long-term, how it can reduce costs and grow revenue, and when your business can expect to see measurable returns.
Aside from the cost of the actual system, be sure to discuss healthcare cost savings and the positive effects of a wellness program on financials and employee productivity.
CEO
Your CEO will also want to know about cost and technology, but be sure to show how an employee wellness program can improve your core business model and help you gain a competitive edge.
These programs have a positive impact on longstanding HR workforce challenges–employee retention and engagement, worker satisfaction, positive culture, attracting top candidates–so be sure to mention how implementing an employee wellness program fosters teamwork and feelings of positivity towards employers.
Contact one of our Technology Advisors today, or use our Product Selection Tool to filter employee wellness programs based on your criteria.