Nearly every large technical product these days offers some sort of educational program to help you better understand the product and maybe become a power user. The reasons for doing this run from increasing advocacy and adoption rates to building the platform's overall utility.
Salesforce certifications are no different, except perhaps that these make up some of the most sought-after certificates at the intersection of sales and IT.
ALSO READ: Best IT Certifications for All Experience Levels
A 2016 report by Burning Glass found that Salesforce positions are growing at a rate of 1.3x faster than similar roles, and there were over 300,000 Salesforce-related positions posted from July 2015-June 2016. While most of these required knowledge of the platform, a growing subset of positions require technical and operational knowledge that a certification would bolster. Administrator and developer positions generally do not require certification, but certifications help recruiters and hiring managers benchmark your skills and determine commensurate pay.
The Certifications
Salesforce certifications come in all shapes and sizes, so nearly anyone who works in Salesforce and wants to learn more about the tool can find a certification that fits their needs. The current paths are:
Administrators

App Builders

Architects

Developers

Implementation Experts

Marketers

Pardot Experts
Each of these certifications requires the initial certification exam and then yearly product update exams to keep your knowledge current. Salesforce releases new features three times a year in the winter, spring, and summer, and the update exams coincide with these releases. Not all certifications require an update exam for every release, though.
Certification does not come cheap. The initial exams start at $200, but more technical exams for developers and architects are $400. Technical Architect board examinations cost $6,000 and include a free retake. All of this, of course, is before the update exams.
Depending on how critical your role and certification is to the company, discuss with your team the possibility of certification reimbursement. If you can implement projects during your education that show immediate ROI, your chances of getting reimbursed are much higher, so be ready to do some analysis and self-advocating.
The Money
According to PayScale.com, Salesforce Certified Administrators can make between $40,000 and $100,000 a year, depending on education and experience levels, and the average salary for certified developers can climb even higher.
These salaries climb higher because the certification process lets companies benchmark your skills against other potential job candidates. While you may know the skills you have because you use them in your job every day, a potential employer is less able to quantify a list of skills on a resume. Salesforce certification shows that you have proven knowledge of the platform, and you can use this knowledge in a defined way that they can compare against other employees or candidates.
Education as a Living
Maybe you already make enough money (good for you), and you're interested in more lofty goals, like continued learning. Gaining and maintaining a Salesforce certification may still be up your alley. Depending on the certification you achieve, you will have to complete between one and three release exams a year to keep your certification current.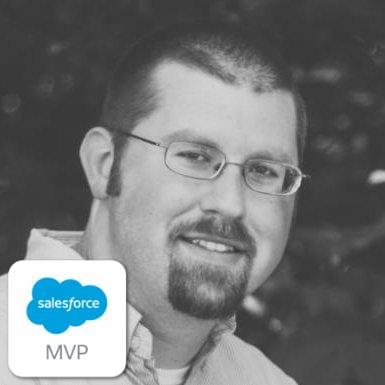 Salesforce MVP Douglas Ayers cites this continuing education, and more specifically the studying and use of the platform as the most significant benefit he's experienced from the certification process.
"I have benefited by studying up on topics that I don't use as often and so become aware of features and options I might otherwise not come across in my daily job," Ayers says. "With Salesforce's three major releases a year, obtaining new and maintaining current certifications requires me keep up with an evolving technology."
Whatever your specialty, Ayers says using the platform helps before and after certification, "I first obtained the Salesforce Certified Administrator certification after being a full-time administrator for a year. As I gained more experience and more years on the platform, it was like a snowball effect, and I was able to tackle more certifications.
"I caution folks who pursue certifications purely for marketability to get their 'foot in the door,' because . . . it's what you know that will help you keep [a] job and your reputation."
Process Improvement
The Salesforce community is dedicated to sharing learning and improving the platform as a whole to the betterment of all users, as evidenced by both the proliferation of the users groups that meet and share knowledge and the certifications themselves. While sales and the B2B space can be incredibly competitive, the Salesforce community thrives because the members work to make the platform more powerful and easier to use.
Salesforce offers Salesforce University in addition to Trailhead — a series of training courses that teach people to use the platform out-of-the-box and make those modifications that build upon the platform's power. You can extend your knowledge by completing the Superbadges and Projects on Trailhead as well.
Let's be honest here, certifications are nice, but your boss will want to know how your certification actually improves your company's use of Salesforce. Your certification requires that you actually use the tools and understand them.
Ayers says, "Nothing is a substitute for real world experience. In the Salesforce certification exams, a question may have three answers that are technically possible on the platform but only one answer is the most practical and recommended solution. It is hard to learn these nuances simply by cramming for an exam or studying flash cards."
The experience you gain studying for the exam will feed off of the knowledge you learn as you actually use the product, and vice versa. If your intentions are pure, and you learn the system to make daily use better for your team, you're going to get more out of certification than if you're just chasing that big paycheck.
The Best Swag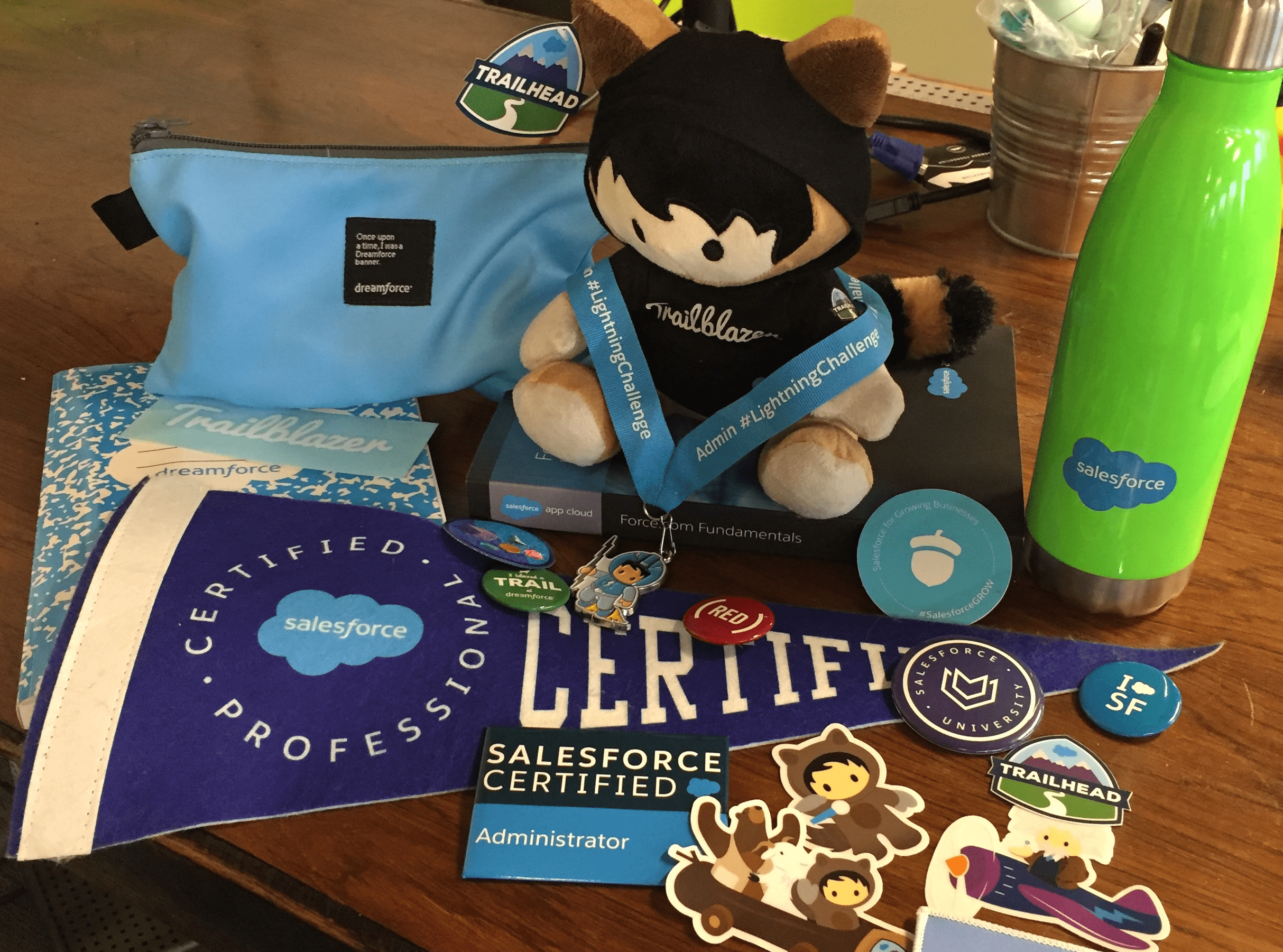 To reward their certified users, admins, and developers, Salesforce does not hold back on the swag. The above picture came from the personal stash of our own Salesforce Certified Administrator, Keith Lee, and that's just what he had in his desk.
The company gives away much of this swag — stickers and books and badges and socks, lots of socks — at the annual Dreamforce conference, where Salesforce folks from all over the world show up to talk CRM. Folks love swag, and it doesn't hurt that it's instrumental in building and maintaining the Salesforce brand.
Conclusions
Salesforce certifications can cost you or your company a lot of money to initiate and maintain, but the ROI for you and the company will more than prove its worth. Ayers warns that certifications aren't for everyone. "If you are a business user, sales rep, support agent, or executive, these certifications may not prove valuable unless you're super interested in how to manage the platform," he says.
Education for its own sake is great, but don't expect your company to reimburse you for a skill you don't use daily to improve their bottom line.
* * *
Want more information about Salesforce certifications? Visit the Certification page at Salesforce.com, browse the Success Community, or research a local user group. You can find Douglas Ayers at his blog, where he writes about Salesforce education and use, or on Twitter, LinkedIn, GitHub, and YouTube.