This post has been updated for 2020. 
The workweek of the modern business professional is made of projects, which are made of smaller tasks, which must be completed to meet project goals. Organizing your library of to-dos is a prerequisite for completing them on time, which is why project management software has become a standard tool for professionals in almost every industry.
If you're shopping for a new project management platform, how do you choose between Wrike vs. Basecamp? Read this article, for starters. It compares the two systems based on pricing, task management, scheduling, collaboration, file sharing, and reporting capabilities.
Wrike vs. Basecamp: An overview 
Systems and Pricing
Both systems are cloud-hosted software-as-a-service (SaaS), meaning customers pay a monthly subscription for access. That's about where the similarities end.
Task Management
All project management begins with task management. The easier it is to assign and manage tasks, the simpler it is to complete projects.
In Wrike, users organize tasks under "folders" which refer to different projects. You can nest subfolders under a main folder to better organize related series of tasks. Clicking on a folder pulls up an adjacent panel with a list of all the tasks under that folder. Clicking on each task summons yet another panel where users can do some detailed editing — assign due dates, attach files, leave comments, track time, and add dependencies.
If you need to make changes to an entire group of tasks, you can do so at the folder level. Wrike also has search functionality at the folder level to make locating specific tasks a breeze. Folders function as a kind of dashboard: the left navigation that displays them is ever-present and acts as a filter in other views.
Basecamp displays tasks in to-do lists organized under their respective projects. The profile picture of each person assigned to the task is displayed next to the task name, with the task itself next to a checkbox signifying if it's complete or not.
Clicking on an individual task takes you to a new screen where you can comment on the task, upload a file, change the due date, and otherwise edit the task.
Scheduling
One of Wrike's most unique features is the interactive Gantt chart available in the timeline view. Using folders as a filtering tool, you visualize each task in the folder as a horizontal bar spanning days of the week.
Users can also create and adjust task dependencies by simply dragging one end of the task's bar and connecting it to another. This view can also be used for creating milestones that indicate higher level deadlines for a project.
The timeline view is one of Wrike's biggest differentiators. Gantt charts a time-tested way to visualize the moving parts of a project, and Wrike's version gives you a substantial amount of control over tasks.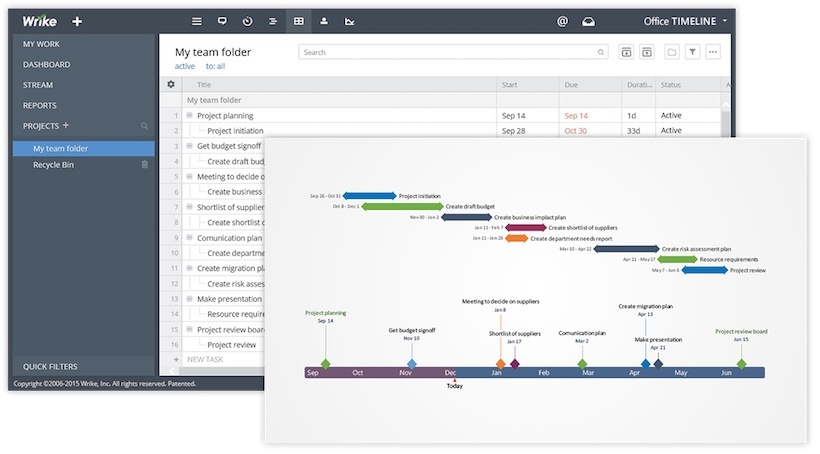 ALSO READ: Wrike vs Asana: Which Should You Choose?
Basecamp's scheduling feature displays upcoming task deadlines like a social media stream organized on a per month basis.
Basecamp also includes a calendar that can show project deadlines or function as a standalone, personal calendar. You can use the calendar to create tasks, email people that need to know about tasks, and set deadlines. Though it's not quite on the same level as Wrike's Gantt chart, the Basecamp calendar is a handy tool for keeping track of deadlines.
Collaboration and File Management
Without collaboration between team members, projects will unravel. Individual organization just doesn't have the same effect when compared to keeping an entire group focused.
Project collaboration features usually come in two broad forms: activity updates and file management.
Wrike has several functions for activity updates — the most prominent of which is its newsfeed that keeps a stream of updates on all project activity. Wrike also lets you call your colleague's attention to a particular task via email update by writing @someone'sname on the task level.
Basecamp uses a message board as the center for all of its activity updates and a centralized messaging app called Campfire.
Basecamp also has a client view function that lets you invite clients to a project and send them notifications. Project managers can specify what clients can see and access, thereby maintaining a level of privacy between the internal team and the external customer.

Finally, Basecamp has a "loop-In" feature, which gives users the ability to email people outside of the project when a particular update is published.
In terms of file collaboration, both systems have native text editors, which makes tracking changes to text documents relatively straightforward.
Basecamp has a file search view that scans all the files inside a particular project and organizes them by label, date, and other criteria. Similarly, Wrike allows you to search for files at the folder level.
Reporting
After a project is in motion, you'll need to keep an eye on progress. Strong reporting features are critical to identifying bottlenecks in the project workflow and adjusting accordingly.
Wrike's reporting features come in a few varieties. First, you can use filters to create reports on certain types of tasks — e.g. overdue tasks within the quarterly email campaign folder.
Second, each Wrike folder has a burndown chart on the far right side of the screen, so you can see how many tasks have been completed relative to how many were assigned.
Third, there's a task digest view below the burndown chart that visualizes all the different types of tasks within each folder: completed, overdue, and backlog.
Basecamp's reporting mostly takes place in the Progress view, which shows a list of all the completed tasks for each project in chronological order. Users can scan everything that's happened across the project since its inception and click on on anything they need to revisit. Basecamp also features a hill chart where users can place tasks on a curved line chart and move them along the line to indicate progress. 
Which is Right for You?
Wrike vs Basecamp is a classic example of simplicity versus customization.  
Basecamp's design is beautifully straightforward, which makes it easy to learn, navigate, and use. Wrike's design is far from lacking, but not quite as crystallized as its competitor. On the flip side, Wrike has a decided advantage in terms of capabilities, so while it may take longer to learn, you can customize it to fit your every need.
Choosing between these two systems means answering that one question: do you want a system built for power and customization, or do you want a system that's straightforward and easy to learn?
To read more about project management software and compare solutions, visit our Product Selection Tool.