Thanks to project management (PM) software, overseeing complex tasks has become simpler.
Project and collaboration technology has come a long way, and now allows teams to track progress, simplify processes, communicate clearly, and easily collaborate from one central platform. No matter what your business does or how teams work, there's a solution tailored to your needs.
But with so many apps and systems to choose from, they quickly blur together when you start to compare project management software, such as Asana and Wrike.
These are two of the most well-loved project management programs, and we've placed them head-to-head to assess their strengths and limitations.
Wrike vs. Asana
---
How Are Wrike and Asana Similar?
Asana and Wrike are both strong players in the task and project management space. Since each vendor is focused on collaboration, they offer similar functionality like project management features and app integrations.
Project management
Projects lie at the heart of both systems (though Wrike uses the term "folder hierarchies" to organize projects). Inside projects of either system, you can create, assign, and schedule tasks, as well as organize them with color codes. Depending on your preference, you can view projects based on status, tasks, due dates, or percentage complete. You can also see the status of each project on the right panel of both systems.
In Wrike, you view statistics with the folder snapshot: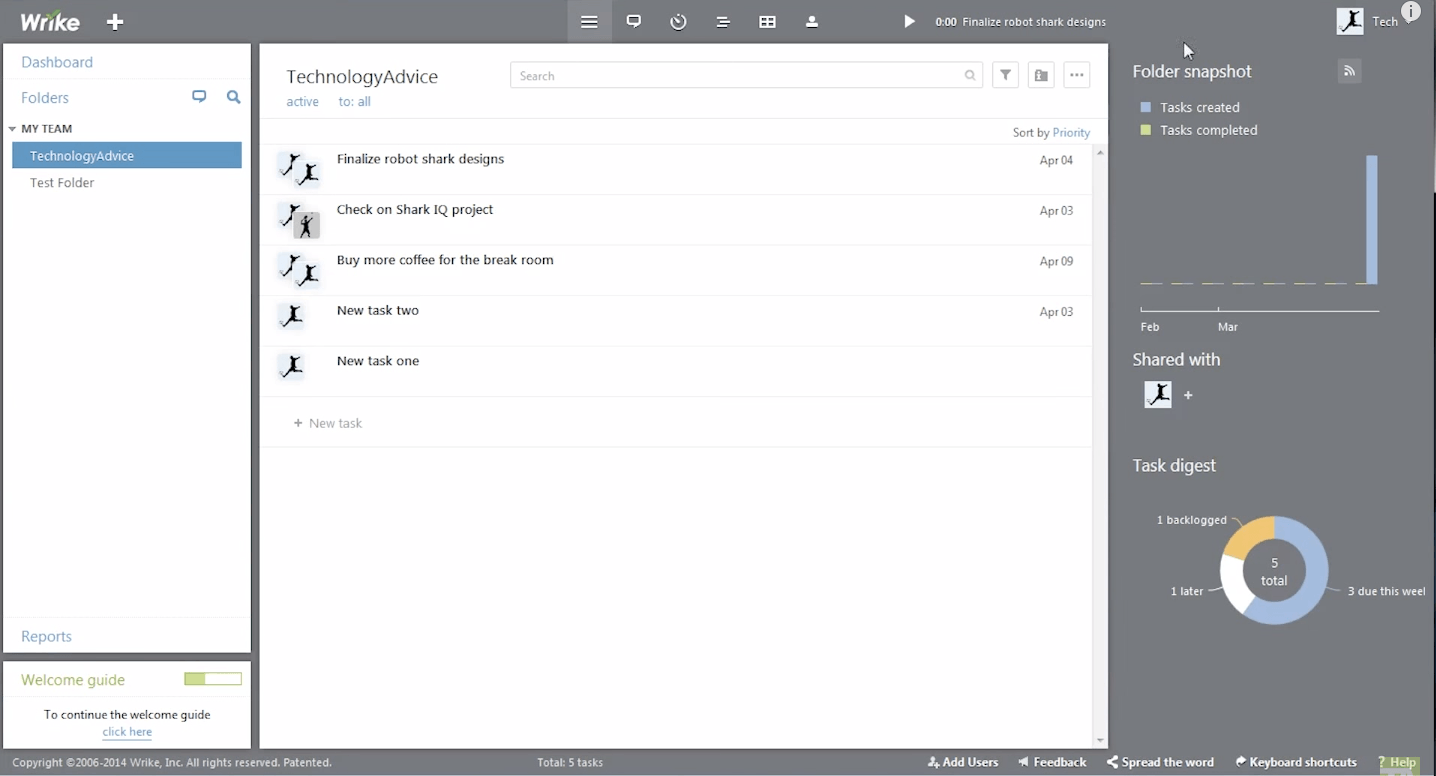 And in Asana, you get a project overview with the progress metrics: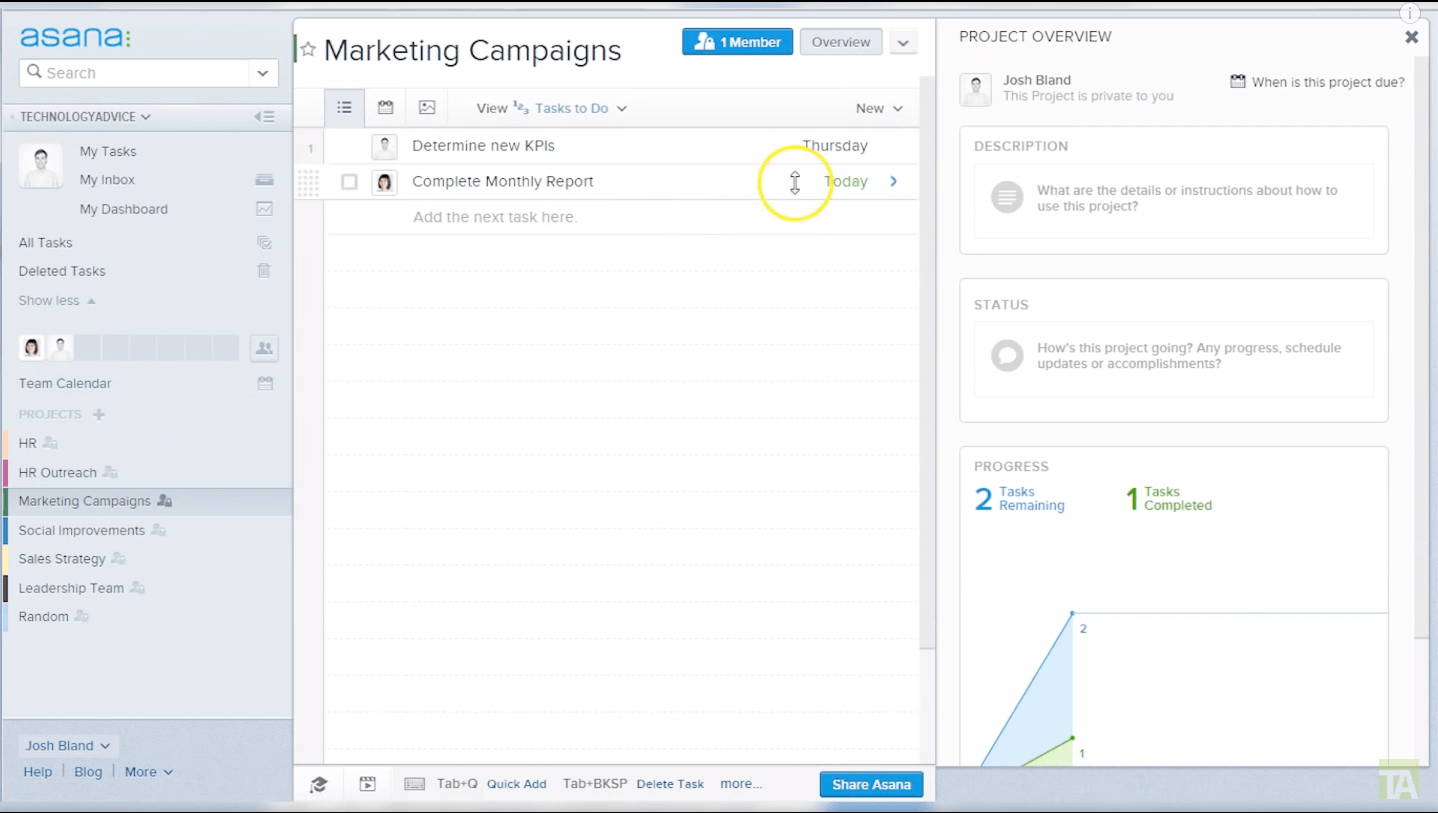 Both platforms also make it easy to comment and discuss projects using @ tags to mention people, which helps eliminate siloed information by looping everyone into the conversation:
Asana:

Wrike: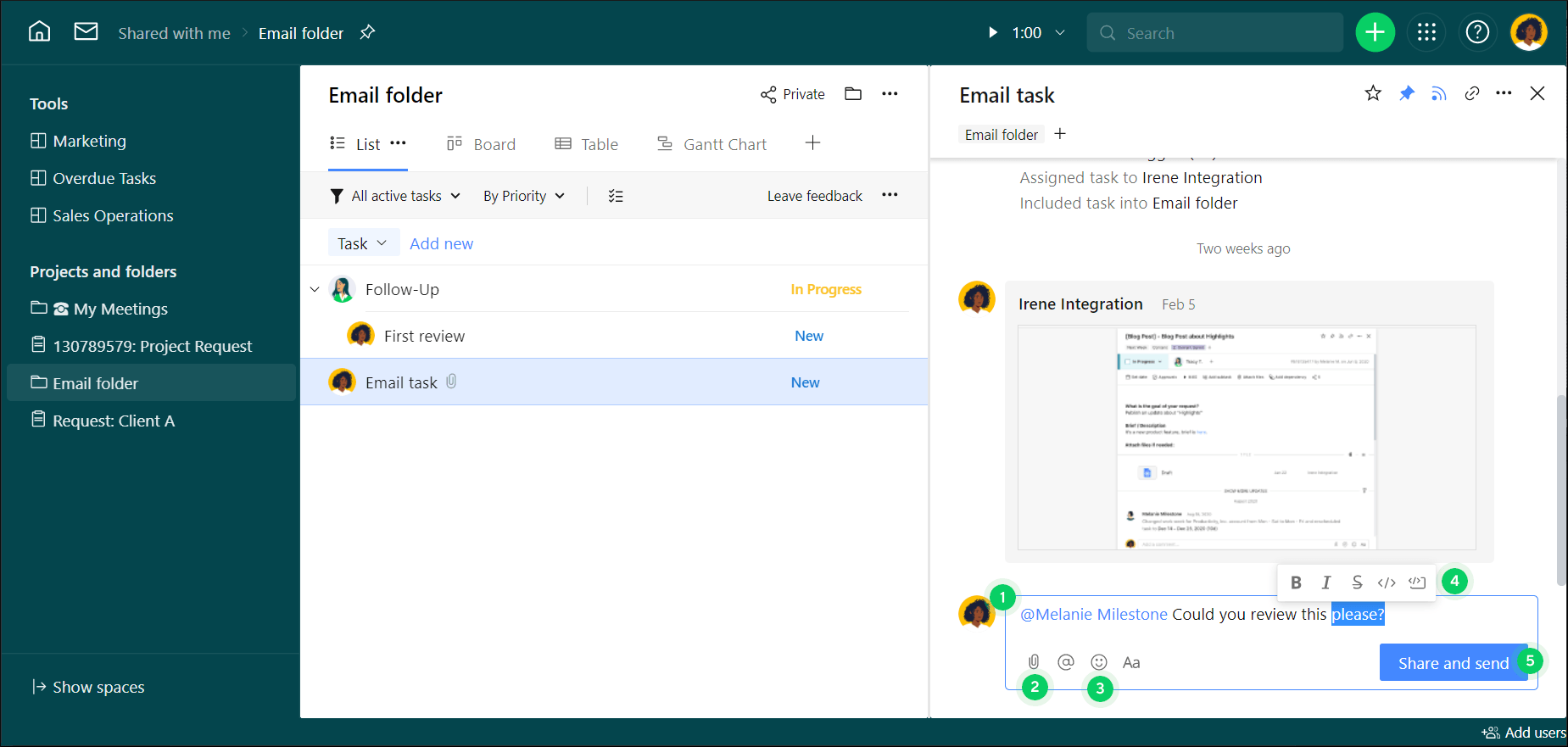 To wipe out pesky status emails, both platforms allow you to create custom workflows. For example, not every task is simply complete or incomplete—there are often multiple stages attached to each. Instead of wondering if a task is finished or forgotten, both systems allow for additional transparency.
In Wrike, you can create statuses to match the actual stages your tasks follow in the work process: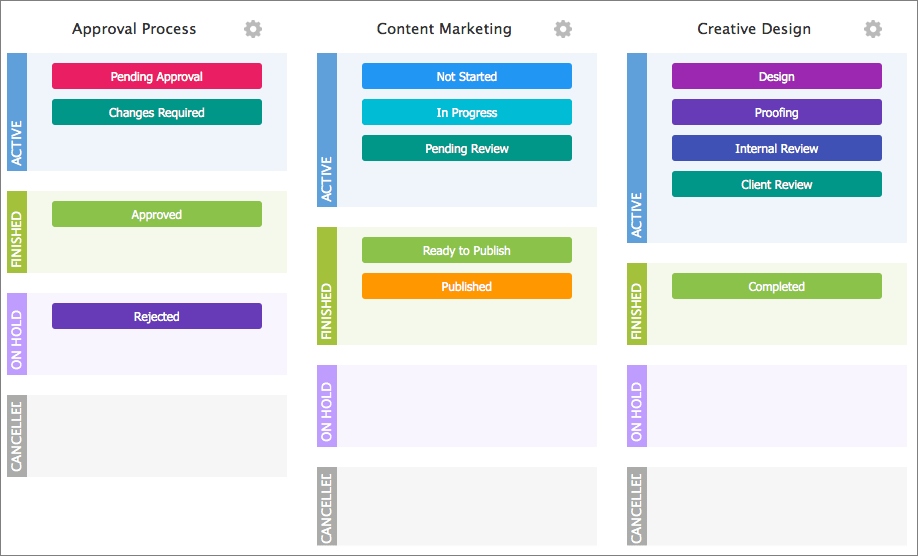 With Asana, you can set up "sections" to represent each phase of a unique project:
One of the most helpful features of both systems is the ability to relate one task to multiple projects—without duplication. This is useful when a task is relevant to concurrent goals or when due dates are applicable to multiple projects.
Lastly, both systems help keep you out of your inbox by offering integrations with popular email providers. Asana allows you to turn emails into tasks, and Wrike lets you transform an email with one click:
Asana: 
Wrike: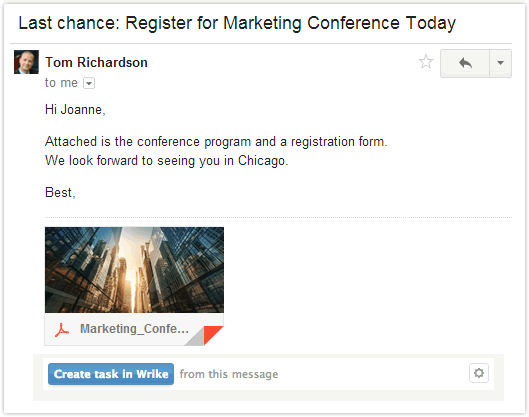 Asana provides a dedicated project inbox:
Wrike's activity stream records about all updates happening in your workspace: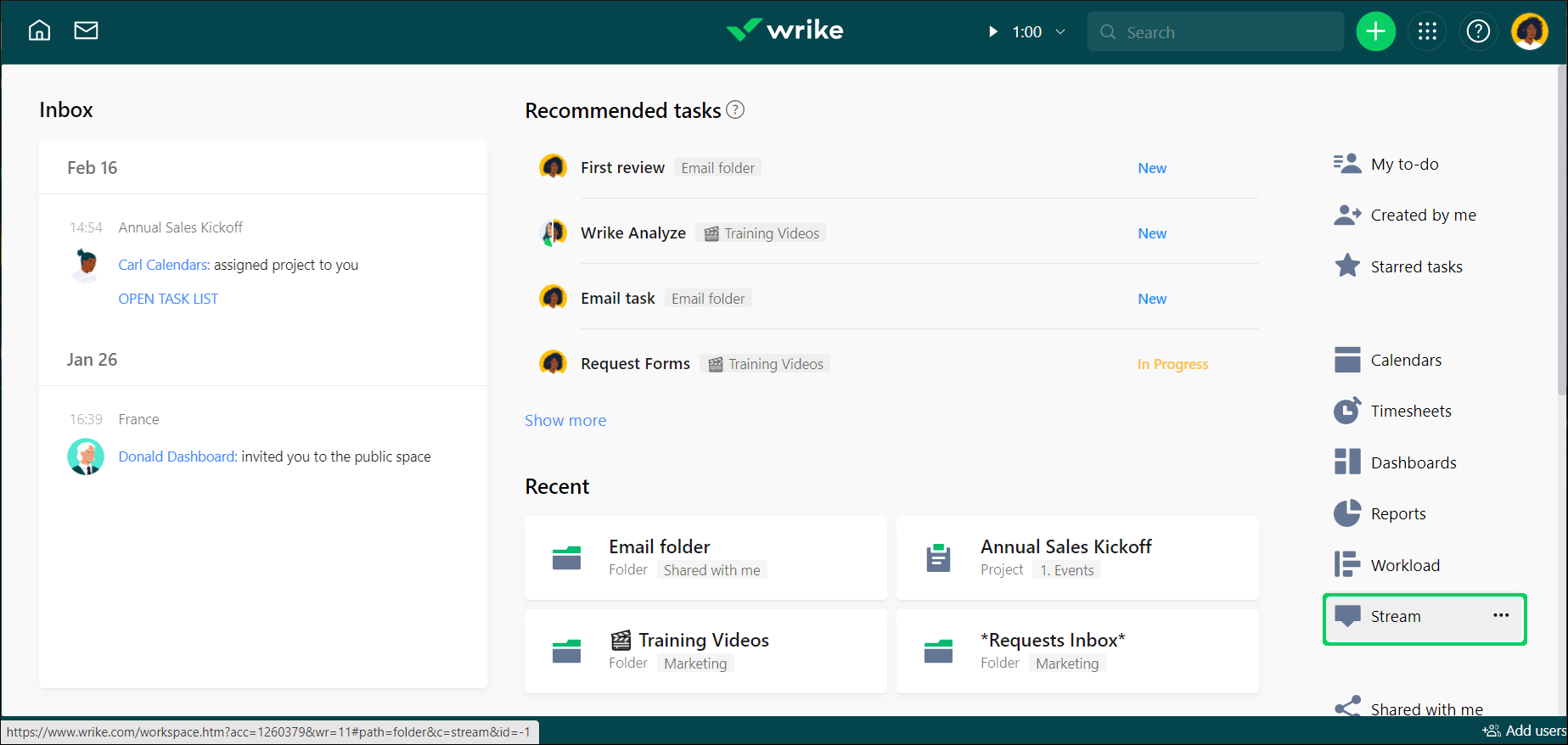 Apps and integrations
Beyond functionality, both Wrike and Asana offer Android and iOS apps to keep you productive on the go. They also have a wide variety of app integrations, which helps connect the tools you use frequently with their platform. Current integrations include:
WordPress
Google Drive
Dropbox
Box
Calendars
Wufoo
Okta
Hipchat
Slack
Zendesk
Zapier
User-friendly interfaces
Both Wrike and Asana offer beautiful, easy-to-navigate interfaces to help track progress and understand performance at a glance. You can take a high-level view, or drill down to monitor individual projects.
Asana dashboards:
Wrike dashboards: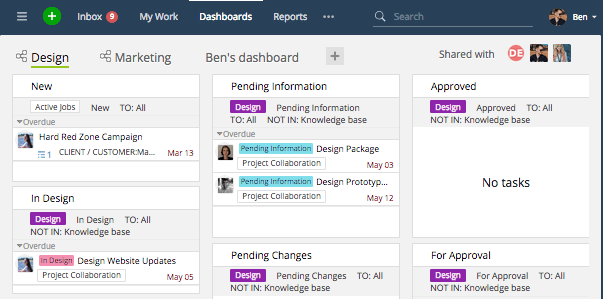 ---
How Are Wrike and Asana Different?
With so much in common, it's easy to see why people have trouble deciding between them. There are several internal differentiators that aren't addressed on the surface. Some of these differences include pricing, Gantt charting and different integration abilities.
Pricing
Asana and Wrike both use the same pricing structure: a freemium, tiered model. They both allow unlimited third-party collaboration ("guests" for Asana and "collaborators" for Wrike). This means outside clients, vendors, contractors, freelancers, or other third parties can all access approved projects for free.
Asana is free for 15 users with limited functionality. Once you upgrade to their premium version to access more features, five users costs $21 per month, and 15 users is $63 per month. Wrike is free for five users with limited features. Their professional version is $49 per month, and 15 users is $99 per month.
Both vendors offer additional pricing for larger companies as well. Asana recommends companies over 100 members should contact them, while Wrike offers an enterprise tier for five or more users.
Gantt charts
Wrike provides built-in Gantt charts to help you track project progress, although this feature is not included in free versions: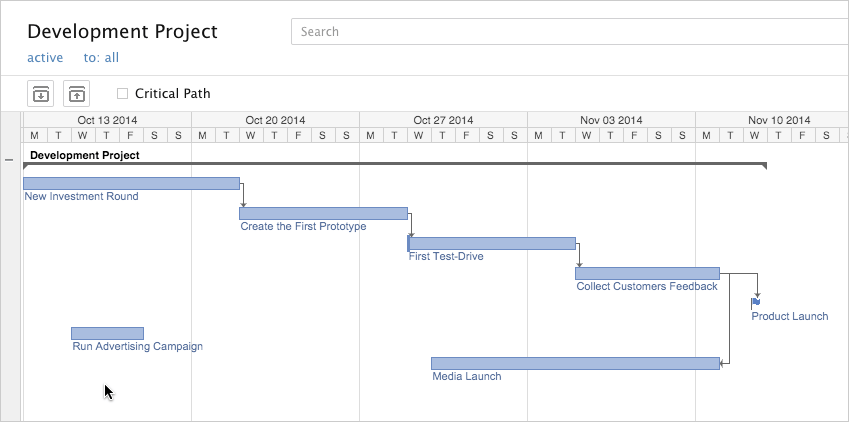 Asana offers Gantt-style charts called timelines. They let your team assign work, track milestones, and set dependencies.

Integrations
Wrike and Asana both offer over 30 integrations. Though many of them do overlap, there are a few differences of note:
Time tracking: Wrike offers built-in time tracking, whereas Asana integrates with Everhour and Harvest.
Marketing automation: Wrike integrates with Hubspot, whereas Asana integrates with MailChimp and Campaign Monitor.
Sales: Wrike integrates with Salesforce, whereas Asana integrates with Zapier, which offers custom Zoho CRM automation.  
While it's worth mentioning that none of these integrations are inherently good, bad, or better than the other, it's an important factor to consider when weighing both programs. Asana has prioritized integration with many small-business tools, whereas Wrike favors many enterprise-focused integrations. In the end, each company also offers a flexible API, so if you already have your heart set on one, don't be discouraged— there's a good chance it can customized to fit your needs.
Support
It's not healthy to expect the worst, but when things turn sour, you'll need all the help you can get. Asana provides email support, FAQs, a knowledge base, and videos for troubleshooting. Wrike offers the same mix of electronic help, in addition to phone and live chat support.
---
Final Thoughts
Asana's strength lies in its simplicity. It supports team communication and workflows, as well as individual work. It's easy to get a clear view of priorities and tasks, and collaborate on those tasks that relate to other people.
Asana isn't trying to be all things to all people; it doesn't care to create tailored versions for one industry or company size. But if you need additional features or already have apps you love, you can take advantage of integrations and API to support your specific needs.
If you value communication and coordination but want to go beyond traditional task management, then Wrike may be for you. It offers many enterprise-grade features. Its built-in time tracking, for example, could be especially useful for large companies or remote workers.
And while Asana is focused on getting you out of the inbox, Wrike is focused on getting you out of all your apps. For instance, its native document editor lets users edit collaboratively and see changes in real time—all within Wrike.
monday.com Work OS is the project management software that helps you and your team plan, execute, and track projects and workflows in one collaborative space. Manage everything from simple to complex projects more efficiently with the help of visual boards, 200+ ready-made templates, clever no-code automations, and easy integrations. In addition, custom dashboards simplify reporting, so you can evaluate your progress and make data-driven decisions.
Big ideas aren't simple to execute. So we're here to help you tackle any project, no matter how complex. We're Quickbase.

Quickbase helps customers see, connect and control complex projects that reshape our world. Whether it's raising a skyscraper or coordinating vaccine rollouts, the no-code software platform allows business users to custom fit solutions to the way they work – using information from across the systems they already have.
Wrike's top-notch workflow management software allows you to easily visualize priorities, boost collaboration, and maintain control of your projects. Bonus: you can move seamlessly between apps, without logging in or out. Wrike has more than 400+ integrations with popular platforms such as Google, Dropbox, Microsoft Office, and many more. Automation and AI features strip away time-consuming admin tasks so you can do the best work of your life.
Technology Advice is able to offer
our services
for free because some vendors may pay us for web traffic or other sales opportunities. Our mission is to help technology buyers make better purchasing decisions, so we provide you with information for all vendors — even those that don't pay us.