Don't compare Trello vs. Slack. Instead, use them together.
Wanting to make this comparison is a common impulse, but I don't think it's very helpful. While both applications are considered project or workflow management tools, they don't serve the same functions.
Trello is a true workflow management system that lets users organize tasks in Kanban boards; Slack is more of a workplace instant messaging application that includes some task management features. Trello allows comments and @ mentions, but by itself it's not an ideal tool for quick communication. Likewise, Slack is great for instant messaging, but apart from using the /remind command, it doesn't offer much for managing tasks.
This article highlights where Trello and Slack shine on their own and shows how to use them together for best results. If you're still not sure about which project management software to use, we can send you a list of recommendations to explore. Use our Project Management software category page to request your free, personalized shortlist of the best project management tools for your organization based on features, pricing, and integrations.
Where Trello and Slack impress individually
If you're considering using both systems together, you'll first want to make sure they offer what you need on their own. Take the following considerations into account before moving forward.
Trello is a workflow management software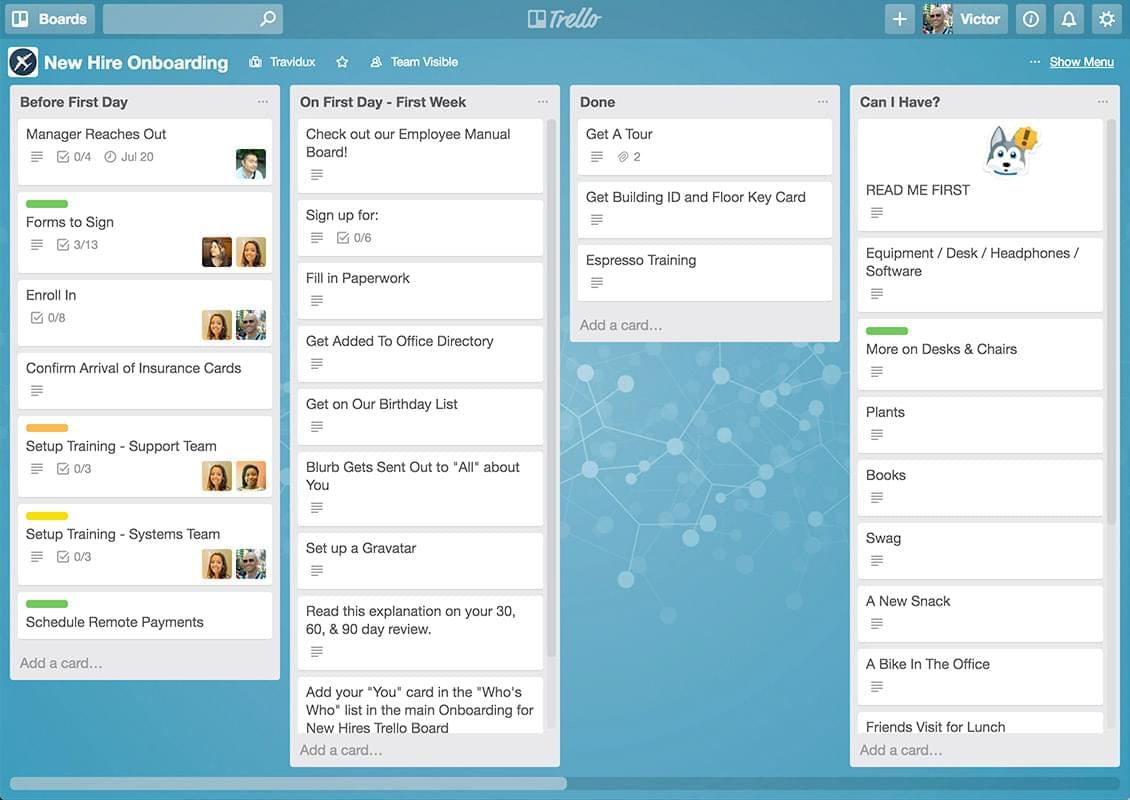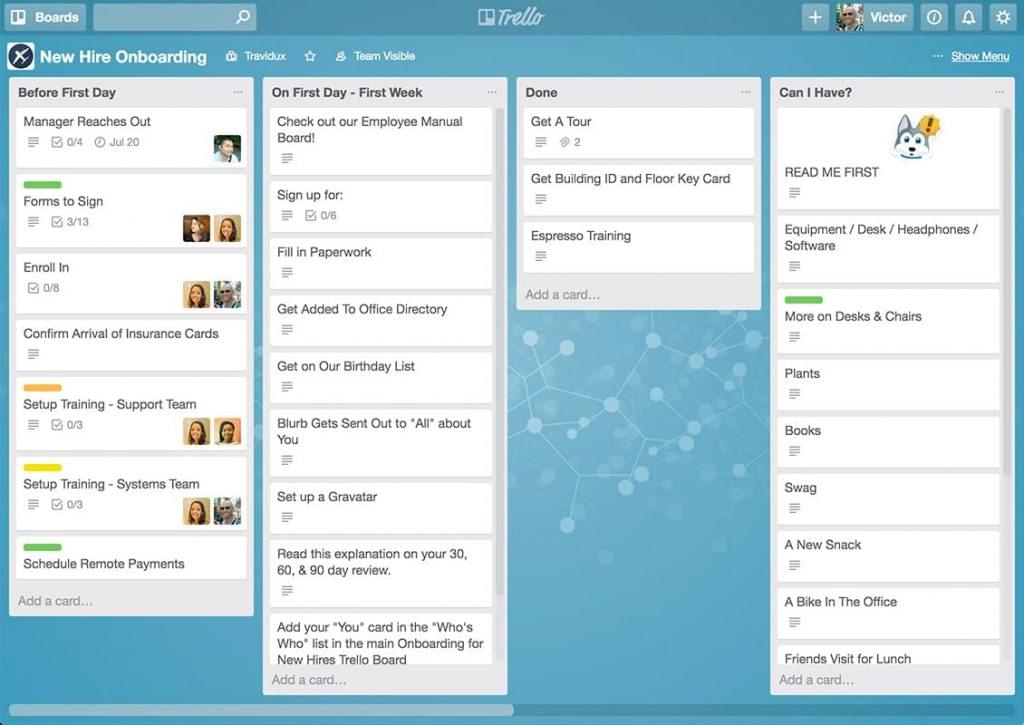 If you're looking for an easy way to manage tasks and simple projects, Trello is a good option to explore. This system organizes tasks into cards, which you can then categorize into different columns on a Kanban board. Trello comes with templates for different workflows such as content writing, podcast production, video production, scrum processes, sales pipelines, and even wedding planning.
The best part about Trello? It's free for up to ten team boards! But — and you knew this catch was coming — if you plan on getting the most out of integrating Trello and Slack, you'll want to upgrade to Business Class, the first paid tier in Trello's pricing options. If you're a really big operation, you may even consider an Enterprise plan.
I'll talk more about how this enhances your experience using Trello and Slack together in just a moment, but if you're using Trello by itself, upgrading means you can use workflow automation, create custom fields, work with larger files, and take advantage of advanced security features.
Trello key features
Boards, lists, and cards: Trello's core structure revolves around boards (representing projects), lists (for task categorization), and cards (for individual tasks). This setup allows for clear visual organization and easy tracking of tasks.
Flexible & robust workflow: Trello enables teams to create custom workflows to suit their unique needs. Users can easily move cards across lists to signify progress, status changes, or task allocation.
Built-in workflow automation ("Butler"): Butler, Trello's automation feature, helps automate repetitive tasks, like moving cards, assigning tasks, or setting due dates, freeing up time for more strategic work.
Power-ups: Trello's Power-Ups extend its functionality, allowing integrations with various third-party apps like Google Drive, Slack, and Jira, enhancing the tool's productivity and collaboration capabilities.
Notifications & due dates: Trello ensures everyone stays in the loop with email and in-app notifications, alongside due dates for keeping track of deadlines.
Team collaboration: Trello allows easy collaboration with features like comments, attachments, and shared boards, fostering communication and teamwork.
Mobile sync: Trello's platform syncs in real-time across all devices, providing on-the-go access for its users.
Slack is a workplace instant messaging tool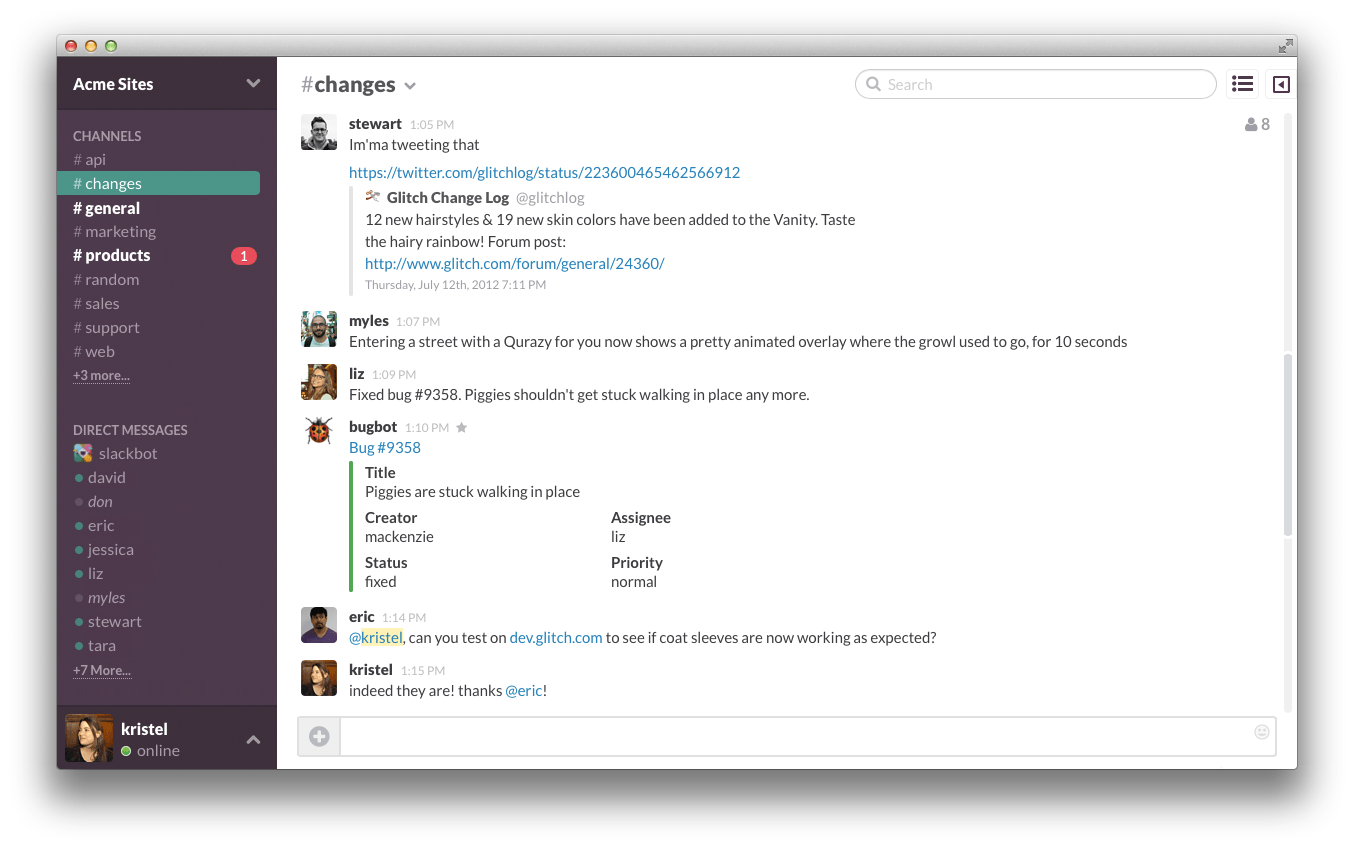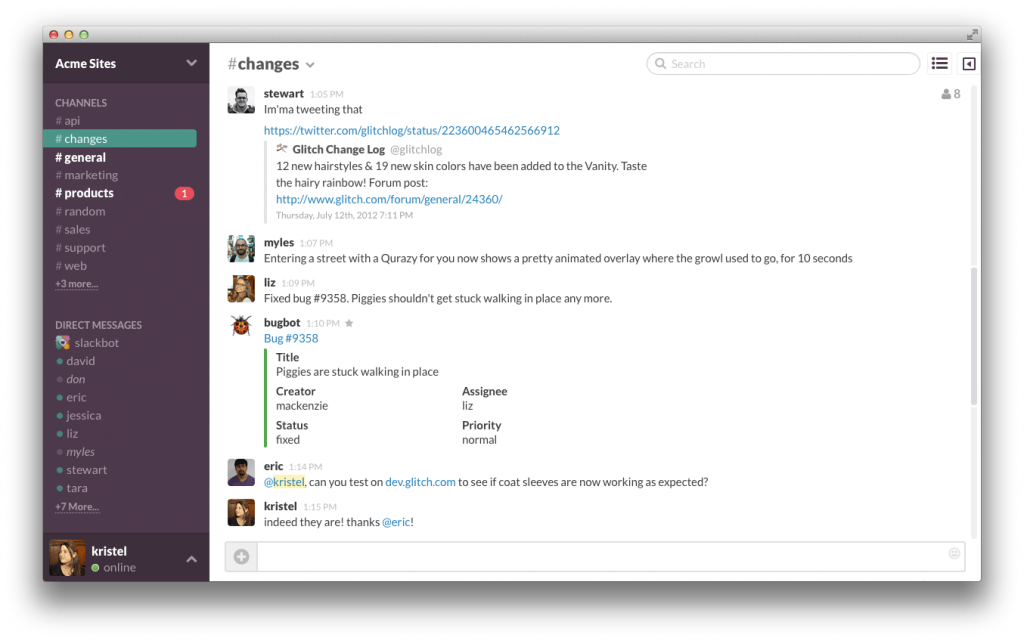 Slack sometimes gets a bad rap as a productivity killer, but maybe we should cut it some slack 😎. Now that you want to throw your computer out the window and never read anything I write ever again, take a few deep breaths, maybe drink some water.
Feeling better?
Some people do love to hate Slack, but Slack is only as distracting as you allow it to be. It's a great tool for staying in contact with team members throughout the day, getting quick answers to simple questions, and, yes, sharing the occasional GIF. Many people find it to be far less disruptive than the cursed drive-by meeting.
It's also worth noting that Slack sometimes gets labelled as a project management or productivity tool, but this is a bit misleading. Slack works best for:
Collaborating with team members
Facilitating asynchronous communication
Organizing conversations by topic
Acting as a digital bridge for remote workers and distributed workforces
As a project management tool, Slack really only offers a reminder Slash Command, which lets you schedule reminder messages to yourself and others. It also gives you the ability to integrate Slack with third-party workflow and project management systems like Trello, Asana, Wrike, and others.
Slack key features
Channels: These are dedicated spaces for conversations, organized by topic, team, or project. Channels keep conversations and decision-making transparent and accessible.
Direct messages and group messages: These allow for one-on-one or small group conversations, facilitating quick discussions and confidential talks.
File sharing: Slack allows you to share files, documents, and images directly within conversations, keeping related discussions and resources together.
Searchable history: Slack archives all your conversations and makes them easily searchable, allowing you to pull up past discussions or files as needed.
Voice and video calls: You can start voice or video calls directly within Slack, encouraging real-time communication and collaboration.
Integration: Slack integrates with a wide range of third-party applications like Google Drive, Trello, and Zoom, bringing all your tools into one place and enhancing productivity.
Slack Connect: This feature allows organizations to create shared channels with external partners, promoting seamless collaboration beyond your company's boundaries.
Workflow Builder: Slack's Workflow Builder allows you to automate routine actions and communications, reducing manual tasks and improving efficiency.
Using Trello and Slack in harmony
There are two ways you can make Trello and Slack work together: the Slack Power-Up in Trello and the Trello App for Slack. They're both useful add-ons, but the one you end up using will depend on which tool you prefer.
For instance, the Slack Power-Up in Trello lets you do the steering from Trello, while the Trello App for Slack lets you do the steering from Slack. This might seem confusing at first, but once you learn how both add-ons work, it all comes together.
But why choose one add-on over another? If you switch back and forth between Trello and Slack regularly, I recommend using both add-ons so you can streamline processes in whichever app you happen to be working in at the moment.
The Slack Power-Up in Trello
Let's rewind for a moment and talk about upgrading to a paid tier in Trello. You can do this to simply get more automation and security features out of Trello as a standalone solution, but you'll also get a lot of value from unlimited power-ups.
Power-Ups take your Trello experience to the next level, and thankfully there's a nice Slack Power-Up you can get. This add-on lets you remind yourself and others about upcoming due dates on cards. It also lets you assign a board to a specific Slack channel, share cards with someone in a DM or with a group of people in a certain channel, and link to a card in Trello.
The Trello App for Slack
The Trello App for Slack works much the same way that the Slack Power-Up in Trello does, except the roles are reversed. In the previous example, the Slack Power-Up, a user works in Trello to trigger actions in Slack. But in the Trello App for Slack, a user works in Slack to trigger actions in Trello.
You can do this using what Slack calls Slash Commands. These are actions you can take in Slack by simply typing /[command] in the messaging field. Some common examples include:
/remind — lets you send reminders to yourself and others
/invite — lets you invite someone to a channel
/collapse — collapses all files in a channel. This is very useful for hiding distracting GIFs from your co-workers 😅
The Trello App works no differently. Using the Slash Command /trello, you can create new cards straight from Slack. This add-on also lets you attach conversations from Slack to Trello cards, subscribe to updates on a card, update due dates, and join cards and boards.
Tying it all together
If you're brand-new to Trello and Slack, this may seem confusing right now. The easiest way to overcome this is to dedicate some time to tinkering in the two systems, installing one or both of the add-ons I mentioned, and practicing taking different actions yourself.
It's also possible you just finished reading this article and realized Trello and Slack are not what you're looking for. If this is you, don't worry — we can make recommendations to help in your search. Use our Project Management Software software category page to request a free, personalized shortlist of the best project management solutions for your business. Getting started is easy and takes less than five minutes.
Find your new project management software
1

Wrike
Tackle complex projects with Wrike's award-winning project management software. Break projects into simple steps, assign tasks to team members, and visualize progress with Gantt charts, Kanban boards, and calendars. Manage resource allocation and forecasting with software that's easy to launch. Automation and AI features strip away time-consuming admin tasks so you can do the best work of your life. Streamline your practices, align your team, and ensure you hit deadlines and stay on budget.
2

monday.com
monday.com Work OS is the project management software that helps you and your team plan, execute, and track projects and workflows in one collaborative space. Manage everything from simple to complex projects more efficiently with the help of visual boards, 200+ ready-made templates, clever no-code automations, and easy integrations. In addition, custom dashboards simplify reporting, so you can evaluate your progress and make data-driven decisions.
3

Smartsheet
Smartsheet is an online work execution platform empowering organizations of all sizes to plan, manage, automate, and report on work. Over 80,000 brands rely on Smartsheet for project and work management.
Technology Advice is able to offer
our services
for free because some vendors may pay us for web traffic or other sales opportunities. Our mission is to help technology buyers make better purchasing decisions, so we provide you with information for all vendors — even those that don't pay us.