Over the past several years, thousands of companies have adopted cloud-based messaging platforms to improve team collaboration and replace or supplement email. These platforms, in their many flavors, are designed to reduce extraneous meetings, give teams quicker access to information and assets, and streamline communication.
ALSO READ: 5 JIRA Alternatives for Your Dev Team
If you're shopping for a cloud-based messaging app (sometimes referred to as team collaboration software, internal messaging, or internal instant messaging) you've probably come across Slack and HipChat — two of the leading solutions on the market. Slack has quickly established itself as the poster child of team collaboration, but HipChat offers many of the same features at a comparable price point, and even some unique capabilities of its own.
In this post, we'll compare Slack vs HipChat to help you decide which option is best for your business. Our comparison will focus on systems, pricing, features, and integrations. Before you commit to either vendor, take a close look at how each platform aligns with your expectations and budget.
Slack vs HipChat: Company Overview
You may already know the story of Slack — the team collaboration tool that sprouted from a defunct online multiplayer game and, within two years, achieved a $1 billion valuation. Slack was founded in 2012 by Stewart Butterfield (et al.), whom many now praise as one of the great visionaries/entrepreneurs of our time.
Within 24 hours of its 2013 launch, over 8,000 customers had signed up for Slack. That number has climbed to 30,000+ today.
Notable customers include the NASA Jet Propulsion Laboratory, CNN, eBay, and Intuit.
Similar to Slack, HipChat was created as a standalone application in 2010, by students at the Rensselaer Polytechnic Institute. Unlike Slack, HipChat was acquired two years later by software giant Atlassian . . . and added to their ever-popular suite of project management, helpdesk, and bug tracking solutions. You do not need to own any other Atlassian products to use HipChat, although the horizontal integration there is a plus.  
Notable HipChat customers include Code.org, Entrepreneur, Expedia, and New Relic.
Systems and Pricing
Slack's product is fairly straightforward. Three product tiers, all cloud-based, with varying levels of features and support for each edition. You'll notice they also offer a free edition for small teams, although this edition does not include user groups, custom retention policies, or group calls, and limits you to 10,000 messages.  
Standard:

adds user groups, custom retention policies, group calls, guest access, email ingestion service, unlimited integrations and messages

Plus:

adds compliance exports, user provisioning, 99.99 percent uptime guarantee, 24/7 support

Enterprise

(scheduled to arrive this year): will add unified team directory, federation across teams, company-wide reporting/analytics, and consolidated billing
With all plans except Enterprise, you can choose to pay monthly or annually.
HipChat offers a free edition and two paid editions of their platform — one that runs in the cloud (HipChat Plus), and one that offers hybrid implementation (HipChat Server), in case you need to sync with your own servers for compliance or security reasons.
Their free edition, unlike Slack's, includes unlimited integrations. HipChat Plus adds built-in video chat and screensharing, and HipChat Server adds on-premise hosting, a data importer, active directory support, and enterprise-grade security.
When it comes to price, HipChat Plus is about a third of the cost per user compared to Slack's Standard Edition. HipChat Server varies in price depending on how many seats you purchase, so it's hard to compare at the enterprise level.
Both systems provide native desktop and mobile apps for Windows, Mac, PC, iOS, and Android operating systems, or a web app if you'd rather not download software.
Features
As with any software procurement project, you want to make sure the product you choose offers the necessary features to support your team. To give you a better idea of how these two platforms actually function, we'll take a closer look at messaging, file sharing, security/compliance, and third-party integrations.
Messaging
Slack provides a number of different ways for teammates and users from different teams to communicate. If you want to send a direct message, just search for the user's name, select users to add them to a conversation, and chat away.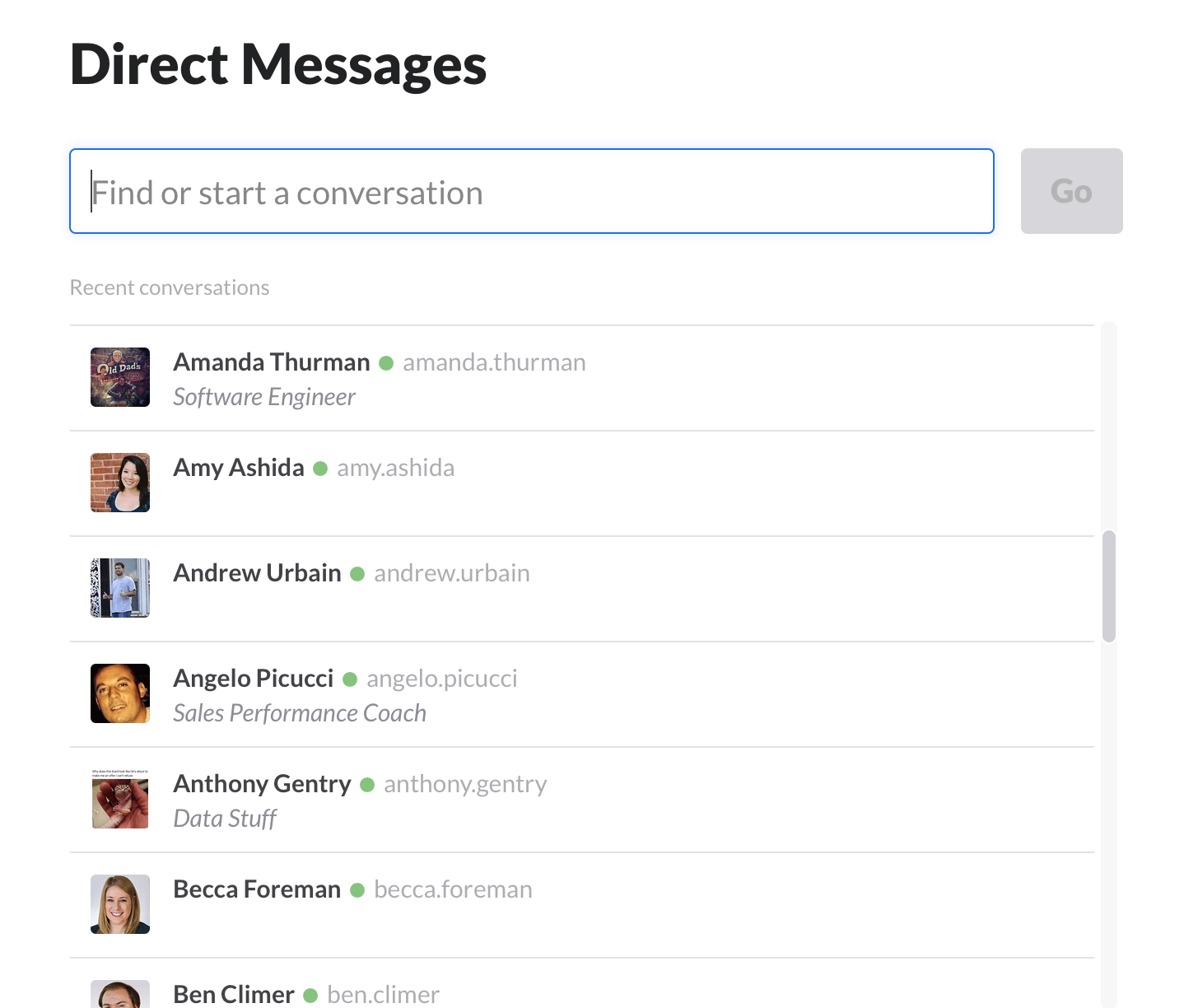 In the dialogue box, you can send text (obviously), images, "snippets," emojis, and even randomized GIFs, using the built-in Giphy integration. If you need to find a message or conversation in the future, you can search for keywords, people, date ranges, or channels in the universal search box.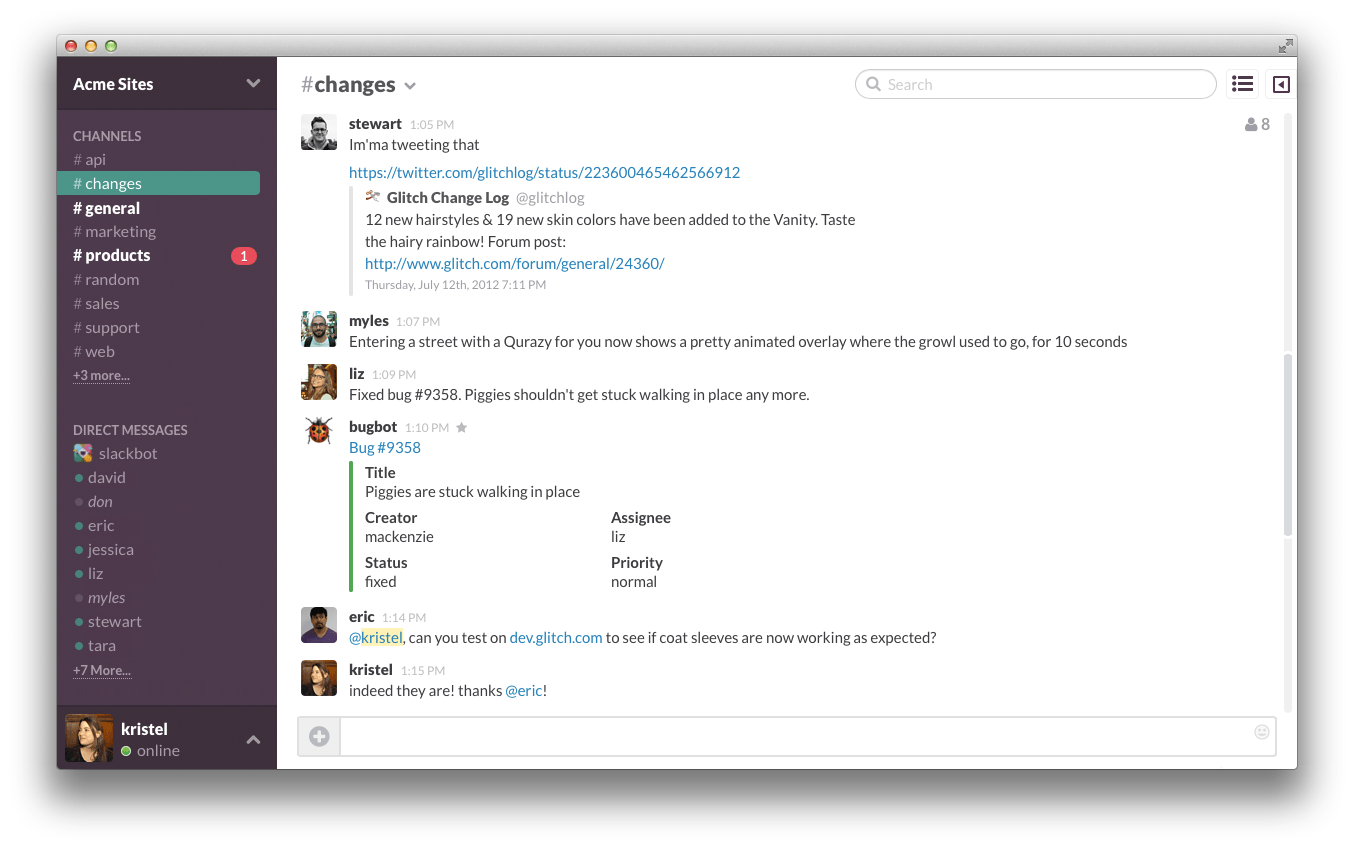 Need to talk to more than one person at a time, no problem. Create or join a custom channel. You can use @mentions to notify specific people or type @group to notify all members of a current group.
HipChat offers many of the same messaging features, but adds built-in video calling and screen sharing. Akin to Slack's "channels," HipChat offers "chat rooms," which let you organize groups of people around projects, teams, clients, or common interests. Every chat is searchable by keyword, including text, links, files, and more.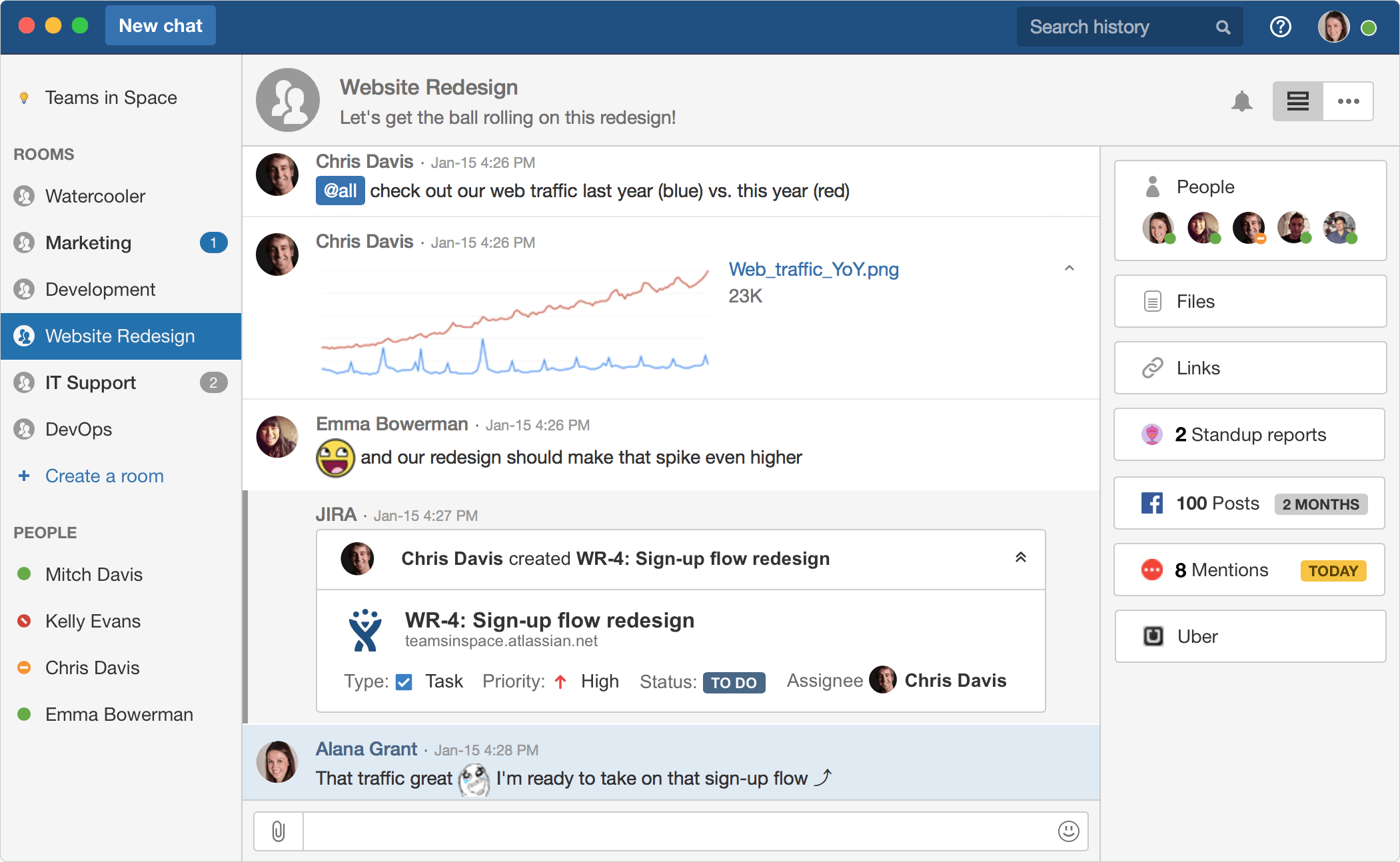 You can @mention each other, send and receive custom emoticons, animated GIFs, RSS feeds, and even Twitter notifications.
Both platforms let users adjust their presence and notification settings to avoid or prioritize interruptions, when necessary.   
As you can see, the biggest point of differentiation here is probably HipChat's built-in video chat and screen sharing. Slack recently added a video calling feature after acquiring Screenhero in 2015, but they're still working out a few kinks, and the functionality is a tad constrictive (you'll need to use Chrome). You can use Slack's Google integration to start a Hangout directly from the application, but that's assuming your organization uses Google apps.  
File Sharing
Not a lot of contrast on the file-sharing front. Slack and HipChat both let you drag and drop nearly any type of file into a chat dialogue to share it with a colleague. That includes Google Docs, PDFs, Dropbox files, email attachments, code files, and more.
HipChat limits file size to 50MB, but offers Plus accounts unlimited built-in storage for shared files. You can find all of your previously shared files and links in the sidebar.
Slack offers a more generous file size cap of 1GB, but less cloud storage per team member (10GB w/Standard Plan, 20GB w/Plus Plan).
Depending on what kind of assets your team works with, these size limits and storage capacities could make a difference (for example, if you need to share large, high-resolution video or illustrator files).
Compliance and Security
If you're an IT manager or systems admin, you may be interested in some of the security and compliance features each platform offers. You want to make sure your company's communication is safe from unauthorized access, but visible to the right parties for analysis.
HipChat safeguards your messages through 256-bit SSL encryption and secure guest access (i.e. you can bring clients and vendors into a HipChat room without giving them full access). If you buy the Server edition, you'll get a little more administrative control, including the ability to track and audit messages moving in and out of your server.
For all paid editions, Slack customers can configure custom message retention policies based on team or channel (i.e. messages older than your chosen duration will be deleted). Administrators can run "compliance reports" (Plus plan or above) and export data from direct messages and private channels during a subscription term. All messages are encrypted in-transit according to the latest cipher protocols. If you choose, you can also enforce mandatory two-factor authentication for team members.
Integrations
If you want a messaging platform to serve as the central communications hub for your entire company, it's important to consider horizontal integration. Can that messaging platform exchange data, notifications, and custom objects with other business systems you use on a daily basis?
If you use other Atlassian products such as JIRA, Confluence, Bitbucket, or Service Desk,  HipChat will offer a clear advantage since it's part of the same product suite. You can juggle Atlassian tasks, projects, issues, and code without moving back and forth between multiple systems. HipChat also provides native integration with over 130 third-party apps including:
Giphy

Google Apps

Uber

Zendesk

Trello

Asana

GitHub

Desk.com

Hootsuite

WordPress

Dropbox

Uberconference

and many more
For a full list, click here.
While they don't offer native integrations for the Atlassian suite, Slack offers plenty of other unique integrations to make your life easier. Their directory includes all of the aforementioned apps (except WordPress), plus hundreds of other unique apps for customer support, design, development, human resources, marketing, productivity, and so on.
A few highlights:
Zoho expense (expense reporting)

Breezy HR (hiring tool)

Wishpond (generate and track your leads)

New Relic (application performance management)

Sameroom (interoperability between Slack and other chat systems, including HipChat)

Pivotal Tracker (agile project management)

Kayak (search for flights, hotels, and rental cars)
For a complete list of Slack integrations, visit their directory.
The competition here isn't quantity, but relevance. You'll need to look through each vendor's list of native integrations and make sure you find what you need. At the end of the day, it's important to remember that neither platform is designed to run your entire business; both are, in essence, messaging tools.  
Making Your Final Decision
As you can see, these two messaging platforms are incredibly similar. They offer a wide array of messaging, file sharing, and collaboration tools, and enough integrations to automate a third-world country.
Whether or not you already use Atlassian products will probably make a big difference. In that sense, HipChat may be slightly stronger choice for agile development teams. But the beauty of both systems is that they work for any kind of team. The best way to decide is to compare pricing, look for the integrations that matter most, and run a demo to compare user experience. If you're still having trouble, give us a call. We'd love to help.
To explore other collaboration and project management solutions, visit our product selection tool.
Technology Advice is able to offer
our services
for free because some vendors may pay us for web traffic or other sales opportunities. Our mission is to help technology buyers make better purchasing decisions, so we provide you with information for all vendors — even those that don't pay us.