We use Trello at TechnologyAdvice to organize our marketing team's workflows, and I use Trello to Agile my household. I really love Trello for its simplicity and its scalability, so I was pretty skeptical when I first started comparing Redbooth vs. Trello–could Redbooth really stand up to the ease of use I was used to with Trello? I'm happy to report that I was pleasantly surprised by the similarities and differences between these two products.
Both Redbooth and Trello offer a free-forever tier of their project management tools. In Redbooth, you can maintain 2 workspaces with 2GB of storage space and integrations with Drive, Slack, and Dropbox. Trello offers unlimited boards and members, one Power-Up integration per board, and up to 10MB per upload. Both tools offer more in the way of storage and capabilities for their paid tiers, which I'll detail later.

Redbooth vs. Trello show their differences in the flexibility of how you can view your project tasks and progress and reporting. For viewing your projects, Redbooth offers kanban, Gantt chart, and list overviews of your tasks within each workspace, while Trello is limited to a kanban board and a list overview of personal tasks organized by due date. Trello does not have native reporting features, but these can be added on in Power-Ups, while Redbooth includes workspace reporting for all subscription levels.

Redbooth and Trello are by no means the only project management tools on the market, and wading through the hundreds of options can be soul-crushing. Let TechnologyAdvice help! We can provide you with custom recommendations to help you get to your perfect project management tool faster. Use the software category page for Project Management software, or click the image below to get started right away.
Similarities Redbooth vs. Trello
Boards and Tasks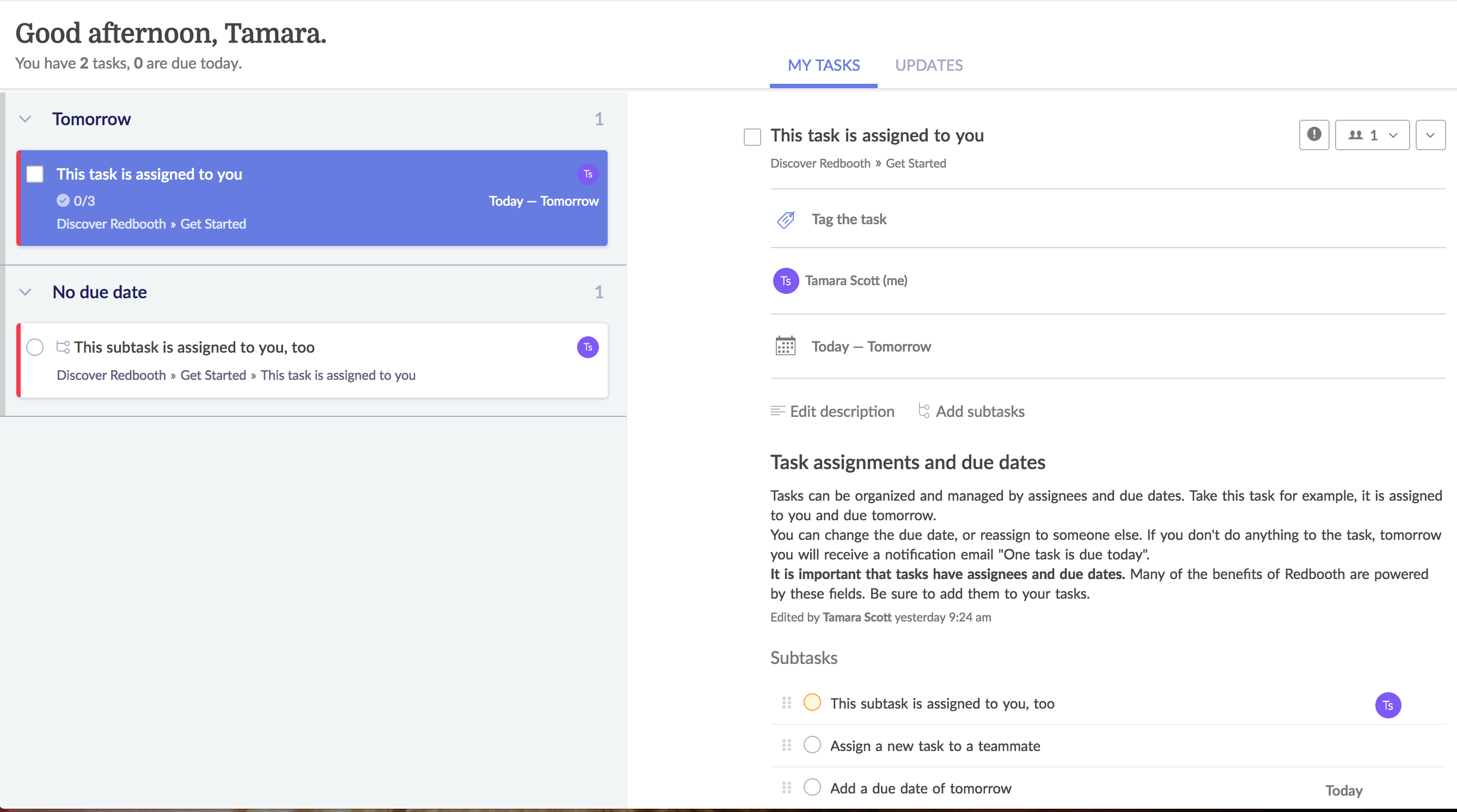 Redbooth starts you out with a kanban style board filled with tasks that guide you through how to use the tool. Toggle between all activity and just the comments, depending on which view you need.
You can switch quickly from one task to the next in a single board by using the < and > arrows at the top of the task. When you click into the task you can quickly add comments, due dates, tags and due dates. You can also mark a task as urgent in Redbooth, which is a nice feature.
Trello boards are kanban-style and teams and individuals should put all their tasks for the board's project(s) right there. You can drag and drop tasks across the board and click into individual tasks to add comments, attach files, add due dates and checklists, and add labels. You can use labels in Trello to categorize the task or indicate urgency–these labels even include a colorblind mode with textures to minimize confusion.
Subtasks and checklists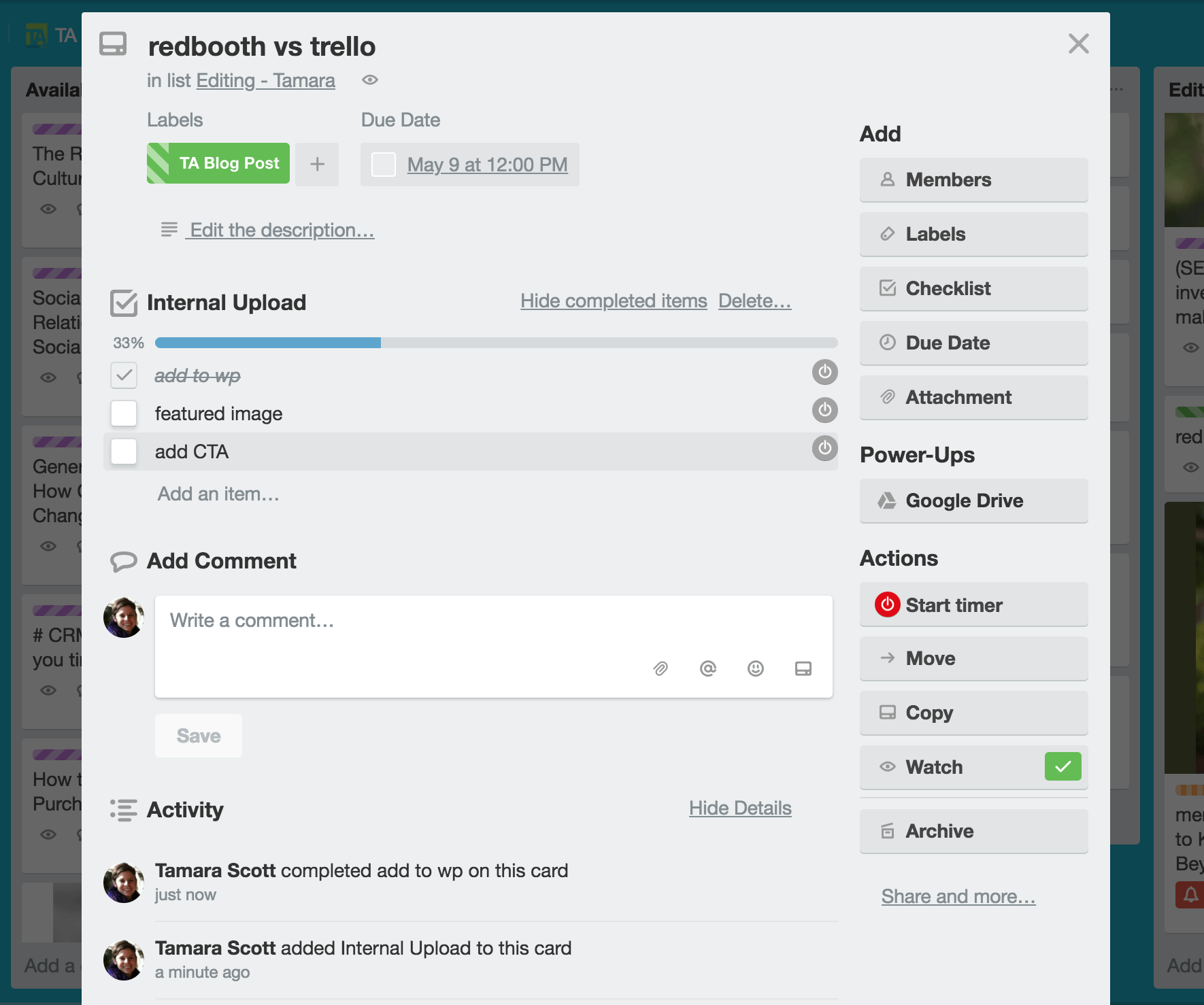 Both products have a subtasks or checklist feature, where you can define mini-goals to achieve before the full task is complete. Redbooth calls these subtasks, and you can set them up for any task, and even make a subtask into its own task with the click of a button. Trello calls these checklists, and you can make a new checklist for every task or copy checklists from one task in the board to another.
Reminders and notifications
The default setting in Redbooth is to email you with notifications for tasks that are due within the next 7 days. This is a helpful reminder for some who might not check their Redbooth every day, but it could be just another email you archive each morning to maintain your inbox zero.
Trello gives you a Home screen where you can catch up on all your activity across your boards. If you download the mobile app, you can get notifications for movements on boards and tasks across your entire team and your personal boards. Trello also has settings for email notifications, but there's less of a happy medium with these: set notifications for once an hour, every time something changes on one of your boards, or turn them off.
Integrations
I signed up for my trial of Redbooth with a Google account, and the tools automatically synced to Drive and Calendar. This automatic integration is great for teams that already use G Suite to manage file storage, team calendars, and email communication. The Drive connection lets you search for and attach documents to tasks natively from Drive. The Professional and Business plans also have native integrations for Cisco Spark, Slack, and OneDrive, among others. Redbooth also offers over 500 app connections through Zapier, a third party tool that also requires a subscription.
Trello Gold gives you up to 3 integrations per board, including Slack, Google tools, and lots more. The Trello acquisition by Atlassian gives you access to a bunch of their products, including Bitbucket and Jira in your Power-Ups. Some cool Power-Ups include Deadlines by elegant.com which shows your task deadlines from across the board in a neat little chart, and Harvest to track time across your different tasks and projects. The Trello Business plan includes more integrated Power-Ups for each board along with some other added features.
Differences between Redbooth vs. Trello
Because Redbooth offers more ways to view your project in addition to the kanban board, there are also some differences in the number of features that are included with each tool. What you'll find with these differences is that Redbooth offers these features built into the plan levels, where Trello gives you the option to add similar functionalities through Power-Ups.
Repeated tasks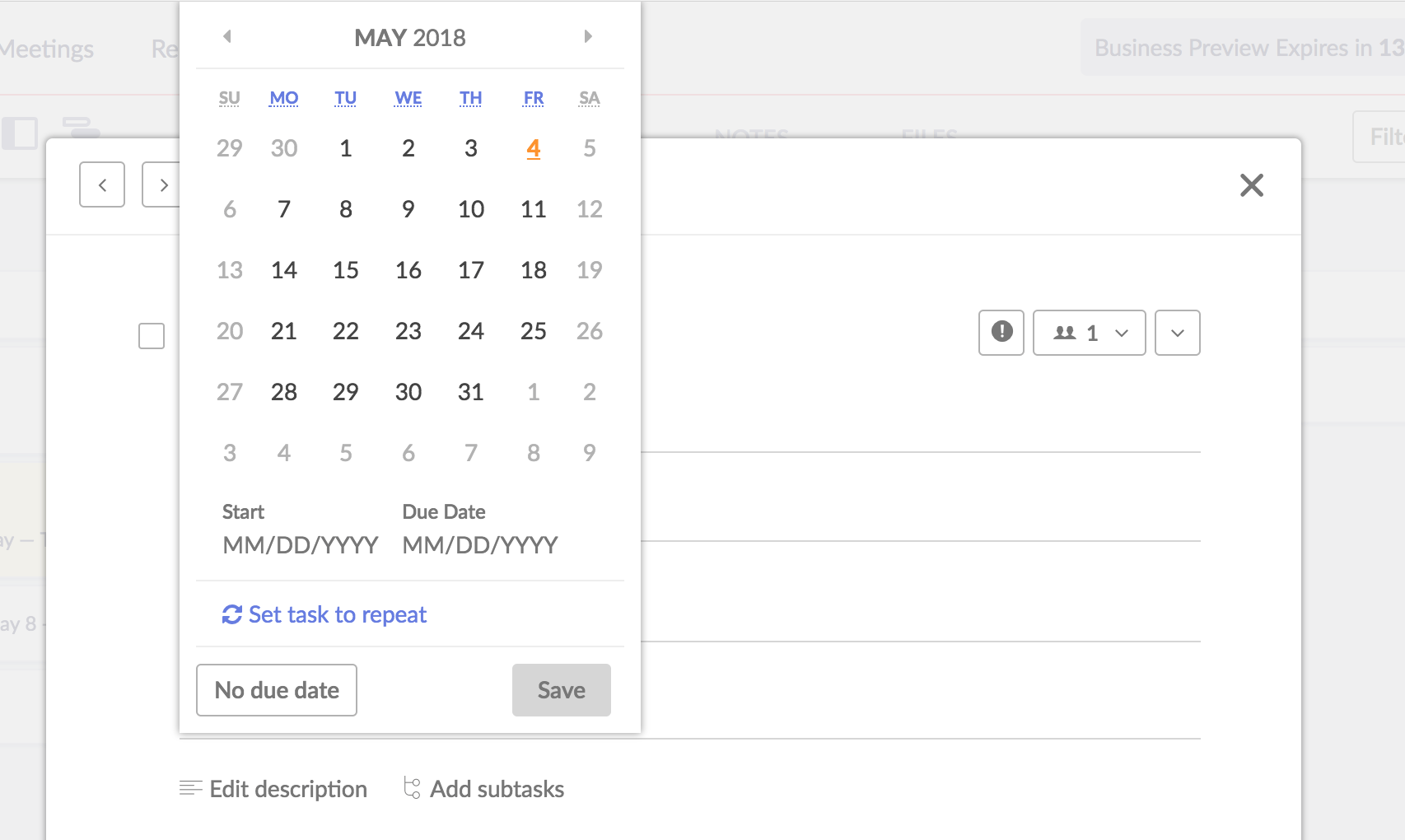 In Redbooth you can create a task that repeats weekly, and only the most recent version of the due date shows up in your task list. This feature can save teams with recurring tasks a lot of manual work and headaches if someone forgets to remake or reset a task. While you can copy any task in Trello from the task menu, the ability to make a recurring task that repeats regularly is only available in Trello through Power-Ups.
Conversations
Redbooth build a mini messaging and collaboration app within the tool. Conversations is where teams can collaborate via messages and add files related to the conversation. These conversations can be turned directly into tasks or moved to another workspace quickly, but they do lack any real-time collaboration on documents.
Notes
Notes appear to be memos that you can make within your workspace and are shareable outside of Redbooth. You can send notes to Facebook, embed them with a link, or Tweet them. I don't really get this feature, and I was unable to locate any obvious help articles about how to use it, but I could see how it could be useful to marketing and sales teams.
Files
File this feature under "handy but not necessary." The files feature in Redbooth is literally just a list of all the files in your workspace. The feature lets you search for a particular file rather than check individual tasks to find your files. That's pretty handy for business teams with a lot of files flying around between tasks or sweeping projects. Trello doesn't have this feature.
Gantt charts

Redbooth lets you view any of your workspaces in a kanban or list at the free level, or you can access a Gantt chart with a Business or Pro plan. Whereas the kanban and list views are great for individual contributors who generally work through single tasks, Gantt charts help show dependencies and human resource allocation. For business teams and project managers, this is feature is really helpful. Gantt charts are only available via Power-Ups in Trello.
Time tracking
Neither Redbooth nor Trello offers a native time tracking tool, but both provide ways to integrate time tracking into your projects. Redbooth lets you track time in comments on tasks. It's manual, but there is a time tracking report that'll show how long has been spent on each task and project. Because it's manual that means all reports are only as good as the people who are tracking and entering the time. You can track time on your Trello boards by adding a Power-Up for one of several time tracking tools that will require a third-party account.
And the winner is…
Sorry, there really isn't a clear winner in the Redbooth vs. Trello fight. Redbooth has more features built right into the tool, but many teams just starting out with project management might find those features unnecessary or distracting. And for more advanced project management teams, the lack of direct integrations might mean that Redbooth just doesn't work as well as some other project management tools.
Trello is really easy to get started, and you can use it for a long time without needing Power-Ups. But for businesses that are serious about improving their project management processes and rely on reporting, Trello may not have all the features they need.
And yet in terms of usability, power, and scalability, these two tools are pretty evenly matched. Deciding between Redbooth and Trello may depend on whether your team's projects can live solely in kanban boards, or if they need to show dependencies.
Technology Advice is able to offer
our services
for free because some vendors may pay us for web traffic or other sales opportunities. Our mission is to help technology buyers make better purchasing decisions, so we provide you with information for all vendors — even those that don't pay us.