Businesses from all industries generate thousands of data points every day, but all of that data is meaningless without insight.
Business intelligence (BI) software systems help businesses create meaning from their data by analyzing large swaths of data and presenting it in bite-sized chunks. In this way, data becomes usable, and more and more organizations will adopt BI software to put their data to work. There are many BI vendors to choose from, but this article examines two of the most popular options: Qlik vs. Tableau.
If you've already narrowed your software search down to Qlik and Tableau, read on. Otherwise, browse other options using our Product Selection Tool, or click the banner below to get personalized recommendations. Our knowledgeable Technology Advisors will send you a free, no-hassle shortlist of the best BI software for your specific needs. Getting started is easy and takes less than five minutes.
Table of contents
What are Qlik and Tableau?
Qlik and Tableau are two of the biggest players on the business intelligence software market. Both solutions are high-priced BI systems for enterprise sized businesses. They source data from multiple data connectors to provide businesses with meaningful and actionable insights. In this article, we'll take a look at two products from Qlik and Tableau: Qlik Sense and Tableau Desktop.
Qlik Sense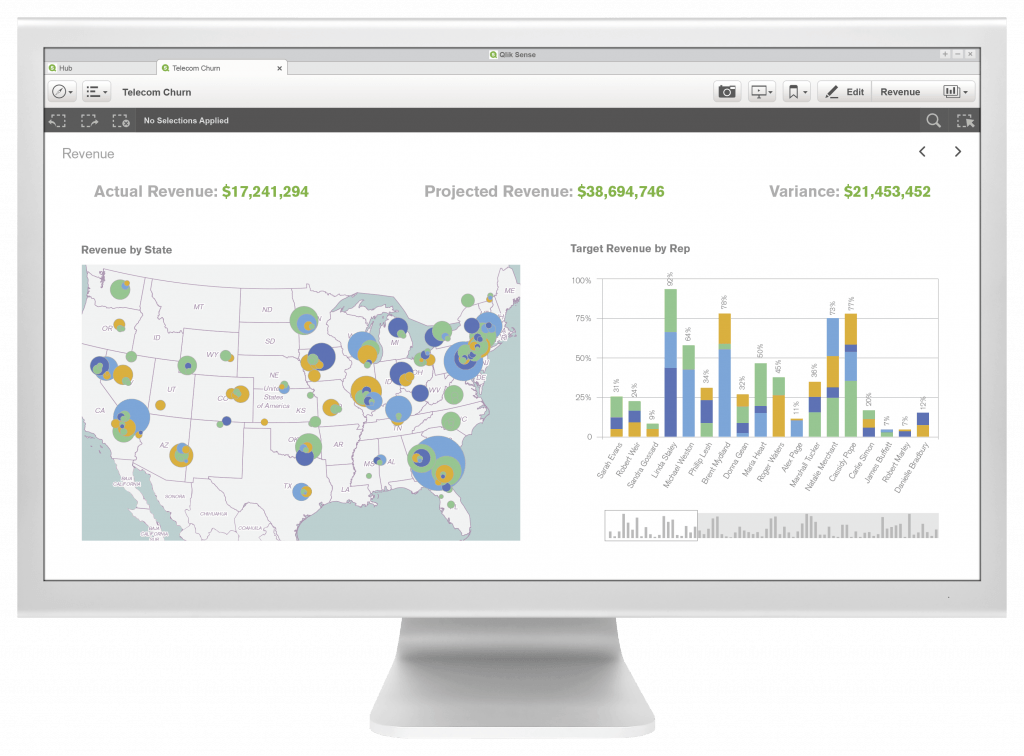 Qlik Sense seeks to make data literacy more accessible to everyone in an organization. The software does this by leveraging artificial intelligence (AI) and a user interface that works using drag-and-drop functionality. For businesses that are serious about making data-driven choices, Qlik Sense is a powerful tool.
Tableau Desktop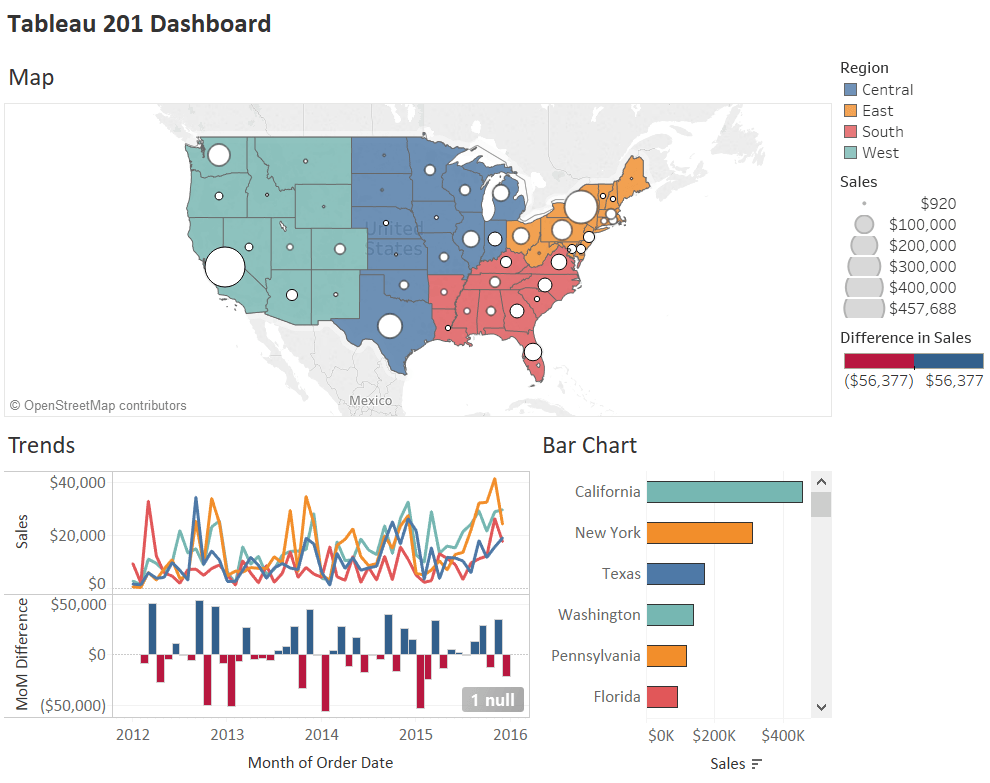 Tableau Desktop helps users tell stories with data by making it easier to find and share insights. Drag-and-drop dashboard tools let analysts generate graphs and reports for forecasting, spotting trends, and more. Use Tableau's storytelling features to bring your data to life with slideshow-like capabilities.
Table comparison of Qlik vs. Tableau
While working within the two systems feels quite different, Qlik and Tableau offer many of the same features and support many of the same data connectors. For a more detailed analysis of the two systems, scroll down.
Qlik
Tableau
Average user rating
4/5
4.5/5
Quick facts
Pricing
High-end
High-end
Works best for
Enterprise businesses
Enterprise business
Business intelligence features
Customizable dashboards

Yes

Yes

Report formatting templates

Yes

Yes

Connection to external data

Yes

Yes

In-memory data model

Yes

Yes

OLAP

Yes

No

ROLAP

Yes

No

Multi-data source reporting

Yes

Yes

Data warehouse

Yes

No

ETL capability

Yes

No

ETL scheduler

Yes

No

Notable integrations
Microsoft Excel

Yes

Yes

Oracle

Yes

Yes

Salesforce

Yes

Yes

Google Analytics

Yes

Yes

SAP Hana

Yes

Yes

MySQL

Yes

Yes

Sage 500

Yes

No

IBM DB2

Yes

Yes

Security features
Role-based permissions

Yes

Yes

Single sign-on (SSO)

Yes

Yes

Access control

Yes

Yes

Multi-user support

Yes

Yes
Qlik vs. Tableau: biggest differences
In general, many users report that Qlik performs faster than Tableau but that Tableau offers a more intuitive user interface (UI). While these experiences vary by user and are subject to change based on the amount of data points being processed, it's helpful to consider the following differences between Qlik and Tableau.
Data visualizations
Both Qlik Sense and Tableau Desktop offer customizable reports. Qlik offers many different view options for visualizing data, which users can build using drag-and-drop features. These visualizations allow a surprising amount of granularity considering how well they summarize large groups of data. While this is good for viewing the same data sources in different ways, some users might find the experience overwhelming.
Tableau Desktop prioritizes fast and easy-to-use data visualizations over more aesthetically-pleasing visualizations. This means Tableau also offers a drag-and-drop builder for data visualizations, but these visualizations in Tableau are simpler than those found in Qlik. Tableau also lets users present data analysis as a story, using tools similar to Microsoft PowerPoint to help analysts create narratives and move through slides easily.
Data connectors
For organizations that use business intelligence, finding a tool that supports a large variety of data connectors is important. That being said, it's also important to understand how a data visualization system sorts data after being imported. Qlik and Tableau support most of the same data connectors, but they differ the most in how they sort data.
Qlik uses an associative engine to help reveal insights that can be easily lost to human error, while Tableau takes a query-based approach to showing data. There's nothing wrong with either approach, but they are very different. While Qlik focuses more on showing associations between data points to help people develop questions they may not have considered on their own, Tableau focuses on "empowering" the individual user to let them find answers to their own questions.
Deployment
Depending on your organization's needs, Qlik and Tableau offer different deployment options. For Qlik Sense, businesses can choose from a selection of software as a service (SaaS), on-premise, or private cloud for software deployment. Similarly, Tableau comes as a desktop, on-premise, or cloud-based solution.
For the majority of business needs, Qlik's SaaS option and Tableau's desktop option should check most boxes. For larger organizations that require software to be hosted on their own servers, both Qlik and Tableau will work.
Security
Good cybersecurity practices will only continue to contribute more and more to a company's long term success. Thankfully, Qlik and Tableau make it easy to practice good security practices.
Both solutions support multiple users with role-based permissions, so you don't have to worry about the wrong people viewing data they shouldn't be able to access. Organizations lacking the capacity to effectively train all employees on security best practices can rest assured knowing that users can access Qlik and Tableau with a single sign-on (SSO).
SSO reduces the risk of employees setting weak passwords, allowing users to access the system with one secure login. For maximum security, system administrators can also enable multi-factor authentication (MFA) as an extra safeguard against weaker passwords. For Qlik, you can set up MFA using Okta, and for Tableau, you can use Duo.
Choosing a BI system is time-consuming. We can help.
It's important to compare Qlik vs. Tableau, but that doesn't necessarily mean your search should end there. If you want to save hours on your search for the right business intelligence solution for you, contact us to request a shortlist of the best software for your needs.
Our Technology Advisors know B2B software, and they're standing by to help you with your search. Compare other options using our Product Selection Tool, or complete the form on our business intelligence software page to request your personalized recommendations.