In project management, project plans are the blueprint of the entire operation, ensuring its success from start to finish. But in order for your team's project to achieve a fool-proof execution, you need to have a fool-proof project plan.
Project planning is essential to the project management process, allowing your project to stay organized and your team to stay on track.
This article will thoroughly explain the critical planning steps for a project—read on to learn everything you need to know to begin outlining a project plan that will lead your team to success.
What is a project plan?
To understand the definition of a project plan, one must first familiarize themself with the Project Management Body of Knowledge. Project management planning involves organizing each project execution step based on the project management lifecycle.
Within the project management life cycle are 5 Phases of Project Management:
Project Initiation Phase
Project Planning Phase
Project Execution Phase
Project Monitoring And Control Phase
   Project Closure Phase
The Project Planning Phase begins after the project's expectations and success metrics are identified within the Project Initiation Phase. Teams must organize the tasks necessary to carry out the project in the Project Planning Stage stage of the project execution before beginning the actual work in the Project Execution Phase.
The Project Planning Phase involves identifying and organizing each task that must be performed to cover the scope, achieve the necessary deliverables, and succeed in meeting the project's goal. A well-developed project plan will help you and your team throughout the project to keep track of dependables, stay updated on the project's status, and maintain productivity.
How do you write a project plan?
The Project Planning Phase should organize all of the actions that the team must perform to meet the project's overall goal. Within this phase, the project manager and project team work on identifying the following plan details:
The project scope
Specific requirements
Actions
Timelines
The design
The task list
Estimated budget
The roles and responsibilities of the team and stakeholders
This phase can also include deliverables and other relevant documents to solidify the workflow and coordination, such as:
The Communications Management Plan
The Initial Project Schedule
The Communications Management Plan
The Resource Allocation Plan
The Project Requirements List
The Work Breakdown Structure (WBS)
The Project Charter
The Statement of Work (SOW)
Step 1: Define the project's overall goals and objectives
To begin your project plan, take time to define your project's overall goals and objectives. This should help you and your team identify the actions and resources necessary to reach the end goal and set the foundation for the rest of the planning process.
What is the desired outcome of your project that would represent its success? Identifying your project's overall objective and goals will help you measure the project's success and keep your team aligned with the overarching mission.
From here, you will have a better idea of the project's deliverables and can then begin to determine the project's scope. The project's scope should outline its boundaries regarding its deliverables, constraints, and functions, enabling your team and stakeholders to maintain realistic expectations for its execution. 
Step 2: Establish the project's success criteria
Now that you know your project's goals, you can use them to establish metrics to track its success. The success criteria should be based on the project's intended result so that project managers can measure whether its performance is aligned with achieving that result. 
Step 3: Identify project milestones, dependencies, risks, and deliverables
Determining achievable milestones for your project will keep your team on track and help you develop a schedule. But to identify your project milestones, you must consider the actions involved to achieve the project's deliverables and whether any dependencies or risks could affect the tasks involved.
Project deliverable: A project deliverable is produced when a team meets a milestone. Identifying the project deliverables will help you to determine your project's milestones and the tasks necessary to meet them. In addition, it will clarify objectives your team should be working toward.
Project risks: Consider all potential risks or uncertainties that could impact the project's execution. By doing this ahead of time, your team can assess their likelihood, create strategies for mitigating the effect of these risks, and monitor the risks during the project's execution.
Project dependencies: To identify project dependencies, consider the relationships between each task. Some tasks may rely on the completion of other actions before they can begin. Determining the predecessor and successor tasks will help you schedule a plan of action for completing these tasks in an optimal order.
Project milestones: Your milestones should be based on your project deliverables, as well as other significant events necessary for the project's overall success. These milestones should also help you to measure your team's progress. When setting up the project timeline, milestones should be organized according to any project task dependencies.
Now that you know what your project's deliverables, dependencies, risks, and milestones are, you can develop a work breakdown structure (WBS). This will help you break down your project into smaller components and make it easier to plan your tasks and allocate your resources.
A detailed Work Breakdown Structure (WBS) or task list should include information such as:
Start and end dates
Estimated effort
Duration
Milestones
Resources
Schedule
Task dependencies
Step 4: Assign roles and responsibilities to the team and stakeholders
Your project's stakeholders include any individuals or groups related to the project. Examples of stakeholders can consist of your team members, collaborators, departments, ad hoc members, customers, end-users, project sponsors, clients, or any other relevant entities. Identify the project stakeholders and how they relate to the project.
Once you have determined your stakeholders, you can define their roles and responsibilities. This can help you structure your project team, identify members directly responsible for its success, and ensure that they are assigned the correct tasks to carry out the project appropriately.
Step 5: Create a schedule and setting a timeline
Now that you have identified your milestones and project goals, your team members must know the order of operations for completing their tasks. Creating a schedule and timeline for each task can provide visibility into the execution process and keep each team member productive.
Consider how much time is required to complete each task necessary for your project milestones. You can even break down tasks into smaller subtasks to make them more manageable. Estimate the durations of each task and consider all necessary resources, dependencies, and risks.
From here, you can develop a timeline or schedule that includes each task's start and end dates. Organize the schedule according to the task dependencies and the estimated durations necessary for each task action. Identify your milestones on the timeline or schedule to help your team measure their progress.
Step 6: Establish an estimated project budget
To generate an estimated project budget, you must consider all of the necessary project resources, including personnel, labor, materials, and equipment. Then, estimate the cost of each of these essential resources for each project milestone. This way, you can develop an overall project budget and easily determine whether it would align with the project's budgetary requirements, constraints, and objectives.
Establishing a project budget will help you track your progress and make wise spending decisions throughout your project's execution to avoid overspending. The budget may also need stakeholders' approval before the project's implementation phase may begin. 
Step 7: Plan for communication and collaboration
A communication plan should show how information is shared among stakeholders. For example, specific deliverables may need to be shared with certain parties, and your communication plan will ensure that this is executed appropriately. This will also outline the channels of communication and frequency to all necessary parties to ensure that they're aware of the project's planning, status, and progress each step of the way.
Step 8: Document the project plan
Compile all related planning information and documentation as you plan your project. Having these resources on hand will serve as a reference during the project's execution. This should include any information that describes the procedures and plans for the project and any other guiding documents for the project.
Project plan examples
Below are some simple examples of project plans that were developed using project management software.
Work Breakdown Schedule Development with monday.com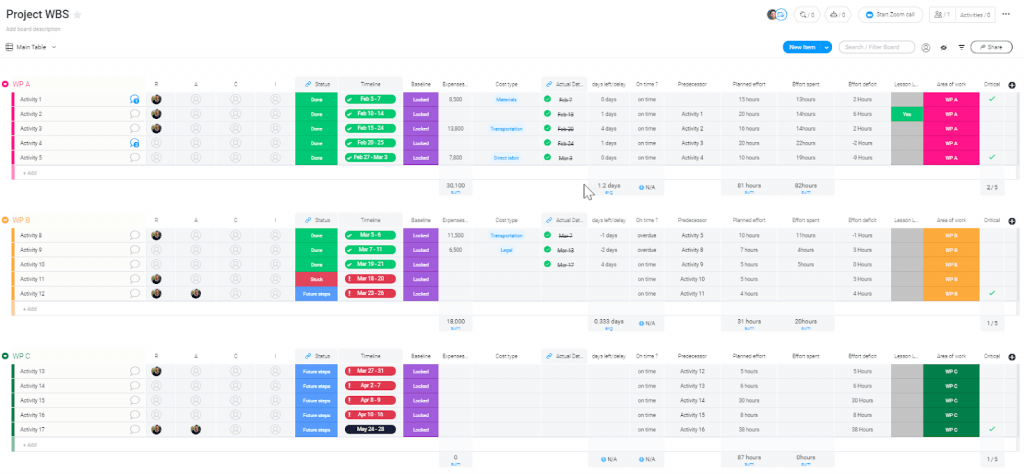 monday.com's software can be used in the development of project plans. Here we can see an example of a Work Breakdown Schedule that was developed using the platform. Each task is separated into more minor subtasks, which are assigned to the appropriate individuals. The chart also displays additional information included within a Work Breakdown Schedule, such as the deliverables, end dates, and schedules based on interdependencies.
Project and documentation management with Jira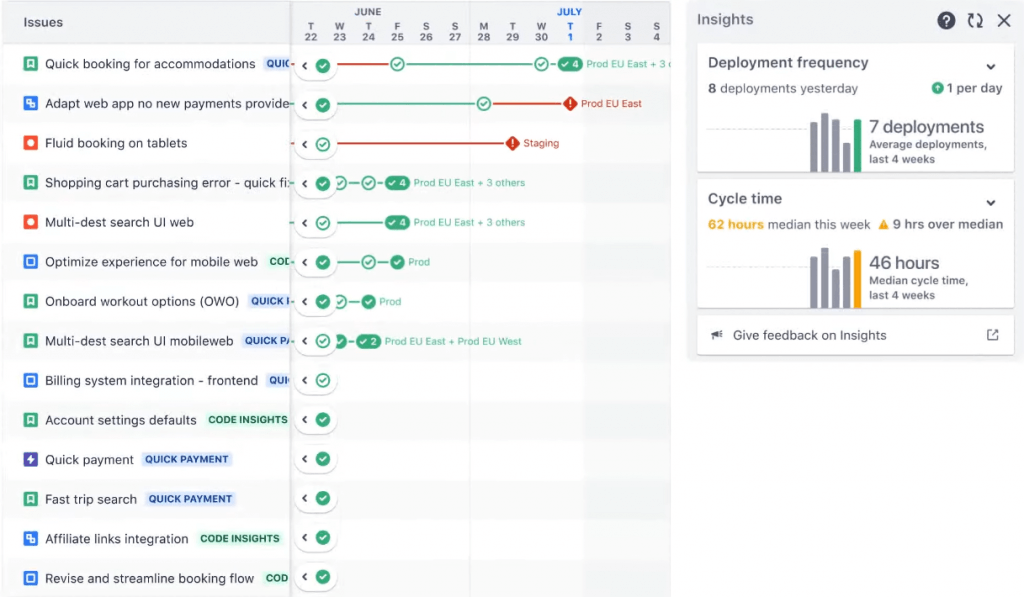 Agile teams use Jira's software development tool for planning and managing their projects. Here you can see some of the information regarding risks and dependencies that are compiled within Jira. This method of organizing this information can be helpful, as the platform can act as a single source of truth to keep team members updated on the status of specific tasks. It also makes it easy for teams to communicate about factors impacting the project to external stakeholders.
Project progress tracking with ClickUp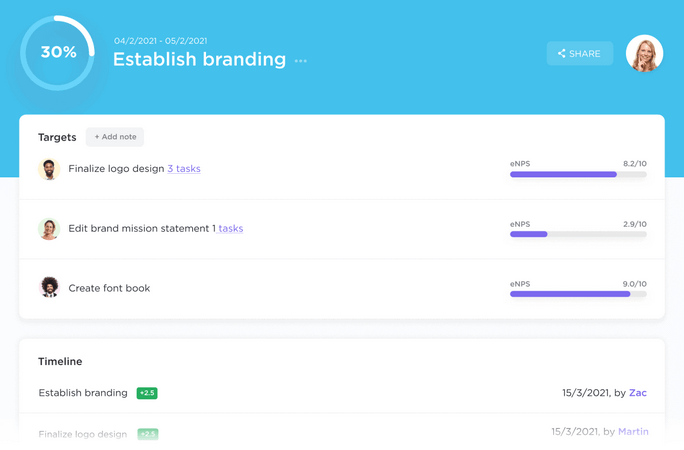 The ClickUp project management tool helps teams monitor their progress as they complete tasks to meet their milestones. The software enables teams to identify more minor actions necessary to achieve an overall milestone. Then once the project implementation begins, the software tracks the completion of these actions and displays this progress by percentage. It even shows a timeline of the completed work, so teams have all the activity information at their fingertips.
1

monday.com
monday.com Work OS is the project management software that helps you and your team plan, execute, and track projects and workflows in one collaborative space. Manage everything from simple to complex projects more efficiently with the help of visual boards, 200+ ready-made templates, clever no-code automations, and easy integrations. In addition, custom dashboards simplify reporting, so you can evaluate your progress and make data-driven decisions.
2

Rocketlane
Rocketlane is purpose-built to run customer facing projects. It uniquely ties project management, document collaboration, and communication to help teams hit their project goals, accelerate time-to-value, and elevate the customer experience.
3

Wrike
Wrike is the ultimate solution for managing projects.
Discover the power of Wrike's award-winning project management software. Maximize productivity using Gantt charts, Kanban boards, and calendars. Streamline resource allocation, drive team alignment, and enhance forecasting. Benefit from AI-driven automation to save time on admin. Deliver impressive results, hit deadlines, and stay within budgets while elevating your team's performance.
Technology Advice is able to offer
our services
for free because some vendors may pay us for web traffic or other sales opportunities. Our mission is to help technology buyers make better purchasing decisions, so we provide you with information for all vendors — even those that don't pay us.