To help with your research for the best preventive maintenance software providers, we've compiled a list of the top-rated preventive maintenance software programs, based on their features. The article offers more information on how these providers can help your organization with preventive maintenance planning, preventive maintenance schedules, and even preventive maintenance checklists.
Table of contents
What is preventive maintenance software?
Preventive maintenance software is used to simplify and streamline maintenance operations and prevent downtime. This type of software is also sometimes referred to as CMMS (or computerized maintenance management software.) 
Preventive maintenance software is a useful extension of the philosophy, "A stitch in time saves nine." Additionally, it can save significant amounts of money. Preventive maintenance software saves businesses money in two ways. First, it is less expensive to find and repair small issues, rather than waiting and making massive repairs later. Making a small repair on a building's roof is much cheaper than replacing water-damaged drywall. Preventive maintenance software also helps avoid downtime and productivity losses, because if the equipment breaks down, nothing gets accomplished.
No organization can afford significant amounts of downtime. The goal of using preventive maintenance management software is to help keep assets and equipment operating at optimum efficiency and eliminating downtime. Most maintenance departments understand breakdowns can be avoided through preventive maintenance. Scheduling is an important part of any good preventive maintenance program, and good preventive maintenance scheduling practices help to avoid breakdowns.
While heating and cooling system maintenance may be a theme common to most industries, different industries will also have a variety of different maintenance requirements. Restaurants, for example, will have walk-in refrigerators requiring regular preventive maintenance to avoid a breakdown and the loss of thousands of dollars worth of food. A delivery service without a preventive maintenance program for its own vehicles risks going out of business after the first few years, as their vehicles deteriorate. Industries using preventive maintenance software include:
Manufacturing
Utility Companies
Education
Construction
Facility Management
Fleet Management
Healthcare
Property Management
Oil & Gas Companies
The best preventive maintenance software
Research suggests the following companies are popular and provide excellent service.   
| | | | | |
| --- | --- | --- | --- | --- |
|   | Mobile Access | Deployment | Billing and Invoicing | Lock and Key Management |
| | Yes | Cloud | No | No |
| | Yes | Cloud | Yes | Yes |
| | Yes | Cloud | No | No |
| | Yes | Cloud | No | No |
| | Yes | Cloud | Yes | Yes |
Asset Essentials: Best for a broad array of services
Asset Essentials (formerly known as Bigfoot CMMS) is cloud-based and provides mobile access. Their preventive maintenance software is both configurable and flexible. It is a comprehensive maintenance software program that can be easily adapted to the needs of various industries and businesses. It tracks maintenance tasks in a simple, straightforward way, making it easy for technicians in the field to keep records updated. Asset Essentials also includes features allowing it to track parts and inventory.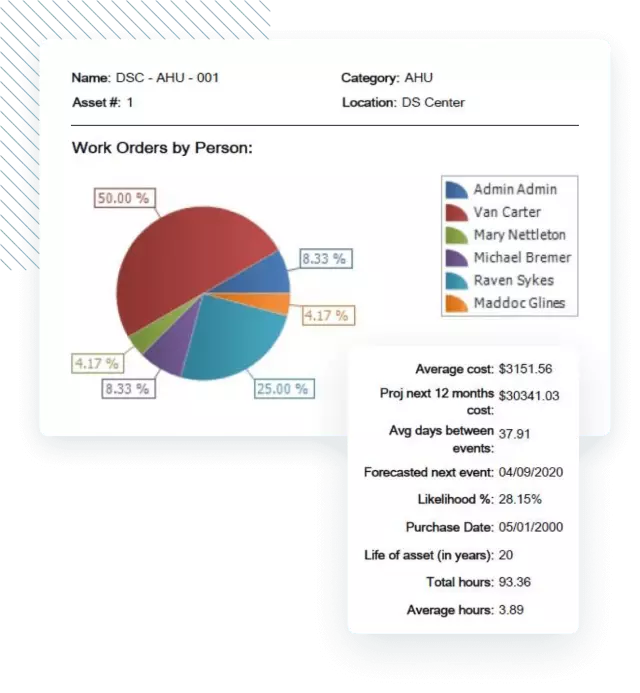 Their preventive maintenance platform offers work order management features that enable preventive maintenance issues to be prioritized. It comes with a tech suite allowing businesses to work with data, as well as the internet of things. Asset Essentials can also use historical data to forecast maintenance, repairs, and replacement needs. It uses analysis tools and incorporates accurate data to help with decision-making. One of Asset Essentials's most popular features is its mobile-friendly app, with full access to the preventive maintenance software.
Pros: User-friendly. Excellent support staff. Provides detailed reports. Supports mobile access.
Cons: The reports section can be difficult to work with. Reviewers complainThere is a complaint the program lacks charts. System defaults work orders, making them due at midnight.
eMaint CMMS: Best for flexibility and customization
eMaint CMMS uses a flexible, configurable interface, letting users customize the software and adapt it to meet their unique needs. It is cloud-based and provides mobile access. Their platform works with all levels of staff in an organization, ranging from techs in the field to upper management making decisions. The eMaint software helps companies prioritize their most critical assets, and supports preventive maintenance scheduling to reduce costs. The system offers real-time monitoring, alongside the equipment's repair history, issues, and warranty information.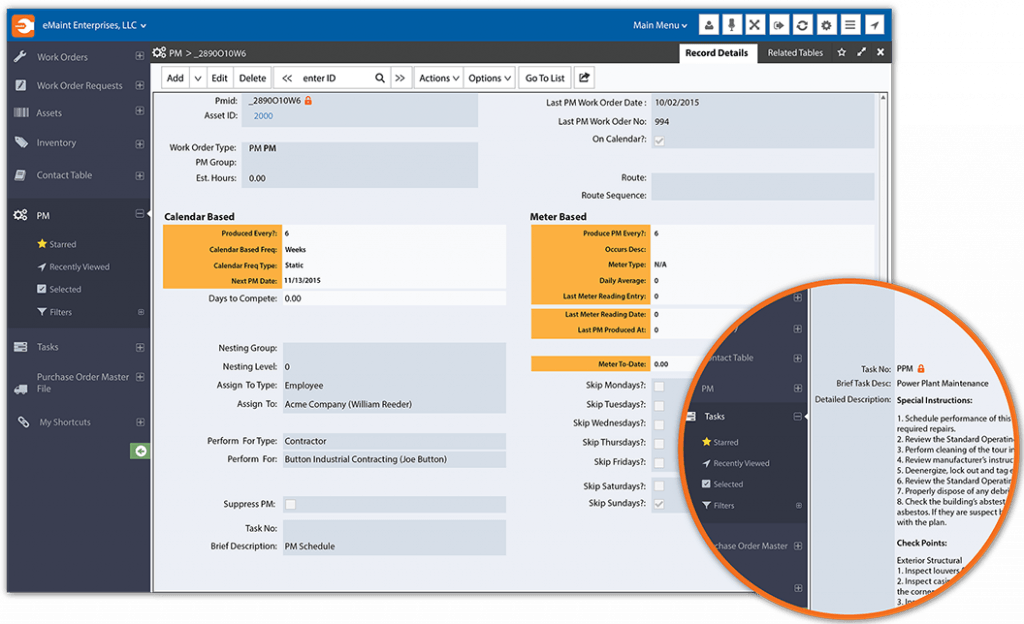 The customer service of eMaint is described as world-class. Its support personnel are said to respond quickly to inquiries, and provide the needed help. 
Pros: It is versatile and flexible, and supports simple report creation.
Cons: Its QR (or quick response) code functionality is limited.
Fiix: Best for easy to track work orders
Fiix provides easy access for technicians out in the field, offering iOS and Android compatibility. It supports automatic updating, and helps businesses to keep all aspects of their maintenance fully organized. Fiix is cloud-based and provides mobile access. Their platform helps clear maintenance backlogs, and furnishes preventive maintenance checklists, maintenance history, and asset performance services. The preventive maintenance software handles scheduling, creates and customizes reports, and tracks parts and inventory.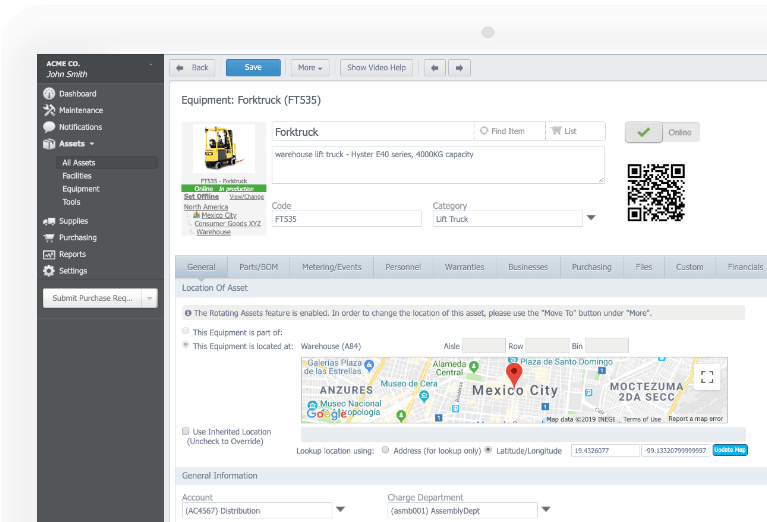 The work orders of Fiix are easy to track and will create reports on demand, while offering full access to maintenance data. Asset and inventory management features can be used to control warehouses remotely, and to track the use of equipment. Scheduling work orders and maintenance is straightforward, even when using mobile devices. However, the ability to integrate with local suppliers is limited. 
Pros: User friendly. Easy access to asset history. Automatically upgrades. Existing databases integrate easily.
Cons: Cannot associate work orders with assets. Structured query language codes aren't available in the interface.
Hippo CMMS: Best for customer support
Hippo CMMS makes a variety of dashboards available to its users wishing to access their maintenance management data. Their preventive maintenance software is available in both on-premise and cloud-based versions, and supports mobile access. The Hippo CMMS platform's "standard dashboard" offers a list of data-driven information, and its advanced dashboard enables visual management of the business' equipment, and other assets. All equipment data, which includes documents and ID tags, becomes centralized, and can be processed with customized filters. The system supports preventive maintenance checklists.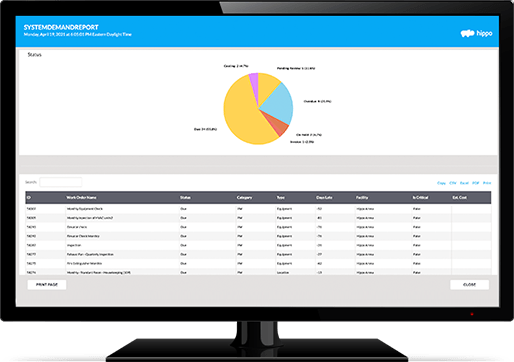 Hippo CMMS integrates easily with facility management software, and is user-friendly. Tracking asset histories or work orders is relatively simple, even with a mobile device. The software can incorporate floor plans and site maps to locate specific pieces of equipment quickly and accurately. Its features help in developing a preventive maintenance schedule that can be used for entire facilities. With Hippo CMMS, it is easy to access a piece of equipment's history. Their scheduling process is transparent and streamlined.
Pros: User-friendly. Excellent customer support. Interactive facility maps. Offers mobile access.
Cons: Inventory management system lacks advanced features. There is no hierarchical relationship between related work orders.
UpKeep: Best for field service technicians 
UpKeep focuses on a mobile-first approach to preventive maintenance and asset management. Technicians in the field can access their cloud, and complete work orders with their mobile devices. Managers can assign and prioritize work orders. Because of its simple, intuitive design, training time is minimal. UpKeep supports calendar-based scheduling, and comes with inventory management tools that include tracking. The task manager functions are straightforward and simple.
Pros: Photos can be added to work orders. Reports are created automatically. Has customization options. Includes mobile access.
Cons: No free trial. Cannot separate inventory and assets by category. Cannot attach and track asset tags.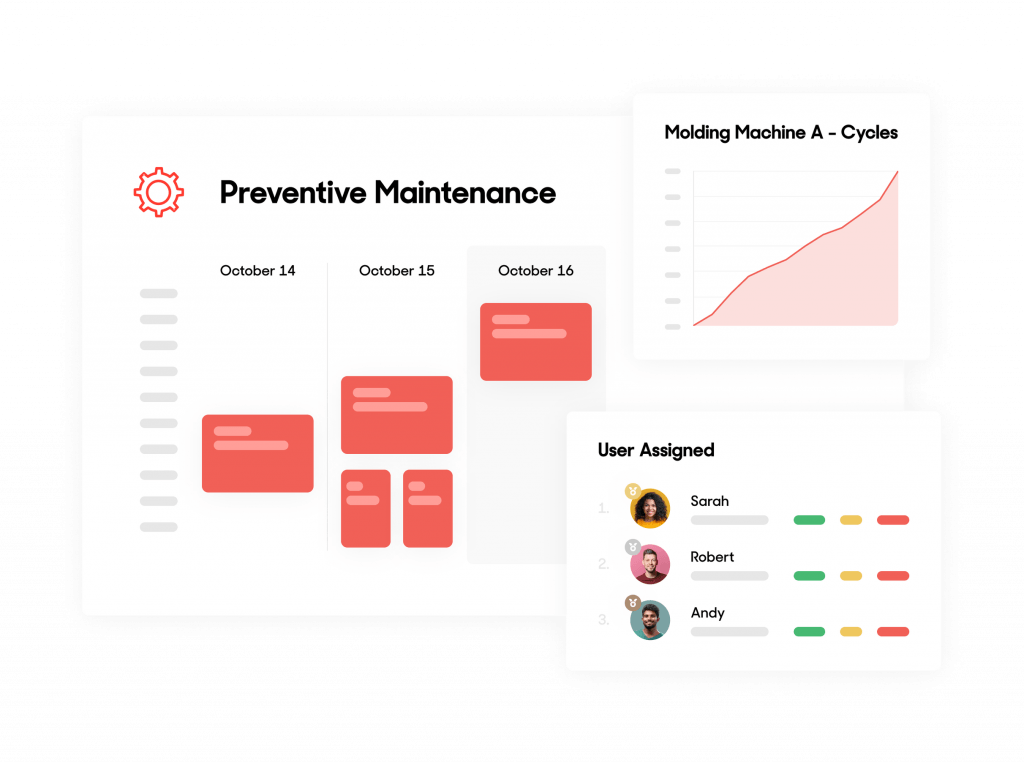 Key features of preventive maintenance software
Researching and selecting preventive maintenance software can be a tedious project. Understanding which features are most important to your organization's needs is an important first step. Generally speaking, preventive maintenance software collects and saves data ranging from preventive maintenance schedules to the inventories of materials and parts. Using the software to schedule, organize, and automate these activities improves the efficiency and productivity of a business. There are many versions of preventive maintenance software, with some offering features that are more useful to one industry, than to another.
Mobile Access and the Cloud 
Having mobile access to cloud-based preventive maintenance software helps the technician work more efficiently, by providing access to information that would not otherwise be available.
Create and manage work orders
A well-designed preventive maintenance (PM) work order acts as an essential tool for assuring the continued use and long life of equipment and assets. A PM work order gives management the ability to schedule PM tasks for individual facilities or specific pieces of equipment.
Maintenance Logs
Maintenance logs are useful to technicians because they can assist in diagnosing the problem with the asset or piece of equipment. Maintenance logs save time, and help to make problem-solving more efficient. A good preventive maintenance software system will allow techs to more easily access an asset's repair history and record new repairs and other useful information.
Budgeting
Maintenance budgets include employee's salaries and benefits, and money for parts and equipment replacement. Typically, budgets are developed using historical information. Preventive maintenance software shows exactly what has been spent in the past and any seasonal fluctuations, providing a foundation for budget forecasting. This software makes estimating labor costs easy. Historical data can help to accurately estimate future costs.
Workflows
Maintenance workflow can be described as the step-by-step process which is initiated by a "trigger" (often, an automated notice from the preventive maintenance platform). Completion of the work is also an important part of the workflow. The step-by-step workflow process should include the creation of a work order, plans for the task, execution of the repair or maintenance task, and reporting and recording the work's completion.
Asset tracking
The process of asset tracking is a way to locating and following the physical assets of an organization, either by way of scanning barcode labels that have been attached to the assets, or through the use of tags with GPS, BLE, RFID, or LoRa that broadcast the asset's location. This system can also be applied to people wearing a tag, for indoor tracking purposes. Asset tracking can also be used to understand when an asset may need upcoming maintenance or should be retired.
Inventory management
Inventory or stock describes the goods and materials a business has available for purposes of production or sales. Many preventive maintenance software systems include inventory management, and will show the location of stocked goods. Some of these systems will also automatically make refill orders and forecast upcoming needs.
Reports and analytics
As an organization grows, preventive maintenance software can provide reports that help with financial planning for the future. It can provide an understanding of maintenance expenses and activities, and indicate where time is being wasted.
Preventive maintenance examples of best practices
While a preventive maintenance program can use old-fashioned paper methods for work orders and recording repairs, comparatively speaking, it is no longer an efficient way to perform preventive maintenance. However, modern maintenance software, combined with the cloud, does provide an efficient, modern best practices way to accomplish these tasks. 
Inspecting business vehicles
Business vehicles should be inspected as frequently as possible. At the very least, they should be inspected on the schedule recommended by their manufacturers. In the Air Force, for example, vehicles are inspected upon checkout and upon return. Failing to perform routine maintenance may result in breakdowns, brake failure, and/or engine seizures. The appropriate preventive maintenance system can set up service reminders to keep the vehicle operating. This type of basic preventive maintenance plan will ensure that the vehicles perform optimally.
Maintaining HVAC systems
Heating, ventilating, and cooling systems are often considered to be very important in supporting the success of an organization. If a store's air conditioning breaks down on a hot summer day, it is reasonable to expect fewer customers and less profit. By ensuring the HVAC system is routinely inspected through the use of appropriate preventive maintenance checklists and software, profits remain steady and costly repairs can be avoided.
Maintaining essential assets
A business's primary assets are normally the regularly-used equipment which support a business's success. For example, a manufacturing plant, with conveyor belts and metal shaping equipment, should have a preventive maintenance schedule which lubricates the equipment's moving parts and tightens its belts. Similar schedules can be created for all essential assets through the use of preventive maintenance software.
Preventive maintenance software and the cloud
A large number of preventive maintenance software programs are available on the cloud. Cloud-based preventive maintenance software allows companies to manage all their assets from any location, at any time, and provides technicians with mobile access to useful information. This arrangement lets managers and technicians stay in constant mobile communication, and provides updates as needed.
For many organizations, use of cloud-based preventive maintenance programs has become a fundamental tool, improving real-time communications by making it possible to work from any device, such as smartphones, tablets, or desktop PCs, from any location. This cloud-based software also lets management create alerts in real-time for any kind of equipment or asset, generating near instantaneous warnings.
Choosing preventive maintenance software
Ed Williams, the Facility Maintenance Supervisor for thirteen YMCAs in Metro Detroit, had maintenance and organizational problems. He stated, "Our buildings were falling down faster than we could fix them. We didn't have complete facility maps or maintenance records. Our purchase orders were stored in notebooks. When maintenance staff left, we didn't know what units needed to be fixed, and often had no idea where to find those units in the first place."
The problems Williams' buildings were experiencing were predictable. He had swimming pools with cold spots, overheated gyms, frustrated employees, and dissatisfied members. He considered outsourcing the maintenance work, but couldn't justify the increased costs. After some research, he and his colleagues decided to go with preventive maintenance software. They agreed any preventive maintenance software system they selected must satisfy three requirements: 1) it must be cost-effective; 2) it must be user-friendly, even for staff with no computer skills; and 3) it must integrate easily into their existing computer network. 
Whether a business is just starting, or is already established, but implementing a new preventive maintenance program, the following steps will be useful in identifying the most appropriate software for the organization.
Step 1: Define the organization's maintenance goals. Useful questions to ask at this phase include:
Should the software system schedule techs for preventive maintenance?
Is the tracking of work orders useful?
Is managing the parts inventory important?
Does maintenance cover vehicles?
What type of reports are wanted?
Does the software work with the business' hardware and software?
Will the business' IT staff infrastructure support the software?
Should the software be a cloud-based service?
Is the system user-friendly?
Step 2: Feedback
After determining what features are important in preventive maintenance software, staff already experienced with maintenance operations should be enlisted for feedback and discussion. This feedback group should also include at least one manager from each department involved with the new system. This approach develops a big picture view of the organization's needs.
Step 3: Preventive maintenance needs
Different organizations have their own models of preventive maintenance, and the software should reflect that model. For example, some maintenance crews use a calendar-based PM system, while others maintain equipment based on the number of hours it's been operating. Vehicle maintenance is often based on mileage. It is important to ensure all buildings, rooms, offices, and equipment can be included in the new maintenance system.
Step 4: Purchase order needs
The right preventive maintenance software solution should create purchase orders, as needed. It should provide and track purchase orders for parts, assets, and contracted services.  The software should assist in developing a parts lists for equipment, automatically placing orders (or notifying the maintenance manager to place an order), based on minimum stock levels. This prevents having to wait on a part when it is needed.
Step 5: A cloud-based system vs on-premises software
Cloud-based platforms are quite different from on-premise software. Setting up a cloud-based preventive maintenance plan costs less upfront and there is no need to purchase new hardware.
Additionally, a cloud-based system can be used almost immediately, with no downtime. On-premise software is normally updated once or twice per year, while cloud-based solutions are updated in real-time.
Step 6: User-friendly software
User-friendliness should be an important concern in the decision-making process. Simply because a preventive maintenance software platform supports a wanted feature, does not mean that feature can be accessed quickly and smoothly, or works intuitively. It is important to understand how easy (or difficult) it is to use these features. Contacting the service providers is normally the easiest way to experience the software, prior to signing a contract. Researching reviews is also an excellent way to compare features, services, products, and trustworthiness.
Step 7: Are there any hidden costs?
Sadly, there are businesses that will hide charges until after the contract is signed, and the first bill arrives. Discovering there are additional costs while beginning the implementation process can be a frustrating experience. It is important to ensure an honest and accurate pricing for the entire package. This includes any scaling costs, implementation consultations, add-on features, and on-going support fees.
The future of preventive maintenance
Currently, preventive maintenance software helps avoid downtime and productivity losses. As a tool, it is quite useful, and will save businesses significant amounts of money over time. It accomplishes this by using broad, generalized historical data about equipment and assets.
In the future, preventive maintenance will become predictive maintenance. Predictive maintenance combines broad, generalized historical data with the specific historical data of a piece of equipment, or asset. Predictive maintenance systems will provide maintenance notifications well before any degradation takes place, and predict when a certain component will start to malfunction. The prediction will take place months before the actual work needs to be done, allowing for ample time to order any needed parts.
Predictive maintenance helps to minimize the possibility of an organization shutting down while awaiting the delivery of crucial replacement parts. This new form of maintenance will ensure suppliers can provide customers with replacement parts without the need for downtime. Predictive maintenance uses predictive analytics and machine learning algorithms in deciding when equipment will need maintenance.
Technology Advice is able to offer
our services
for free because some vendors may pay us for web traffic or other sales opportunities. Our mission is to help technology buyers make better purchasing decisions, so we provide you with information for all vendors — even those that don't pay us.