Buying a new ERP software is kind of like buying a house: it's costly, it's time-consuming, and you'll probably live with your decision for years to come. Naturally, ERP shopping can be stressful. You don't want to go with the wrong solution, so it's a good idea to compare multiple different systems before making a decision. In this article, we'll help shoulder some of that load by comparing NetSuite vs. Acumatica.
But don't stop there. Use our ERP Product Selection Tool to get your free shortlist of ERP software recommendations. We'll match you with five different vendors based on your specific needs, potentially saving you hours of research. Getting recommendations is easy and takes less than five minutes.
Table of contents
What is NetSuite?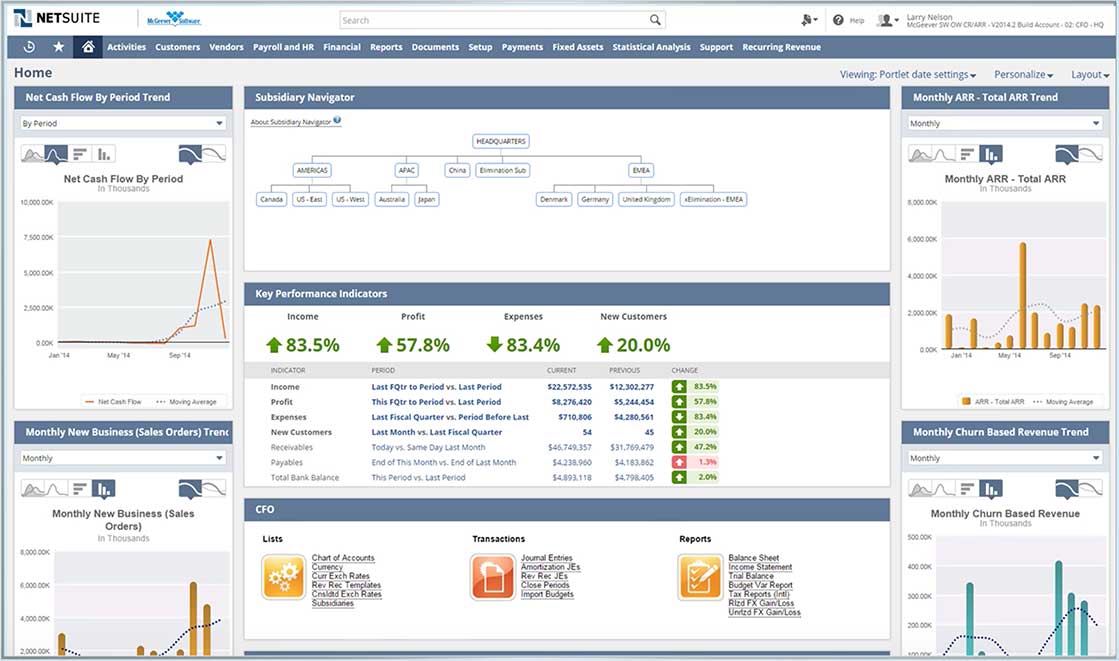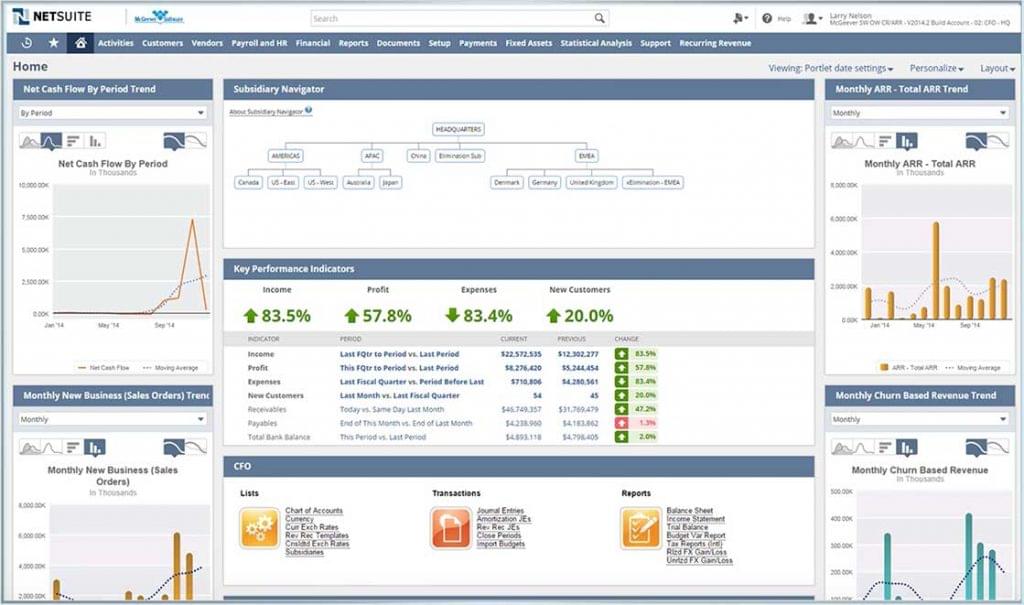 TechnologyAdvice rating: 4/5
Oracle NetSuite is a provider of enterprise resource planning (ERP), accounting, CRM, marketing automation, and various other kinds of business software. Best-known for its ERP solution, NetSuite caters to businesses of any size, from small businesses to multinational corporations. Evan Goldberg started NetSuite in 1998 and remained the chairman and CTO until Oracle acquired the company for $9.3 billion in 2016. Today, NetSuite serves thousands of customers around the world through its software-as-a-service (SaaS) model.
What is Acumatica?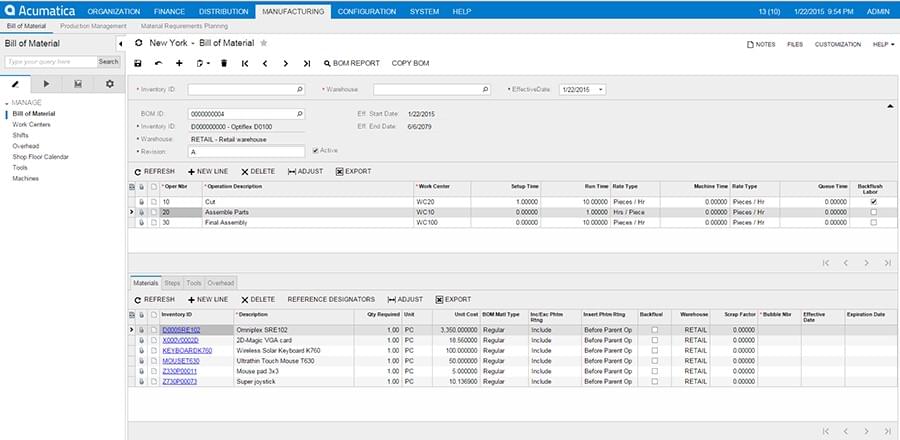 TechnologyAdvice rating: 4.5/5
Acumatica makes ERP software for small and medium-sized businesses. Founded in 2008 by Serguei Beloussov, Mike Chtchelkonogov, and John Howell, Acumatica offers financial management, customer management, project accounting, and ERP products with specialized editions for at least five different functions. The software is used in multiple industries, and customers can choose from two deployment options: on-premise or cloud-based. EQT Partners acquired Acumatica in 2019 to form an ERP coalition with one of the lending investment firm's other major holdings, IFS.
NetSuite vs. Acumatica comparison table
NetSuite
Acumatica
TechnologyAdvice rating
4/5
4.5/5
Works best for
Any sized business
Small to medium-sized businesses
ERP features
Financial management

Yes

Yes

Financial planning

Yes

Yes

Order management

Yes

Yes

Procurement

Yes

Yes

Production management

Yes

Yes

Supply chain management

Yes

Yes

Warehouse & fulfillment

Yes

Yes

Reporting

Yes

Yes

CRM

Yes

Yes

Dashboards

Yes

Yes

Pricing
Per user

Yes

No

By transaction volume

No

Yes

By required data storage

No

Yes

Deployment
Cloud

Yes

Yes

On-premise

No

Yes

Private cloud

No

Yes

iOS

Yes

Yes

Android

Yes

Yes
Features
ERP solutions are vast software systems with many different features. Comparing every single feature two systems have to offer could take you hours, so focus on the most important ones to your business instead. If you sell any kind of physical goods, these might be the two most important features to consider when comparing NetSuite vs. Acumatica.
Inventory management
NetSuite offers an advanced inventory management module to give companies greater insight and control into their fixed assets. Users have access to several different depreciation and costing methods, including Last-In First-Out (LIFO), average cost, group average cost, standard costing, and First-In First-Out (FIFO). NetSuite's inventory management module also comes with bill of materials (BOM), forecasting and demand planning, bar coding, and asset images.
That isn't to say Acumatica's inventory management module fails to delight. Far from it — PCMag awarded Acumatica as an editor's choice for its inventory management features. Just like Oracle NetSuite, you'll find tools for various depreciation and costing methods, but Acumatica doesn't support the LIFO method. The systems supports barcoding assets with a scanner or a smartphone, and BOM with kitting are available.
Materials resource planning (MRP) modules are available by request for both NetSuite and Acumatica.
Financial management
While accounting software like Intuit QuickBooks is extremely popular among small and medium-sized businesses, it doesn't always offer the advanced reporting and security features that enterprises need. NetSuite and Acumatica meet these higher standards and offer features like:
Payroll management
Vendor lists
CRM
General ledger
Financial statements and reports
Customizable dashboards
Both systems offer dashboard navigation, which shows you overview information for any category you visit. You can customize dashboards to your preferences, and you can drill down into more detail by interacting with the dashboards. NetSuite's financial management module is slightly more intuitive than Acumatica's, but both systems let you customize workflows to how you prefer to work.
Pricing
Pricing might be the biggest point of difference between NetSuite and Acumatica. While NetSuite follows a fairly standard approach of selling its software directly and through licensed third parties, Acumatica offers a "pay only for what you use" pricing model.
A major pro of this model is flexibility. Instead of paying for a certain number of seats and hiring an implementation consultant to handle your setup and customization, Acumatica lets you pick and choose your applications, deployment preference, and projected level of consumption — that is, how many transactions you'll handle and how much data storage you need. This is good if flexibility is a top concern, but it can be confusing if you don't know exactly what you need.
NetSuite's pricing is more straightforward. You can either buy the software through NetSuite's in-house sales team, through approved third-party consulting organizations, or through NetSuite BPO partners if you only want to use the accounting module. Once you've worked with NetSuite or one of their partners to create your instance, pricing varies on how many users will need to access the software.
Deployment
NetSuite is known as a pioneer in the software-as-a-service (SaaS) space, and it remains one of the best SaaS products out there. Cloud-based is your only option when it comes to deploying NetSuite, so you might think twice about this ERP if you're looking for an on-premise solution. That being said, NetSuite runs on the Oracle Cloud, a highly-secure, heavy-duty cloud platform that powers large organizations like Western Digital and CERN.
Acumatica can be deployed as a SaaS solution, but you can also choose from on-premise and private cloud. With the SaaS subscription, you pay an annual fee, and a cloud computing provider handles all of your IT maintenance. If you need more control over your deployment and you have the IT resources to pull it off, deploying the software on a private cloud or on your own servers. Acumatica charges a one-time licensing fee and a recurring annual maintenance fee for on-premise deployment.
NetSuite vs. Acumatica: which is right for you?
Ultimately, it's up to you to decide which ERP is best, but based off what we covered in this comparison, we can give you some pointers. If you're a larger organization and you don't need an on-premise ERP solution, NetSuite might be your best bet. Conversely, if you're a small manufacturer or distributor with a greater need for flexibility and customization, Acumatica might be the ERP for you.
Whether you're looking for your first ERP system or wanting to switch to a new one, our Technology Advisors have the expertise to help you make the best decision. Get started in less than five minutes by using our ERP Product Software Selection Tool to request a free shortlist of ERP software recommendations. We'll examine your needs and match you with five vendors we think you'll love in under five minutes.
Top ERP Software Recommendations
Wrike is an enterprise resource planning software trusted by 20,000+ companies worldwide. Improve your enterprise resource planning using resource management and allocation, performance reports, Gantt charts, time tracking, workload overviews, and company-wide visibility all in one place. Integrate Wrike with 400+ applications to accelerate your everyday processes. Customize workflows and reduce the need for emails, meetings, status updates, and more. Work smarter, not harder with Wrike.
Visibility ERP is a fully integrated and modern ERP solution designed to meet the unique needs of complex manufacturers. It provides manufacturers with visibility into their business operations and strategic advantages across the entire enterprise. Business integration, comprehensive functionality, collaborative capabilities, global features and compliance-based controls enable effective decision-making, increased productivity, and a system infrastructure optimized for business growth.
Acumatica Cloud ERP offers best-in-class functionality for small and mid-sized businesses to thrive in the new digital economy.

Born in the cloud, Acumatica's business management system is built for remote collaboration and rapidly integrates with mission-critical third-party applications.

Its consumption-based licensing charges for resources used, rather than per individual user, and its future-proof platform drives value and delivers flexibility, efficiency, and continuity of operations.
Need a Little Help?
Talk with a software expert for free. Get a list of software that's great for you in less than 15 minutes.
Technology Advice is able to offer
our services
for free because some vendors may pay us for web traffic or other sales opportunities. Our mission is to help technology buyers make better purchasing decisions, so we provide you with information for all vendors — even those that don't pay us.