This post has been updated for 2020
Gone are the days when project managers used sticky notes and whiteboards to track projects from inception to completion. These days, a lot of teams plan and measure project execution in online Kanban tools that anyone can access from wherever they work.
The original Kanban process emerged from the movement of physical cards down the Toyota production line. As a car moved through production, its representative card would move from worker to worker, signaling the beginning of each new task. This helped managers visualize production bottlenecks and optimize the workflow by re-assigning labor to keep the cars moving down the line smoothly.
ALSO READ: Trello vs. JIRA: Choosing an Agile Project Management Tool 
Kanban tools help teams fix their bottlenecks by allocating the right time, talent, and resources to move projects along. They also help individuals track tasks and steps to project completion.
Because it's such a useful way to visualize work, many of the more complicated project management software tools employ the Kanban methodology within a larger, more complicated system. If you're shopping for a Kanban tool, you can use the list of top vendors below to get started, or use our Product Selection Tool to get a free list of the best project management software for your needs.
To provide a better analysis, we divided the Kanban tool market into three categories.
1. Project Management Tools with Kanban Boards
Everyone has jumped on the Kanban train these days — even project managers who have traditionally adhered to waterfall methodology. More traditional PMs can reap the benefits of software that employs Kanban boards alongside custom workflows, Gantt charts, and built-in analytics.
Scrumwise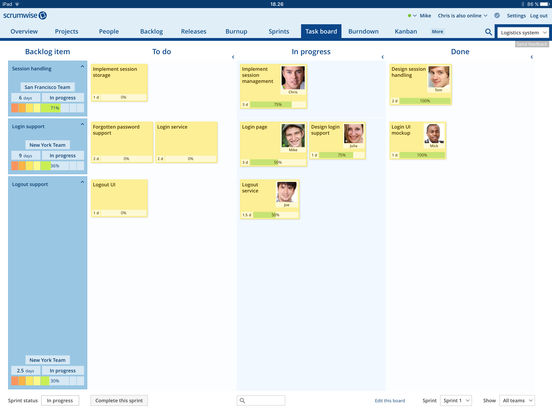 Scrumwise is an agile project management tool with Kanban integrations. It's built for teams to track progress during sprints through card and board visualizations, so time constraints and dependencies can be easily tracked and reported. You'll find Kanban features in the tool through projects and independent boards.
Integrate Scrumwise with your GitHub account to add Scrumwise data to your commits, or connect to the API to change and update information remotely. Because all data updates in real time, your team won't spend a lot of time refreshing pages to stay current.
---
Kanbanery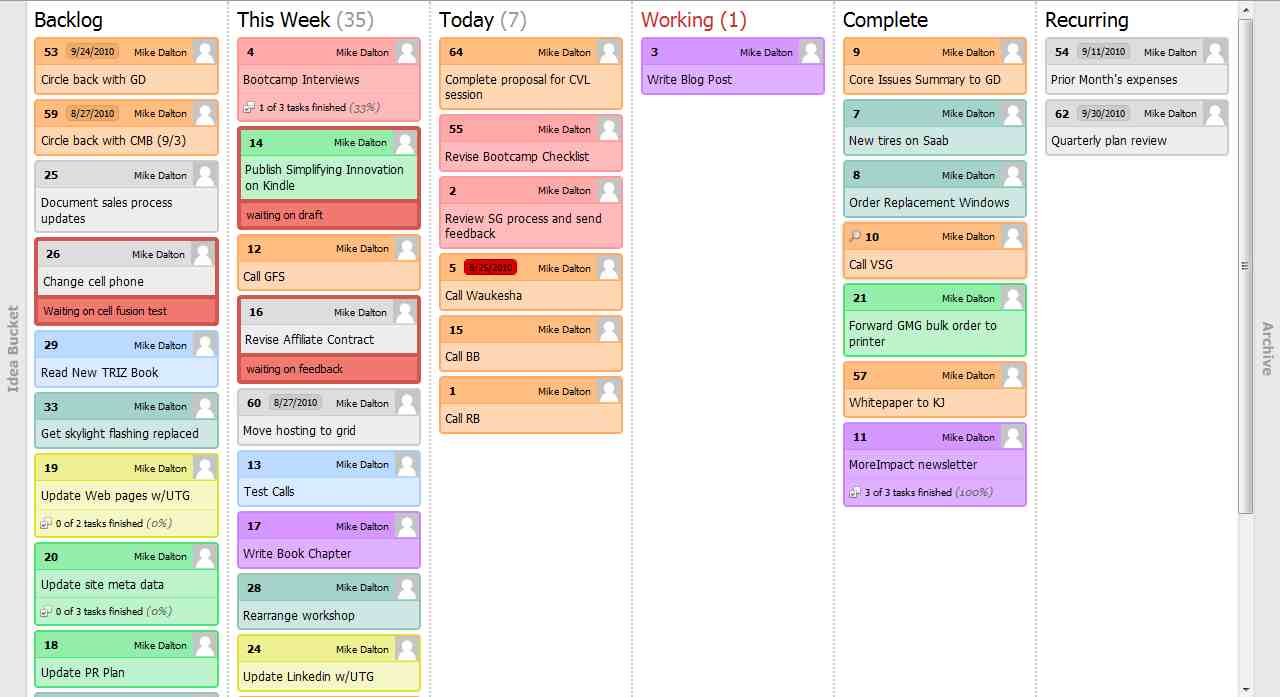 Kanbanery comes loaded with templates, and you can make your custom boards into templates to copy workflows and tasks to subsequent new projects. Each task card gives you multiple ways to record progress: comments, due dates, and lists. Updates happen in real time, and notifications won't distract you from your larger workload.
GitHub, app, and API integrations send your data between tools and update your Kanbanery boards automatically. You can track your workflow and identify bottlenecks with built-in reporting tools that follow the process from start to finish. Kanbanery is available in various pricing plans, but could be expensive for smaller teams.
---
Volerro
Volerro is a project management platform that lets you visualize your workflows in kanban and agile environments. Use the calendar tool to plan out your projects and assign tasks to individuals without overloading. Add any document to your tasks or projects, and Volerro will convert it to HTML5 so everyone can see the asset directly in the browser.
Volerro offers in-app messaging, to help your team stay connected in the platform and communicate where the work is. Dashboards show progress for all of your projects and the whole team's movement toward a goal. Test this one out for free with up to three projects.
---
Planview Leankit
Planview Leankit upgrades the basic Kanban board with horizontal "swim lanes" that clarify concurrent project goals. While most Kanban tools keep the standard vertical rows to signify steps along the process, Leankit lets you see dependencies and parallel projects from a single view. Each of the project steps are flexible, so you can customize according to your project's needs.
Leankit lets you see overviews and analytics for each of your team's projects, and all features are available in the native mobile app. Leankit prices their plans per user in several different tiers, so you may have to do some comparison shopping to get the features, integrations, and price you want. There is a 30-day free trial available with no credit card required.
2. For Software Developers
Developers love to organize their workflows, and so do their project managers. These software-focused options give developers access to Kanban boards in addition to helpful production and bug tracking tools.
ZenHub
ZenHub was built to integrate directly with your GitHub account, and with software developers in mind. The Kanban project boards can access multiple repositories to track issue and pull requests. Using common agile development components like epics, user stories, and burndown charts, ZenHub will appeal to your developers' existing language. And because it's directly tied to GitHub, ZenHub can track commits and progress in real time.
Each developer can create a personal to do list on their user dashboard, while APIs and integration with Slack keep the whole team informed. Pricing is based on number of users and scales to the enterprise level. 
---
Yodiz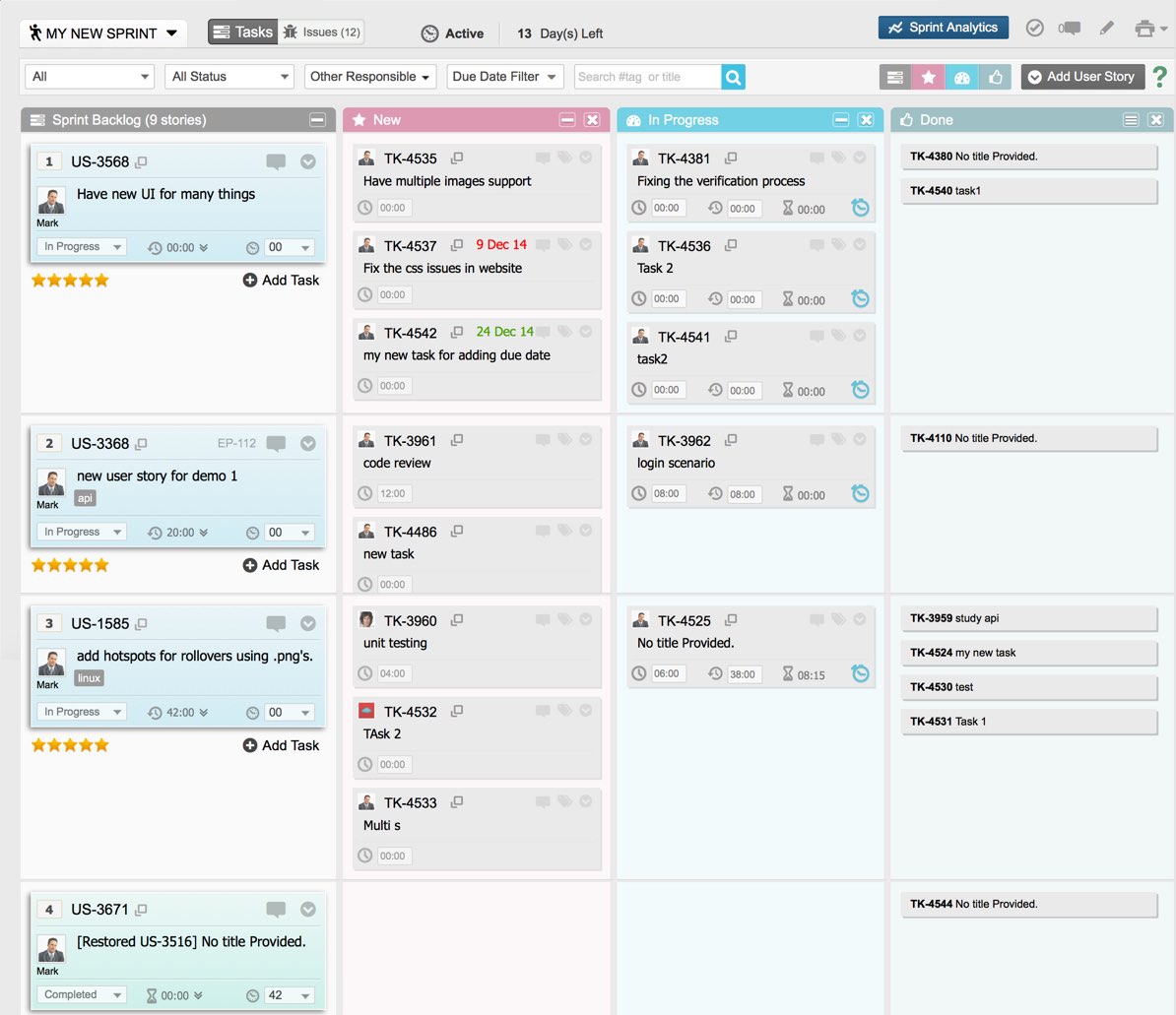 Built for agile project management, Yodiz employs what they call "Scrumban" views. These allow your team to get an overview of the project and zoom in on tasks, while tracking parallel workflows in swim lanes.
Yodiz's real power comes from its integrations, which support Zendesk, GitHub, Atlassian products, and more. These integrations make Yodiz a powerful tool for building new products, QA testing, and bug tracking, letting you collaborate with your UX and support teams in a single product.
3. Atlassian Products
Atlassian has made big moves in the project management space recently, especially with their acquisition and integration of Trello into their software development and collaboration suite. A Kanban list is not complete without a couple of Atlassian products that use Kanban styling.
JIRA
JIRA acquired the GreenHopper agile project management product, and has since integrated that product fully into its larger software and project development tool. JIRA includes the ability to build Kanban tools within the larger context of projects and workflows, giving your team a look at the 10,000 and 1-foot views of your projects. JIRA provides your team with ready-made workflows, and once you get the hang of it, you can make custom workflows and copy those as templates.
---
Trello
In early January of 2017, Atlassian acquired Trello. There haven't been any big changes to the tool's usability yet, but some minor integrations and updates have released in the intervening month. Trello remains the go-to Kanban tool for many business teams and individuals because of its simplicity. Trello is strictly Kanban, organized by boards that team members can use to access and update tasks and store documents.
Trello does offer Slack integrations and other add-ons they call Power-Ups, such as Jira, Bitbucket, and Confluence, but the biggest appeal of Trello is its simplicity. That keeps the basic tool free, but business users can upgrade for more Power-Ups and security.
* * *
Whether you decide to buy a standalone Kanban tool or a larger PM suite, you can rest assured that adding Kanban to your project management strategy will make life easier for your team.
In the mean time, you can use our Product Selection Tool to get a list of free recommendations for the best project management software for your company's requirements.