Whether you're just starting your search for a new field service management (FSM) solution or you're narrowing your focus down to a few vendors, you'll want to compare Jobber vs. Housecall Pro. These are two of the most highly-rated FSM vendors on the market, but choosing which one is right for you will depend on your feature wants, industry, deployment needs, and budget.
If you're short on time or don't know where to start, use our FSM Software Product Selection Tool to get a free, personalized shortlist of the best FSM software for you. We'll ask you a few basic questions to get an idea of what you're looking for and then match you with five solutions we think you'll love. Click the banner below to get started.
Table of contents
Comparison table
Jobber
Housecall Pro
TechnologyAdvice rating
4.5/5 stars
4.5/5 stars
Works best for
Any sized business
Any sized business
FSM features
CRM

Yes

Yes

Cloud-based

Yes

Yes

Scheduling and dispatching

Yes

Yes

Invoicing

Yes

Yes

Follow up marketing

Yes

Yes

Mobile app

Yes

 

Yes

Website booking

Yes

Yes

Facebook booking

Yes

No

Website builder

No

Yes

Client notifications

Yes

Yes

Quotes

Yes

Yes

Online payment

Yes

Yes

Reporting

Yes

Yes

Recurring service agreements

No

Yes

Industry specializations
Appliance repair

Yes

No

HVAC

Yes

Yes

Plumbing

Yes

Yes

Painting

Yes

No

Roofing

Yes

No

Pest control

Yes

Yes

Home cleaning

Yes

Yes

Garage door

No

Yes

Electrical

Yes

Yes

Pricing
Three priced tiers

Yes

Yes

Free trial

Yes

Yes
Compare Jobber vs. Housecall Pro by features
As far as the basics go, Jobber and Housecall Pro both offer features like scheduling and dispatching, invoicing, online booking, retention marketing, mobile payments, and reporting. But there are a couple standout features and slight variations on standard features that makes comparing them worthwhile.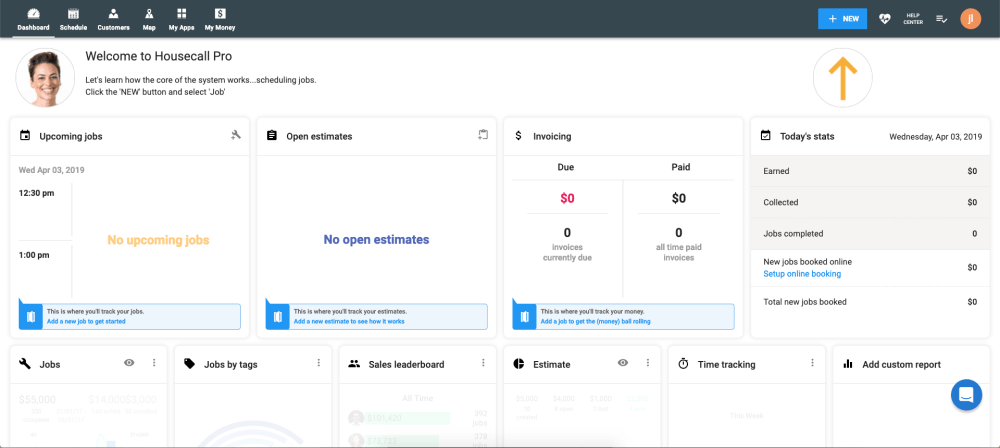 First things first, if you don't have a website, Housecall Pro might be the more attractive option. While Jobber lets clients book services through your existing website and Facebook page, Housecall Pro offers a website builder. This is a powerful feature that lets you choose your own domain (and take it with you if you leave!), build a custom site, and setup online booking. Plus, Housecall Pro sites are built with good SEO practices, so you don't have to worry about design and site architecture docking you points in Google's search algorithm.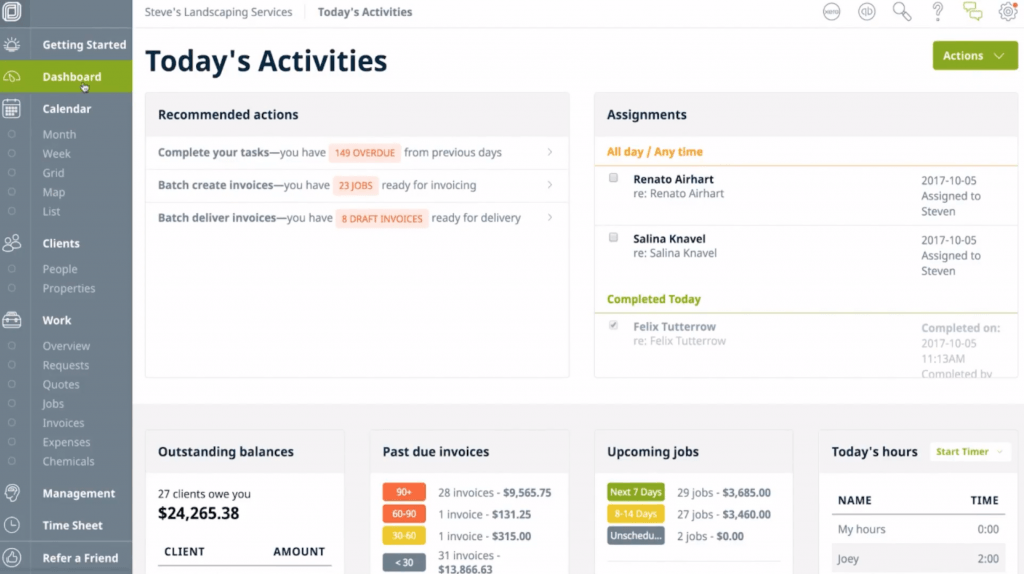 While Jobber doesn't give you the tools to build your own website, it does offer an online booking feature for your Facebook business page. After a client submits a service request through Facebook, you can either convert it to a quote or a job. From there, you can schedule a service appointment, and your client will get a reminder text leading up to the appointment. Jobber also lets you create and run ads on Facebook and Instagram without leaving the platform.
By industry
Before deciding on Jobber or Housecall Pro, you'll also want to take your industry into consideration. While you could probably use either solution no matter what industry you work in, Jobber and Housecall Pro do offer specializations for a number of different industries. Going with the solution that offers a specialization for your industry will at least make your life a little easier and could save you time and money in the long run.
Also read: Jobber Alternatives: 5 Of The Best Solutions For SMBs
Jobber offers specializations for 20 different industries, though the system's features can work for most field service companies. Industry specializations include:
Appliance repair
HVAC
Plumbing
Painting
Roofing
Pest control
Housecall Pro currently offers nine industry specializations for its platform. Just like Jobber, you'll still get good use from Housecall Pro if you're in the home service or field service business. Specializations offer additional features to meet the unique needs of certain industries, including:
HVAC
Plumbing
Window cleaning
Home cleaning
Pest control
Electrical
Garage door
It's important to note that there is a significant amount of industry overlap between Jobber and Housecall Pro, but Jobber offers more specializations at the time of publishing. For a full list of industry specializations, view our comparison table of these two vendors.
Deployment options
Say goodbye to your old on-premise solution — Jobber and Housecall Pro are both cloud-based solutions that run in your web browser. This model offers several advantages.
No need to download large applications that hog processing power
No more installing software updates
Better security and reliability from cloud computing
Since they're cloud-based, Jobber and Housecall Pro also work great for mobile. Both systems offer mobile apps for iOS and Android, so your technicians can get dispatch updates, accept signatures, and take payment, all from their smartphone or tablet. If you use QuickBooks for bookkeeping, Jobber and Housecall Pro offer a QuickBooks integration.
Budget considerations
Jobber and Housecall Pro offer three different pricing tiers, though Housecall Pro offers a fourth tier for enterprise sized businesses. This plan is by custom quote only. Every tier for both vendors can be billed annually or monthly, and each plan comes with a limited number of users. Housecall Pro lets you add additional users at a per-user-per-month rate. Jobber does not.
Also read: The 7 Best Housecall Pro Alternatives for Field Service Companies Looking to Upgrade Their Software
Jobber is slightly less expensive than Housecall Pro for the first three tiers. At first glance, the third pricing plan for both vendors appears to be identical, but Jobber offers more for your money. Housecall Pro's third tier lets you add up to 10 users while Jobber's equivalent tier lets you add up to 30 users. Jobber offers upgrades for additional users at a custom price.
How to get software recommendations from TechnologyAdvice
If you're still undecided on which FSM to go with, we can help. Use our Field Service Management Product Selection Tool to receive a free, personalized shortlist of the best field service management software for you. We'll get to know your needs and match you with five vendors we think you'll love. Getting started is easy and takes less than five minutes.