In 2020, the number of new types of malware increased by approximately 74 percent. Because of all the cybersecurity threats on the web, many companies offer antivirus software free for personal users. And while some businesses want to use this free antivirus software as well, the truth is that free security software generally won't cut it for your business.
Jump to:
Why free antivirus software doesn't work for businesses
While free antivirus software can be tempting as a business looking to save money, it can actually cost you more in the long run than just paying for protection in the first place. Here are a few reasons to steer clear.
It's typically out-dated
Most of the time, companies that offer free antivirus software don't dedicate the same level of resources to updating and improving it as they do to their paid software. This is understandable since they're not making any money off of it, and they typically offer it for personal use, which doesn't have the same threat level. Free antivirus software is generally running on older intel than its paid counterparts, and businesses that use it run the risk of vulnerabilities that paid software versions have addressed.
Instead of antivirus software on its own, you may want to look into an endpoint protection platform (EPP) that includes antivirus, endpoint detection and response (EDR), and threat intelligence. This combination will block malware that attempts to access your network, identify and quarantine threats that are already on your devices, and continuously update as new threats emerge. Threat intelligence is critical for stopping known malware, while EDR can keep zero-day threats from perpetuating a successful attack.
Businesses carry higher-value data
Free antivirus software works for home use because personal accounts carry less valuable data than businesses do. For example, an attacker hacking a home account may get four sets of credentials or credit card numbers if they're lucky. But the same bad actor going after a business could easily get hundreds or even thousands of personal records. Businesses carry a large amount of valuable data and are vulnerable to a larger array of threats, including ransomware, data scraping, and credential theft.
These businesses need to protect not only their own network but also their clients' data. While you can't enforce security measures on your clients' devices, you can ensure that your site includes an SSL certificate to protect customers' payment information. Additionally, consider implementing multi-factor authentication (MFA) to verify your customers' identities and keep their accounts in their hands.
It likely won't meet compliance regulations
Companies that accept credit or debit card payments directly on their website have to comply with the Payment Card Industry Data Security Standard (PCI DSS). One of the requirements is that your antivirus software is updated regularly, which, as we've already covered, may not be the case with a free version.
While the Health Insurance Portability and Accountability Act (HIPAA) isn't super specific about security requirements because medical organizations vary widely, free antivirus software leaves them vulnerable to attacks that could likely be avoided with paid software. Because there's an alternative that would protect patient data, free antivirus software would likely not comply with HIPAA regulations.
Businesses in highly-regulated industries, like healthcare or finance, should consider a zero-trust security system that includes or integrates with antivirus software. Zero-trust software constantly verifies a user's credentials and monitors their activity to ensure they are who they say they are and that they aren't doing anything out of the ordinary. It flags anomalies up to the IT team, so they can investigate, and it can quarantine potential threats until IT looks into them. For example, if an employee accesses sensitive information late at night, the system may block access until IT has a chance to review the activity and reinstate the credentials.
Also read: Healthcare Cybersecurity: Preparations You Need to Make Now
It may not be licensed for business use
Not only is free antivirus software not ideal for business use, some vendors actually don't license their free version for businesses. Malwarebytes, for example, only offers its free version for personal use. If you're caught violating the license agreement, the company will likely revoke your access and you may be required to pay them damages. It's better to just pay for the software upfront.
Antivirus software is a bit of a base-level security measure, and most businesses are going to need more functionality than just blocking malware. Extended detection and response (XDR) platforms combine several security solutions into a single platform to improve detection and give more context surrounding attacks. XDR provides visibility across all of an organization's endpoints and automatically monitors, detects, and initiates remediation for threats.
Also read: Benefits of Using XDR in Addition to EDR
Best business antivirus software
If you're looking for the best antivirus software for your organization, check out these products.
SentinelOne Singularity

SentinelOne Singularity is a next-generation antivirus (NGAV) platform that includes the option of additional security features to make it a full suite. Artificial intelligence (AI) and machine learning (ML) work together to stop viruses quickly and give context to the investigative team surrounding the specifics of the breach. It includes threat intelligence to protect against known threats but can also block unknown threats using behavioral analysis.
Also read: The Impact of AI on Cybersecurity: A Q&A with Deep Instinct
Avast Business Antivirus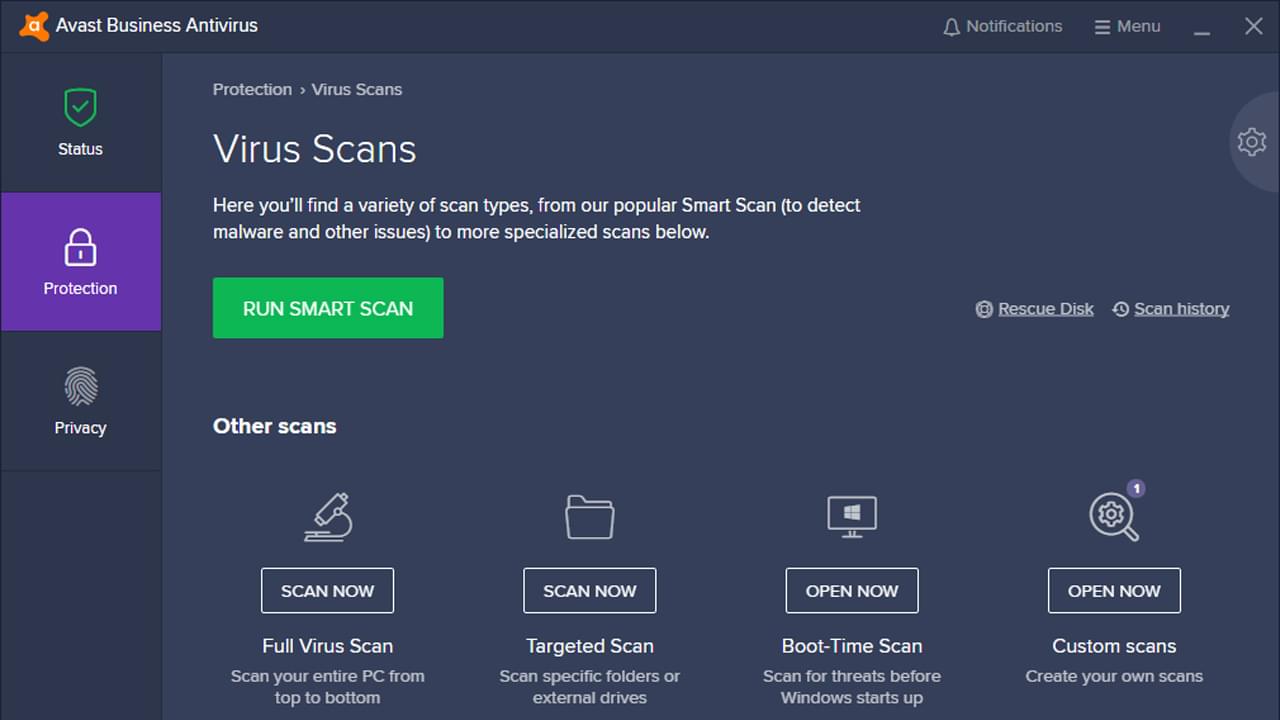 Another NGAV solution, Avast Business Antivirus protects Windows, Mac, and Linux endpoints from malware. Implementation is fast and easy, and the program can combat malware without impacting system performance. AI-enabled behavioral analysis detects and blocks unknown threats, while the patch management feature keeps all of your Windows and third-party applications up to date, preventing vulnerabilities.
Kaspersky Endpoint Security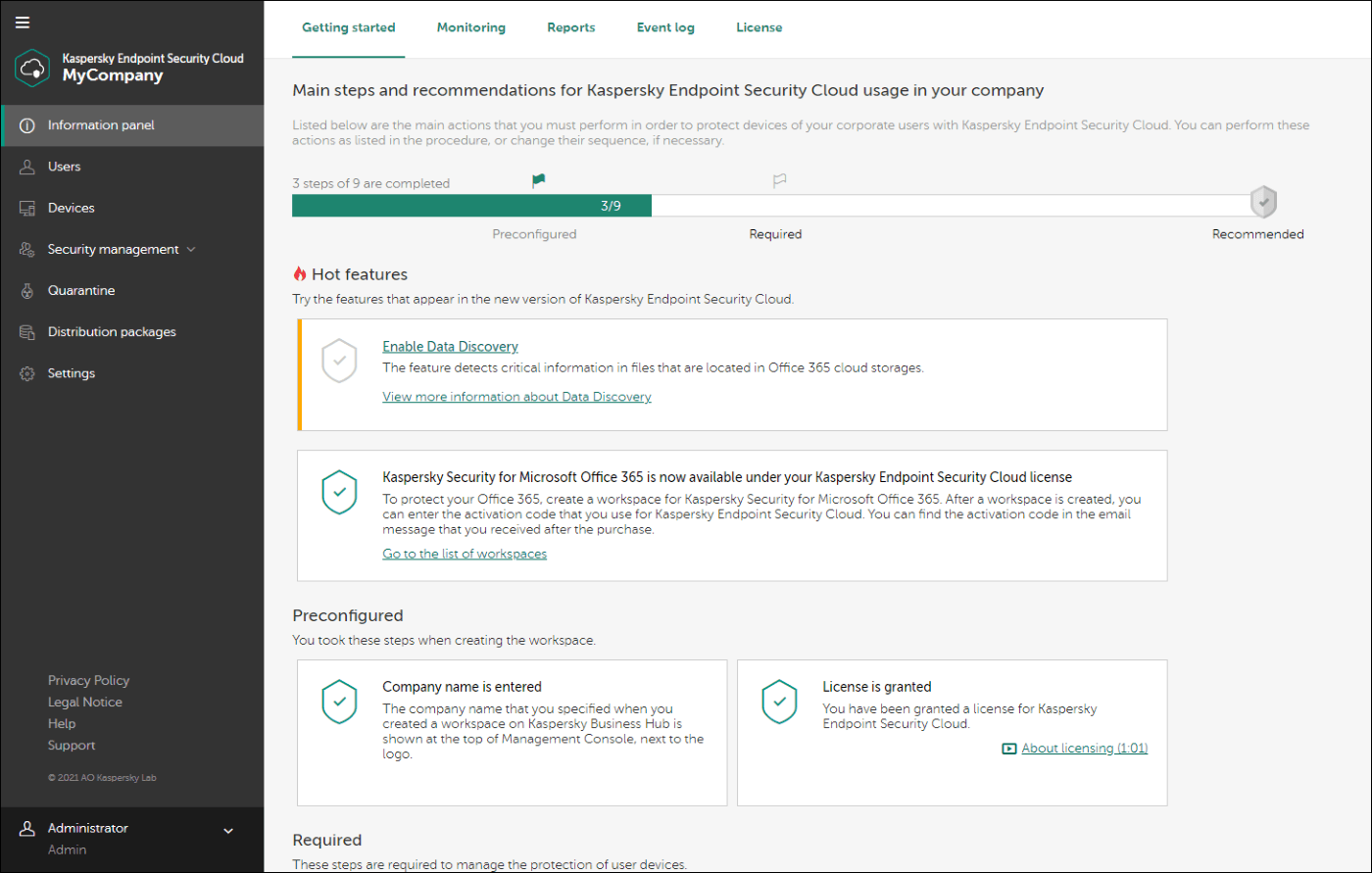 Kaspersky Endpoint Security offers three platform tiers to help you get the right protection for your business. The lowest package offers a "set-and-forget" model, which is great for small businesses that don't have in-house IT support. Anti-spam email filtering protects your employees from phishing attempts, and you can add on a password manager to generate and securely store strong passwords.
Choosing antivirus software for your business
Free antivirus software won't cut it for your business, but choosing between the paid options can be daunting. You should look for NGAV software that can block both known and unknown threats and works with a variety of devices. Additionally, consider additional security measures like EPP, XDR, or zero trust software if you carry a lot of sensitive information or are in a highly-regulated industry.
To find the best antivirus software for your business, use our Antivirus Software Product Selection Tool. After answering a few questions about your business, you'll get a short, unbiased list of customized recommendations.
Top Cybersecurity Software Recommendations
NINJIO is a cybersecurity awareness training and simulated phishing services company that empowers individuals and organizations to become defenders against cyberthreats. The company creates 3 to 4-minute, Hollywood style micro-learning videos that teach organizations, employees, and families how not to get hacked.
SpamTitan is a cloud based Anti Spam email filter. It is an easy to use, effective, multi-award winning Anti-Spam, malware blocking and phishing prevention solution .

Blocks Phishing, spam, viruses, malware, malicious links, spyware and other email security threats. We provide sophisticated email security for your business without making it complicated.

Try a FREE 14 day Trial of SpamTitan Email Security today, full support included during trial.
Protect your company computers, laptops and mobile devices with security products all managed via a cloud-based management console. The solution includes cloud sandboxing technology, preventing zero-day threats, and full disk encryption capability for enhanced data protection. ESET Protect Advanced complies with data regulation thanks to full disk encryption capabilities on Windows and macOS. Get started today!
Need a Little Help?
Talk with a software expert for free. Get a list of software that's great for you in less than 15 minutes.
Technology Advice is able to offer
our services
for free because some vendors may pay us for web traffic or other sales opportunities. Our mission is to help technology buyers make better purchasing decisions, so we provide you with information for all vendors — even those that don't pay us.