Computerized maintenance management systems (CMMS) keep maintenance and service companies organized and significantly reduce paperwork. But how do you find the right provider for your needs? This article compares seven CMMS software products to help you find the right solution for your service company.
Ready to find the best solution for your needs? When you enter your requirements into our CMMS Buyers Guide, we'll follow up with a custom list of products that have the features and price point you're looking for.
What are the Best CMMS Products?
Compare the best CMMS software
Compare features of the best CMMS software products. Scroll past the chart for detailed product information.
| | | | | | | | |
| --- | --- | --- | --- | --- | --- | --- | --- |
| | eMaint | Smartsheet | UpKeep | Fracttal Asset Cloud | Hippo CMMS | Limble CMMS | Fiix |
| Asset Management | yes | yes | yes | yes | yes | yes | yes |
| Regulatory Compliance | yes | no | no | no | no | no | yes |
| Reporting | yes | yes | yes | yes | yes | yes | yes |
| Predictive Maintenance | yes | no | no | no | no | no | yes |
| Inventory | yes | yes | yes | no | yes | yes | yes |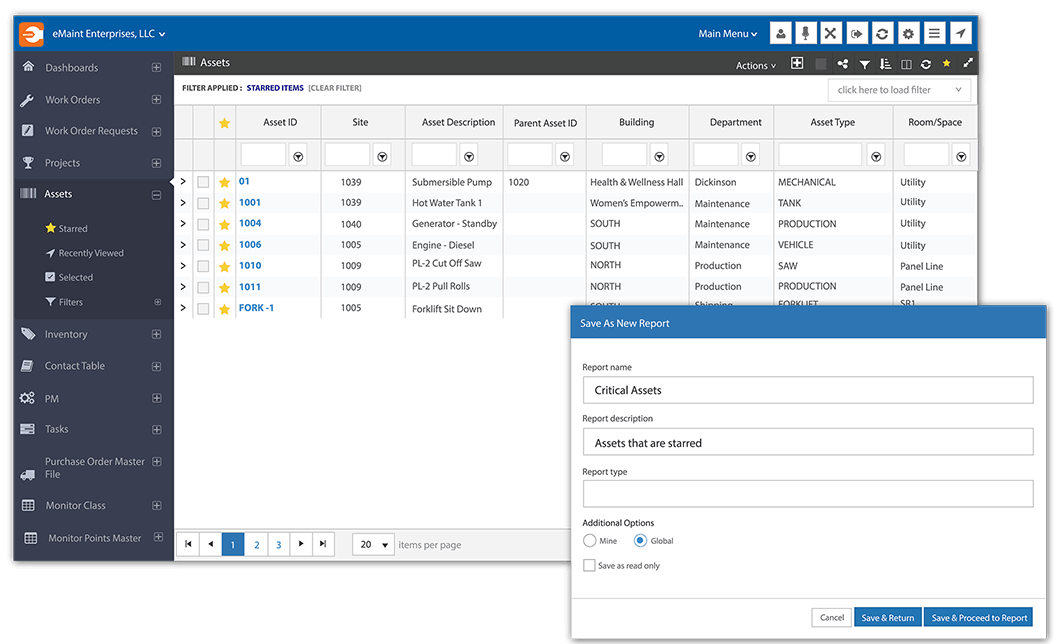 eMaint CMMS Enterprise Asset Management Software
eMaint CMMS is an enterprise asset management software designed to give deep insight into how assets contribute to the productivity of the company. In addition to the standard scheduled maintenance, asset management, and inventory management, eMaint CMMS EAM has several features designed for global operations. Use internet of things (IoT) connections, predictive maintenance, and regulatory compliance tools to centrally manage thousands of assets and reduce costs.
Best for: Global enterprise corporations, hospital chains, and large maintenance companies with long asset lists.

Smartsheet CMMS
Originally designed as a spreadsheet-style project management tool, the Smartsheet CMMS software brings project management logic, workflows, and visualizations to maintenance management. The software includes barcode scanning, document management, and collaboration tools that augment the organizational tool.
Best for: Project-based maintenance teams and those looking for automation features

UpKeep
UpKeep is a mobile maintenance management software that helps maintenance teams do more work from the field. Use mobile work orders, calendar-based preventative maintenance, and workflow automation to improve technician speed. Individual asset features like depreciation, warranty, and downtime tracking help your team predict future financial needs and get ahead of breakdowns.
Best for: Facilities and mobile maintenance management teams

Fracttal Mobile CMMS
Enterprise and global facilities teams require specialized reporting and demand advanced asset controls. Fracttal Mobile CMMS helps health care, transport, and food service teams manage their teams and assets with real-time reporting. Technicians and scheduling departments can understand inventory and repair needs at a glance with integrated warehousing and equipment readings.
Best for: Health care and food service industries

Hippo CMMS
Hippo CMMS is a maintenance request and organization platform for single locations through global enterprise teams. It includes equipment management, parts and inventory, and a maintenance request portal at all levels. The highest tier, Hippo Pro, is available for multiple locations, unlimited users, and even gives API access so your team can customize the tool.
Best for: Maintenance and service companies looking to grow into multiple locations.

Limble CMMS
Limble CMMS is a mobile-first CMMS designed to keep maintenance teams moving without a lot of interruptions from phone work requests. Use the schedule automation to quickly assign work without office interventions, and schedule preventive maintenance alongside one-off repairs. The tool is available as an on-premise or cloud installation.
Best for: Companies looking to move from reactive to preventative maintenance schedules.

Fiix CMMS
Fiix CMMS is an artificial intelligence (AI)-supported maintenance management tool that helps companies stay ahead of their repair schedules. Use the AI tools to understand work order bottlenecks and predict upcoming part shortages before they happen. Reporting tools help managers understand how to prioritize schedules, and the mobile app keeps teams connected without visiting the office.
Best for: Fleet and factory maintenance companies looking to reduce maintenance costs.
How To Choose The Right CMMS?
Finding the right CMMS for your company doesn't have to be difficult. You'll need to put in a little time researching the right tools for your job, but we can help you along the way. Enter your requirements on the Product Selection tool on the CMMS page, and one of our Technology Advisors will set you up with a short list of vendors who meet your needs.
Technology Advice is able to offer
our services
for free because some vendors may pay us for web traffic or other sales opportunities. Our mission is to help technology buyers make better purchasing decisions, so we provide you with information for all vendors — even those that don't pay us.