Data drives the decisions of today's businesses, making data backup and recovery services like Acronis Cyber Protect and Carbonite indispensable for safeguarding critical data.
A backup solution copies important files, applications, and more and stores that data in a safe place. If something happens to a device or network of devices, the copy is there for instant recovery.
According to IBM's 2021 Cost of a Data Breach report, the average total cost of a data breach soared to $4.24 million.
In this guide, we'll compare Acronis Cyber Protect and Carbonite based on their backup, security, and recovery offerings as well as their pricing models to help you decide which one is right for your business.
For more on data backup strategy, head to CIO Insight: What Is a 3-2-1 Backup Strategy?
What is Acronis Cyber Protect?
Acronis Cyber Protect is a cloud-based disaster recovery service that relies on the power of integration to deliver secure data storage, backup, and recovery as part of its comprehensive security solution. 
Acronis Cyber Protect backs up various types of data file types and operating systems, while adding an extra layer of security to protect it.
Key features
Flexible storage options
Cloud backups
Encrypted storage
Automated backup
Continuous monitoring
Backup log
Backup scheduling
Bare-metal restore
Compression
Continuous backup
Differential backup
Disaster recovery
Incremental backup
Local Server options
Remote server options
VM backup
Web access / restoration
What is Carbonite?
Carbonite is a flexible, cloud-based backup provider designed for small businesses. It provides configurable cloud-based and hybrid backup options. Users can specify policies and deploy remotely to teams, departments, or individual devices. 
Key features
Flexible storage options
Cloud backups
Hybrid backups
On-premises backups
Encrypted storage
Financial data protection
Automated backup
Backup scheduling
Continuous backup
Disaster recovery
Incremental backup
Local server options
Web access / restoration
Backups: Acronis Cyber Protect vs. Carbonite
Acronis Cyber Protect allows organizations to protect data of any size and from any source. It also backs up workloads from a number of platform types for added flexibility, including:
Applications, such as Microsoft Exchange or Oracle Database
Cloud, such as Amazon EC2 or Google Workspace
Endpoints, whether Windows PC or Mac
Mobile, whether Android or iOS
Physical, such as Windows or Linux servers 
Virtual, such as Oracle VM or Red Hat Virtualization
Acronis Cyber Protect offers a dedicated cloud service, private, or public cloud service—such as AWS, Azure, or Google Cloud—for clients who choose to backup and store their data on the cloud. This way, you don't have to risk hardware damage, degradation, or theft involved with hard drives or other storage hardware devices. 
In addition, it also offers its own Acronis Cloud Storage as a standard integration in its solution which enables users to:
Easily back up hard drives, partitions, and files
Store the backups in remote, Tier IV grade data centers
Quickly recover and retrieve selected applications, files, folders, or an entire system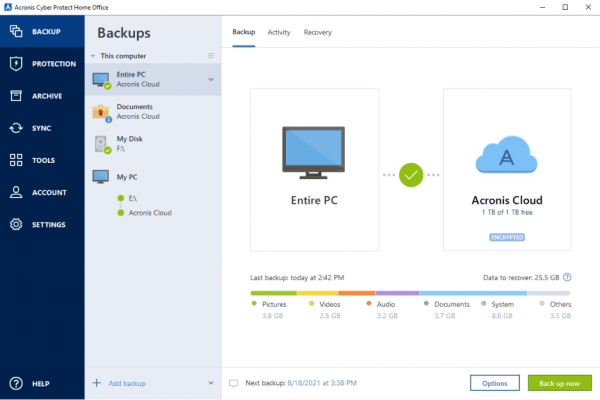 Users can also configure, automate, and schedule one-time or recurring backups. Once successfully completed, the user receives a notification. Users also receive notifications of unsuccessful backups. Reviews cite this as a drawback of Acronis Cyber Protect, as the error reports are long and don't reveal the source of the issue.
Carbonite also offers a range of flexible products to accommodate your business's backup needs, whether on the cloud, on-premise, or a combination of both. Such products include:
Carbonite Safe
Carbonite Backup for Microsoft 365
Carbonite Server
Carbonite Safe is a lightweight solution for small businesses that need backup and recovery services for just a few computers or servers. It's perfect for entrepreneurs or contractors who don't have the specialized IT skills but want safe and easily accessible data for up to 25 computers.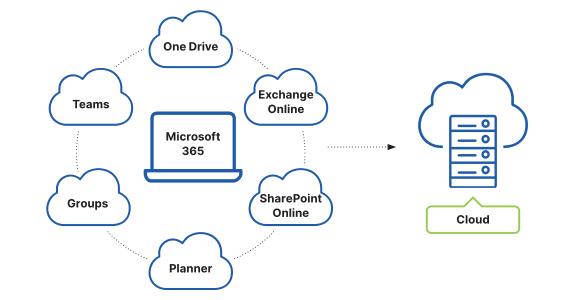 Carbonite Backup for Microsoft 365 is a great, comprehensive backup and recovery option for businesses that rely on Microsoft products. It covers the entire Microsoft 365 suite, including Teams, SharePoint, and OneDrive.
Carbonite Server is a secure, all-in-one server backup and recovery solution that's easy to deploy for physical, virtual, and legacy systems. With this product, users can restore current or historical data from the cloud or from a local device. It provides a fully integrated cloud component from a single vendor, making it a cost-effective product. However, if you run a multi-cloud environment, you may not want to be locked into a single vendor. In that case, check  out Carbonite Availability below, as it covers disparate cloud environments.
With Carbonite, users can schedule backups at a time that's most convenient for optimum bandwidth utilization. 
Winner: Acronis Cyber Protect. We like its more comprehensive coverage that doesn't lock users into particular platforms or cloud service providers.
Security: Acronis Cyber Protect vs. Carbonite
Acronis Cyber Protect is armed with a range of security features to keep data protected. 
It handles all encryption for data in storage or in transit. It uses the AES-256 encryption standard to protect data to prevent the risk of data leaks. Cloud-based files are secure in Acronis Cyber Protect's Tier-IV data centers that are SSAE-18, HIPAA, and PCI DSS certified.
Cyberthreats continue to evolve, and backups are not immune to them. Acronis Cyber Protect integrates data protection with cybersecurity to scan backups for malware and other threats to ensure business-critical data remains clean and accessible.
Carbonite also includes a host of security functions to keep data safe. It provides block-level encryption for all data on the disk, even file metadata, and free space. Each sector of the disk is protected with a designated password. 
Carbonite compresses and encrypts data in flight and at rest using AES-256 encryption standard. It operates according to SOC 2, HIPAA, SOX and GDPR compliance frameworks to ensure your company's data protection meets industry standards.
Like Acronis Cyber Protect, Carbonite also conducts continuous monitoring. It scans for potential ransomware and includes alerting and remediation. 
Winner: It's a tie, as Acronis Cyber Protect and Carbonite are pretty comparable when it comes to security. 
For more on the security, backup, and recovery trifecta, head to eWeek: Security and Backup Alignment Critical to Ransomware Recovery
Recovery: Acronis Cyber Protect vs. Carbonite
Instant recovery is critical in mitigating downtime, data loss, reputational damage and preventing potential fines and lawsuits when protected data is involved. When the inevitable breach or cyberattack occurs, every second counts.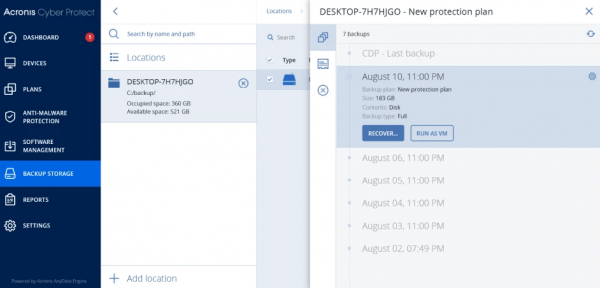 With Acronis Cyber Protect's continuous monitoring and backups in real time, critical applications and files stay safe. When it detects an imminent threat, users choose a recovery point. Then, Acronis Instant Restore immediately launches the backup as a virtual machine in only 15 seconds, thanks to its high recovery time objective (RTO) standards which minimize downtime. 
Carbonite has two main recovery products–Carbonite Availability and Carbonite Recover. Carbonite Availability helps organizations:
Maintain maximum availability of Windows and Linux servers
Minimize downtime, data loss, and thus also revenue loss
manage and keep critical applications up and running
Carbonite Availability continuously replicates your primary system without taxing network bandwidth. This product supports target environments or physical, virtual, or cloud source systems.

Carbonite Recover is Carbonite's Disaster-Recovery-as-a-Service (DRaaS) that helps businesses reduce the risk of unexpected downtime by securely replicating systems down to the byte level in real-time to the cloud. The up-to-date copy is then ready for instantaneous recovery. Recover takes a self-service approach, but businesses may upgrade to Carbonite's Managed Disaster Recovery service for more hands-on management.
For larger organizations that run devices on other operating systems besides Windows and Linux, Carbonite Recover is a better bet. 
Winner: Acronis Cyber Protect. Carbonite deserves credit for offering two different recovery products to accommodate different types of organizations. However, we are impressed with the level of granularity that Acronis Cyber Protect provides in its recovery offering.
Pricing: Acronis Cyber Protect vs. Carbonite
Acronis Cyber Protect's backup and recovery for businesses starts at $69 per month and has a flexible licensing model. Each licensing tier is paired with an accompanying amount of Acronis Cloud Storage, starting at 5GB. They also offer a free 30-day trial.
Carbonite offers a flat-rate pricing model but does not offer a free trial. It comes in Basic, Plus, and Prime price tiers, starting at only $4.92, $7, and $8.75 per month, respectively. 
Pros & Cons: Acronis Cyber Protect vs. Carbonite
Acronis Cyber Protect Pros
Easy to use 
Reliable service, no downtime
Great option for backing up among various platforms
No limit to the number of file versions stored
Unlimited time frame for storing various version of a file
Acronis Cyber Protect Cons
Too many options/choices, overwhelming to user
Difficult-to-understand error reports
No unlimited storage
Carbonite Pros
User-friendly interface
Reliable product
Carbonite Cons
Cumbersome installation process
Slow backup
Limited automated backup
Compatibility issues with Apple iOS devices
Self-service support documentation only, unless you upgrade
Acronis Cyber Protect vs. Carbonite: Which Backup Solution is Right For You?
To protect your company's proprietary information from ransomware attacks, human error, or natural disasters, a backup and recovery solution is critical. Failing to choose the right solution can lead to data loss, system downtime, costly fines, and even litigation, depending on the nature of the data you manage. 
Acronis Cyber Protect and Carbonite are two leading providers of backup and recovery solutions on the market. 
We recommend Carbonite for smaller businesses that run devices on Windows and/or Linux operating systems. For larger businesses that need more comprehensive, device-agnostic backup and recovery, we suggest looking into Acronis Cyber Protect. 
Read next: Backup and Recovery: The Keys to Surviving Ransomware
Technology Advice is able to offer
our services
for free because some vendors may pay us for web traffic or other sales opportunities. Our mission is to help technology buyers make better purchasing decisions, so we provide you with information for all vendors — even those that don't pay us.