This post has been updated for 2020
It's easy to see why your sales representatives want to make Outlook their hub for managing customer relationships. They likely have it open all day, and for an email client, it offers a nice deal of functionality.
But don't be fooled by Outlook's useful features: the program – and any email client for that matter – is a poor choice for truly managing customer relationships. Don't promote Outlook to this position; it doesn't have the qualities you should be looking for in a CRM.
To begin, Outlook doesn't make sharing and tracking documents easier. It may be able to send the material, but any type of storage will need to take place outside of the program, unless you want to sift through the entire email chain every time you need to reference a file.
If you can't attach documents and record client interaction history, then you're going to have a bad time tracking the position of prospects in your sales pipeline.
Outlook also doesn't offer any type of reporting function. How many phone calls are your sales reps making? How often do they follow up with customers? Is their close percentage solid?
Who knows. Outlook doesn't.
But this article isn't about Outlook's flaws. We've already established it's great for emails. That's why over 400 million people use it. As your business grows however, so will your leads, and you'll need to consider an actual customer relationship management platform.
Adopting new technology is always difficult. You can make it easier by implementing a CRM for Outlook. That way, your sales team can keep using the software that they know and love while improving their organization and collaborative capabilities.
So which CRMs integrate with Outlook? In this article we outline five leading solutions – or to see personalized CRM recommendations for your business needs, click the image below to get started.
Insightly
One of the most cost effective solutions on the market, Insightly lets businesses get up running for one cost per month per user. There are three pricing tiers: plus, profession, and enterprise; the price increases respectively. The interface is easy to use, and the sales pipeline functionality is excellent for the price. Moving a prospect to a new stage can trigger automatic notifications to all the reps that need to be in the know.
Insightly even has some project management features, which help improve collaboration when closing a big sale.
---
Nimble
Nimble may be one of the best solutions on the market for sales teams doing a lot of work on LinkedIn and other social platforms. By focusing on contact management, Nimble's platform lets reps build detailed profiles about prospects based on their social information. The platform also keeps track of every social interaction that reps have with prospects, making it simple to pick up conversations.
Also on a one cost per user per month basis, Nimble is roughly the same price as Insightly. Nimble also has the option of annual billing, making the cost lower. For teams that want to make it happen on social media, there aren't many better options.
---
Keap
Formerly Infusionsoft and a step up in terms of capabilities, Keap supplements sales automation features with marketing functions. This platform lets users build landing pages that the company hosts on its own network, and offers powerful email automation so reps can nurture leads. In addition, Keap alerts you when a lead email, calls, or texts, so you can respond quickly. It even comes with ecommerce integration.
Additional capabilities include quote management and reporting features for both sales and marketing. Pricing is on a monthly basis, and includes 500 contacts and one user. If you're still in start-up mode, Keap may be overkill, but it's a powerful, usable platform with a lot of functionality.
---
Prophet CRM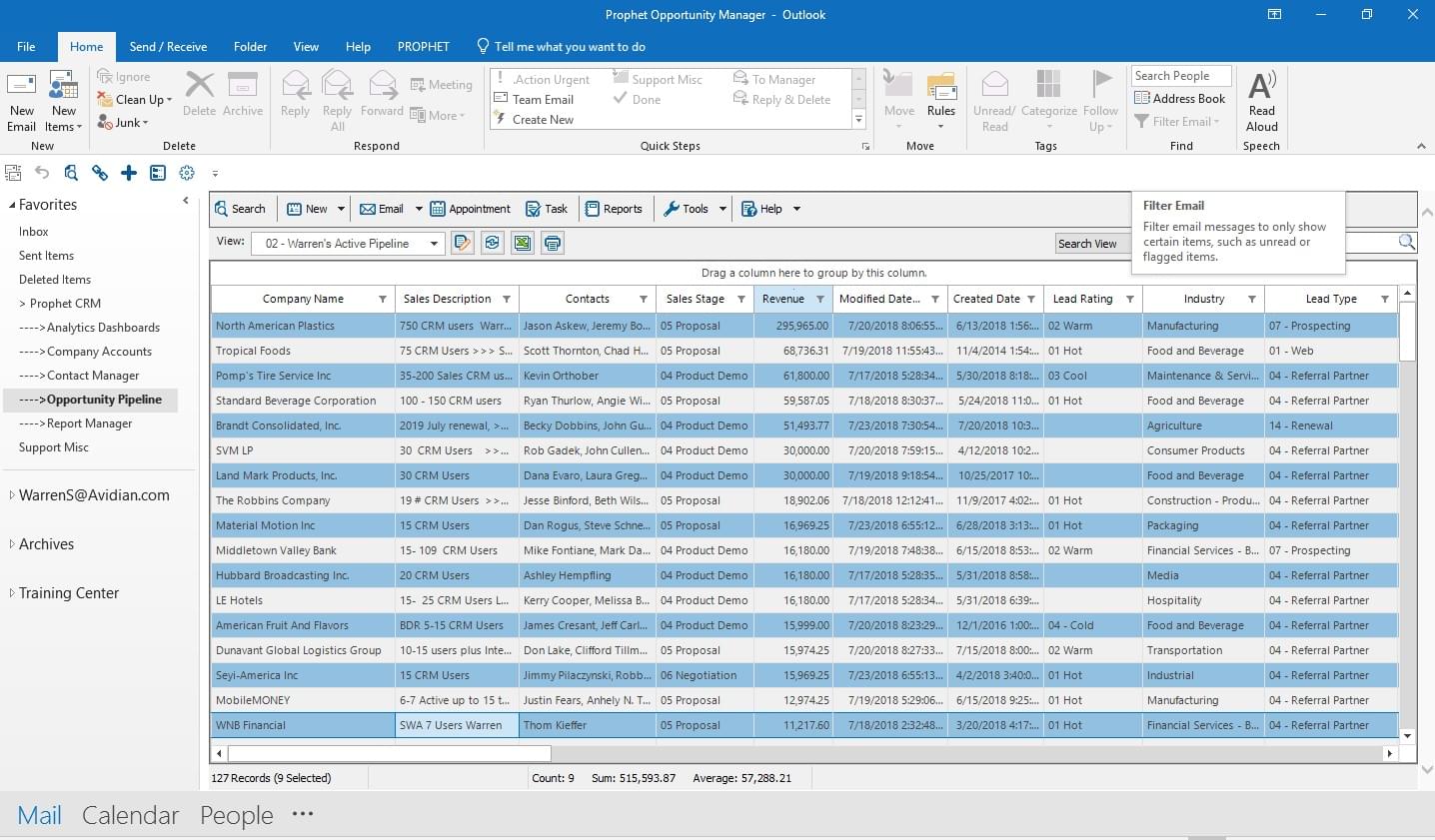 Rather than creating a platform that works alongside Microsoft Outlook, Avidian has built an application that helps Outlook function more like a proper CRM. For example, Prophet CRM allows users to create sales force automation workflows within the Outlook program, so users can set up repeatable tasks that are triggered at the proper time.
Prophet CRM also adds reporting functions to Outlook with real-time forecasting, trend analysis, and more. The solution is somewhat more expensive per user per month, but for die-hard Outlook users, it may be the most intuitive way to solve your CRM problem.
---
Zurmo
The most unique solution on this list, Zurmo is a CRM with embedded gamification features designed to increase user adoption. Using game-based feedback such as points and badges, Zurmo provides positive reinforcement when sales reps use any of the platform's marketing, contact management, or sales features.
Zurmo is also open source, so developers can customize the software or create new apps. Integration with Outlook comes standard with Zurmo Pro, and is an optional add-on for Zurmo Group edition
---
monday.com
An alternative solution is to consider monday.com's Outlook integration. monday.com is not a CRM — it's a versatile project management tool that integrates with Outlook to send emails upon different project phases or task completions. monday.com offers workflow management and automation features and allows users to distribute tasks throughout the team, and integrating with Outlook's email features will give businesses additional team management benefits. 
Although Outlook should integrate with CRM platforms to allow you to build your customer relationships through email, you should also consider linking it to a project management tool. Outlook can send notifications based on workflow changes and scheduling actions in monday.com, streamlining your email communications and keeping your team organized and updated. Recipes are designated actions that meet certain criteria, such as reaching a specific project stage. It can be added to your integration, allowing you to choose the email features you want.
Usability is key when choosing a CRM. However, usability is often associated with a program's interface. And while it's impossible to deny that intuitive navigation is important, integration with your sales team's current programs also heavily affects usability.
So if your sales reps like Outlook, and spent a significant portion of their day in the program, you would do well to choose a solution that works alongside it.