It's easy to see why your sales representatives want to make Microsoft Office Outlook their hub for managing customer relationships. They likely have it open all day, and for tracking client emails, it offers a great deal of functionality. The Outlook calendar also makes it easy for them to schedule calls and appointments.
But don't be fooled by Outlook's useful Tasks and Calendar tools. Outlook's Mail function—and any email client for that matter – is a poor choice for truly managing customer relationships. Don't promote Outlook to this position; it doesn't have the qualities you should be looking for in a CRM.
Why You Need a CRM for Outlook
To begin, Outlook doesn't make sharing and tracking documents easier. It may be able to send the material, but any type of storage will need to take place outside of the program unless you want to sift through the entire email chain every time you need to reference a file.
If you can't record client interaction history on attached documents, you're going to have a bad time tracking prospects' positions in your sales pipeline.
Outlook also doesn't offer any type of reporting function. How many phone calls are your sales reps making? How often do they follow up with customers? Is their close percentage solid?
Who knows? Outlook doesn't.
But this article isn't about Outlook's flaws. We've already established it's great for emails. That's why over 400 million people use it. As your business grows, however, so will your leads, and you'll need to consider an actual customer relationship management platform with an Outlook integration.
Adopting new technology is always difficult. You can make it easier by implementing a CRM for Outlook. That way, your sales team can keep using the software that they know and love to schedule and communicate while improving their organization and collaborative capabilities.
Best CRM for Outlook Solutions
So which CRM software offers Outlook integration? In this article, we outline five leading solutions – or if you want to see personalized CRM recommendations for your business needs, fill out the form below to get started.
Insightly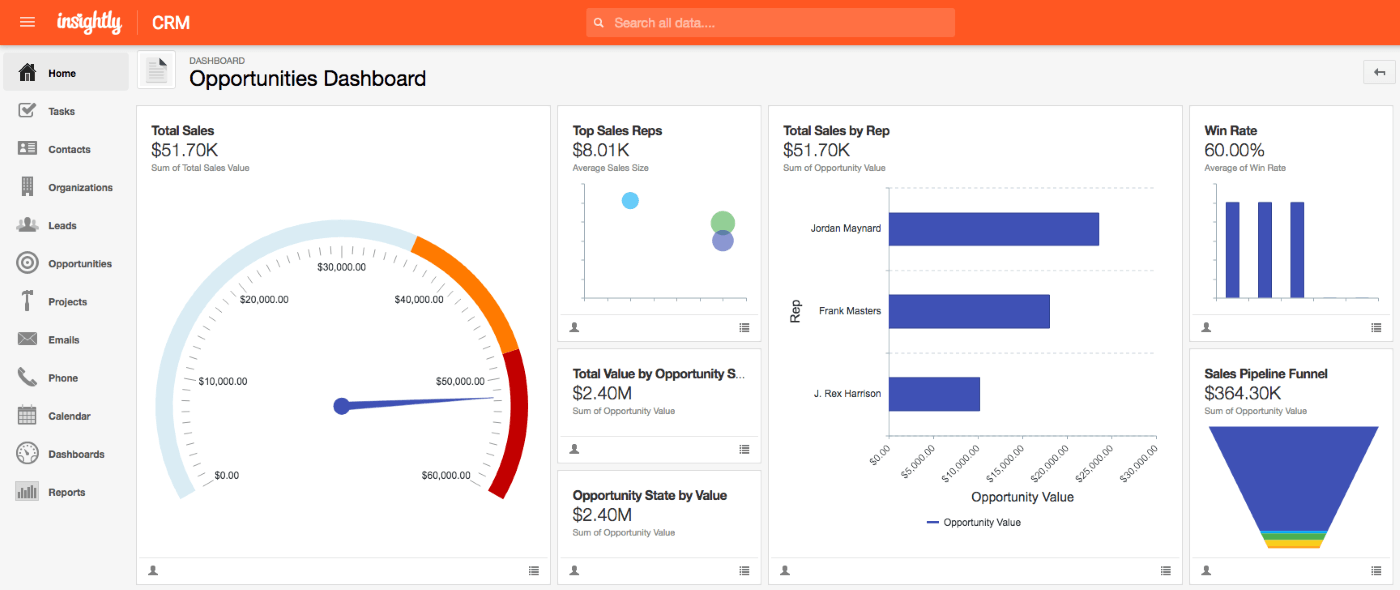 Insightly helps businesses map their relationships with new customers by syncing records to existing CRM contacts to show how different prospects from the same company are related. The interface is easy to use, and the sales pipeline functionality is excellent for the price. Moving a prospect to a new stage can trigger automatic notifications to all the reps that need to be in the know.
Insightly even has some project management features, which help improve collaboration when closing a big sale.
There are three pricing tiers: Plus, Professional, and Enterprise. Each tier adds functionality like customizable business intelligence dashboards, workflow automation, and buildable product books, so sales reps can get real-time insights and cross or upsell with relevant products; the price increases accordingly.
Also read: Insightly vs. Zoho: Which CRM is Best for Your Small Business?
---
Nimble
Nimble may be one of the best cloud CRM solutions on the market for sales teams doing a lot of work on LinkedIn and other social platforms. With a focus on managing CRM contacts, Nimble's platform lets reps build detailed CRM records on prospects based on their social information. The platform also keeps track of every social interaction that reps have with Outlook contacts, making it simple to pick up conversations.
Offering a set cost per user per month basis, Nimble is cheaper than Insightly. Nimble also has the option of annual billing, which provides an even lower monthly price. For teams that do a lot of their work on social media, there aren't many options that embed CRM features right into your social media platforms better than Nimble.
---
Keap
Formerly Infusionsoft and a step up in terms of capabilities, Keap supplements sales automation features with marketing functions. This platform lets users build email templates and landing pages that the company hosts on its own network and offers powerful email automation so reps can nurture leads. In addition, Keap alerts you when a lead emails, calls, or texts, so you can respond quickly. It even comes with e-commerce integration to common platforms like Shopify, WooCommerce, and BigCommerce.
Additional capabilities include quote management and reporting features for both sales and marketing. Pricing is on a monthly basis and includes 500 contacts and one user. If you're still in start-up mode, Keap may be overkill, but it's a powerful, usable platform with a lot of functionality.
---
Prophet CRM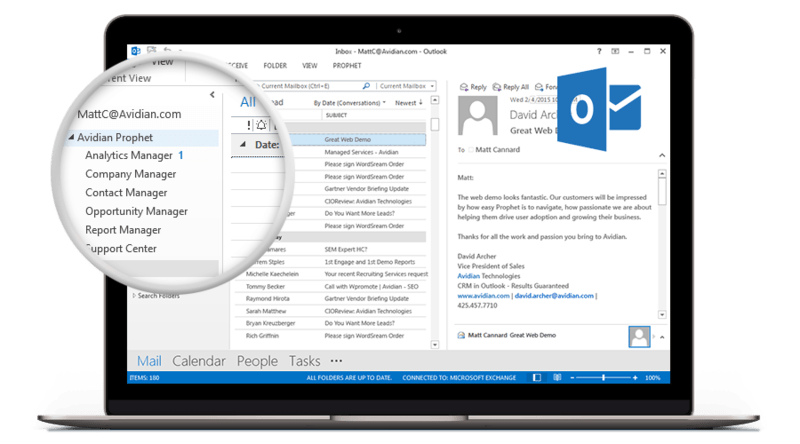 Rather than creating a platform that works alongside Microsoft Outlook, Prophet CRM by Avidian is basically an Outlook plugin that helps Outlook function more like proper CRM software. For example, it allows users to create sales force automation workflows within the Outlook client, so users can set up repeatable tasks that are triggered at the proper time.
Prophet CRM also adds reporting functions to Outlook with real-time forecasting, trend analysis, and more. The solution is somewhat more expensive per user per month, but for die-hard Outlook users, it may be the most intuitive way to solve your CRM integration problem. While there are technically four pricing tiers available, only the Sales CRM and Enterprise tiers actually include a full CRM.
---
Microsoft Dynamics CRM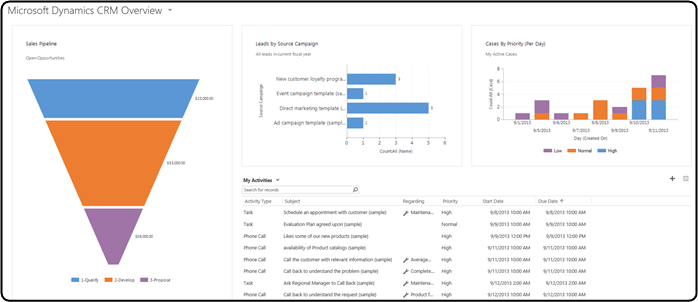 Because they're both Microsoft products, Outlook and Microsoft Dynamics CRM natively integrate and easily sync CRM data between the two platforms. Users get embedded insights and the ability to create multi-channel marketing campaigns. Dynamics CRM also connects Outlook emails and other communications to the client's file, so it's easy for sales and customer support reps to pick up where they left off.
The Microsoft CRM system can be fairly expensive for small businesses, but it includes options for a variety of different business departments as well as an enterprise resource planning (ERP) system, making it a great option for enterprises. It also has a strong knowledge base to help users get started or troubleshoot issues.
Want to see how Microsoft Dynamics stacks up against Salesforce? Read the comparison post now!
---
monday.com
A robust alternative solution to consider is monday.com's Outlook integration. monday.com is not a CRM — it's a versatile project management tool that integrates with the Outlook inbox to send emails upon different project phases or task completions. monday.com offers workflow management and automation features and allows users to distribute tasks throughout the team. In addition, integrating with Outlook's email features will give businesses additional team management benefits.
Although it should sync with CRM platforms to allow you to build your customer relationships through email, you should also consider linking Outlook to a project management tool. Outlook can send notifications based on workflow changes and scheduling actions in monday.com, streamlining your email communications, and keeping your team organized and updated. These behaviors are accomplished with Recipes, designated actions that meet certain criteria, such as reaching a specific project stage. Recipes can be added to your integration, allowing you to choose the email features you want.
Want CRMs and project management systems that work together? Check out today's best integrated solutions.
CRM & Outlook Integration Improve Usability
Usability is key when choosing a CRM. However, usability is often associated with a program's interface. And while it's impossible to deny that intuitive navigation is important, integration with your sales team's current programs also heavily affects usability.
So if your sales reps like Outlook, and spent a significant portion of their day in the program, you would do well to choose a solution that makes an Outlook-CRM integration possible.
Not sure which CRM is right for you? Use our CRM Product Selection Tool to get a short, customized list of software for your business. It's free and takes as little as five minutes.
Ensure you get the best CRM for your business with our Pro Tips on How to Compare CRM Software Like an Expert.