Building and maintaining a mobile fleet can be stressful and time-consuming. You take a risk when you give your workers control over an expensive asset like a vehicle. This can induce anxiety in the calmest of managers, no matter how trustworthy the driver.
Good mobile fleet management software lets you take back some of the control you might have ceded to your drivers. This will help you build trust, improve driving skills, and reward your safest employees.
The best fleet management software shows pinpoint-accurate locations of the vehicles in your fleet, notifies you of maintenance and fuel updates, and provides analytics that help improve your processes and save money.
We've compiled a list of the 10 best fleet management software choices for different size fleets.
Best for Small Fleets
Fleetio's fleet management software provides mobile capabilities like native smartphone and tablet access to all fleet data and mobile upload for documents and work order data. A scheduling model lets your team plan for preventative maintenance. Fuel costs can be compared to mileage and a fuel card integration gives you instant access to charges. Manage personnel with fleet assignments and software permissions, and set reminders and renewal tasks to reduce downtime. Add contact lists with important job information so employees don't have to look outside the app for details.
The mobile app includes a barcode scanning feature to track non-connected assets. Fleetio uses your phone's GPS to track movements and builds scored driving performance analytics from that data. If the phone GPS data isn't fast or accurate enough for you, Fleetio also integrates with several other software options on this list to give you pinpoint GPS tracking capabilities.
Zubie's in-car plugins work on the Verizon cell phone network, so they're always connected to a cellular service, even when parked. This options is scalable from families to enterprise, and the whole system can be managed in the cloud and via mobile apps.
Track individual vehicle health and receive notification and updates. The fuel feature notifies you when tanks are low and even locates a nearby gas station. The performance dashboard tells you how your drivers are performing, including hard braking and speed. Since API access is available, your company can build custom integrations, although plenty of integrated apps are already available. As an added bonus, Zubie's in-car unit provides an optional Wi-Fi hotspot that lasts for 15 min after the vehicle is turned off.
Best for Large Fleets
GPS Insight built their software for various company roles and company sizes. Its solution is scalable for any size fleet and for lots of industries, but it's best suited for businesses with 26+ vehicles. One of the biggest promises here is better routing for fleet fuel efficiency. GPS Insight also offers unlimited historical data available within the app, rather than the standard 3-6 months. This historical data is great for year-over-year analytics. Managers and stakeholders can build custom dashboards and view real-time fleet maps. Available in-cab devices give up-to-the-minute time tracking and driver oversight.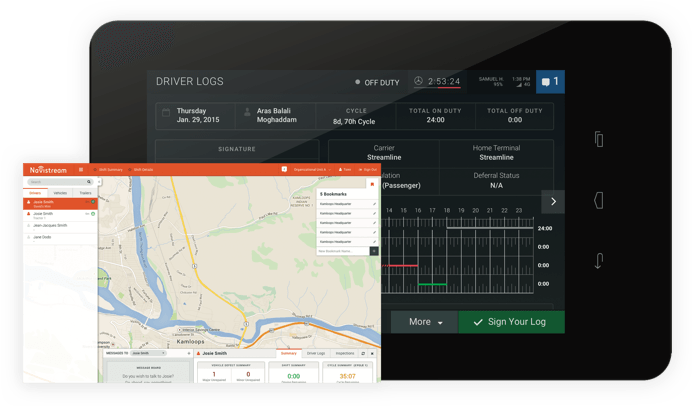 Navistream lets you track and analyze your industrial fleet with a native mobile app (or desktop app) that includes vehicle inspections, speed tracking, and two-way messaging. Onboard electronic logbooks track driving and delay times to keep you compliant. Save money on fuel and repair costs through built-in fleet analytics. You can install Navistream on BYOD smartphones and tablets or company-owned devices, so all data is easily transferrable among drivers and managers. You can also download you data to an on-premise server via API.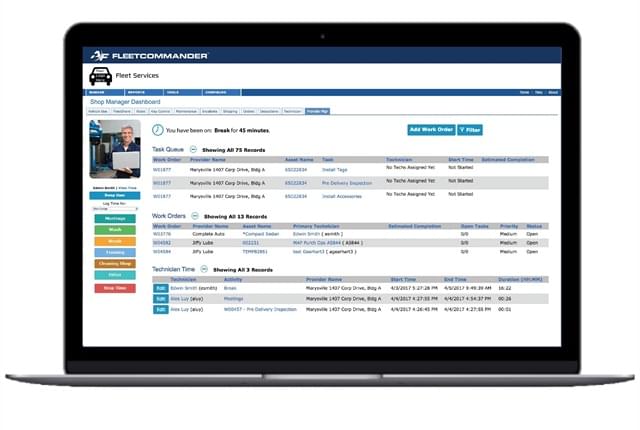 Agile Fleet Commander gives real-time fleet views that show where your fleet is and when it's active. They also include lots of analytics to help you right-size your fleet and boast that most customers downsize their fleets by 15 percent after switching to Fleet Commander.
The software also helps you eliminate paper workflows for tracking maintenance, fuel, and hours. It has a high success rate for motor pooling and fleets of smaller-sized vehicles for educational and government organizations. Fleet Commander pulls data from both GPS units and installed, branded units. It can also integrate with your existing fleet systems to track fuel usage, payroll, time, and maintenance.

ManagerPlus is technically a maintenance management solution, but its asset tracking features make it a solid choice for larger companies that need to do a little bit of everything. The software itself can be deployed on desktop or in the cloud for easier mobile access. ManagerPlus's emphasis is on scheduling and tracking for preventative maintenance in vehicles, but it can be used to manage cost-saving measures for any asset. Automatic work orders and asset budgeting are built right in, and data transfers easily to the reporting module for deeper analysis. Choose from several subscription tiers and add-ons to extend the software's capabilities into invoicing, dashboards, and more.
Best for Any Size Fleet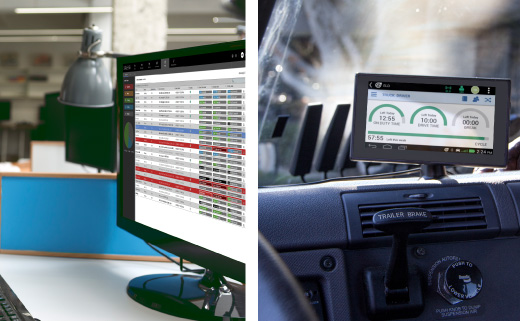 DIRECTOR provides better overall fleet intelligence through tracking, reporting, and alerts. An in-cab interface helps your drivers track their own movements and any vehicle updates in real time. These cab screens also help you schedule and update your vehicle maintenance plans. Compliance measures help you to export hours and pertinent data to government agencies without compiling a lot of paperwork into spreadsheets. A visual workflow helps you manage driver routes and record drive hours and pay. DIRECTOR offers integrations and upgrades for niche industries and specific compliance needs.
Automile offers a full suite of fleet management software including:
IRS-compliant mileage tracking
expense recording
paperless vehicle inspections
in-app messaging
task delegation
Like many of the options here, Automile provides an in-cab unit that connects to the OBD-II port in your vehicle. This small-scale add-on for any size vehicle sends real-time location tracking and speed tracking directly to the dashboards. Mobile apps provide driver and maintenance notifications and analytics. The compact in-vehicle units can move between vehicles without data loss.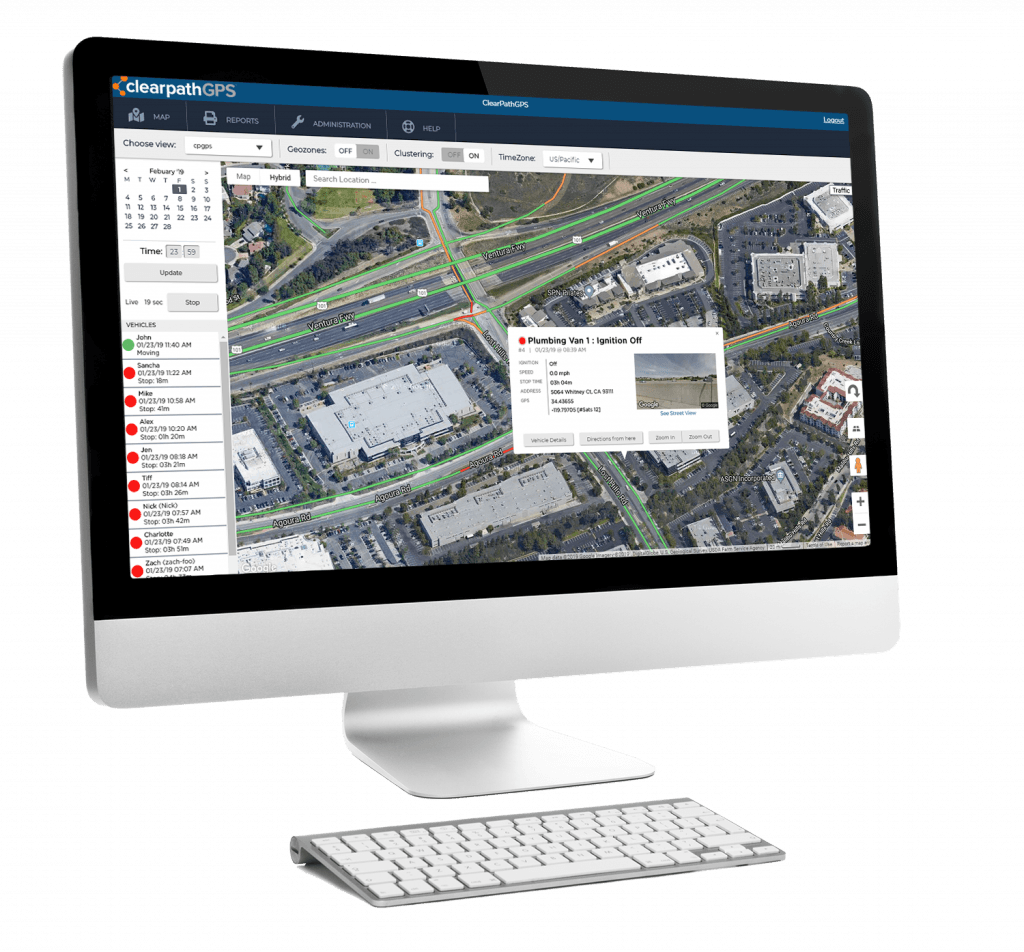 Clearpath GPS software tracks driving time, productivity, and fuel efficiency. Vehicle speed and maintenance scheduling are also included in the analytics packages to improve driver and vehicle safety. Build geofences on your fleet's maps and automatically log the arrival and departure of a vehicle in that area. Clearpath's many in-cab options include covert, plug-and-play, and stick anywhere trackers. Most of the units require access to a power source, but the stick anywhere trackers let you track any assets, like trailers or containers. Clearpath also provides a professional installation option to get your fleet ready quickly.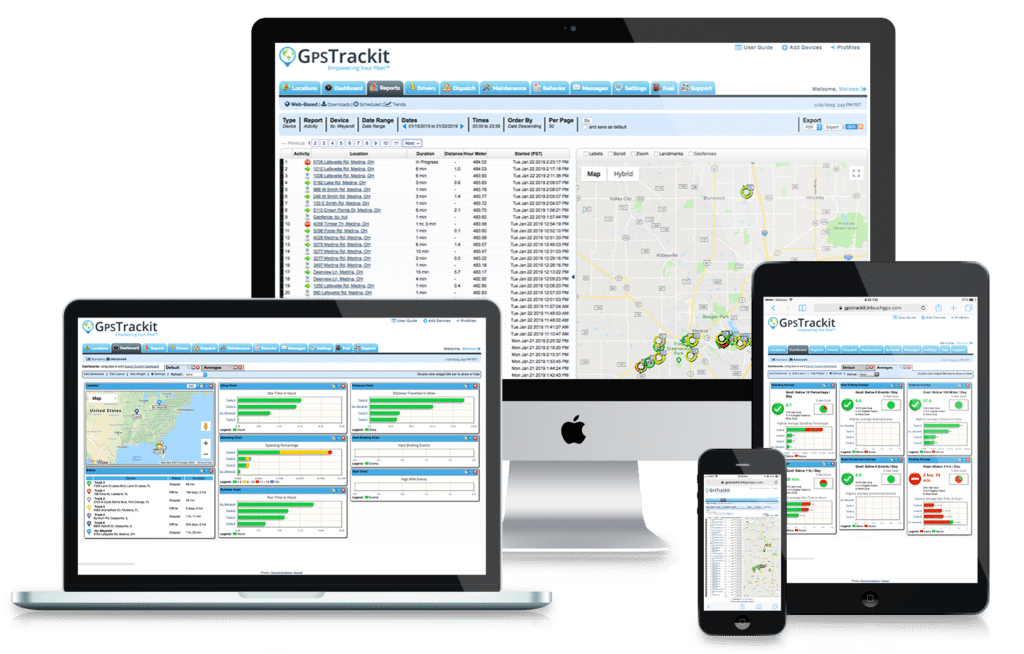 GPS Trackit Fleet Manager is a cloud-based fleet management tool that tracks driver behavior and provides instant data for analysis. A mobile app for android and iOS gives managers the power to track driver behavior from any location, and two-way messaging in the app facilitates whole-fleet communication. The unit should be installed on the vehicle, trailer, or container in order to detect movement. Fleet Manager runs on Google Maps system, so all of those features are included (e.g. route building, traffic updates, search).
* * *
No matter how many vehicles and assets you handle, mobile fleet management software can help reduce stress and improve efficiency. Make your team more responsive and cut fuel and labor costs with one of the tools on this list.
Visit our product selection tool to compare more options, or contact us for a technology assessment today.