UKG and Workday are a pair of human capital management (HCM) software companies that understand that workforce management is a complicated and delicate process. Both vendors pull HR management data, payroll solutions, and talent management into a single data source. While they each offer similar services, each HCM has its particularities. Comparing and contrasting the two will show you which solution is best suited to your business.
UKG and Workday aren't your only choices for HR, payroll, and talent management solutions. Use our HR Software Product Selection Tool to get a list of HCM vendors that meet your requirements in five minutes. Click on the banner below to get started.
What Does UKG Offer?
UKG, offered by Ultimate Software, is an HCM solution with HR, payroll, and talent management features. In addition to the HCM modules found in UKG, Ultimate Software also provides HR data analytics, HR consulting services, and an Employee Survey solution, giving businesses a one-stop-shop when it comes to managing the human aspects of business.
UKG serves large multinational companies with a global HCM and integrations with local payroll services in 65 countries, making it an excellent choice for global businesses.
What Does Workday Offer?
Workday is available as an integrated finance, ERP, and HR solution that brings together a company's financial data for better reporting, analysis, and forecasting, as well as providing HR support. The HCM platform includes HR management, reporting, global compliance, payroll, and talent management features.
Considering PeopleSoft? Also read: Workday vs. PeopleSoft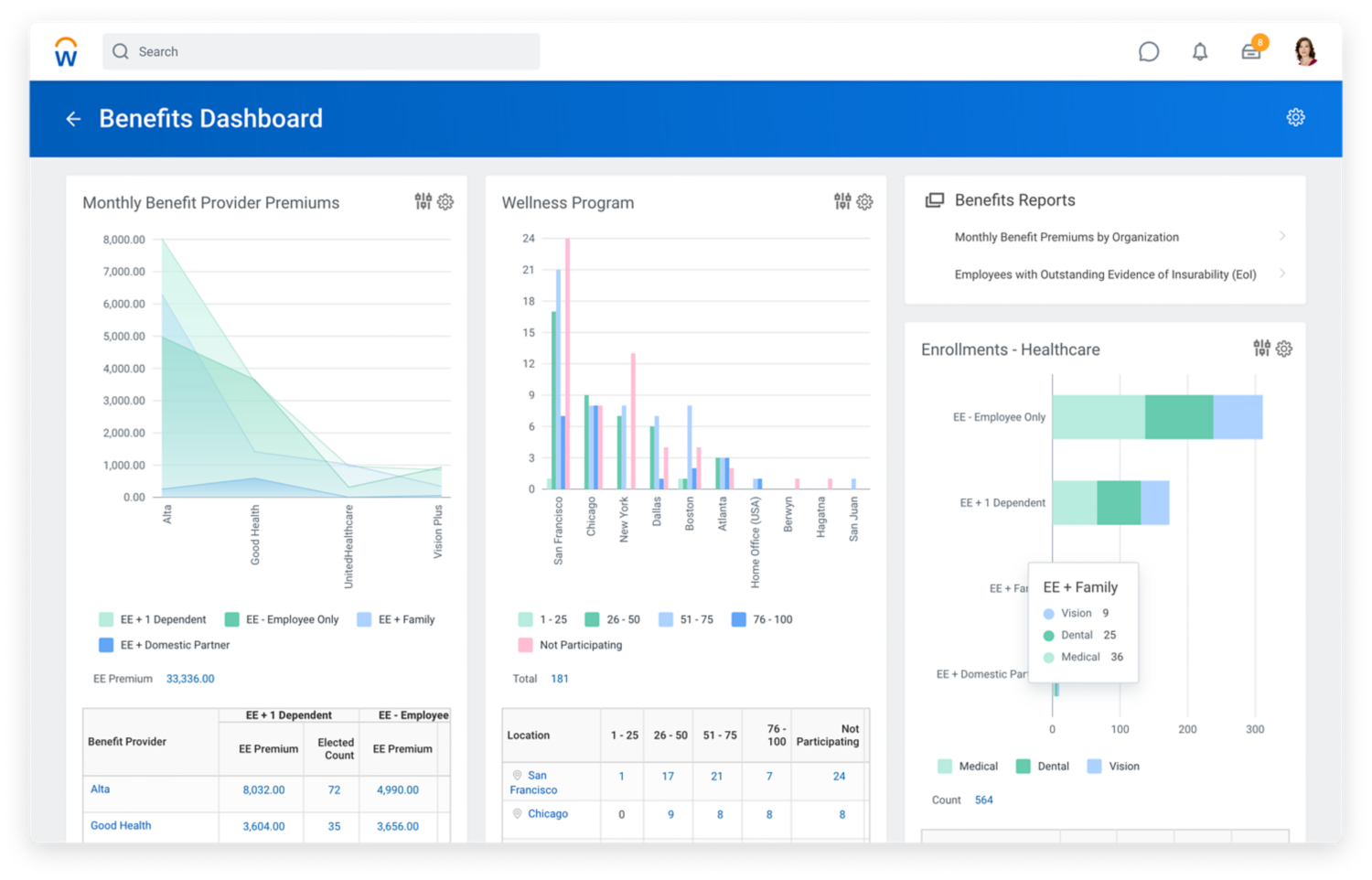 UKG vs. Workday: HR management features
UKG
The UKG HR modules include a global system of record, global regulation compliance, HR reporting, recruiting, and onboarding features. These modules are valuable no matter where business takes place.
Because UKG is an integrated HCM tool, the software connects to payroll and talent management tools. As a result, HR spends less time re-entering personal information across the software.
Use the UKG compliance tools to report and print mail-ready audits for US and Canadian regulations. A company can run its benefits administration through the self-service tool or sign up for UKG Benefits Prime, a managed solution for benefits shopping. Employees can also use the case management tools in the employee portal to search for help or request information directly from HR team members.
Workday
Workday takes a global approach to financials and HR management, which means that the software comes ready to manage international HR regulations. Financial and HR tools communicate with each other for better analysis and revenue forecasting.
Specifically, Workday's HR management tools provide insight into how people, financials, and organizational structures affect revenue and performance. By combining data analytics throughout the software, Workday's tools provide companies with deep insight into financial well-being and regulatory standing.
Workday's HR management tools also meet global regulations and drill down into country, state, and local controls, which helps companies ensure compliance at every level.
UKG vs. Workday: Payroll Management
UKG
UKG provides customized payroll solutions to companies by offering a market of customization modules. Choose from timeclock, labor scheduling, and compensation management capabilities, as well as integrations with a global or local payroll provider.
Companies can purchase analog or touch screen time clocks so employees can log their hours for employers easily. A company can also provide each employee with access to their personalized HR profile from the touch screen kiosk. Payroll processing is limited to US and Canada, but UKG does offer direct connections with payroll processing companies in 65 countries, allowing a company to expand beyond its borders without making payroll a more time-consuming process.
Workday
Workday integrates payroll and HR management tools to ensure that information moves from hiring to payroll seamlessly, saving teams time on granular, time-consuming payroll tasks like tracking hours and filling out fields on paychecks. Workday promise that with its human resources system of record, you'll only have to enter employee data once.
Workday itself will process payroll for companies in the U.S., Canada, U.K., and France, and it will connect via certified integration with a range of third-party global payroll providers for other countries. Companies will also be alerted of tax changes in a compliance dashboard, and those changes automatically populate in audit and tax tools to make compliance a less time-consuming process no matter where employees are stationed.
UKG vs. Workday: Talent Management
UKG
UKG takes a more data-driven approach to talent management, while Workday keeps businesses in the loop during the job search process by utilizing goal-setting and presenting job openings internally.
UKG talent and workforce management features include a learning module, employee surveys with sentiment analysis, onboarding, and performance reporting. Each of these modules is offered separately, so HR team members can choose modules that fit into a company's budget, HR models, and scale appropriately.
UKG's predictive analytics software gives HR professionals and managers insight into retention, performance, and engagement metrics for individuals and departments. When paired with employee surveys and sentiment analysis, the HR members can gain greater insight into employee needs. These tools help human resources teams plan for succession, intervene in problematic management situations, or improve overall worker sentiment by surfacing complaints or tracking talent movement within companies.
Workday
The Workday approach to talent management considers the full employee lifecycle. It starts with onboarding tools and optional mentor assignments. The employee then builds a talent profile that reflects goals, career trajectory, and individualized learning in the e-learning module. The tools also include succession and retirement planning for those leaving the workforce.
Workday helps companies understand employee sentiment and workforce skills through the Skills Cloud and pulse surveys. Tracking worker sentiment helps businesses hold onto high-quality talent and redirect at the first sign of sentiment drop. Goal setting on the company, department, and individual levels helps align teams and departments. And the talent marketplace gives employees the opportunity to explore possible career moves internally.
UKG vs. Workday: How to Choose
UKG and Workday are two giants in the HCM space, and their offerings are similarly complex. UKG works best for large companies in the US and Canada that are looking to integrate their HR and payroll systems for less data entry. Workday is best for large multinational companies that need advanced data systems to connect financials, payroll, and HR.
Instead of spending your days researching the best HCM software for your business, you can get a shortlist of vendors that have the features and pricing you need. Use our HR Software Product Comparisons to get your HR software recommendations in as little as five minutes.
Top Human Resources Software Recommendations
Rippling is the first way for businesses to manage all of their HR, IT, and Finance — payroll, benefits, computers, apps, corporate cards, expenses, and more — in one unified workforce platform. By connecting every business system to one source of truth for employee data, businesses can automate all of the manual work they normally need to do to make employee changes.
Elevate your HR with a modern, easy-to-use HRIS designed for small businesses. GoCo is a secure, compliant hub for sending, digitally signing, and organizing your sensitive HR documents and data. Manage records, performance, time off, onboarding, benefits, and more – all in one place. With the best support in the industry, every GoCo customer is assigned a dedicated Customer Success Team that is readily available to provide guidance and ensure a smooth and reliable HRIS experience.
Paylocity is a different kind of HR and payroll provider. We partner with you to create great software that delivers on your unmet needs – solving today's challenges and designing solutions for the unknowns of tomorrow. And we stay your partner with dedicated, on-demand support every step of the way. Build a better future for your organization with a scalable solution focused on your business outcomes and priced for your budget.
Need a Little Help?
Talk with a software expert for free. Get a list of software that's great for you in less than 15 minutes.
Technology Advice is able to offer
our services
for free because some vendors may pay us for web traffic or other sales opportunities. Our mission is to help technology buyers make better purchasing decisions, so we provide you with information for all vendors — even those that don't pay us.