Gamification has grown into a driving force in the world of eLearning. The term refers to game-inspired elements added to training or educational programs. They can be as simple as a point system with a leaderboard or more complex with badges, activities, prizes, and rules of play. More systems are adopting this approach or improving the technology they already have to give learners a better experience.
Professional training is difficult. New hires are either learning something completely new or a different way of doing something they're already familiar with. Gamification is an effective tool and one that has helped shape eLearning as we know it today.
Table of contents
To find the right gamification tools for your company, check out our Gamification software category page. After answering a few simple questions, you'll get a short, unbiased list of software that's right for your business.
Why gamification?
There are numerous benefits that come with gamification — and many can have very real and lasting effects on a person's ability to learn and retain information. The first, and most obvious, benefit is that it makes training fun. Playing interactive games, earning points, and awarding badges sound far more exciting than watching training videos or listening to a lecture. That excitement can translate into motivation and an eagerness to participate. Gamification has other benefits, as well.
Hold the learner's attention
Holding the learner's attention is integral in the battle against failure in the classroom. Gamification increases engagement by providing incentives for learners to pay attention and complete activities. The added reward, even if it is intangible, can encourage better listening and observation. When the learner is focused, they are more likely to absorb the information presented to them.
Also read: What is eLearning? How eLearning Can Help Your Business
Improve knowledge retention
Initial absorption is important, but what most educators want is long-term knowledge retention. The basis of gamification, or making the learning process fun, has been proven to have a positive impact on retention. Dopamine Inc. founder and author of Gamification by Design Gabe Zichermann referenced a study that revealed making work fun increased employee's skill retention by 40%. Zichermann also explained that "If you can make something fun and include notions of play, you can get people to do things they otherwise might not do."
Additionally, many people learn by doing better than they can by watching a video or listening to someone tell them what to do. Gamification provides a risk-free environment where trainees can perform some of the actions of their job and view the results immediately.
Incorporates real-life problem solving
Multiple choice, true-false, and essay questions do not always create conditions that promote the use of problem-solving skills. At least, not to the degree that may be necessary while on the job or in a real-life situation. Gamification provides more ways to put the learner in a situation visually and mentally that will encourage better problem solving. It can also improve the speed at which learners find effective solutions through practice.
Presents a working environment with no risk
Some professions come with a high risk for new hires. Even if the working environment doesn't come with major hazards, there are always mistakes that could be made that cause profit loss. Gamification lets employers and educators simulate these situations so that the trainee can operate within them with no real risk. Virtual spaces can be created with impressive detail and will help the learner become comfortable while perfecting their skills before they enter the real thing.
Provides automatic feedback
Gamification lets users instantly know how they did. They will earn or miss points, complete or fail an activity, or gain other insight based on data collected during participation. Skill or knowledge gaps will be easy to identify, making the learner and their instructor far more agile. Less time is wasted figuring out which areas need improvement. In some cases, the system may be equipped to automatically recommend a supplementary or past activity that the learner can complete to catch up.
Implementing gamification in the workplace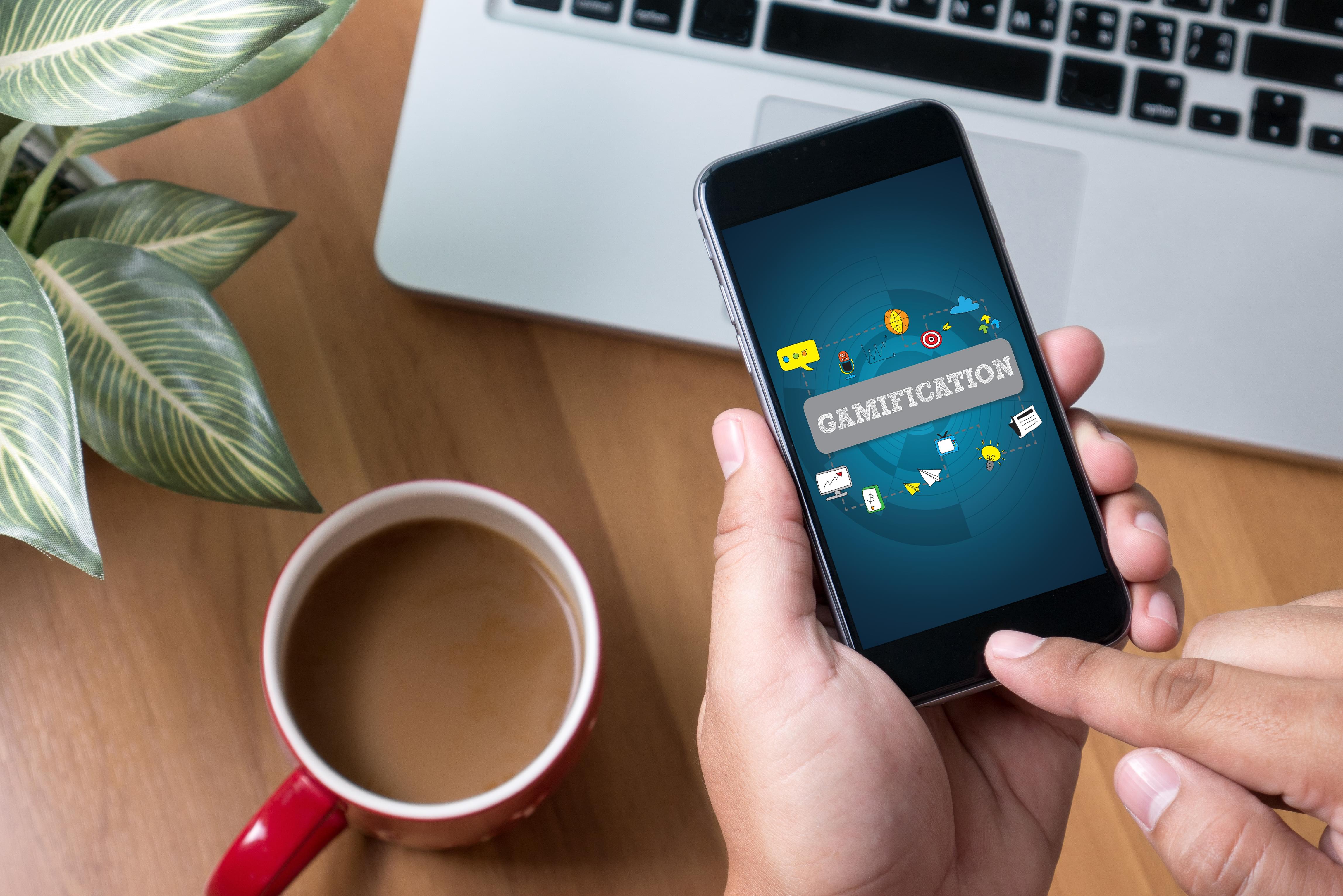 Gamification is a great option to implement during employee training in the workplace. Whether you have a new employee or are introducing a new concept, gamification can help your employees pick the information up quicker and learn in a risk-free environment. Create training modules that offer badges or points based on employee answers. You can even introduce some friendly competition between coworkers to get your team motivated.
Besides training, you can also use gamification to increase job performance. By setting small milestones for your employees and offering rewards when they achieve them, you can gamify their work and motivate them to perform better. Make sure your milestones are visible, and you can even publish weekly statistics to encourage low-performers.
Also read: 4 Sales Gamification Ideas to Improve Performance
Tools to make gamification easier
Gamification isn't always something you can implement on your own. Luckily, there are tools to make it easier.
MySalesGame
MySalesGame from CallidusCloud is a sales gamification platform that helps businesses encourage their sales teams through narrative-based challenges. The system breaks challenges down into smaller chunks, so employees have more manageable sessions and greater opportunities for rewards. MySalesGame features points, badges, and leaderboards to keep your team engaged and motivated.
Centrical
Centrical (formerly GamEffective) offers gamification solutions for companies who want to improve employee performance. It works well for sales improvement, eLearning, and onboarding purposes. The system fully integrates with user desktops to provide popup notifications and reminders. With many features usually reserved for learning management systems, Centrical makes employee training simpler, more fun, and more effective.
CRMGamified
CRMGamified is an add-on for the Microsoft Dynamics CRM that uses gamification to increase the CRM's return on investment (ROI). The platform records activities like closing sales, generating leads, or hitting a sales quota and rewards those behaviors accordingly. It motivates employees with points, badges, and levels while giving you a record of how your sales team is performing. CRMGamified provides data that's easy to export and analyze, so you can see how results improve over time.
Also read: 5 of the Best Tools for Gamification in Business
How much gamification is enough?
Gamification comes in all shapes and sizes. Choosing the right amount for a specific training program depends on the goals and needs of learners and trainers. According to Morgan McCall and the Center for Creative Leadership, the 70 20 10 model is an ideal formula to follow when training.
This model explains that the most effective learning comes from a mix of formal and informal methods. Around 70% should be experimental or learning from experience, while 20% should be social learning like collaboration, discussions, and interactions. Only 10% should come from formal learning, which would cover traditional training methods like studying a book or listening to lectures. Gamification can be used to enhance all three areas. It can also be implemented as a way to tie each format together with the other two.
Gamification creates a gateway to a better learning experience. It can be used in any industry and with any age group. Gamified features keep getting better, with more opportunities to put students in real-life situations or engage them through activities and point systems. This powerful tool is bringing more skills and information to more people across the world.
If you're looking for a gamification tool for your company, use our Gamification Software software category page. After filling out the survey, you'll get a list of software vendors that's customized to your needs.
Top Gamification Software Recommendations
Technology Advice is able to offer
our services
for free because some vendors may pay us for web traffic or other sales opportunities. Our mission is to help technology buyers make better purchasing decisions, so we provide you with information for all vendors — even those that don't pay us.