What is Nonprofit Software?
Nonprofit software encompasses a range of systems and back-office tools for managing both day-to-day operations and long-term planning. Having the right software in place can make the difference between impactful growth and mere survival for public charities, foundations, faith-based groups, higher education, artistic and cultural societies, and many other classes of nonprofits. Technology helps a nonprofit accomplish operational tasks with greater efficiency to devote more energy into their bottom line, which is their mission.
85 percent of leaders of nonprofits acknowledge the critical role of technology to spread awareness, serve more communities, reach a greater audience, and respond to challenges. And yet, software-buying is a challenging endeavor, especially for decision-makers with little technical knowledge. How do you find the best nonprofit software vendors? How do you decide what tools you need? What if you can't afford much?
This guide will help you get started by defining the nonprofit software market, dividing nonprofit software into major functional categories, and comparing solutions in each category.
Find your new nonprofit software
Top nonprofit software vendors
| | | | | | | | | |
| --- | --- | --- | --- | --- | --- | --- | --- | --- |
| | no | yes | yes | yes | yes | yes | yes | no |
| Blackbaud | yes | yes | yes | yes | yes | yes | yes | yes |
| Bloomerang | yes | yes | yes | yes | yes | yes | no | yes |
| Neon One | yes | yes | yes | yes | yes | yes | no | yes |
| | no | yes | yes | yes | yes | yes | yes | yes |
| | yes | yes | yes | yes | yes | yes | yes | yes |
| Product | Platform | Analytics | CRM | Marketing | Events | Fundraising | Accounting | Volunteer Mgmt |
Aptify for flexibility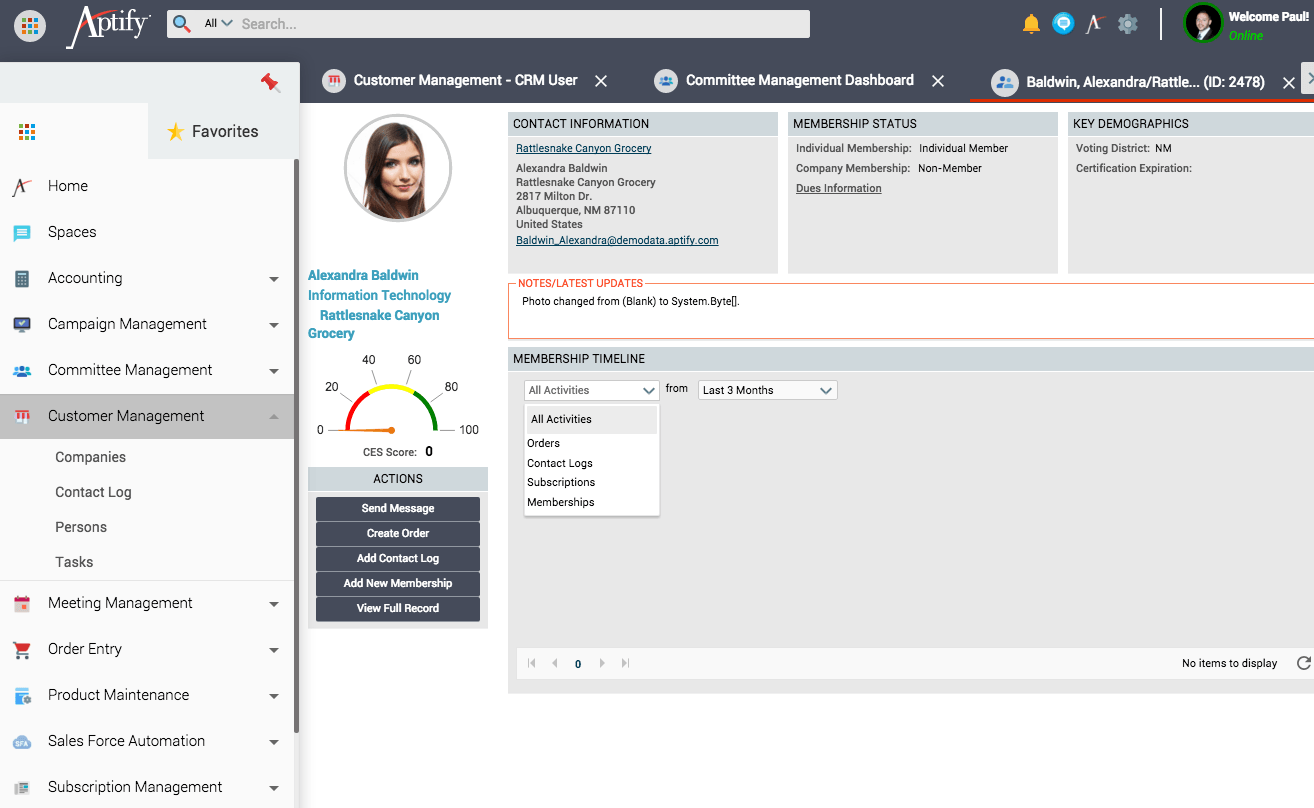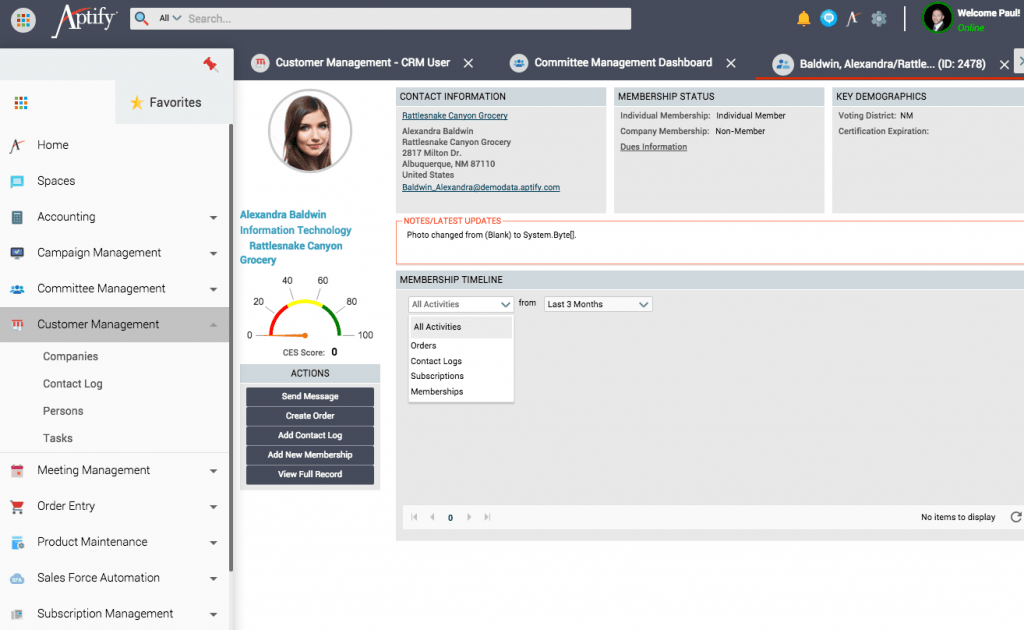 Though it doesn't explicitly specialize in nonprofits' needs, Aptify offers a family of 21 useful out-of-the-box apps that can help nonprofits with:
Accounting

Report generation

Event management

Database management

Managing donor data

Marketing campaigns, targeting, segmentation, and materials (print and digital)
Users like Aptify's modular flexibility, range of apps, and easy configuration. However, some report a learning curve, slow software response, and a less-than-appealing user interface.
Aptify does not offer a free trial, pricing information, or a free version of its product. It's therefore best to reach out for a demo and thoroughly research this product before committing to it in order to ensure a seamless launch on day 1 of implementation.
Aptify is a good option if you need to cover the basics for your nonprofit and already have volunteer/staff management software that will integrate with Aptify's tools.
Blackbaud for targeted outreach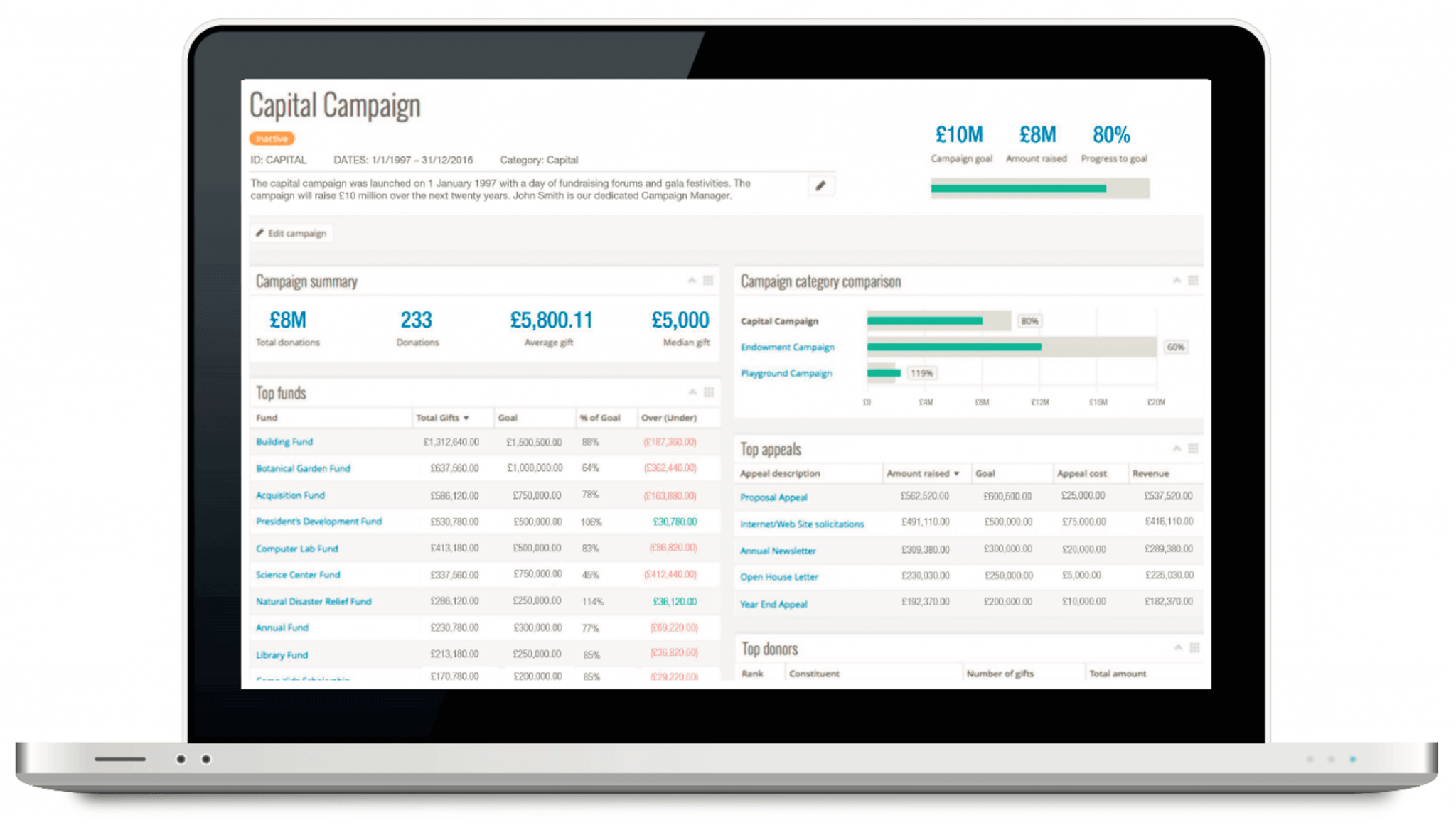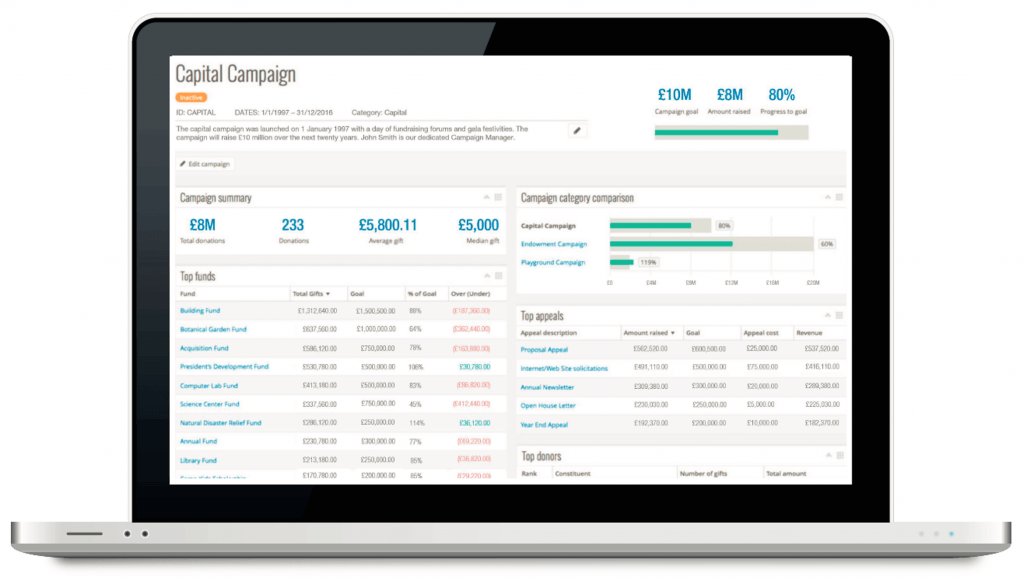 Blackbaud offers a range of solutions designed to help nonprofits of all sizes live up to their mission and effectively manage resources. A variety of tools are available for:
CRM

Fundraising

Accounting

Marketing

Analytics
If you're looking to bundle Blackbaud's tools, Raiser's Edge NXT is a comprehensive donor management and fundraising software solution specially designed for nonprofits. Its platform combines CRM tools, integrated analytics, multichannel marketing, and data mining services, and more to build and maintain nonprofit partnerships. 
The Integrated Target Analytics feature in Raiser's Edge NXT helps nonprofits identify constituents' gift capacity and makes recommendations as to whom your organization should reach out to in order to more quickly achieve fundraising goals. Each constituent has a profile that contains contact information, wealth information, donation history, and more, providing all the information you need about a constituent in one place. 
Blackbaud's dashboards and reporting tools keep you informed on your KPIs. You can use Blackbaud's tools out-of-the-box or customize them to see the information that's most important to you. 
Raiser's Edge NXT appears to offer a much wider range of tools than Blackbaud CRM. And yet, while the former is designed for small to mid-sized nonprofit organizations, the latter has the needs of large nonprofits in mind. If you're a mid-sized nonprofit, check your software needs, wants, and budget against both products to determine which is the better fit.
Bloomerang for meaningful constituent connections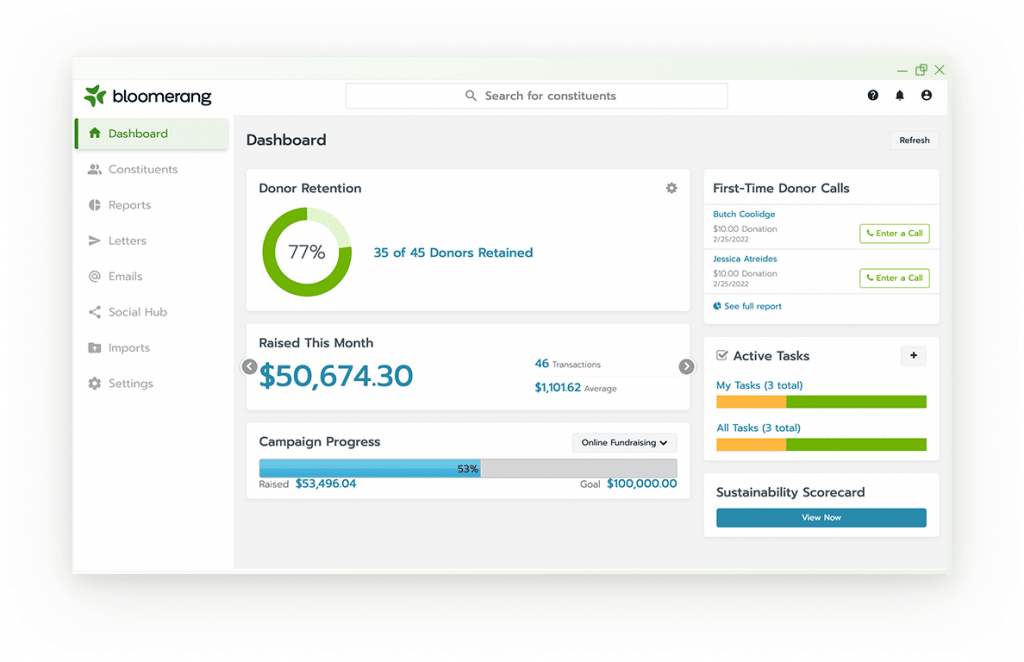 Bloomerang is a donor management software platform designed for small and medium-sized nonprofits. 
It allows users to manage constituent information in one place with a "constituent timeline" to track interaction with individual donors over time. Users can also see a constituent's "generosity score," which is a wealth rating that helps determine if and when a donor could give more to your nonprofit. 
Though primarily a CRM, Bloomerang also has tools to help you manage:
Events

Grants

Volunteers

Marketing

Fundraising
Users enjoy Bloomerang's intuitive interface and mobile capabilities to manage nonprofit activities on the go. However, they desire modifiable automations as organizational needs change. They also report a learning curve for Bloomerang's reporting tools.
Neon One for crafting communications
Neon One is a nonprofit CRM platform designed to help nonprofits increase engagement and donations while saving time and money. Its features include:
Neon One's tools assist with marketing and outreach activities. For example, as you craft donor solicitations, newsletters, invitations, and other forms of communication, Neon One features a mobile-responsive block editor with preview-as-you-build functionality. That way, you can see from the recipient's point of view and ensure that your communication is consistent, strikes the right tone, and looks great on desktop and mobile devices alike. You can also configure communications, such as thank you notes and event registration confirmation, to send automatically.
NetForum Cloud for actionable data insights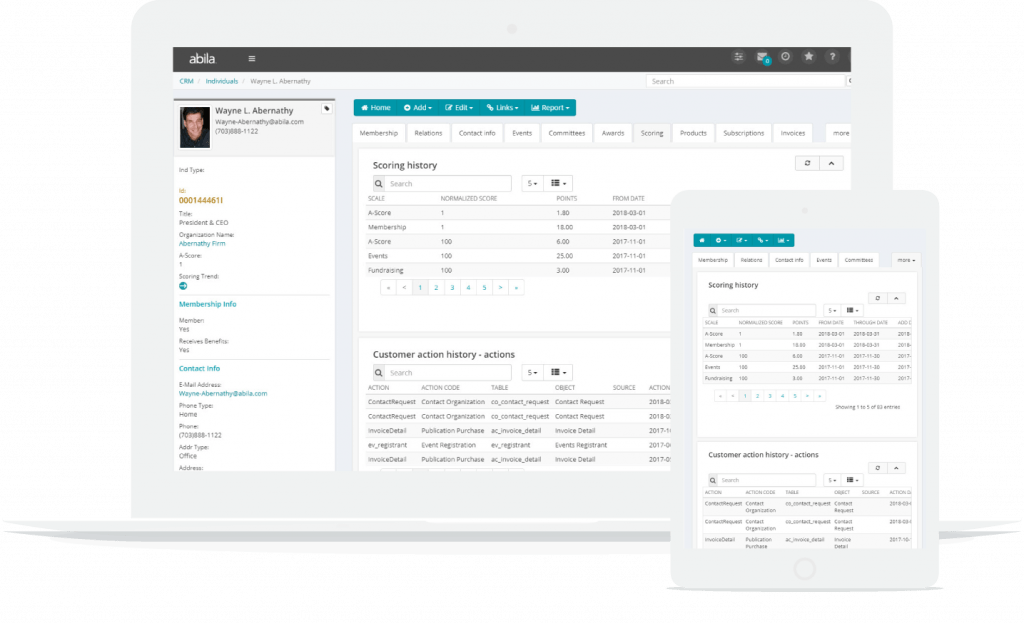 Formerly known as Abila, NetForum Cloud is association management software designed for mid-sized and large nonprofits and member-based organizations. It includes more than 30 module tools for:
NetForum's A-Score module is an engagement scoring mechanism to inform your staff on how to best reach out to constituents. Scoring can be configured according to your nonprofit's needs to facilitate personalized communication with constituents and drive your organization's goals pertaining to revenue stream, retention, participation, and awareness building. 
NetForum has advanced built-in analytics that give high-level or in-depth reports on finances, donors, membership, and other measurables. NetForum prides itself on data integrity to ensure that your organization is making decisions based on the most current data. It includes automated data cleaning and reconciliation processes.   
Users appreciate the breadth and user-friendliness of NetForum's features, however, the reporting functionality leaves something to be desired. 
SalsaLabs for fundraising and campaign tracking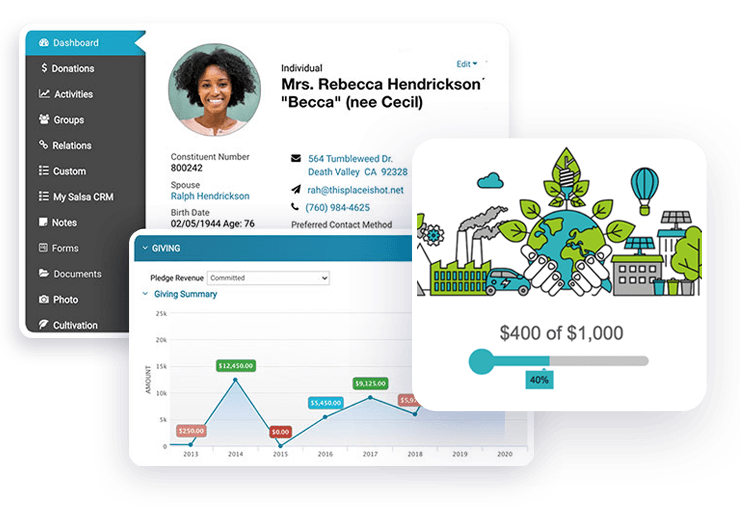 Salsa Labs's CRM solution, soon to be called Bonterra, enables nonprofits to develop successful fundraising campaigns. It also facilitates deeper connections with donors through constituent profiles, donation tracking, and personalized multichannel communications across email, social, events, mobile, and direct mail. 
Key features include:
Analytics and reporting

Database management

Donor management

Event management

Fundraising management

Grant management

Volunteer management
Salsa Labs has sophisticated fundraising software tools to help you get the word out about fundraisers by reaching out to your audience through the channels they use every day. Track multiple fundraising efforts by pulling reports and viewing sophisticated campaign dashboards. Users can customize fundraising dashboards to view the most important metrics. 
Users like Salsa's efficiency-boosting capabilities, particularly when it comes to functions like email marketing. Salsa enables users to easily craft emails with drag-and-drop layouts. Emails are also responsive to recipient actions by triggering pre-configured workflows. If you encounter any bugs in Salsa's software, you're in good hands, as users praise Salsa's customer support and available tutorials and resources.
Market overview of nonprofit software
When it comes to technology, nonprofits are notoriously ill-equipped. In fact, 93 percent of nonprofits cite lack of technology or tech-savvy staff as a major challenge. Other challenges include:
Maintaining a website, network, security, and privacy

Providing staff with IT support

Managing databases

Conducting file backup and recovery
Nonprofits' face many business-like challenges but operate under the banner of public good, which means assets and infrastructure often take a back seat.
Cloud-based and extensive integration capability are two major factors of today's digital tools for nonprofits. Modern, cloud-based — or "software-as-a-service" (SaaS) — systems can help nonprofits overcome many of these obstacles by providing access to software that's powerful, but also affordable and easy to learn. Most cloud applications integrate with countless other business tools and can be set up in under a day, although there are also larger software suites and enterprise products available for organizations with expansive needs.
Nonprofit software: Common use cases and the right tools
The right software can shore up and automate business processes in virtually any vertical, from accounting to HR to marketing. Below are some of the most common functions of nonprofit software.
CRM/Donor Management
Donor retention is one of the biggest strategic pursuits for almost every nonprofit. Similar to customer, lead, or deal management in the corporate world, nonprofits often use a form of customer relationship management (CRM) software that in the nonprofit world is often referred to as "constituent relationship management." This slight difference in wording is a result of nonprofits' diverse stakeholders—donors, volunteers, members, alumni, students, partners, vendors, media outlets. 
CRM software stores contact records and pushes prospects, leads, and opportunities through the sales pipeline. In the nonprofit sector, CRM software stores donor contact records and relevant information like donation history, occupation, and social data. 
The best nonprofit-specific CRMs will have tools for managing all your donor relationships. Donor management tools usually help nonprofits solicit future donations, create receipts, and use reporting features to analyze trends. Reporting tools are particularly useful, since 75 percent of nonprofits surveyed state that measuring and reporting data is an ongoing challenge. 
Vendors will vary with regards to their donor management features. Some products in this category are billed as "donor management software" or "fundraising software," with prominent features and use-intent varying slightly according to vendor. For example, some nonprofit CRM software solutions, like Neon One, even offer integrated marketing automation.
All vendors in this guide help you manage relationships with constituents and donors, however, Bloomerang, Blackbaud, and Neon One should be at the top of your list if you prioritize this feature.
Marketing
Nonprofits have taken part in the digital transformation, venturing into various digital marketing mediums, like email, social, and mobile device campaigns. These campaigns can help you keep constituents informed and connected, as well as attract new or repeat donors. 
Marketing automation tools give you powerful analytics to determine the best channels for delivering content, measuring engagement, and turning prospects into pledges.
Marketing automation is about using technology to manage your brand and attract new prospects across multiple engagement channels, whether it be website content, email, social media, mobile devices, or even an old-fashioned newsletter.
Sure, you could just send a mass email to all of your contacts, but that only addresses one aspect of a very nuanced, complex process — one with myriad opportunities for failure. Marketing automation software gives nonprofits valuable tools for preempting these failures and getting more supporters plugged in through volunteering, donations, and event attendance.
All of the vendors above include marketing tools. Some go a step further with automation—Neon One—as well as more traditional print marketing outreach resources—Aptify and Salsa. 
Event Planning
Whether it be a silent auction, charity ball, phone-a-thon, or a fundraising dinner, nonprofit-hosted events take careful foresight and planning. Software with event planning features can help you organize logistics—like scheduling, table arrangements, and guest speakers— invite and follow-up with the right attendees, and capitalize on the new relationships that may emerge.
All of the above vendors help nonprofits manage events, but Neon One and Salsa stand out here. Neon One has automated registration, confirmation, and thank you forms, so you never miss a beat in acknowledging guests. Salsa gets messaging out across various channels before, during, and after an event to ensure your guests stay informed. 
Fundraising and Grant Management
Nonprofits secure donations by managing fundraising campaigns and applying for grants. Nonprofit-specific CRMs or accounting software assist with creating and tracking broad campaigns and their associated processes, such as proposal drafting, online donation forms, and financial reporting. The vendors above all offer fundraising tools, but Blackbaud and Salsa include standout features that increase the likelihood of achieving fundraising goals. 
Accounting
Even though their ultimate goal isn't to turn a profit, nonprofit organizations still need to manage their money. That means keeping donation tracking, paying bills, recording expenses, creating purchase orders for requisition, filing tax forms, building budgets, and creating financial forecasts.
Accounting software helps nonprofits perform the financial planning and reporting functions that keep them afloat without wasting hours inside of spreadsheets or paying an accountant to handle basic tasks. 
Aptify, Blackbaud, and NetForum Cloud are the only vendors here that assist with accounting activities. Otherwise, Sage Intacct, QuickBooks, and Xero are standalone nonprofit accounting software solutions. 
Volunteer/Employee Management
Most nonprofits are operated by some mix of volunteers and paid staff, which means they need a reliable solution for onboarding, offboarding, tracking hours, scheduling shifts, and entering payroll when applicable. Some software can even help you coordinate work on new projects or events based on who or what resources are available. 
All vendors except Aptify provide ways to onboard, time track, collaborate, and communicate with internal stakeholders, such as board members, staff, and volunteers.
How do you choose the right nonprofit software?
Depending on the tools your nonprofit currently uses, you might want to consider more comprehensive platform options available with Blackbaud, Bloomerang, Neon One, and Salsa. Budget and Integration will be two key considerations if you opt for a platform. Check that these solutions integrate seamlessly with your existing standalone tools, such as accounting. Bloomerang and Neon One, for instance, do not offer accounting tools.
Aptify will satisfy your organization's basic needs, so for smaller organizations working on a tighter budget, this solution might be your best bet. Blackbaud and NetForum Cloud, on the other hand, will cover all your needs plus wants. However, the scope of features might be overwhelming and pose a formidable learning curve for users, prolonging implementation and realization of ROI.