What is dental software?
Dental software gives dental providers a centralized location to store patient records and patient information. Similar to an electronic health records (EHR) system, a dental software provides secure records, prescription, billing, and patient portal features to help dental practices better serve their patients.
Which Dental software is right for your practice?
Find your new dental software
What are the types of dental software?
Dental software goes by a few different names, including electronic dental records (EDR), electronic health records (EHR). It can be organized into four main verticals: clinical, administrative, imaging, and patient engagement. Of these four, two will be covered in this guide: clinical and administrative. The most popular and the best dental software solutions satisfy both the clinical and administrative needs of dentists with pre-integrated practice management and clinical systems.
Dental imaging software is usually developed by manufacturers of digital dental radiography sensors. This means that once a provider chooses a vendor for digital imaging, they are essentially locked in to using that vendor's imaging software. For the purpose of this guide, we won't focus on dental imaging, but will note which systems can directly integrate with popular imaging solutions.
The best patient engagement systems integrate with some of the best dental software, and provide an online interface where patients can schedule appointments, fill out registration forms, request prescription refills, pay bills, and more. Patient engagement (or patient portal software is discussed at length in the TechnologyAdvice Buyer's Guide to Patient Portals.
What are the common dental software features?
As more dental software vendors trend towards offering all-in-one solutions, it can be difficult to keep track of the ever-expanding feature lists. The following is a breakdown of the most common features, along with a brief description.
Periodontal charts
The software includes a graphical representation of the periodontal chart, which can include individually clickable teeth, 3D modeling, etc.
Documentation
The software allows dentists to electronically document progress notes, orders, patient history, and more.
Electronic prescriptions
The software allows dentists to create and send prescription notes via an electronic prescription pad, and is usually linked with SureScripts or another electronic prescription service.
Patient registration
The software allows patients or front desk staff to input patient demographics, health history, and insurance information electronically.
Scheduling
The software allows staff to schedule patient appointments with an electronic calendar. Some systems also support provider and operatory scheduling.
Billing/claims
The software allows dental offices to electronically generate and submit claims to insurance for reimbursement, and usually includes provisions for billing self-pay patients and processing payments.
Other considerations
While some providers prefer to have their software systems installed on an on-site server, an increasing number of dental professionals are opting for cloud, or web- delivered dental software.
Because offices have to invest in equipment as well as software licenses, on-premise systems usually have higher up-front costs. On-premise systems must also be physically and electronically secure in order to comply with HIPAA regulations, and providers must create and maintain their own backups of patient records.
Cloud-based, or Software-as-a-Service (SaaS) systems, in contrast, have much lower up-front costs, since there is no need to invest in expensive servers. Since cloud-delivered software is almost always subscription-based, there usually isn't an initial software licensing fee. This means the total cost of ownership for cloud-based systems is typically higher than comparable on-site systems, as dentists must continue to pay the monthly fee as long as they use the software. The tradeoff is that the vendor is responsible for maintaining servers and data security.
Server uptime for SaaS providers can sometimes be a concern, but the majority of vendors guarantee 99 percent or better uptime. It is far more likely that your Internet Service Provider (ISP) will have an outage than most SaaS dental systems, so a backup ISP is recommended for providers who choose cloud-based software.
Web-based systems are also easier to access on tablets or other mobile devices, in or out of the office, than comparable on-premise systems.
Best dental software
Market leader: DentiMax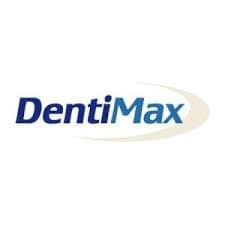 DentiMax has been providing clinical, administrative, and imaging sensors and software to dental professionals since the early 2000s. Their platform offers a complete solution for dental practices. For clinical aspects of your practice, this includes electronic periodontal charting, encounter notes, and prescriptions. For administrative aspects, it features billing, scheduling, and patient registration, not to mention both sensors and digital radiography software for imaging. Unlike many competitors' systems, DentiMax can directly integrate with almost every sensor currently on the market (with the exception of Dexis sensors). The software closely resembles Windows 7, and as a result, has a minimal learning curve for most providers.
Comparable Dental Products
Patterson – Eaglesoft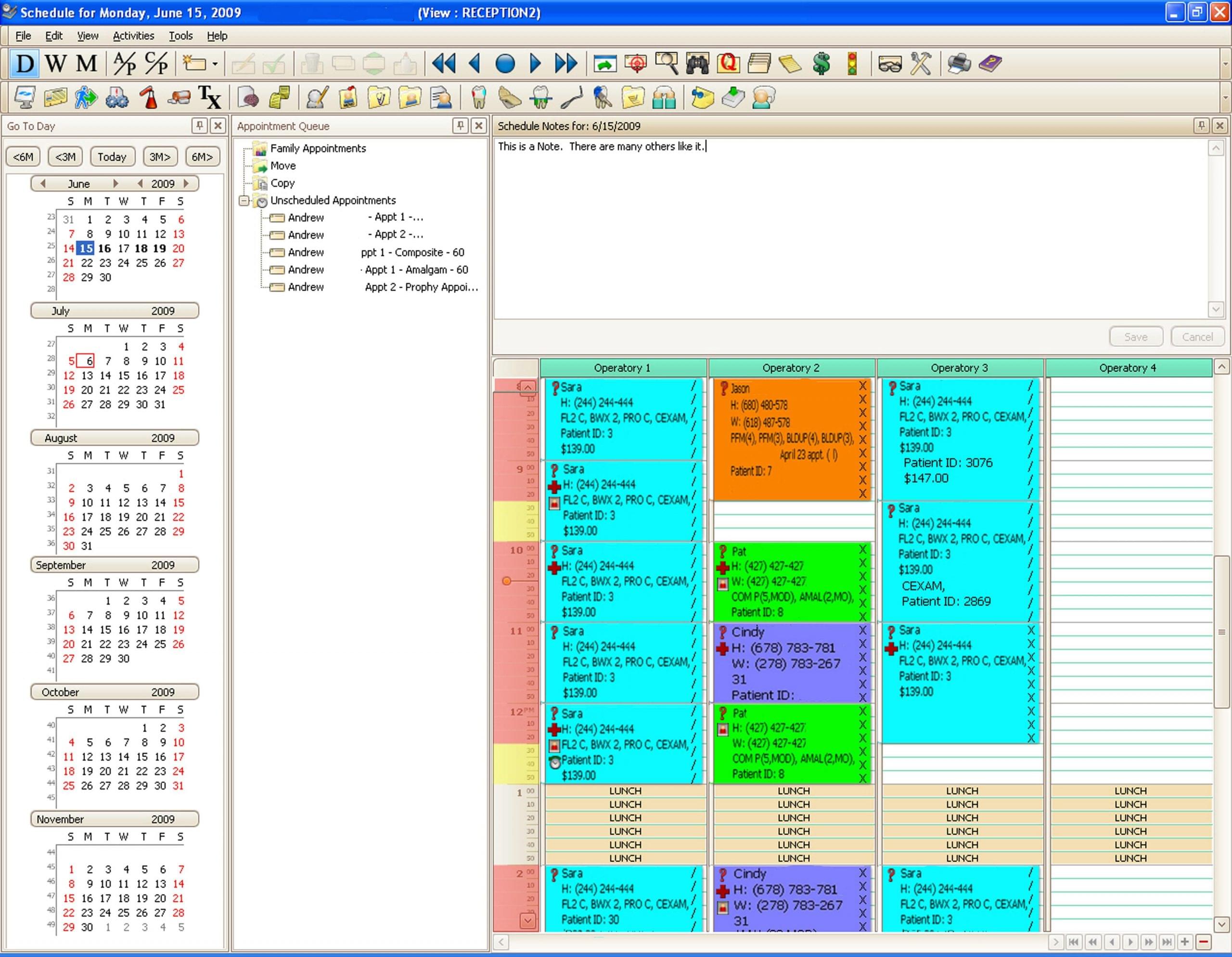 Patterson's Eaglesoft was created to be the ideal dental software for practices of any size. With patient information personalization options, Eaglesoft allows users to customize the EHR platform so that it fits the workflow of their practice. Besides having dentistry specific customizations, Eaglesoft has modules for practice management and charting that help increase practice organization and efficiency.
Eaglesoft's accounting module has a family walkout option, where users can quickly enter charges for multiple family members with one walkout process. In addition, Its Smart Claims and Invoices module allows users to quickly create a new invoice using existing patient data from anywhere in the office.
Eaglesoft's patient records module increase the ease of access to patient records across the entire practice. With tooth and perio charting, clinical notes, and all patient images stored on one patient record, doctors and nurses can quickly access this information from any computer in the office.
Beyond charting and patient notes options, Eaglesoft offers digital integration with many of the imaging products available in the marketplace. Integration with these systems is seamless, allowing for everything from video images to digital X-rays to be stored in individual patient records.
In addition to all of these modules, Eaglesoft now offers users access to CAESY Cloud, an on-demand patient education tool. These multimedia presentations can be accessed from anywhere in the office, allowing for dentistry professionals to more effectively explain complex procedures utilizing Eaglesoft's education tools. Patients who fully understand the diagnosis can more thoroughly understand treatment options and make informed decisions.
Dentrix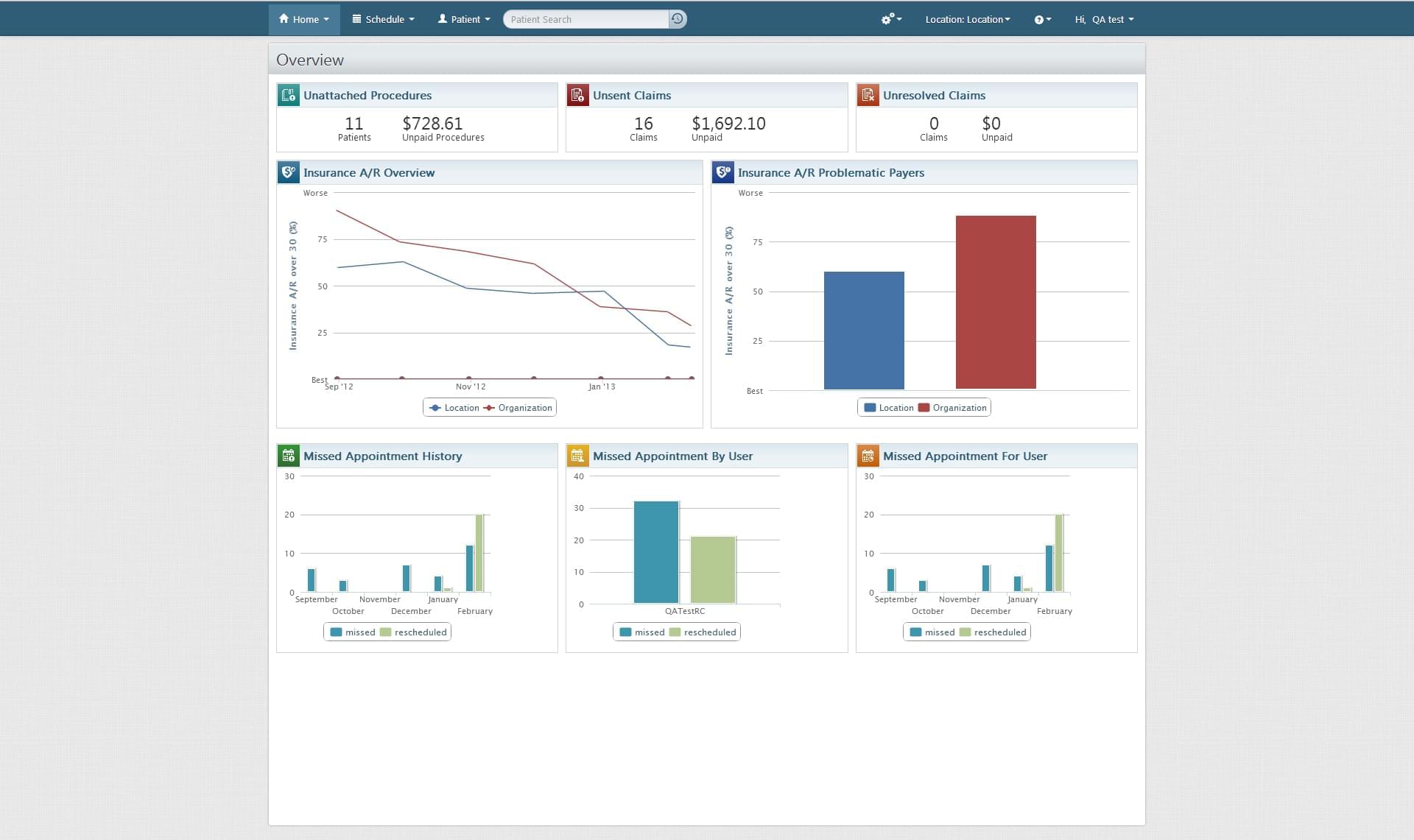 With 80 years of industry leadership and experience, Dentrix understands the solutions that best fit the needs of dentistry professionals without remaining stuck in the past. Dentrix's Practice Management Solution offers powerful office management and clinical tools to increase practice organization and efficiency.
In an effort to meet the various and unique needs of dental practices, Dentrix created a full suite of "Dentrix Connected" products that users can mix and match depending on the needs and budget of their practice. Potential customers can reap the benefits of Dentrix before they even visit your practice. With a flexible online appointment book, patients can personalize automated reminder options and make appointments using convenient online forms.
Dentrix has also created diverse integrated eServices for handling the wide array of financial operations in any given dental practice. From eClaims, which handles electronic insurance claims and attachments, to QuickBill, which navigates electronic patient billing, Dentrix offers the solutions dentists need to increase efficiency and organization.
The clinical tools offered by Dentrix were created to maximize the accuracy of patient records while decreasing the time it normally takes to input information. The Dentrix clinical module provides perio charting, treatment planning, and progress notes. With the Dentrix VoicePro solution, dentists can record chair-side perio examinations by speaking into a microphone instead of manually recording information, utilizing speech recognition software for increased accuracy. The modules available through the Dentrix suite all integrate seamlessly with one another, allowing dental practices to pick the package of solutions that fits their needs.
NextGen EDR– QSIDental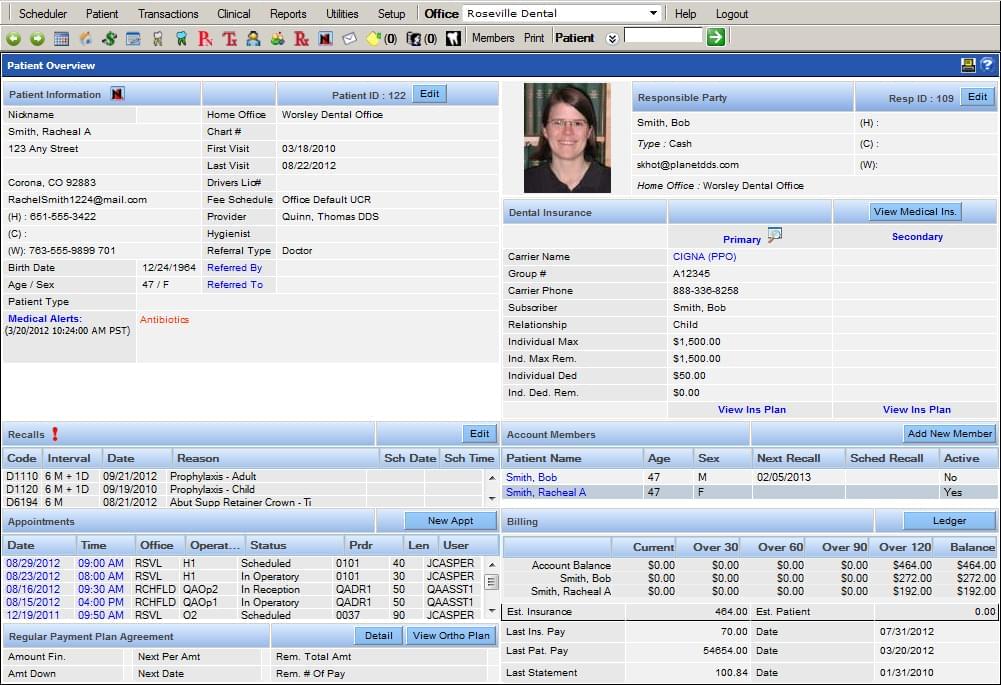 Created as a complement to the NextGen Ambulatory EHR and the NextGen Practice Management Solution, QSIDental's NextGen electronic dental records (EDR) was produced to improve dental patient care while reducing costs and increasing revenue. I
n an effort to streamline the patient record creation and storage process, NextGen EDR created a comprehensive patient record system that gives total visibility to users. This allows for more transparency of treatment while creating a more holistic approach. In addition, this single-patient record simplifies patient accounting and reporting.
With NextGen's "Smart Note" technology, dental professionals now have the freedom to access patient information notes from any location at any time. This best-of-breed dental software solution is a specialized system that caters to the needs of dental professionals.
Some of the key features include graphical tooth charting, x-ray and imaging options, voice-activated periodontal charting, and treatment planning. NextGen EDR also offers a multi-language patient education module, providing educational information and clarity to patients and family members. Dental practices that take advantage of these education platforms increase their value to customers by increasing transparency and engaging customers in the treatment decision making process.
Which Dental software is right for your practice?