Updated June 29, 2023
With 2023 in full swing, the customer relationship management (CRM) market continues to boom and is projected to be worth $44.9 billion this year (measured by revenue). CRM technology has been around for nearly 40 years in some form, but CRM trends continue to evolve.
As my company was one of the first CRM, sales and marketing automation solutions on the scene back in 2001, I've seen a lot of changes, but one thing is the same: the value of any CRM is in how you use it to communicate in new ways with customers.
Despite the fact that CRM and automation technology has been in the market for decades, many businesses at every size struggle with getting the most value out of their CRM investment. In 2022, we launched a survey of small businesses and learned that only a third are using automation, and most struggle to consistently market to their customers.
In the year ahead, I expect CRM to continue to be the main center of business operations, but expectations for the visibility of CRM data and sophisticated uses of it will increase. Here are five CRM technology trends I expect to see in 2023.
1. Unification of operations
For a while now, business leaders have been talking about busting through silos and creating more unified teams. While working to achieve internal alignment is often a goal, it's hard to achieve without visibility into a unified single source of truth that is accessible to all teams.
With modern CRMs specifically, businesses can shrink their tech stacks and do more with less, and create more transparency on the data in the process. For example, a CRM solution that also offers sales and marketing features can be a great deal if you'd previously been paying for three separate tools to handle the same tasks.
This trend will continue, as many managers and IT buyers have reached software (and budget) fatigue and want to pare down to what's actually needed. Along the same lines, CRMs will be used by more departments, rather than just by customer success teams. Marketers, salespeople and managers can gain valuable insights from their systems.
2. Heavy reliance on automation
CRM systems might imply automation, but many only offer baseline automation options. The future of CRM will include users who demand more functionality. They'll be looking for providers that cover typical CRM essentials as well as more sophisticated automation.
Teams will seek out software that can also handle things like advanced nurture sequences, personalization response triggers, and more. As they do, they'll save time and be able to focus on more complex areas of the business—and the business will become more profitable in the process.
3. Incorporation of artificial intelligence (AI)
AI technology is becoming prevalent in every industry. When it comes to the future of CRM, AI may play a more significant role than you'd expect. For example, many CRM providers are now integrating with AI chatbot providers, so users can better handle their customer communications and keep all of their customer data in one place.
Much of AI's potential lies in its ability to continually refine itself. Think about how software solutions require talent and labor to remain precise and up-to-date. But when AI is integrated with a CRM, for instance, much of that burden is removed from the human workforce. AI transforms software into auto-correcting, self-updating systems that increase efficiency and accuracy, keeping businesses on top of their relationship management game.
4. Emphasis on self-service options
According to the Keap survey, more than 70% of small business owners try two to three software solutions before selecting one and a recent TrustRadius study revealed that almost 100% of buyers want self-service options for all or part of their buyer journey, an increase of almost 13% from the previous year.
This is hardly surprising, given the way people have become accustomed to instant gratification and doing things on their own terms. It makes sense, then, that CRM solutions are going to be making more self-serve options available to users.
Instead of having to wait to speak with sales to learn how to assemble a product, a customer can play with an interactive version online. Rather than going back and forth over email to schedule an appointment, customers can self-serve thanks to a company's CRM system, choosing a mutually agreeable date and saving time in the process. You can expect to see a rise in such options, both in CRM systems and elsewhere.
5. Increasing hyper-personalization
Personalizing communications has become necessary, and it's built on rich data, which a good CRM system should have. As such, the more robust your CRM data, the more you can customize the experience your customers have with your company. Over time, you can deliver more tailored messages, relevant recommendations and enticing offers to your customer base as you learn to harness the data you have.
CRM technology may have been one of the first types of sales and marketing technologies on the market, but it's progressed rapidly and richly to meet the needs of customers with high expectations. As the years progress, I expect that companies who most effectively harness and use that data in their CRMs will gain even stronger competitive advantage.
Is there more you can do to deliver a great customer experience with your CRM? If so, 2023 is a great year to get started.
FAQs
What are the trends of Customer relationship Management software in 2023?
In 2023, CRM software trends include the integration of voice interfaces, advanced AI, IoT connectivity, mobile and social CRM, personalized customer experiences, self-service options, industry-specific solutions, and an increased focus on data, usability, and service-based models (XaaS)​​.
What new technology is being implemented in CRM in 2023?
CRM technologies are integrating new features such as artificial intelligence, social media channels, voice and conversational UI, automated processes, and IoT technologies, while also becoming more accessible to first-time users, offering a more comprehensive view of customers, and allowing businesses to consolidate their tech stacks​.
---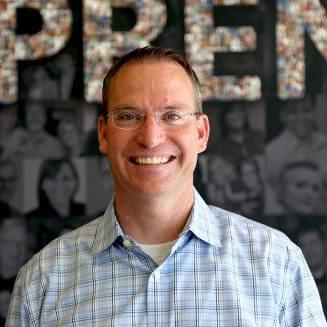 Clate Mask is the co-founder and CEO of Keap (formerly Infusionsoft), a sales and marketing automation software for small businesses. He is a national speaker on entrepreneurship and small business success, and co-author of the New York Times bestseller Conquer the Chaos: How to Grow a Successful Small Business Without Going Crazy. Mask has a BA in Economics from Arizona State University, as well as an MBA and a JD from Brigham Young University.
Technology Advice is able to offer
our services
for free because some vendors may pay us for web traffic or other sales opportunities. Our mission is to help technology buyers make better purchasing decisions, so we provide you with information for all vendors — even those that don't pay us.