Unofficial fact: Everyone has used a to-do list at some point in their life. Whether used for school, work, or grocery shopping, managing your tasks helps maintain productivity—and for some—sanity.
A Florida State University study reports that by making a plan for tasks we haven't accomplished, our anxiety lessens. You don't even have to do the task—just record that you need to do it. (Although, you should probably also do the task.)
Reduce your anxiety with a task management software system. Set due dates, reminders, and goals for tasks while collaborating with your team. We highlight seven impressive options for task management software in no particular order. While all are great for individual use, some have special features for teams.
If you're just beginning your research on task or project management software, use our Product Selection Tool. In less than five minutes, get a short list of recommendations tailored to your needs.
Todoist
From Doist, Todoist is a simplified project management system that is an all-in-one to do list. Users can create tasks using natural language and organize them into projects and add priority levels. Set recurring due dates and create productivity goals for yourself to stay on top of your game. The software is mobile friendly, and is useful for those who bounce between a desktop and phone frequently. Along with a free version, Todoist offers Premium and Business pricing plans. Premium offers added collaboration features such as adding comments and files to tasks and setting reminders that can be location-based. The Business plan is designed for larger teams with more people and projects. While simplicity is nice, the software can be a bit too simple for teams with large and complex projects. Todoist integrates with Google Calendar, Zapier, and Slack.
---
Nozbe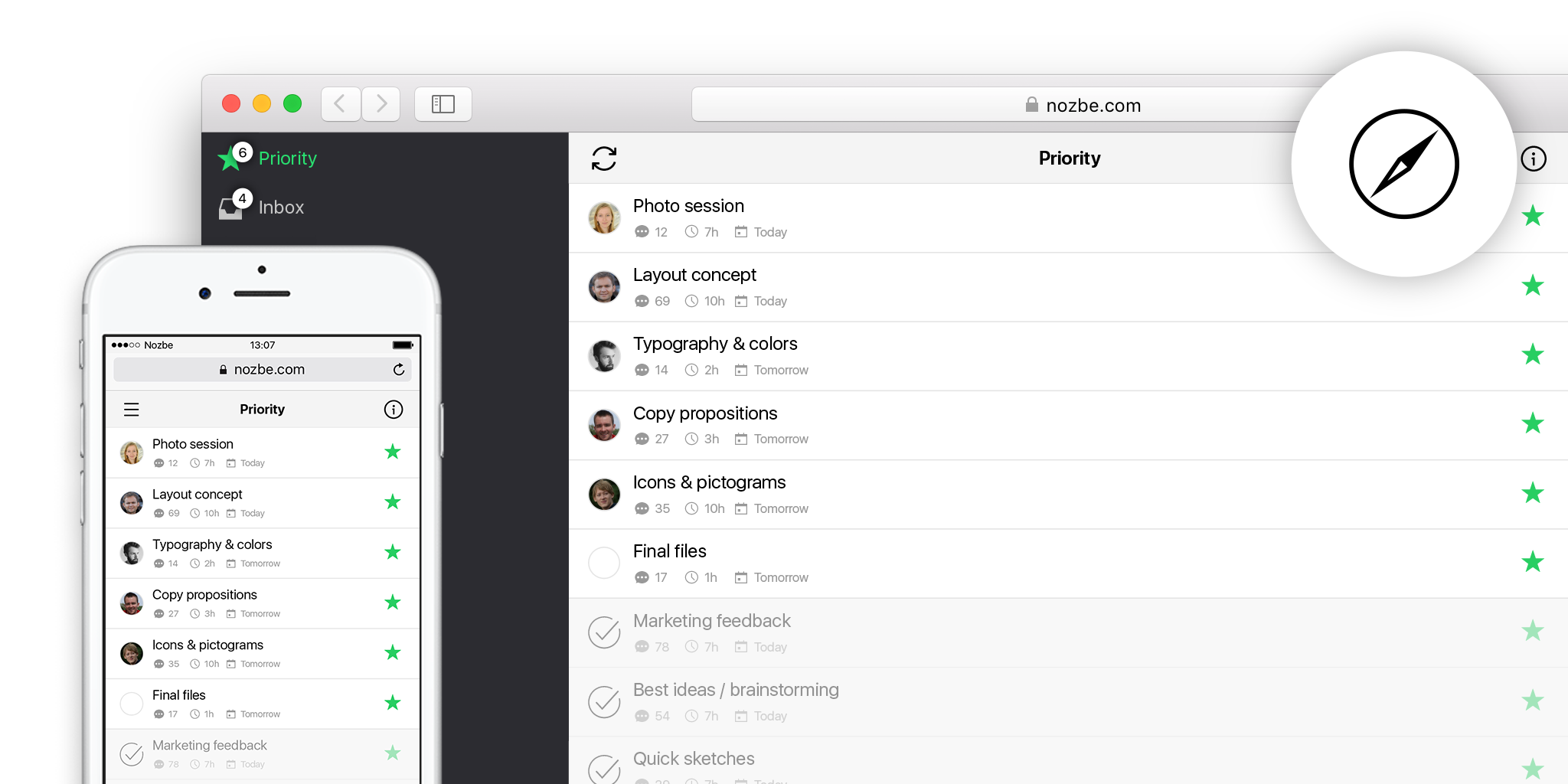 Nozbe is a task management tool that can be used for individuals or small teams. Create a team, add tasks, then assign one or multiple people to a task. Projects, deadlines, templates, and categories can be created with Nozbe. Teams can collaborate by adding comments and attaching files to tasks. A mobile app is available for iOS and Android devices that supports all desktop functions. The software integrates with Box, Google Calendar, and Microsoft Office. Pricing is 3-tiered: Solo, Small Business, and Business. There is no free version, and pricing errs on the expensive side for task management software. Like Todoist, Nozbe can be a tad simple for those with multi-layered projects and tasks.
---
Trello
Designed for small to mid-sized businesses, Trello is a project management tool that functions as a Kanban board. Create boards for projects, lists within the board that signify steps in a workflow, and cards within lists for specific tasks. Cards can be dragged to different lists to indicate progress. Teams can add comments, attachments, members, and due dates to tasks. Trello features a (very cute) AI robot, Butler, to automate tasks such as calendar commands and rule-based triggers. Users are notified when they're @mentioned in cards, a due date is approaching, or cards that are assigned to the user are moved to a different list. Trello integrates with Slack, Google Drive, and Dropbox. A free version is available, along with Business Class and Enterprise pricing plans that are charged per user, per month.
---
Habitica
Do you ever wish making a to-do list could be fun? Formerly HabitRPG, Habitica is a task management software that is gamified to motivate users to complete tasks. Track habits, daily goals, and tasks on a to-do list. Users can gain "experience" when checking off a task and lose "health" when missing one. Accrue gold to level up and unlock avatar clothing and battle armour, and fight monsters with other Habitica users. If you're worried you'll actually lose productivity with this software, don't be. "Fighting" a monster means checking off enough tasks to defeat it. All gamified elements are designed to push you towards completing tasks. Habitica has a group plan that features a private task board and chat area (along with some specific in-game benefits, of course). Group plans are a set price per month with an additional cost per user. A free version is available.
---
Any.do
Any.do is a task management system that allows teams to collaborate while still maintaining productivity. Plan projects, assign responsibilities, get location-specific reminders, track progress, and set due dates using both desktop and mobile devices. For those who need subtasks, folders, or labels, Any.do may be too basic. The software is compatible with Amazon Alexa and Siri and syncs with Google Calendar. A Kanban board view is available for those who appreciate the visualization aspect of dragging and dropping. Any.do features a grocery list app that sorts added items automatically by store aisle—while it's not work related, it could come in handy. Pricing is 3-tiered: Free, Premium, and Teams.
---
Hitask
Hitask is a task manager that simplifies your to-do list by using a single screen to show your tasks, calendar, and team members. Users can delegate which tasks are shared with teammates and which are private. Categorize tasks by date, project, or person, and color-code them to keep track visually. Prioritize your list by dragging and dropping to rearrange tasks, and add comments, attachments, and subtasks to shared tasks. Hitask has a mobile app and can sync with both the Google and Outlook Calendar. It integrates with Zapier and IFTTT, but other than that, integrations can be limited. 3 pricing packages are available: Team Free, Team Business, and Enterprise.
---
Toodledo
Broken up into five categories, Toodledo focuses on tasks, notes, lists, outlines, and habits. With tasks, create to-do lists, set due dates, status, folder, and priority. Filter and search through tasks to narrow down what you're looking for. The notes feature is for writing down anything that comes to mind—basically a notepad. Lists allow users to create a sortable and searchable list with customizable fields. Outlines are for planning step-by-step projects with drag-and-drop and hierarchy functionality. Habits are for keeping track of things like health, exercise, and productivity by recording progress daily. Toodledo is free with a standard account but has priced plans for bigger businesses. The software works best for individual users as there aren't an abundance of team-friendly features.
---
Keep your sanity and increase productivity by investing time in a task management system. If none of these options meet your criteria, use our Product Selection Tool to get a wider range of options.