Whether they're creating project-specific channels or responding to someone's comment with the perfect GIF, people can't get enough of Slack.
In fact, Slack's daily active users hit 2.7 million in April of 2016. Those users spend an average — an average — of 10 hours a day on the platform.
Given that most enterprise technology is received with lukewarm applause, Slack's growth and usage metrics are historic.
Those numbers reflect the seismic shift taking place in the way people collaborate at work and the role technology like Slack plays.
What is this shift? On the surface, it's a movement away from email as the de facto medium of communication.
Slack CEO Stewart Butterfield describes the cause of this flight. "When I open my email, it's a giant casserole of emails from family, friends, people we work with outside the organization . . . One of the advantages of something like Slack is I tap on the icon, and it's just the people at my company, and just the people I work with."
When Butterfield says "something like Slack," he encapsulates an entire product category, commonly referred to as team collaboration software or messaging applications.
Slack Alternatives
Despite its prestige, Slack won't always be the best option for your requirements.
Perhaps you want something that focuses more heavily on video chat. Maybe you need software with a different user interface. Maybe you're just a rebel. Only you can say.
Regardless of your motives, there are numerous Slack alternatives from which to choose. Let's run through the cream of the crop.
1. HipChat
If Slack is the undisputed, heavyweight champion of team collaboration, consider HipChat a worthy opponent.
Founded in 2010, HipChat was acquired by Atlassian just two years later. HipChat offers nearly all of the same functionality as its better-known competitor. You can create "chat rooms" around specific projects, instant message team members, upload files, use the search function to sort through all of your past conversations, and of course, send GIFs.
ALSO READ: Slack vs. Hipchat 
HipChat also comes equipped with screen sharing and video chat, and it's these two features that set it apart from Slack. Slack does offer video chat, but it's a newer feature and still has some limitations.
Since HipChat is owned by Atlassian, it integrates with all of their products (JIRA, Confluence, Bitbucket, etc.) as well as a host of third-party applications.
2. Jabber
Jabber offers instant messaging, voice and video messaging, screen sharing, and conferencing. Other users appear in a throwback instant message-style feed, with each user profile displaying a status that indicates their availability.
As a Cisco product, Jabber is best used in concert with a Cisco VoIP system. Once these systems are integrated, users can call their colleagues from their desktops and transfer the call to a mobile device at will.
Jabber also integrates with Microsoft products like Sharepoint and Outlook, which means users can make calls from directly within these applications. Jabber's video conferencing functionality is also quite powerful, but the interface has more of an enterprise feel than something like Slack or Hipchat.
3. Bitrix24
Like most software verticals, the team collaboration/messaging application market houses both best-of-breed and all-in-one solutions. Bitrix24 is firmly on the all-in-one side of the spectrum — perhaps more than any other product on this list.
Bitrix24 includes the requisite messaging and communication tools you'd expect from collaboration software, but it also comes equipped with a fully functional CRM, a document directory, and task management features. It can even help you manage your HR department.
If this sounds overwhelming, that's because it is — or at least it can be. The biggest complaint about this software is its library-like navigation. Still, if you need a team collaboration platform that truly does it all, Bitrix24 is worth a look.   
4. Mattermost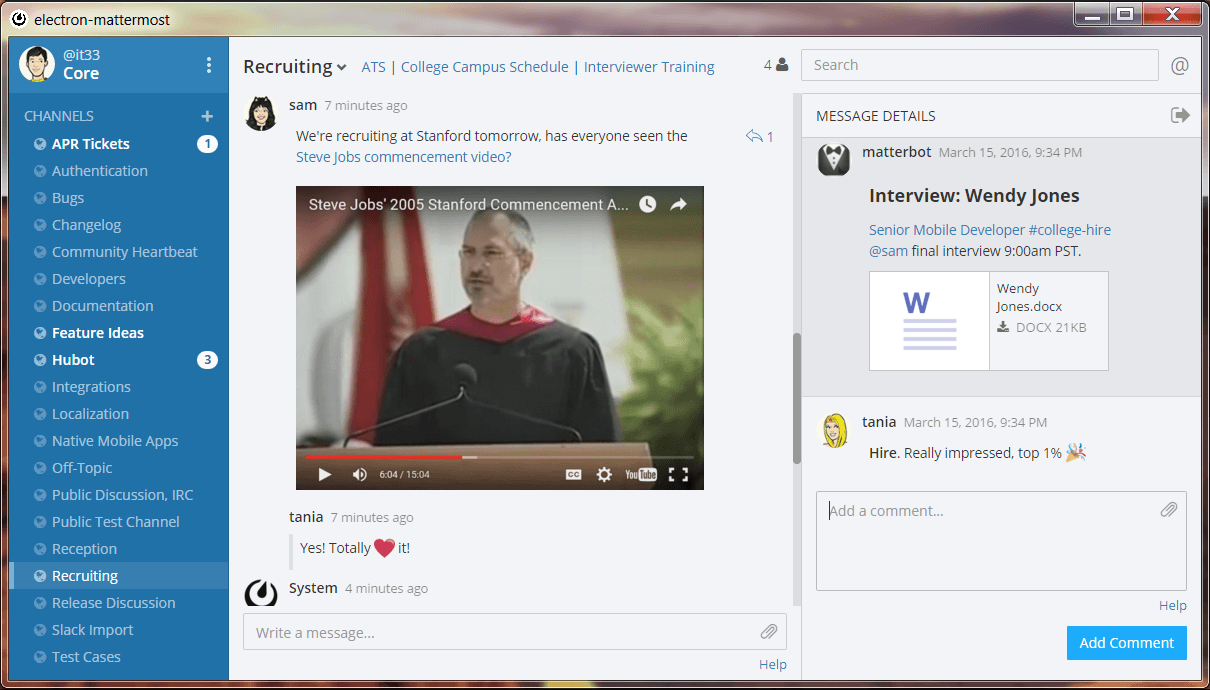 Mattermost's homepage reads, "Mattermost is an open-source, self-hosted Slack alternative." These guys know what their audience is looking for, and they know they have a product that fits the bill.
As the homepage copy says, Mattermost is open-source, so you have a tremendous amount of power to customize it as you see fit — so long as your organization has development talent.
Mattermost also includes threaded comments. That's right: one of the most in-demand features for Slack is available in this free platform. Other features include searchable hashtags, markdown formatting for editing the appearance of text, and multi-language support.
This software does have one caveat: it was developed for private hosting. If you work in an industry that needs more security than public cloud deployments can offer (e.g. government, healthcare), that could be a huge positive.
5. Samepage
Samepage is a rare of example of product with a name that describes exactly what it does without sounding like an infomercial. This software literally uses pages as a collaboration device.
Yes, the platform has instant messaging for one-to-one conversations, group chats, and video calls, but the real action happens on the pages. Every time you have a project, meeting, or other collaboration-worthy event, you build a page. You then add files, comments, to-do lists, comments, graphs, and all kinds of content to the page and invite the necessary people to join your page.
It's a simple yet effective method for centralizing all the resources people need to get work done. It's an expanded version of the "channels" feature you'll find in Slack, though in some ways it feels more focused. Check out the video above to see how to build a page.
6. eXo Platform
Similar to Britrix24, eXo Platform is a comprehensive collaboration solution that includes messaging functionality, but is built to do much more. The start page has an activity stream that aggregates information from inside and outside platform and lets users comment on different types of activity.
If you need to manage documents for your team or create a knowledge base, eXo Platform has you covered. This software can create wikis and full-blown forums, so everyone has a centralized repository of documents and answers to FAQs.
eXo Platform is also open-source, but not free. 
* * *
Slack's reputation is well earned and backed by record-breaking adoption metrics. But the market isn't lacking for Slack alternatives, and many of these replacements are powerful systems with lots of features and integrations.
If Slack isn't your thing, one of the six products listed above should fit the bill. 
Technology Advice is able to offer
our services
for free because some vendors may pay us for web traffic or other sales opportunities. Our mission is to help technology buyers make better purchasing decisions, so we provide you with information for all vendors — even those that don't pay us.