QuickBooks and Excel are two different types of accounting software to help you keep track of your company's revenue and expenses, but which should your business choose? Read on for a comparison of QuickBooks vs Excel.
QuickBooks Overview
Intuit's QuickBooks products offer comprehensive accounting functionality, complete with built-in functions, such as payroll management, invoicing, etc. QuickBooks keeps getting more sophisticated as new features get added.
In addition, it has a user-friendly interface, so you don't necessarily have to be an accountant in order to use the software and manipulate data within it. Formulas are already built into QuickBooks, so you don't have to reinvent the wheel.
QuickBooks is also customizable. There are three different versions of QuickBooks, and each version has its own subset of more industry- or need-specific products. So you're sure to find a solution that is more tailored to your company's needs.
You can read more about QuickBooks and its various versions here.
Where Does Microsoft Excel Outperform QuickBooks?
Microsoft's Excel product is a spreadsheet software and visual data analysis tool that's been around since the 1980s.
Unlike with accounting software, such as QuickBooks, you have complete control over your own accounting system. You generate your own reports, queries, charts, and data analysis tools. In this sense, you can perform a highly tailored deep-dive analysis if you know what you're doing. Otherwise, it will take some trial and error to get your formulas right. Calculation errors may also crop up in the process. However, there are also templates available so that you don't necessarily have to start from scratch.
Excel is a self-service type of software. It's up to you as the accountant to know how to make Excel work for you. Excel might work well for a small start-up but obviously does not work long-term or for larger businesses. So if your business is very small and you're well-versed in these tasks, you can certainly get by with Excel.
QuickBooks vs Excel: Similarities and Differences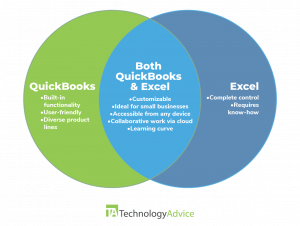 Customizable: QuickBooks has three different products and industry-specific features. Excel gives you complete control over how you build your accounting ledger and offers add-ons for purchase.
Business Size: Both are suitable for small businesses, but there are a couple caveats here. QuickBooks is also appropriate for medium-sized businesses, so it can grow as your business does. Excel is suitable for very small start-up businesses.
Accessibility: Both software products can be accessed from desktop, phone, or tablet devices.
Collaboration: Building off the previous point, accessibility makes both products suitable for remote collaboration. Both offer centralized, collaborative workstations via cloud functionality.
Practice=Proficiency: Both QuickBooks and Excel require some learning and practice to become adequately proficient in the various functions and features that they offer.
Where Does QuickBooks Outperform Excel?
QuickBooks is more user-friendly and does a lot of the heavy-lifting for accountants with its various built-in functionalities. Where it really outperforms Excel, however, is in its product line offerings to meet a wide range of business needs.
The QuickBooks Desktop product line has been around since the 1980s as a trusted accounting tool. It includes basic functionalities, such as payroll, but offers overall less functionality than the QuickBooks Online products (see below). QuickBooks Desktop products may be more cost-effective if your business just needs basic accounting functions, as they require a yearly licensing fee at a lower total cost than the monthly subscription fees that come with the Online products. There are two different versions of QuickBooks Desktop: Desktop Pro and Desktop Premier. Premier goes one step further than Pro because it allows you to add features as needed, according to your industry.
Intuit's QuickBooks Online product is the most widely used product among small and medium-sized businesses. It performs the basic functions that every business needs, such as invoicing, payroll (as an optional add-on), and bookkeeping. Within this product category, there are three different subscription options, ranked in ascending order in terms of functionality and monthly cost:
Simple Start
Essentials
Online Plus
Advanced
You can see a detailed, side-by-side comparison of features here.
QuickBooks Enterprise is the heavy hitter out of the three because it is cloud-operated. Enterprise combines the top features of Desktop and Online but is available anytime, anywhere, and from any authorized device. Larger corporations with multiple locations turn to Enterprise for their accounting needs. Two add-ons are available for Enterprise: Advanced Inventory and Advanced Pricing.
You can get an overview of Intuit's QuickBooks products here.
QuickBooks vs Excel Conclusions
Excel is a fine tool if
You're proficient in its various functions
You know how to manipulate data through various formulas in Excel, and
You're operating a very small business, say a boutique out of your basement.
But it's a one-size-fits-all sort of solution that is not as easily customizable as the various products that Intuit's QuickBooks offer. QuickBooks is accessible to pretty much everyone, regardless of whether you have an accounting background. QuickBooks can also handle the growth that your business will hopefully attain. And what entrepreneur doesn't plan to grow their business? Excel is like training wheels, but eventually, as your business takes off, the training wheels will hold you back, and you'll need to upgrade to a more sophisticated software, such as QuickBooks.
If you're still not sure if QuickBooks or Excel are right for your business, reach out to our knowledgeable advisors at TechnologyAdvice who are ready to help.
Top Human Resources Software Recommendations
Rippling is the first way for businesses to manage all of their HR, IT, and Finance — payroll, benefits, computers, apps, corporate cards, expenses, and more — in one unified workforce platform. By connecting every business system to one source of truth for employee data, businesses can automate all of the manual work they normally need to do to make employee changes.
Paycor's HR software modernizes every aspect of people management, which saves leaders time and gives them the powerful analytics they need to build winning teams. Paycor provides a full suite of HCM solutions with a single source of truth for employee data, so users never have to switch platforms, log-in to multiple systems, re-key data or open multiple spreadsheets. Everyday processes become simplified, allowing organizations to focus on their most important work.
BambooHR is an award-winning HR platform that helps your growing organizations automate, centralize, and connect your people data all in one place. It gives you a one stop shop to manage data, hire talent, run payroll, and help employees grow.
Need a Little Help?
Talk with a software expert for free. Get a list of software that's great for you in less than 15 minutes.
Technology Advice is able to offer
our services
for free because some vendors may pay us for web traffic or other sales opportunities. Our mission is to help technology buyers make better purchasing decisions, so we provide you with information for all vendors — even those that don't pay us.