Searching for an HR software solution can be frustrating and intimidating, especially for companies looking to ditch on-premises legacy systems like PeopleSoft and move HR functions to a cloud-based HR solution. If you're looking for a more flexible, cloud-based HR solution, check out these top alternatives to PeopleSoft.
What PeopleSoft Offers
PeopleSoft HCM is one of Oracle's database software products that is designed for enterprises. It includes a suite of HR modules that help companies take care of compensation, benefits, payroll, and recruiting. Powered by Oracle's database technology, PeopleSoft is capable of safely securing large volumes of employee data.
PeopleSoft started as an on-premises solution but is now available for private Oracle cloud implementation as well. This means customers already subscribing to Oracle Cloud can run PeopleSoft.
However, to expand its market reach, Oracle now offers Oracle HCM Cloud. This has become more popular as a cloud-based, user-friendly alternative to PeopleSoft HCM.
Oracle has recently announced that it will continue to support PeopleSoft until 2033, which makes it sound like it's only a matter of time before this software goes extinct. So why would a company still choose an on-prem solution like PeopleSoft?
For one, PeopleSoft is a powerful database tool. It stores large amounts of data and aggregates it across HR, accounting, and finance departments so they all have access to the same data. As such, PeopleSoft enables a company to account for HR in the company's financial decisions and align HR with business strategy.
Moreover, as a legacy system, PeopleSoft runs on an internal server which means it provides better security and more direct control over the information stored on the server.
Why PeopleSoft May Not Be the Best Fit for Your Company
As powerful and notable as PeopleSoft is in the HR software market, it may not be the right choice for your company. The drawbacks of PeopleSoft are that it:
Requires in-house IT staff for hardware and software maintenance
Puts the burden of industry compliance entirely on your company
Necessitates large capital investment for implementation
Requires a budget for ongoing maintenance
Risks lost data if the system malfunctions
Limits the degree to which a company can scale up in storage and resources
Lacks customization options
Has a lackluster user interface
Performs slowly on occasion
We've compiled five PeopleSoft alternatives on the market, but if you find that none of them match your needs, use our HR Software software category page. After answering a few questions, you'll get an unbiased list of software options tailored to your company's needs.
Top 5 PeopleSoft Alternatives
Even though PeopleSoft is known for its powerful database technology, its lack of cloud connectivity makes it less nimble and cutting edge. Plus, the financial investment that it requires isn't worth it for many companies, especially small businesses.
Therefore, PeopleSoft may not suit your business needs. Here are some top alternatives that provide solutions where PeopleSoft falls short.
Sage HR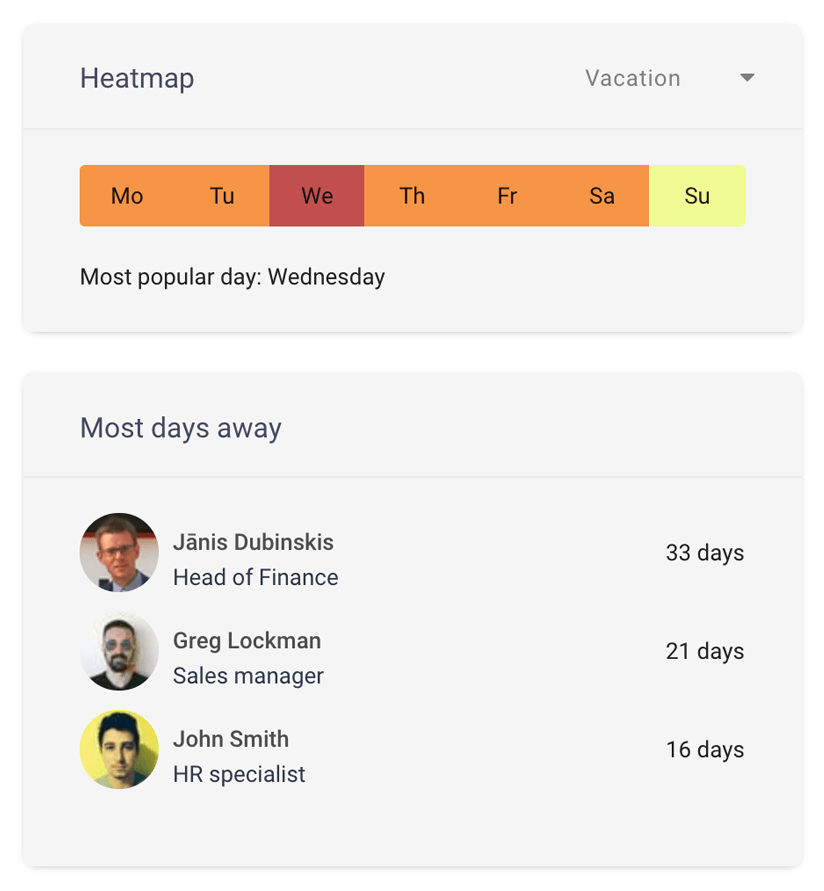 Sage HR is a cloud-based alternative to Sage HRMS, which is an on-premises human resources management system. Sage HR helps companies manage core HR tasks, performance, employee schedules, and more. This solution stands out from PeopleSoft with its data management and analytics capabilities.
Data management
PeopleSoft is an on-premises solution that boasts a powerful database capable of storing large volumes of data. Sage HR is a comparable, yet cloud-based solution that includes all the power of PeopleSoft's database and the benefits of the cloud. Users mention that Sage HR's employee database is easy to use, while PeopleSoft's database interface is clunky. Plus, employee data on Sage HR is always up to date, since it syncs with the cloud.
Reporting and analytics
PeopleSoft features an HR Analytics Administrator to manage the Workforce Insight and individual analytics dashboard. However, users mention that it's difficult to use and that they're overwhelmed with the different reporting options. Reporting for PeopleSoft's HCM module also doesn't appear to offer customized reports.
Sage HR, on the other hand, allows users to easily create customized reports and schedule when the system should pull reports on metrics that the user specifies. It even enables predictive modeling to test out and make more informed decisions regarding employee practices.
Reasons to choose Sage HR instead of PeopleSoft
User-friendly, current database
Customizable reports
BambooHR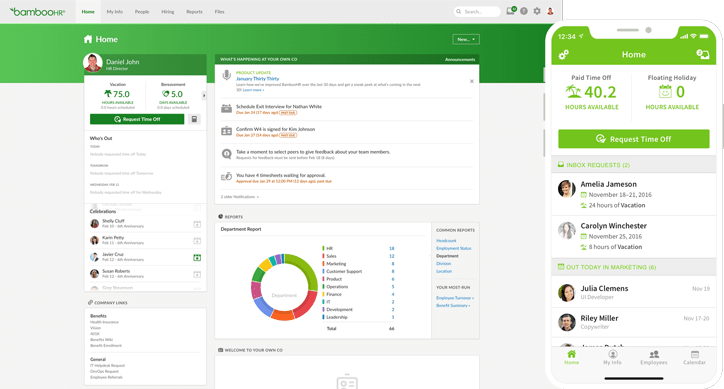 BambooHR's cloud-based system is a lightweight yet powerful HR platform designed for small and medium-sized businesses. It combines several different HR functions into one platform to help SMBs manage employees more easily. BambooHR includes:
A human resources information (HRIS) system
An applicant tracking system (ATS)
Performance management
User-friendly onboarding tools
Onboarding
BambooHR's onboarding tools are one of its most coveted features. Onboarding checklists ensure you don't miss any steps when bringing on new employees. The checklists help HR staff and managers outline expectations, introduce the company culture, and build connections for new employees, so they can start contributing from day one. BambooHR also has analytics that deliver meaningful insights into your hiring process, turnover rate, and overall employee satisfaction.
PeopleSoft also offers onboarding tools, but they're austere and mostly internally facing, compared to BambooHR. PeopleSoft allows HR staff to set up a repeatable framework for onboarding new employees. However, it offers limited assistance to new employees besides providing them with a checklist of tasks to complete. It lacks the more personalized, welcoming aspects of BambooHR's onboarding tools. As such, PeopleSoft fails to promote a delightful onboarding experience for new employees.
Employee record management
Like PeopleSoft, BambooHR's system also keeps records clearly organized and all in one place. The main difference is that BambooHR syncs to the cloud automatically, making it accessible anywhere, anytime, and from any authorized device.
Reasons to choose BambooHR instead of PeopleSoft
Onboarding tools and reports that are insightful and easy to use
Centralized database that syncs to the cloud
Better customer support, according to user reviews
TriNet Zenefits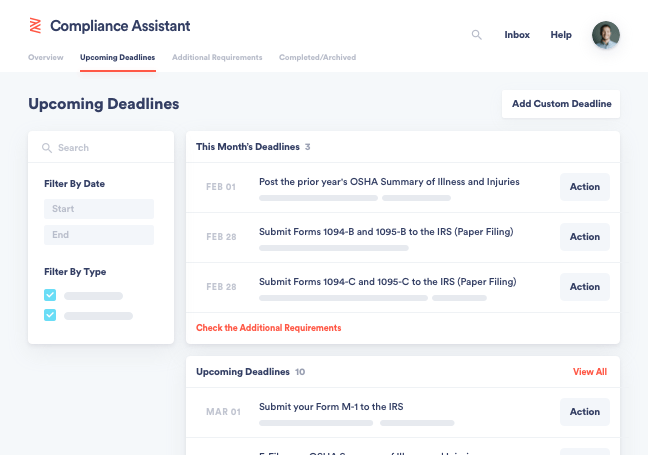 TriNet Zenefits is a cloud-based, full-service HR solution that specializes in payroll and benefits administration. We recommend this software over PeopleSoft for companies that prioritize security and compliance because customers get some of the key benefits of an on-premises solution but in a cloud-based system.
Security
TriNet Zenefits includes a host of native cloud-based functionality. This reduces the need for third-party integrations that can introduce security vulnerabilities. Its cloud-based applications run on the Amazon Web Services (AWS) cloud platform to deliver fast, reliable, and secure functionality.
Though TriNet Zenefits packs a lot of built-in functionality, you don't have to part with your favorite tools, as it integrates with a lot of third-party apps. To mitigate security threats, TriNet Zenefits holds third-party integrations to high security standards and conducts frequent penetration testing.
In these ways, TriNet Zenefits lets customers have the best of both worlds. It delivers security on par with an on-prem solution like PeopleSoft along with the agility of cloud-based software.
Compliance
When it comes time to file taxes, TriNet Zenefits has a Compliance Assistant that comes standard with all Zenefits plans. The Compliance Assistant:
Informs organizations on how to remain ACA compliant
E-files 1094-C and 1095-C forms with the IRS
Automatically calculates taxes and offers to file and pay them
Creates, formats, and files W-2s and 1099s
Sends mandatory COBRA notices and calculates COBRA payments
Reasons to choose TriNet Zenefits instead of PeopleSoft
Enhanced security
Automated compliance
Ceridian Dayforce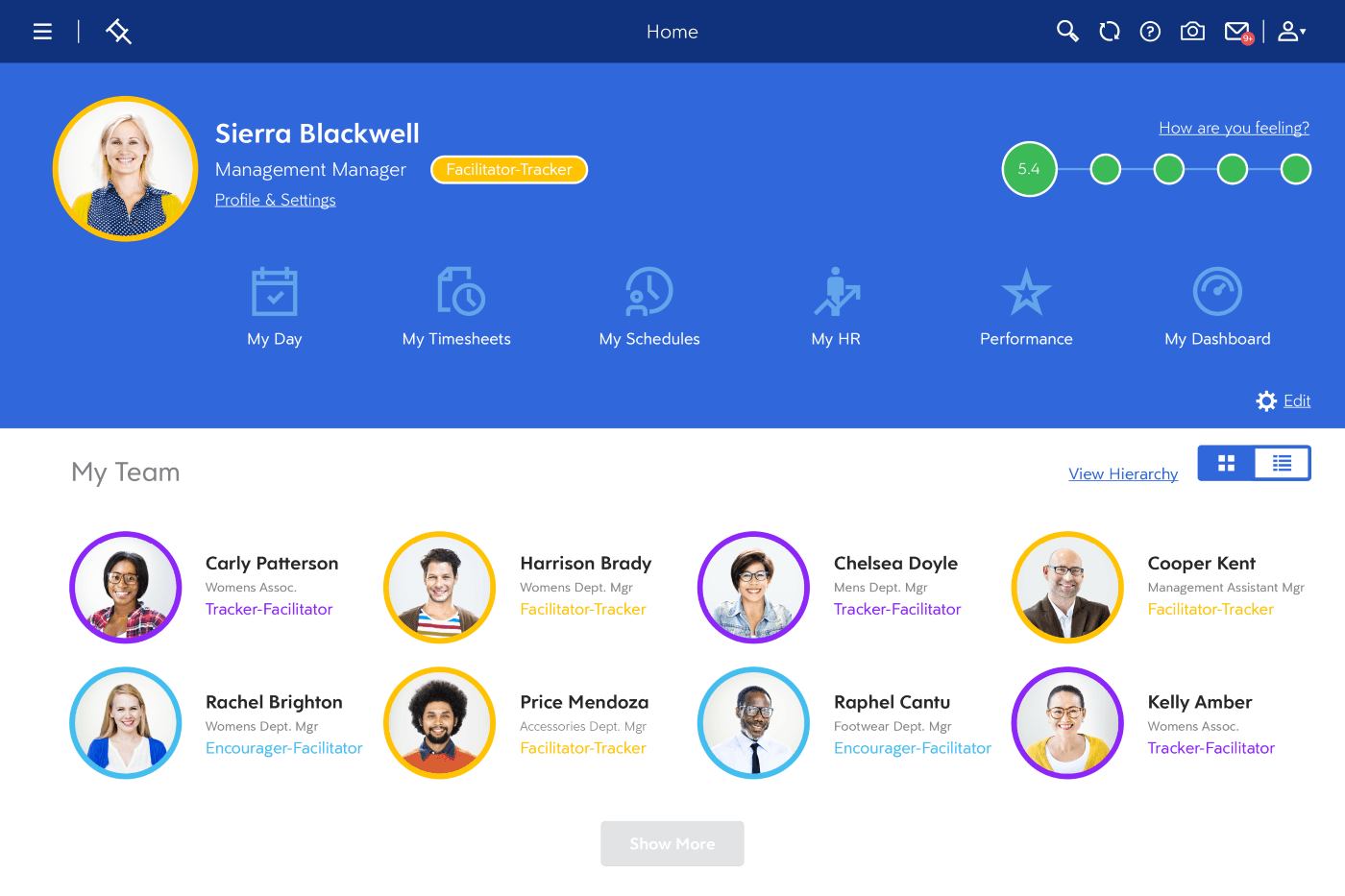 Dayforce HCM by Ceridian is a complete cloud-based HR platform that combines workforce management, payroll, benefits, and talent management. Because most HR functions are included in the system, you don't have to deal with complicated integrations to make your HR processes run smoothly. Check out Dayforce HCM instead of PeopleSoft for customization and automation options.
Customization and automation
This HR solution features a flexible rules system that allows you to customize automated functions to better fit your company's needs. Users can customize workflows, dashboards, reports, forms, payroll, and more.
Dayforce automates workflows, payroll, vacation entitlement increases, benefits deductions, pension contributions and any increases. PeopleSoft, on the other hand, limits automation to benefits, payroll, and HR workflows.
Because of its customization and automation features, Dayforce HCM packs a one-two punch compared to PeopleSoft, which has limited customization and automation.
Reasons to choose Dayforce HCM instead of PeopleSoft
Customization options
More robust automation
UKG Pro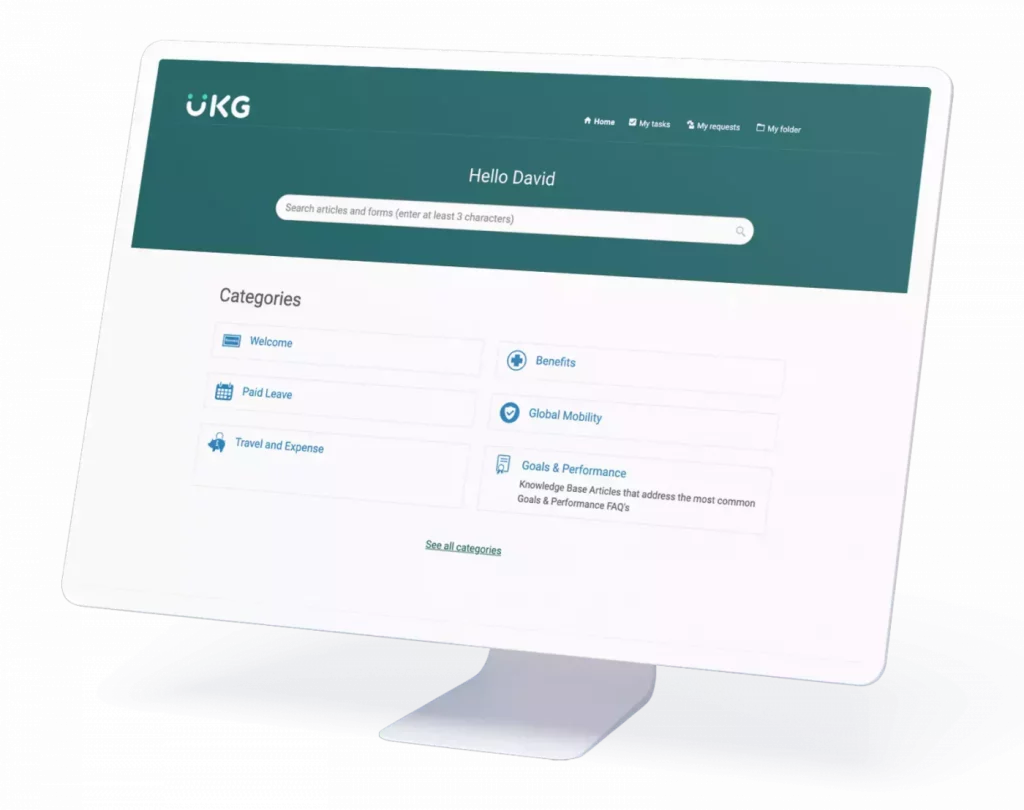 UKG Pro is a comprehensive cloud-based HR platform that helps companies with:
Employee data management
Payroll
Compliance
Talent management
Workforce management and analytics
UKG Pro's software stands apart from Workable because of its AI and automation capabilities.
Artificial intelligence
While PeopleSoft's AI includes only a chatbot, UKG Pro integrates AI capabilities in nearly all of its tools to help companies optimize their processes and provide a better working experience.
For example, you can find AI behind UKG Pro's suite of workforce management features to intelligently schedule meetings or shifts with its built-in scheduling tool. It can also enforce work and pay rules — and their exceptions — in the time-tracking tool. UKG Pro's HR Compliance Assist tool is an online knowledge base and alert service to help HR navigate ever-changing data management rules and regulations.
Automation
As mentioned above, PeopleSoft has limited automation capabilities that don't serve the range of needs for today's businesses. UKG Pro has more to offer in terms of payroll automation. Companies operating with a distributed workforce will especially appreciate its Tax Search tool that recommends the correct tax amount based on the employee's location.
Self-service
UKG Pro also promotes employee self-service and financial planning. Employees can calculate their take-home pay based on different scenarios like withholding for health insurance or retirement. The best part is employees can do this through UKG Pro's mobile app anytime, anywhere. With PeopleSoft, employees need to log in through a laptop or desktop that locally stores and connects to the software.
Reasons to choose UKG Pro instead of PeopleSoft
AI capability
More automation
Self-service
Choosing the Right Alternative to PeopleSoft
HR encompasses a wide range of functions, so it's crucial that your company chooses a software tool that enables HR staff to handle them all efficiently. While PeopleSoft takes care of core and strategic HR processes, this legacy system has many limitations that other solutions do not.
All the alternatives to PeopleSoft that are listed here are cloud-based and thus come with added benefits that PeopleSoft lacks or falls short of: automation, AI, and customization, to name a few.
Depending on the size of your company and the HR team, you may want more automated features to ease the HR team's administrative burden. In that case, investigate Ceridian's DayforceHCM and UKG Pro.
For an HR solution that aligns HR processes with corporate strategy by making data-driven decisions, check out UKG Pro.
Companies that value powerful data management functionality should consider Sage HR and BambooHR.
The security of on-prem solutions and the nimbleness of cloud software are not mutually exclusive. TriNet Zenefits delivers both with advanced security and compliance features.
BambooHR's onboarding tools are more user-friendly than those of PeopleSoft, so if your company values the candidate and new-hire experience, BambooHR is a great alternative. Yet, if none of these matches your needs, consult our HR software category page to find the right HR software for your business. After answering a short survey, you'll get an unbiased list of vendors for your company.
Top Human Resources Software Recommendations
Rippling is the first way for businesses to manage all of their HR, IT, and Finance — payroll, benefits, computers, apps, corporate cards, expenses, and more — in one unified workforce platform. By connecting every business system to one source of truth for employee data, businesses can automate all of the manual work they normally need to do to make employee changes.
Paycor's HR software modernizes every aspect of people management, which saves leaders time and gives them the powerful analytics they need to build winning teams. Paycor provides a full suite of HCM solutions with a single source of truth for employee data, so users never have to switch platforms, log-in to multiple systems, re-key data or open multiple spreadsheets. Everyday processes become simplified, allowing organizations to focus on their most important work.
Deel's full-suite of HR tools allows companies to manage the entire employee lifecycle—from recruitment and onboarding and beyond—in 150 countries. All this from a single, easy to use interface. US and Global Payroll allows you to pay any type of worker in 100+ countries, and all 50 states, in whatever currency you choose. And with 200+ in-house legal experts and entities in 120+ countries, using Deel means you'll always be compliant with local regulations.
Need a Little Help?
Talk with a software expert for free. Get a list of software that's great for you in less than 15 minutes.
Technology Advice is able to offer
our services
for free because some vendors may pay us for web traffic or other sales opportunities. Our mission is to help technology buyers make better purchasing decisions, so we provide you with information for all vendors — even those that don't pay us.