In our recent study on EHR usage in the greater Nashville area, we found that 62 percent of optical specialties – ophthalmologists, optometrists, and therapeutic optometrists – currently use an EHR system in their practice. Of that 62 percent, an impressive 83 percent use best-of-breed systems.
Not only do the best-of-breed systems work; they work well. Optometrists utilizing a best-of-breed solution reported an average overall satisfaction of 8 out of 10, higher than the estimated national average of 6.6.
What sets these systems apart? The solutions they offer are engineered with the daily needs of optometrists in mind, offering features that increase doctor's knowledge base, efficiency, and profitability.
Many of the top optometry EHR solutions also include functions found across integrated EHR solutions, such as patient management tools, e-prescription, file storage, and reminders. Additionally, many of these solutions include features like the ability to monitor and track changes in intraocular pressure (IOP) values over time, and integrate with existing optometry tools.
Amidst the wide variety of options available, we found three solutions that are already effectively assisting optometrists with their daily needs.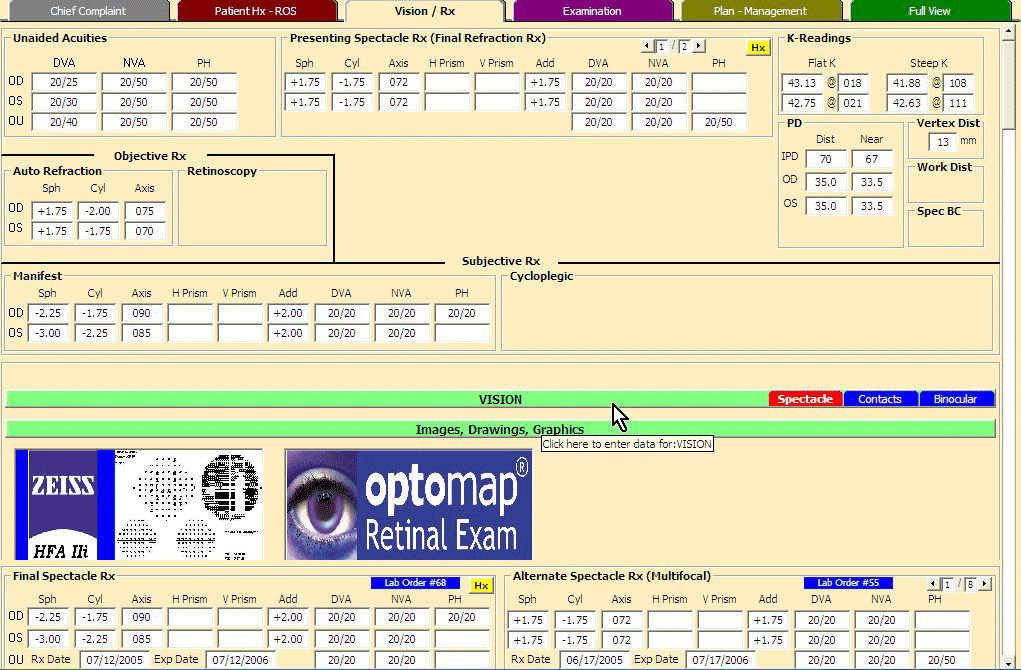 examWRITER, created by Eyefinity, is the EHR solution in a suite of tools created for Optometrists. Eyefinity's other solutions include OfficeMate practice management software, and Eyefinity training and education. Beyond including essential tools such as patient history and billing management, examWRITER offers ophthalmic templates and drawing tools. The ophthalmic graphic templates allows optometrists to record in-depth diagnosis records with relevant notes and highlights saved to the patient's record for easy access. The drawing tools allow optometrists to personalize their records by editing information on the graphical displays in a way that is relevant to them and their patients.
One of the most impressive tools included in Eyefinity's examWRITER is the equipment integration. Most optometrists already have a collection of measuring equipment for use in diagnosis. Through examWRITER's integration with these tools, optometrists can now load reports directly into patient history, which centralizes office information.
As patients observe their medical records being stored on the examWRITER system with ophthalmic displays for accuracy, their perception of the level of service received is elevated, leading to increased patient satisfaction.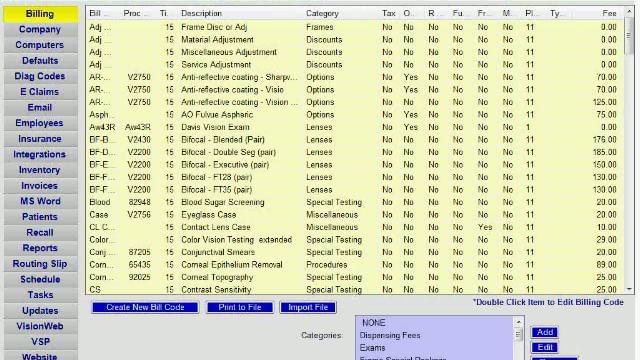 Crystal Practice Management Software was created to be a comprehensive optometry EHR and practice management solution for offices of all sizes. Its patient and staff scheduling module allows for efficient staff member and patient appointment scheduling, with options to print the schedules in a user-friendly, take-home form.
With Crystal's customizable records and reports, optometrists can easily adjust patient records. Its Auto-History feature makes it possible to see all previous patient data in a given field, including instant access to the progression of a patient's prescription history.
For optometrists who sell contacts or glasses, Crystal created an inventory management system to better facilitate purchases. By utilizing the popular Frames Data CD, users can track lab orders and speed up checkouts with a barcode scanner. The inventory management module also allows optometrists to see the purchase price, blue book price, and sale price of a piece of inventory, all on one screen.
Crystal's patient and insurance billing module also includes integrated insurance claims and patient billing in a user-friendly accounting software package. Optometrists who have felt the pain of filling out HCFA forms only to find out they bubbled in one wrong box will certainly appreciate Crystal's auto-completed HCFA 1500 forms.
All of these modules combine to form a system that increases efficiency and decreases expenses. In fact, large officers with more than 15,000 patients experience an average annual estimated savings of $26,816. Additionally, Crystal's practice management software and EHR solutions are created for easy and quick integration, with most practices seeing a return on investment within the first three months.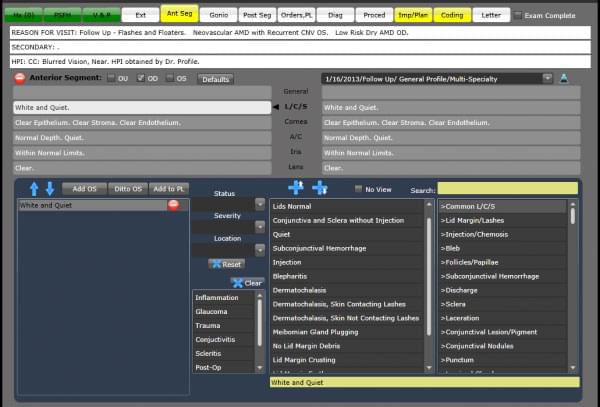 Using a cloud-based system, MDIntellesys helps disseminate optometric best practices through a shared knowledge base. This allows professionals in similar practices to share best methods for document findings, diagnostics, and treatments.
MDIntellesys' auto drawing module automatically generates a proposed drawing based on the findings that have already been entered into a patient chart, from which optometrists can correct inaccuracies. Additionally, MDIntellesys offers layered drawing for users to edit particular portions of drawings without having to erase everything and start from scratch – a complaint many physicians have with other systems.
MDIntellesys offers intuitive customization with adaptive template availability. This feature creates unique and patient specific templates in real-time and without doctor programming. In addition to setting appropriate defaults on a per-patient basis, MDIntellesys' system eliminates non-relevant menu choices and drop-down lists by adapting to patient information.
These three systems are just a few of the EHR vendors that offer a diverse range of specialized solutions for Optometrists. Deciding to utilize a best-of-breed solution is just the first step to finding the right EHR solution for your practice. With an increasing number of new entrants offering innovative solutions with varying price ranges and features, it's important to be thorough in your research when making an implementation decision. Vendors are designing the solutions that fit your needs, now you just have to find them.
Top Electronic Health Record Software Recommendations
athenahealth, ranked #1 by Best in KLAS in 2023 for three of our top-performing product solutions, athenaOne Small Practice Ambulatory, athenaClinicals Ambulatory EMR, and athenaCollector Practice Management, connects care with cloud-based services and mobile tools for medical groups and health systems, helping providers thrive through change and focus on patient care.
Need a Little Help?
Talk with a software expert for free. Get a list of software that's great for you in less than 15 minutes.