Top Real Estate CRM Software Comparison
Table of Contents
What is Real Estate CRM Software?
At its core, the real estate business is the business of managing relationships — relationships between buyers, sellers, agents, brokers, developers, and financial institutions. The complexity and longevity of the home buying process present real estate with a set of unique challenges.
A closed deal is represented by the sale of a property, but this closure depends on a nuanced process that goes beyond the typical customer-buys-product sequence. The term "customer" includes buyers and sellers, as well as other parties, with the agent or broker acting as liaison between them. The "product" is not an off-the-shelf good or service, but rather a distinctive property with its own defining characteristics.
One of the most valuable tools for real estate agents is the customer relationship management (CRM) system. This guide will explain how CRM is vital to the success of real estate agencies and compare a handful of leading real estate CRM software.
The Real Estate CRM Software Market
Though the housing market is infamously volatile, the Real Estate industry has always fed from a steady stream of customers. In 2013, only 9 percent of homeowners sold their homes without professional real estate services, and 88 percent of buyers made their purchase through a realty firm. People will always need homes, and businesses will always need offices, which means there will always be a need to build relationships with professionals to find and purchase the best property.
Despite the longstanding practice of relationship management in Real Estate, business IT systems have traditionally seen low usage. Nearly half of active realtors rarely or never use a CRM system or transaction management software. This could be attributed to a predominantly older population of agents and brokers — research puts the median realtor age somewhere around 57. But as a younger generation enters the workforce, and as buyers and sellers buy and sell earlier in life, we expect an industry-wide move towards technology-driven selling.
Why Use a CRM for Real Estate?
CRM gives realtors an efficient way to manage contacts, schedule tasks, monitor their pipelines, and stay organized as they conduct business. In that sense, CRM is the scaffolding from which agents build successful relationships and close deals.
Realtors benefit from some of the same core CRM features as other industries:
Task management and scheduling
Lead management
Contact records
Sales pipelines
Integrated communication tools
Some agencies choose a generic CRM software and customize it to fit their operational goals, while others choose a CRM for real estate that gives them out-of-the-box functionality. This guide will compare examples of each.
Best Real Estate CRM Software
Average User Rating: 4.1/5
Wise Agent falls into the second category, meaning it's been specifically designed for the real estate industry. The CRM is comprised of a suite of integrated tools for contact and transaction management, scheduling, marketing, and unlimited in-software document storage. Wise Agent also boasts "mouth dropping customer support, provide by real people that actually care," which can sometimes be hard to find in a software product.
Wise Agent's contact management features are intuitive and simple. All communications are logged with time and date stamps. Agents can sync their contacts with Google and manage leads on the go with the mobile web application, which just received a facelift earlier this year.
This system goes beyond basic contact management by also providing strong marketing automation features. Choose from hundreds of templates to create content, post to Facebook feeds, and disseminate with ease by using Wise Agents integrations with MailChimp and ConstantContact.
Stay organized with Wise Agent's custom, sharable task lists and appointments, call lists that sync with contact notes, and scheduled email alerts.
Wise Agent is cloud-based and priced on a monthly subscription basis, although they do offer a free, no obligation 30-day trial. It may not provide some of the advanced capabilities of pricier products, but Wise Agent is intuitive, straightforward, and affordable.
Additional Features:
24/7 customer support
Transaction manager (dates, details, parties involved, notes, documents)
Day planner (birthdays, team functions, critical dates)
Property Lists (track properties, photos, flyers, create slide shows)
Two-page monthly newsletter
Lockbox tracking (codes, locations, serial numbers)
Expense and mileage tracking
Data import/export
---
Average User Rating: 4/5
Insightly is one of the leading CRMs for small businesses across industries, and is a popular choice for real estate agencies because of its integrated project management (PM) features, social CRM, and mobile application. The software has three primary focus categories: customer relationship management, project management, and social CRM. For marketing automation, Insightly relies on MailChimp, which requires a separate subscription.
Insightly gives you a robust package of tools for recording and managing contacts and related tasks (follow-ups, signing-events, etc.). You can perform quick, intuitive searches of your contacts, create custom fields, share files, create contacts with web forms, and receive automatic notifications. Closely related are the social features of Insightly: access contacts' social profiles on Facebook, Google+, FourSquare, Twitter, LinkedIn, Picasa, and many others without ever leaving the CRM.
Agents will find the integrated PM features particularly relevant to the property buying process, and this gives Insightly a competitive edge over other CRMs. You can specify roles, create automatic reminders, milestones, project pipelines, view reports, and attach files directly to the "project," which would most likely be a residential or commercial property.
Insightly is cloud-based and has its own separate mobile application. It's easy to set up and administer, and the developers even provide a one-day, instructor-led course on mastering their product. Pricing is nicely scaled — the standard plan for up to 100,000 records is extremely affordable. Think Netflix-affordable.
Real Estate CRM Case Study: GreenSpot Real Estate
GreenSpot is a Denver-based real estate agency that works with buyers, sellers, owners, and operators through the buying and selling process. They use paperless methods and low-emission vehicles to stay environmentally friendly, which means a reliable CRM is crucial to their operations.
Micki McNie, an independent broker at GreenSpot, was looking for an affordable CRM that worked well with Google Apps, and she quickly took interest in Insightly. With Insightly, GreenSpot has been able to:
Quickly follow-up on new leads
Use "brilliant" data sets to create an opportunities pipeline
Use search functions to find the information they need, when they need it
Schedule important reminders for clients throughout the closing process
Use the Gmail integration to send personalized emails rather than pre-scheduled, template messages
---
Average Review Rating: 4.9/5
Propertybase is a powerful real estate CRM software built on the Salesforce platform that gives residential and commercial realtors and property developers access to industry-specific tools, as well as core CRM features. The software was developed by real estate and brokerage experts and has a huge community following. In fact, it's the highest-rated real estate app powered by Salesforce (yes, there are others).
Propertybase is designed to help agents manage relationships throughout the entire journey from showing to closing. Enterprise-grade contact and lead management features let you capture leads from your website and route them to the right agents, track social media feeds, create detailed contact profiles, and build custom dashboards and reports. Since it's built on the Salesforce platform, you'll have access to hundreds of add-ons and applications if you need additional features. For instance, Propertybase integrates with Geoppointe — a mapping and geolocation add-on that helps you plan your day and get to the right locations on time. Propertybase is also compatible with a number of other popular apps, including Dropbox, DocuSign, Skype, PowerDialer, Quickbooks, Hubspot, MailChimp, and Zillow.
Via Amazon cloud-hosted storage and Chatter, your team can store photos, pamphlets, flyers, and documentation directly in the system, as well as share and collaborate in real time.
Propertybase is one of the few real estate-specific CRMs that offers functionality specifically for commercial real estate. Brokers can track comparables in their own database, manage deals, offers, and closings, and access powerful analytics and forecasting for commissions. Propertybase also offers inventory management for real estate developers.
If you're looking for an enterprise-level real estate solution, Propertybase will likely meet your needs.
Real Estate CRM Case Study: Kiawah Island Real Estate
Kiawah Island Real Estate is the broker and developer for South Carolina's beachside resort community, Kiawah Island (home to the 2012 PGA Championship). They were looking for a CRM that could combine their three outdated legacy systems and address the following priorities:
Successfully migrate a large amount of data from three systems into one
Ensure security of data after migration
Foster successful user adoption of new system
In large part, Propertybase gave Kiawah Island everything they needed straight out-of-the-box. They particularly liked the centralized cloud database, reliable security on the Salesforce platform, and powerful back office tools. They used Propertybase to:
Create customized workflows
Integrate with their email exchange
Integrate with web forms and listing updates on their site
Utilize custom reporting to analyze their now unified data
---
Average User Review: 4.3/5
Pipedrive's focus on the sales pipeline has made it an attractive option for many real estate agencies. The product being sold, of course, is property, and what better way to track the selling process than with innovative visualizations and pipeline tools?
The cloud-based platform is intuitive and easy to customize, whether you need dashboards, reports, filters, or custom information capture fields. The sales pipeline helps you prioritize by displaying your properties and contacts according to different stages in the sales process. You can drag and drop deals in the pipeline view and focus on specific deals by imposing filters. Or you can view deals in a timeline layout to strategize task management and scheduling.
Pipedrive integrates with Gmail, but you can also send and receive emails from directly within the system, which means they'll be linked to relevant contacts and properties. There's also a nice collection of popular add-ons that are compatible with the basic CRM, including Yesware for marketing analytics, RightSignature, MailChimp, Google Maps, and others.
Pipedrive makes a point of its customizability — specifically the ability to disable and hide features you don't need. That means no cluttered home screens with a bunch of buttons and tabs you don't use. There's only one edition of Pipedrive, and one price per user, per month, which makes the purchasing experience pretty easy. Pipedrive is a great option for smaller teams that want clean, simple CRM functionality.
Additional Features:
Integration with QuoteRoller (build custom, trackable property proposals)
Sales reporting (view results and activity goals per agent in real time)
Real time, encrypted data backup and secure hosting
2-way sync with Google Contacts and Calendar
REST API for connecting with other software and data that isn't pre-integrated
Programming in nine different languages and all major currencies
Easy data import/export from existing spreadsheets or CRMs
---
CINC
Average User Review: 4.2/5
CINC is a web-based real estate marketing and CRM software designed for high level agents, teams, and brokerages. Features include lead generation, lead nurturing, and client retention, and the website integrates with local MLS data. CINC offers 3 mobile apps: CINC Agent for lead management, Open Houses for capturing contact information, and Etta Homes for organizing details of your home search.
The cloud-based CRM solution offers 4 packages — Pro for premier real estate teams, Agent for high-performing individual agents, Enterprise for rapidly expanding brokerages, and Lender for giving control of leads to the lender.
The platform offers comprehensive pipeline views to show you exactly how all of your leads are progressing. Agents can even input showing instructions into their CRM to help them remember important details about homes they have listed.
Additional Features:
Client and property matching
Custom IDX home search sites
Email marketing capabilities
Contact and lead management
---
Contactually
Average User Review: 4.2/5
Recently acquired by Compass, Contactually is a cloud-based real estate-focused CRM that allows businesses to create personalized communication with their clients. Features include custom templates and automated messages, prioritization of relationships with clients, and the ability to sync your email, phone, and communication history.
Agents and brokerages alike can find features that are useful to them. The software connects to VoIP tools and real estate apps that can pull information into the CRM. Contactually offers a 2 week free trial, with two pricing options available billed on a monthly basis.
Contactually offers mobile apps for both iPhone and Android, making it easy to update contacts and listings on the go. Additionally, agents can integrate their CRM with MailChimp or Zapier to automatically send listing updates and market alerts.
Additional Features:
Automated, personalized campaigns
Template library for emails and text messages
Optimized email send times
Relationship insights
---
Follow Up Boss
Average User Review: 4.4/5
Follow Up Boss is a simple sales CRM designed for small real estate teams. Automatically import and distribute leads from over 200 sources such as Zapier, BombBomb, and CINC. New lead and inbound calls from your website listings are put into action with automated emails and texts, and you can categorize types of buyers and prioritize which need contact.
Support is included in any package, and is available any day of the week. Follow Up Boss also offers a 2 week free trial, and has 3 triers for pricing: Grow, Pro, and Platform, billed monthly or annually. Even the basic plan includes automated drip email campaigns and several options for lead distribution methods.
Higher level plans give the option to integrate phone calls into the CRM, allowing agents to send and receive calls from within the application. This option provides individual numbers for each agent and provides the option to record calls for training purposes.
Additional Features:
Lead source reporting
Automated task assignment
Reports on agent activity
Automatica call logging
Real Estate CRM Software Comparison Chart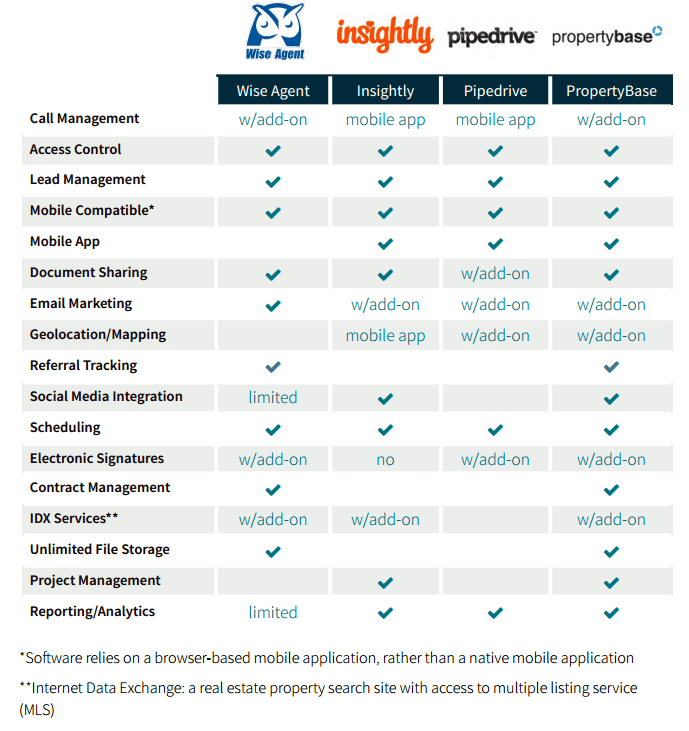 Making the Real Estate CRM Investment
A recent study by ActiveRain revealed that "rich" real estate agents (those who make over $100,000 per year) are 87 percent more likely to use CRM software than "poor" agents (those who make under $35,000 per year). While this doesn't necessarily prove the intrinsic value of CRM, it does represent a strong correlation between financial success and selling property on the shoulders of good technology.
If you aren't sure where to start shopping for a CRM or you're unhappy with your current software, let us help you. We've researched all the leading solutions in order to bring you the best options, tailored to fit your real estate needs.
Use the product selection tool on our site to get a personalized recommendation in seconds, or contact one of our in-house product specialists for a free consultation, no strings attached.