When it comes to scheduling appointments, there's a lot to take into consideration. Book a convenient time for the client—say, Monday? Something's come up, we need to reschedule it to Wednesday now. Actually, it needs to be cancelled altogether. Don't forget to send out reminders so clients won't forget!
A lot of time is eaten up just getting clients in the door. By investing in an appointment setting software, clients can book, reschedule, or cancel appointments on their own, and reminders are automated to reduce no-shows. Everybody wins.
This article outlines the best appointment setting software for healthcare professionals, service providers, and SMBs. While we cover these specific categories, any business that has appointments, classes, or group bookings can benefit from these options.
If you want more options, or are just starting your research, use our Product Selection Tool and get a list of five products that meets your needs. We'll help you speed up your decision process by suggesting 5 CRMs that include appointment setting features.
Healthcare
According to a survey by Intuit Health, 81% of patients would schedule a doctor's appointment online if they had a choice. What's more—40% of patients would actually switch healthcare providers for this online feature. A tool to automate appointment setting could save you from losing your tech-savvy customers.
Luma Health
Luma Health is a patient engagement platform that provides communication between patient and healthcare provider. Patients can self-schedule their appointments via a link to a rule-based scheduling calendar. Reduce no-shows with the ability to reschedule and confirm appointments via text message. Share test results with a HIPAA compliant video conference or chat room. Luma Health integrates with 70+ EHR and practice management systems, so patient data can be logged into an EHR system before an appointment. Pricing is quote-based.
---
Patient Communicator
Patient Communicator is an all-in-one patient communication system. It automates processes such as delivering texts, emails, and calls in multiple languages, and keeps track and contacts patients who are due for recall. You can customize email templates for appointment reminders, social media and marketing, and review generation to keep brand authenticity. It's online scheduler provides patients with a link to a real-time, customizable schedule. Patients who frequently cancel appointments can be "blacklisted" from scheduling online appointments. Brutal. Pricing is quote-based, but a free trial is available.
---
Service Providers
Service providers are dependent on consumer demand. Hair stylists, massage therapists, and tour guides all rely on satisfying the client's needs. A scheduling software comes in handy when booking multiple services or analyzing your weekly booking site traffic for insight.  The software saves time on both ends and gives the client more autonomy.
BookSteam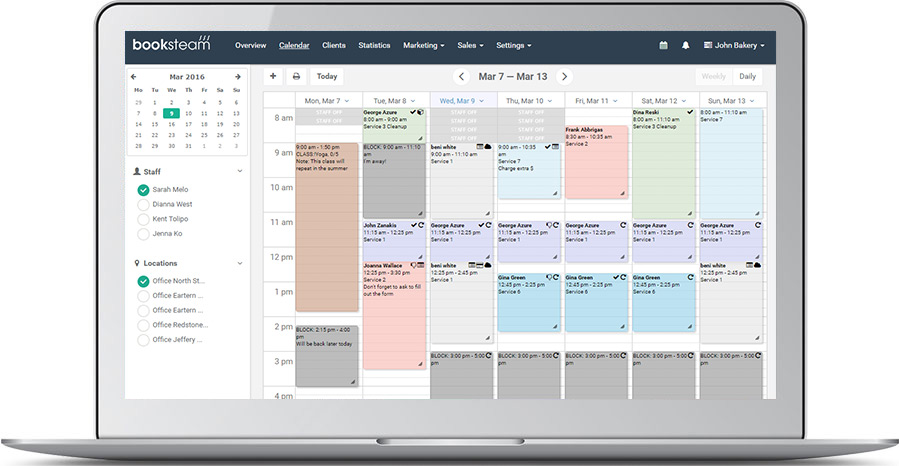 An online scheduling software, BookSteam is a good option for service providers who are looking to automate appointment scheduling. They cater to a range of industries such as fitness, beauty and salons, health and therapy, and education. You can customize SMS and email notifications, manage your client database and reviews, schedule classes, and process payments via PayPal or Stripe. If you offer multiple services, the software allows clients to reserve more than one appointment at a time. BookSteam integrates with Mailchimp, Stripe, and Google Calendar. Pricing has four monthly options with increasing price and feature availability. A two-week trial is available without a credit card.
---
Acuity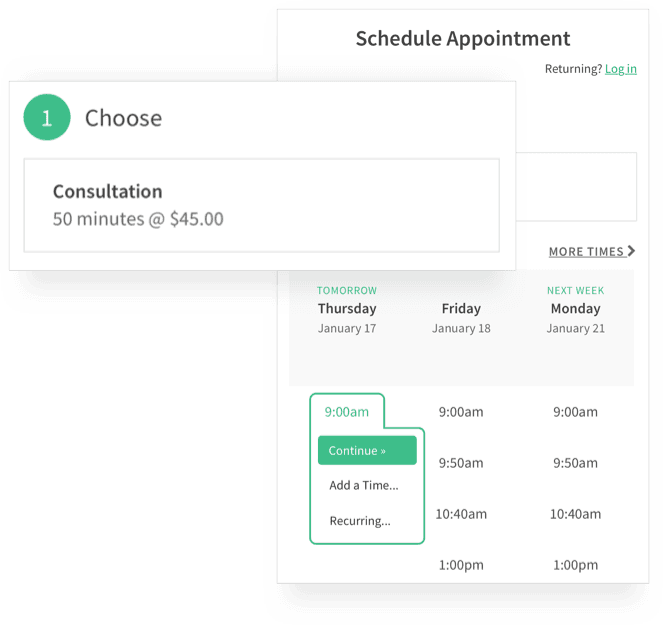 Acuity is a cloud-based appointment scheduling software for any industry. Clients can self-schedule appointments and pay online with a public URL link or through your website with an embedded scheduler. Users can create gift certificates, membership subscriptions, and group classes. Acuity syncs with Google calendars, iCloud, and Outlook, so all calendars are synced to avoid double booking. Integrations include Zoom, QuickBooks, and Google Analytics. Acuity is free for an individual and has three pricing options that increase in features as the price increases. A free trial is available.
---
SMBs
A good way to streamline your tasks as a small business is to invest in an appointment setting software. You can save time by eliminating back-and-forth emails and save money by reducing no-shows. If you're a super small business, a free software might even be a possibility.
10to8
10to8 is a cloud-based appointment scheduling software for small to mid-sized businesses. Focused on communication with clients, users can send texts, emails, and voice call reminders to clients with the ability to see if they've read your message. Clients can reply to messages, schedule appointments on an online calendar, and pay online. 10to8's dashboard displays KPIs, weekly appointments reports, and monthly reports of payments and visits to your booking page. The software integrates with apps such as Insightly, Mailchimp, Salesforce, and Zoom. A free plan is available for small businesses for up to 100 appointments/month. Four other pricing plans are available with free trials for each.
---
Simplybook.me
Simplybook.me is a cloud-based scheduling software that allows users to accept bookings from multiple websites, such as Facebook, Instagram, a customizable Simplybook.me website, and your own website via a widget. Email and SMS reminders are sent to clients with the ability to confirm their appointment beforehand. After an appointment, Simplybook.me automatically sends feedback requests to clients. Business analytics are provided to report on your bookings, site visits, and popular services. The software integrates with Google My Business, WordPress, and Facebook and has a free pricing package that includes up to 50 bookings a month. If you're a bigger business, the Basic, Standard, and Premium pricing plans supports more bookings and has more features.
---
Appointment setting software can be used across all categories of businesses. While all these options could work for you—except maybe leave the healthcare-specific software to the healthcare industry—it helps to choose one that is designed for your business type.
Still undecided or want more choices? Visit our Product Selection Tool to get a short list of CRMs that include appointment setting features for free.