This is a guest post from Kimbe MacMaster, Content Marketing Manager at Vidyard. Kimbe is passionate about content marketing and loves using video to drive business results. 
---
If you're a B2B marketer, chances are pretty high that you already know the value of account-based marketing. A 2015 DemandBase study revealed that 92 percent already consider ABM a "must-have." But the real question is: can you execute?
Maybe you're already working on an ABM strategy, or maybe you're wondering what's involved in setting one up. Either way, a clear understanding of tech requirements will be critical to success.
ALSO READ: 5 Signs ABM Is a Smart Addition to Your Marketing Strategy
Why Do You Need ABM Technology?
Salespeople have always understood that targeting their ideal prospects is the best way to get their ideal customers. In that sense, ABM is nothing new. But if you want to make ABM scalable as an ongoing digital strategy, you need to have the right systems in place. Don't spend months building an entirely new ABM "stack," but it's probably time to graduate from the Excel filter function.
The simplest way to build a technology plan is to line it up with the five stages of account-based marketing:
1. Develop a Set of Ideal Account Profiles: Who are you going to target? What are the best accounts to focus on? The right technology will help you identify these accounts and define their common characteristics.
2. Build a Database of Contacts: Once you've identified your ideal account profiles, you'll have to do some digging to find detailed information and full contact records within these accounts. If you don't have access to the right automation tools and databases, this step will be much more difficult.
3. Create Targeted Advertising: After you've chosen your targets and mapped out their accounts, you can begin to deliver on your ABM strategy through targeted advertising on external properties. Account-based targeting and retargeting technology is critical here.
4. Personalize Your Website and Content: You can personalize content on your website to provide a unique experience for each account. Tailor your messaging (home page, landing page, video) to their industry, as well as objectives and pain points. A combination of marketing automation, content management, and ABM tools will help you execute here.
5. Manage and Track ABM: You'll need a central place to track metrics and engagement for all of your target accounts. In most cases, this requires more than basic CRM software, since CRMs organize by lead, not account. There's no sense in deploying an ABM strategy if you can't track its performance. Including tools that help you measure ROI is critical.
Top Tech Choices for ABM
"All-in-one" ABM solutions may materialize in the near future, but for now, most marketers use a patchwork of different tools to manage the five stages. Some tools offer broad utility, while others focus on a single stage. The chart below illustrates some of the top choices and where they apply in the process.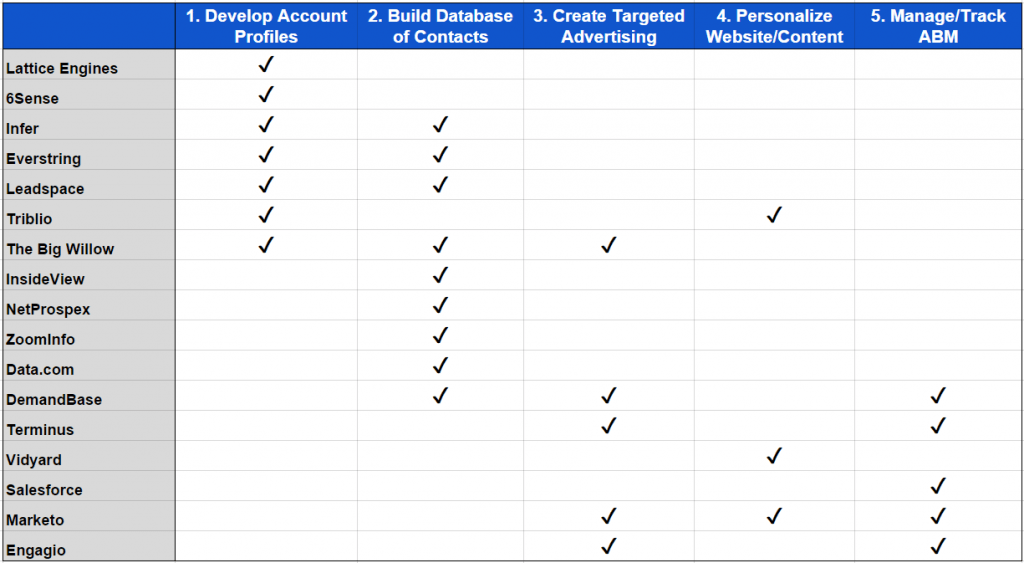 A predictive analytics vendor like Lattice Engines, 6 Sense, Infer, Everstring, Leadspace, Triblio, or The Big Willow will help you build an account profile list. Look for one that can identify the profile of your top customer and predict future ones. These vendors compile thousands of data points on intent behavior across the web to build account profiles and predict future customers.
Be sure to select a technology vendor that not only prioritizes your current leads, but also finds new leads and searches your customer database for potential upsells.
For the second step — building your database — find a solution that will automate as much of the data sourcing, cleansing, and entry as possible. The more robust and accurate the data in your CRM, the better. Infer, Everstring, Leadspace, The Big Willow, Inside View, NetProspex, ZoomInfo, and Data.com all excel in this area.
After you collect and organize your account data, you're ready to deploy targeted advertising and personalized web content. Advertising-focused vendors like DemandBase and Terminus can identify users from target accounts outside of your digital properties and display relevant, customized content. Vendors like Triblio and Vidyard focus on providing personalized experiences on your own website through web copy or even video.
Finally, you'll need a system to track and manage ABM performance metrics. Some combination of CRM (e.g. Salesforce) and marketing automation (e.g. Marketo) is a good choice here. You can use the connected systems to track target accounts, score their interactions with your content and ads, and see where they are in the sales pipeline.
Making Your Final Decision
Before you sign any contracts, do your research. Make sure the tools you adopt will fulfill their promises and deliver clear ROI. The last thing any marketer needs is more inadequate technology. Here are some questions to ask prospective vendors:
Will the solution be able to measure ABM campaign metrics and track ROI?

Does the vendor provide reliable support to help you optimize your ABM strategy?

Does it integrate with your existing marketing/sales systems?
Will you be exploring ABM technology in 2016? Tell us about it. Share your comments below!