Account-based marketing (ABM) is hot right now — not just because it's a way for sales and marketing teams to build a more effective funnel, and not just because it personalizes your advertising and marketing efforts, and not even because it uses actual data to predict good leads.
ABM and the software that runs these campaigns are popular because they work. Rather than the standard one percent lead conversion rate, ABM has provided some companies with over 20 percent targeted lead conversion rates and massive lifts in site engagement.
ALSO READ: The Technology Behind a Successful ABM Strategy
Account-based marketing software helps you dig deep into a company's employment tree to find the right decision makers. Instead of blasting ads in front of disinterested viewers, you can focus your efforts on stakeholders from your target accounts directly influence key buying groups. 
That said, not all ABM software is built equally. As with any new vertical, the enthusiasm around ABM encouraged a boom of new vendors. Some platforms that promised game-changing, paradigm-shifting ABM features do nothing more than your average CRM or marketing automation tool. Either that, or the new "feature" is a static webpage explaining how, if you really strain, you can use the vendor's existing features to support ABM. For your research and reading pleasure, we've gathered a list of account-based marketing tools that actually do something unique.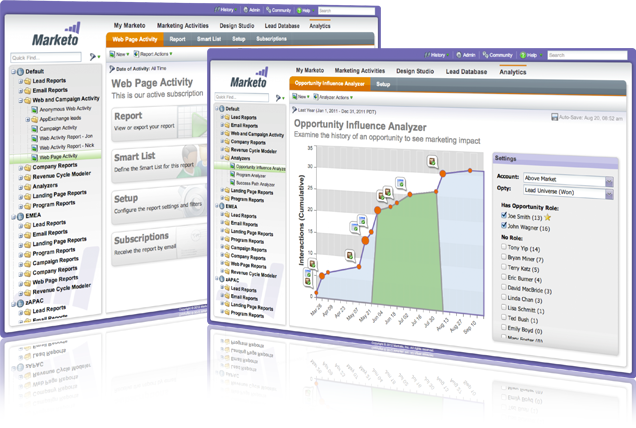 Marketo has long been a leading marketing automation platform, but the addition of ABM tools like account scoring and custom segmentation lets you focus on the metrics that matter for your campaign. Predictive segmenting uses behavioral data to drive email segmentation, and account-level predictive analysis shows which accounts have the most revenue potential, so you know where to invest your efforts. Marketo also includes advanced features for email, social media, mobile, and analytics, as well as native CRM integration, to help you build a complete sales+marketing tool that covers every channel. 
Infer is a predictive marketing solution that aggregates data from your internal sources and all across the web to build a comprehensive view of potential leads. It collects external signals and publicly shared data, then runs that data through a series of algorithms to inform lead, account, and behavioral scoring. You can combine the resulting scorecards with industry and title-based personas and custom segmentation to pinpoint the best opportunities. Infer also provides lead-to-account matching to help you match individual lead data with corresponding accounts in your CRM. Just keep in mind, Infer is meant to be an add-on, not a autonomous platform. You'll need to connect the rest of your software stack to build these insights.
Think of Engagio as a business intelligence (BI) solution tailored specifically for ABM use. It gives you account-focused tracking and analytics for each of your campaigns, but the software is really more like an ABM filter than a complete marketing platform. Engagio does help you match unassigned leads with their respective accounts in your CRM and sales tools, which is useful for any account-based campaign. This year, Engagio added a new PlayMaker feature designed to bring more ABM planning and strategy (instead of just analytics) into the platform. 
You can't talk about ABM without talking about Terminus. These guys (and their fearless leader, Sangram Vajre) really promoted the ABM movement with FlipMyFunnel, an ABM learning community and conference. Terminus supplies over 200 million B2B professional contacts in their searchable database. When you've selected your accounts, you can use the connections to over 50 ad exchanges to engage those accounts, and use the platform's customization rules to display personalized mobile, social, display, and video content. Other features include account level attribution and bidirectional Salesforce integration. Terminus promises fast on-boarding: you can get a basic campaigns running in less than 30 minutes.
DiscoverOrg provides sales intelligence for B2B companies, meaning it works best as an add-on to your existing programs. DiscoverOrg makes some big promises about data validity: internal researchers update contact information every 60 days, and they guarantee a 95 percent accuracy rate for email addresses, titles, and phone numbers. These accurate and deep contact lists will help you build a more complete picture of accounts so sales can target the right decision makers. An alert feature called OppAlerts lets you know when account priorities or needs shift due to a job or vendor change. Similar to Infer, DiscoverOrg uses predictive intelligence and is a great tool to use during the account list-building phase of ABM.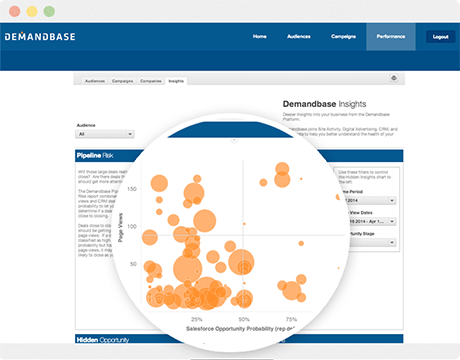 Demandbase's platform offers built-in account-based advertising and retargeting with major ad networks. These ads target your ABM segments for a personalized experience and a tighter sales funnel. The marketing capabilities include account-aware website personalization for site pages that meet each lead/account at their appropriate buying stage. The Demand Graph feature builds a complete map of all accounts and their contacts (customers, vendors, investments, etc.) to help you understand company relationships and specific lead needs. Demandbase is the only software on this list to offer industry-specific solutions (for financial services, manufacturing, healthcare, and software/technology). 
Formerly Azalead, Jabmo is great for the sales team that never sleeps: the platform monitors your website to update you on lead behavior, and it sends instant, scored notifications when prospects engage with your content. When a lead is hot, your team can connect them with more targeted content that or even a phone call. Jabmo catalogs and analyzes IP addresses, cookies, and behavioral data, then uses these to automatically build target account lists. You won't waste money on wide-net ads or retargeting, since content is only served to those accounts that are likely to convert. Similar to Engagio, Demandbase, and Terminus, Jabmo provides built-in account-level analytics to help your teams track the impact of their campaigns. 
* * *
Just like an ABM strategy itself, account-based marketing software is meant to augment your conventional sales and marketing tactics. Lead generation and top-of-the-funnel strategies aren't going anywhere; you should still target large groups of potential customers, try to raise brand awareness, and nurture your leads. However, building an ABM campaign that looks deep into each company's hierarchy and identifies the most valuable decision-makers can have a huge impact on your revenue contribution.
Ready to get started, but don't know which solution is right for you? Visit our product selection tool to compare options and read reviews.