Most businesses today depend on the internet for damn near everything. If you're an IT manager, you know this better than anyone.
Businesses do everything from processing payments to storing sensitive employee and customer information online, but as it becomes less expensive and more feasible to move other processes to the internet, it's never been a better time to invest in network monitoring software. Throw in, too, the increasing risk of cyber attacks, and network monitoring tools become a necessity to operate a secure modern business.
Also Read: Your Data Is At Risk (white paper)
More and more companies are starting to realize this, but when it comes to finding the right network monitoring tool for your company, no tool is one-size-fits-all. To help with your search, we rounded up the top 10 best network monitoring tools, in no particular order.
EventSentry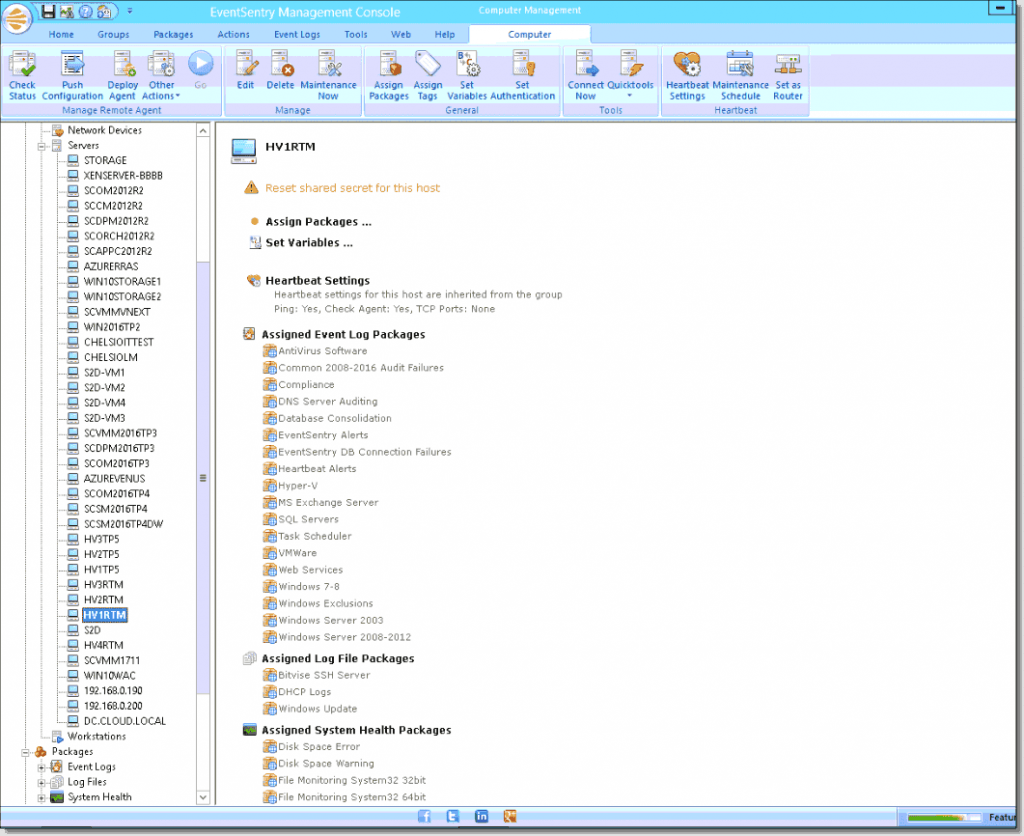 EventSentry is a full security information and event monitoring (SIEM) suite of tools, including network monitoring.
Praised for its ease of use and efficiency, EventSentry provides IT managers with the insights they need to protect their network from internal and external threats without costing them an arm and a leg. Specifically, EventSentry monitors system information, basic hardware, current uptime, number SNMP counters, and more.
NinjaRMM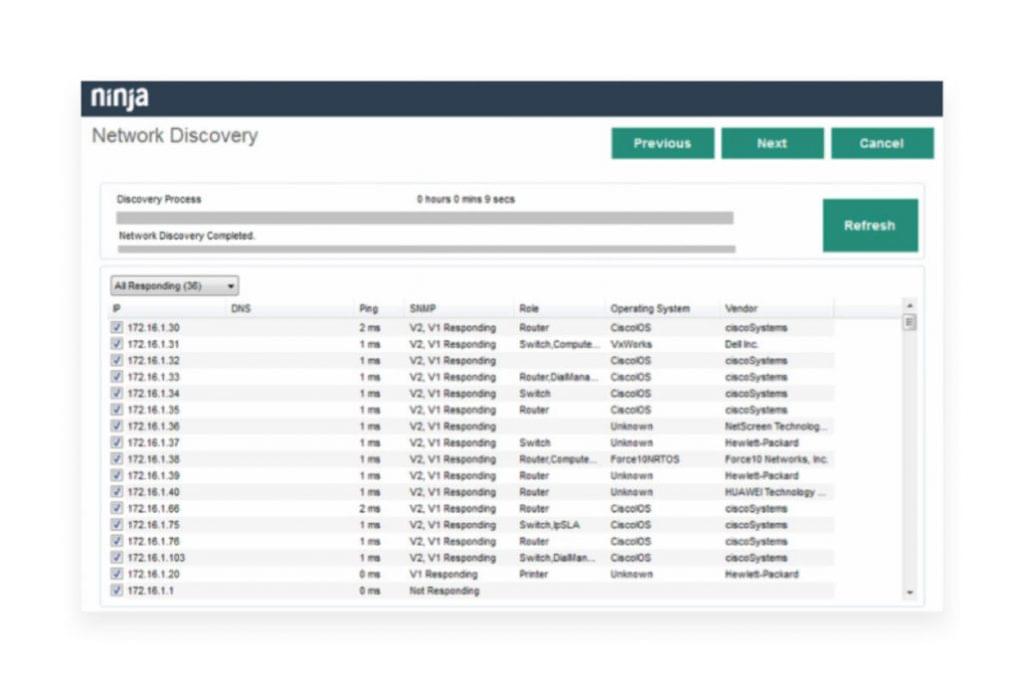 NinjaRMM is a remote monitoring and management (RMM) tool that manages your full IT stack. The network monitoring feature provides an intuitive graphical user interface (GUI) with quick setup and customization. This includes automatic device discovery through discovery wizard and detailed traffic reporting down to the hour with NetFlow implementation.
While NinjaRMM currently does not offer a mobile app or as many capabilities for Mac as it does for Windows, the company pushes updates regularly and takes feedback from its users seriously when building out new capabilities and features.
LogicMonitor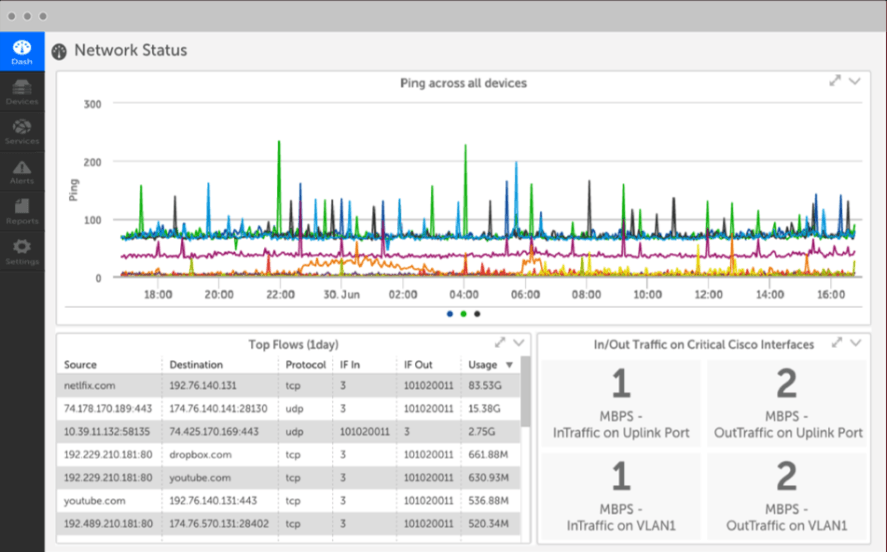 Noted for its dashboard and reporting flexibility, LogicMonitor is a powerful network monitoring solution that companies can install on multiple different devices rather than only on servers. While the ability to install LogicMonitor on multiple devices is a nice feature, most users appreciate LogicMonitor's flexible dashboard reporting the most.
Dashboard reporting in LogicMonitor allows you to drag and drop metrics and expand and shrink the size of graphical representations. LogicMonitor also offers a mobile app, though it doesn't come with as many capabilities as the desktop software tool.
SolarWinds NPM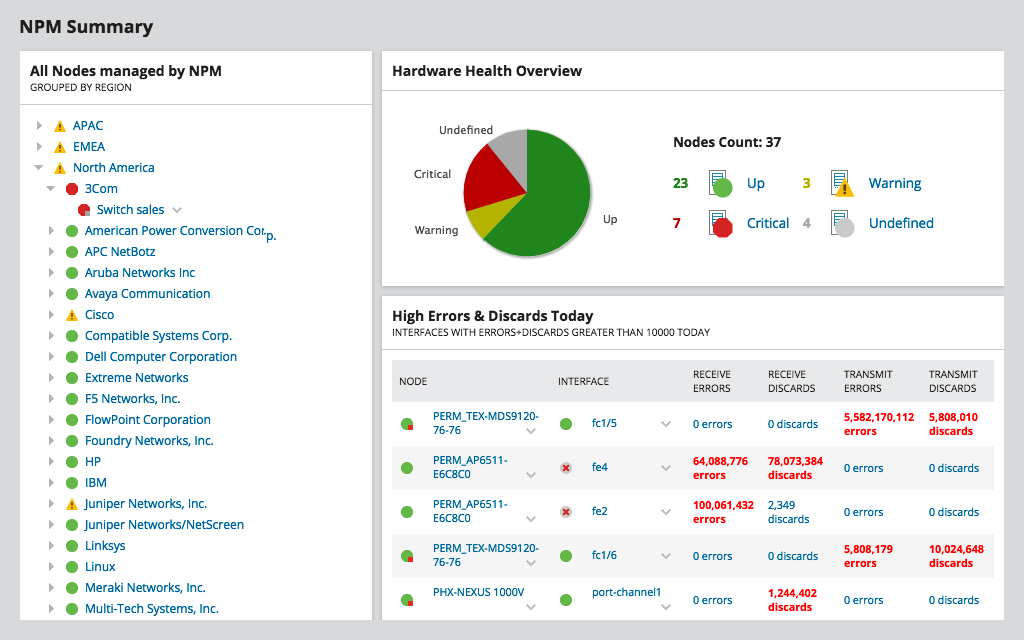 SolarWinds NPM is an established player in the network monitoring space, and it consistently ranks as a top-rated network monitoring tool across B2B software review sites. Node management in SolarWinds is particularly good, as the tool allows you to filter nodes by a number of different criteria and even designate your own filtering terms for specific searches.
Though the software itself compares well to others, SolarWinds is not always known for market-leading customer support, forcing many customers to refer to help guides and user forums for support with the tool.
PRTG Network Monitor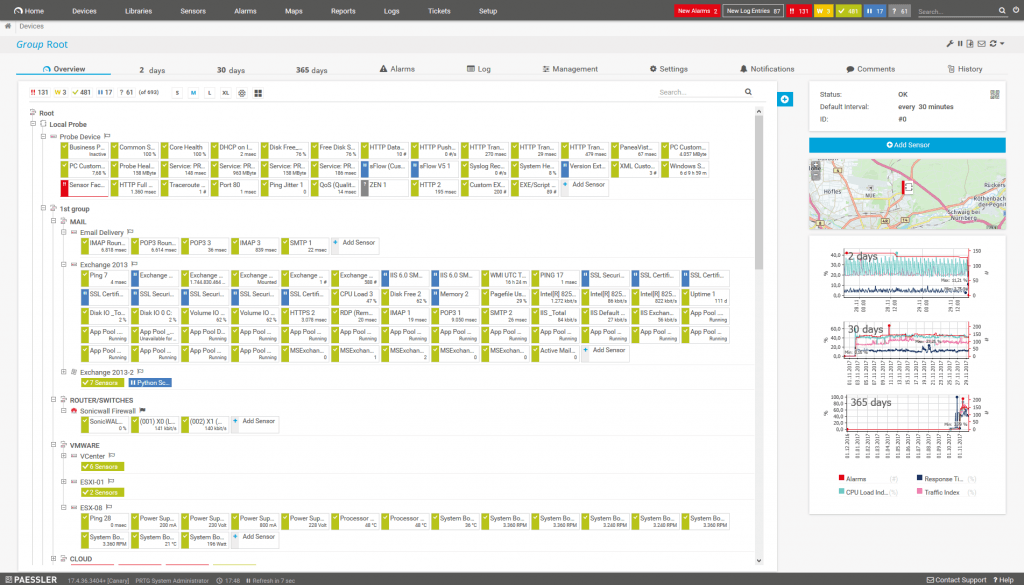 Another established vendor in the network monitoring market, PRTG Network Monitor from Paessler AG is a German network monitoring tool that provides solid monitoring of network performance basics at a reasonable price. PRTG Network Monitor offers automatic discovery for devices on any given network, and the tool's dashboard view gives users a big-picture look into how their network performs.
The tool updates automatically and regularly. This prevents long wait times from annual updates, but it can also disrupt workflows for some IT teams. Overall, PRTG Network Monitor users enjoy the tool for its straightforward approach to network monitoring, though it may not be the best option for teams looking for more detailed insights.
Spiceworks Network Monitor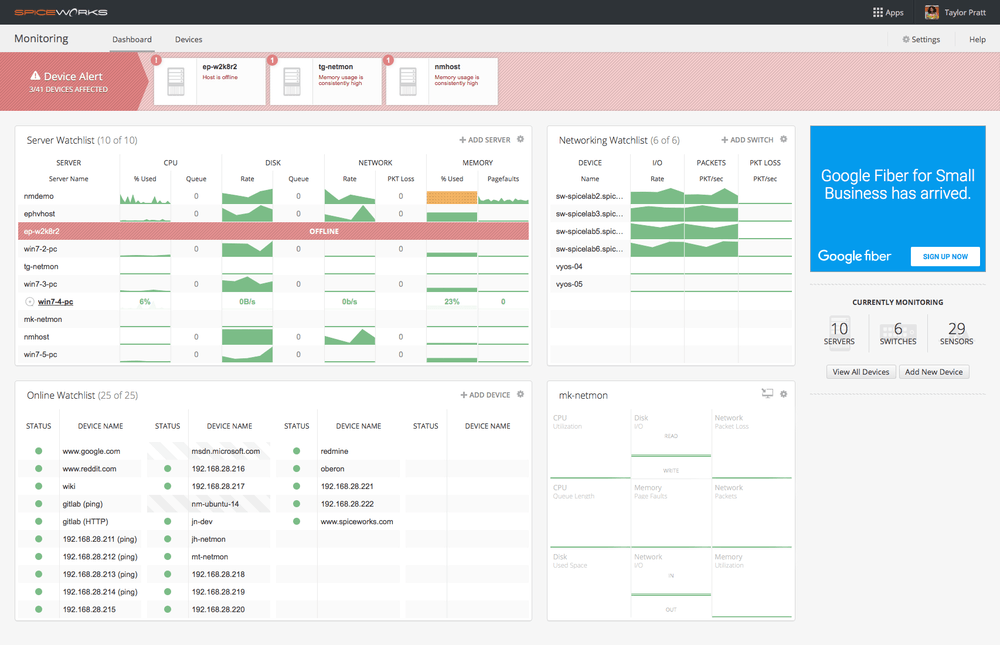 If you're operating on a tight budget, Spiceworks Network Monitor may be the network monitoring tool for you. Spiceworks Network Monitor is a free tool, and while it doesn't offer a complete network monitoring experience, what you get is impressive, considering it comes without a price tag.
The tool offers a graphical display, showing you server metrics such as disk activity, network activity, CPU usage, and available memory. Spiceworks does not offer an automatic device discovery feature, but the features it does offer are just right for many smaller IT teams.
Datadog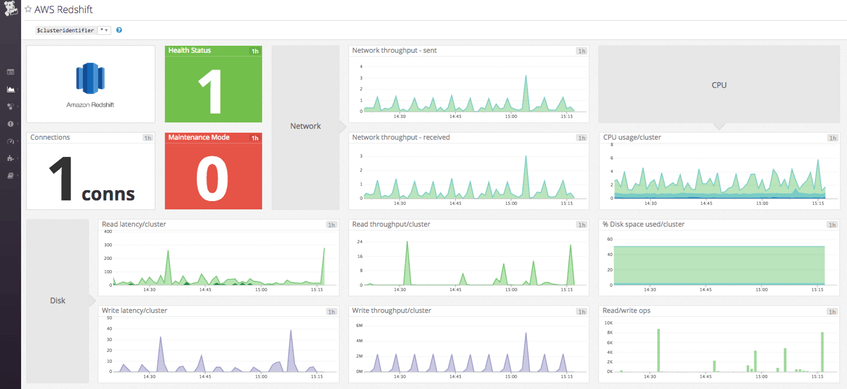 Known for its simple design and advanced graphs, Datadog is also a favorite among many IT system administrators for its APIs and lightweight operation. Datadog is an intelligent network monitoring tool with an alerting system that uses machine learning to notify you of problems before they get out of hand.
Compared to the other tools covered in this article, Datadog can take a long time to implement. Setting up the tool comes with a bit of a learning curve, but after that, Datadog is a powerful and easy to use network monitoring tool.
CloudStats by Aqua Networks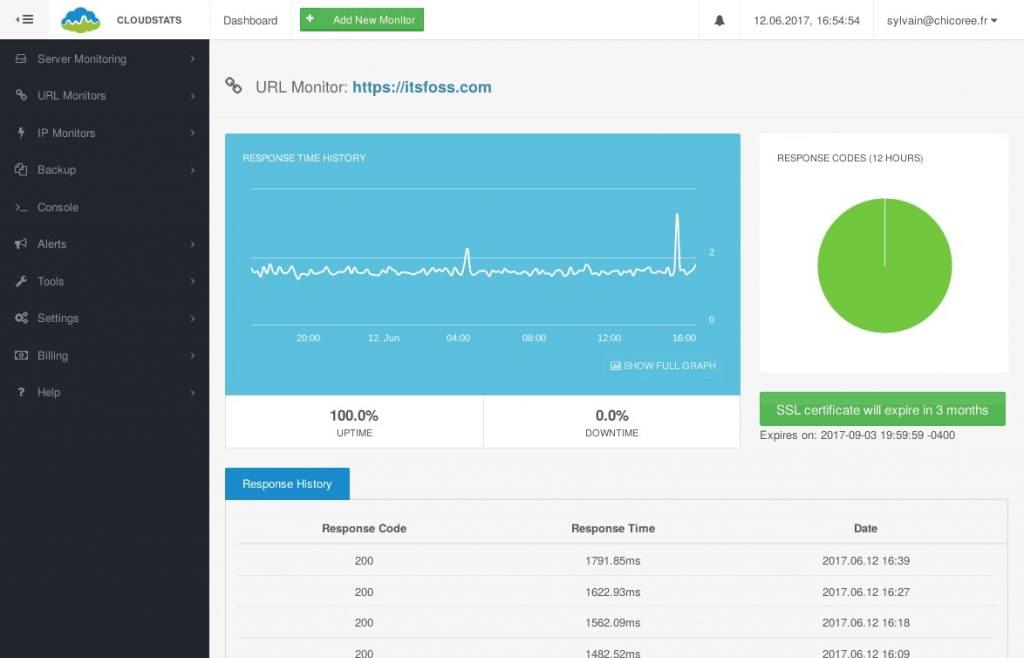 Similar to Spiceworks, CloudStats offers a free network monitoring tool with core monitors. But unlike Spiceworks, CloudStats also offers a premium version of its tool for $5 per server per month. This is an attractive alternative, as it gives IT professionals the flexibility to add more features as their needs change.
In general, CloudStats is easy to set up and intuitive to use, though it does present some drawbacks regarding lack of documentation and integrations.
Amazon CloudWatch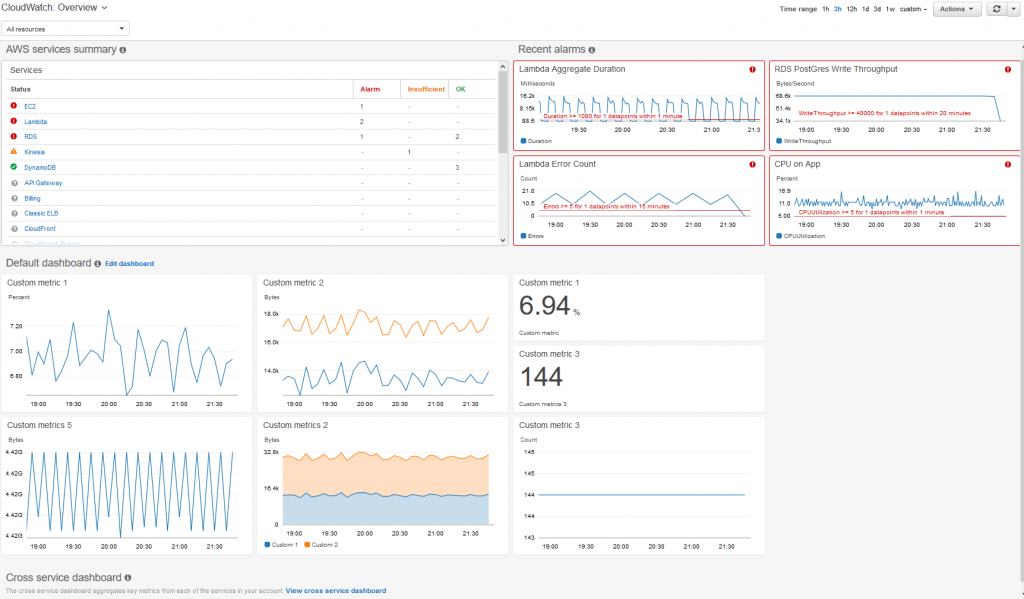 If you use Amazon Web Services (AWS), Amazon CloudWatch is a useful network monitoring tool for keeping an eye on your Amazon servers. While it may be worth using CloudWatch in conjunction with another network monitoring tool, it is a good way to get a basic overview of your Amazon cloud infrastructure.
The biggest drawbacks of CloudWatch involve limited features. Currently, the tool offers a simple dashboard, and the alerting feature offers little customization.
Auvik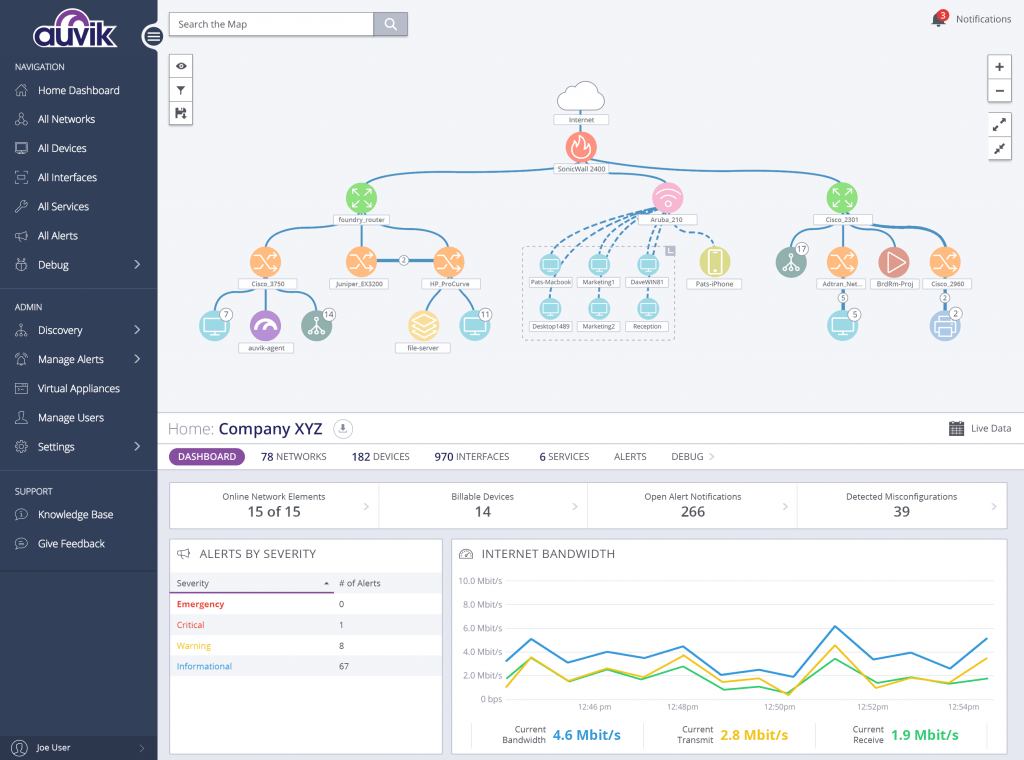 Built specifically for managed service providers (MSPs), Auvik is a Canadian network monitoring and IT asset company that offers powerful monitoring capabilities for system administrators. Auvik gives MSPs both broad overviews and detailed reports of client networks, providing fast alerts about problems before clients have a chance to complain.
This tool can seem a bit daunting at first because it's so fully featured, but it's easy to use and offers a wide range of capabilities once you're comfortable with it. Auvik is known for best-in-class support, so most problems with the tool can be resolved by reaching out to the vendor.
TechnologyAdvice can help
Network monitoring is a competitive landscape with multiple vendors, but finding the right tool to suit your business's needs can be tough. To learn more about network monitoring tools, visit our Network Monitoring Product Selection Tool.
Or, if you're short on time, give us a call at 877.822.9526 or email us at info@technologyadvice for a free, 5-minute consultation of your technology needs. Our Technology Advisors are standing by and ready to help.