Microsoft SharePoint is a multifaceted solution designed to help businesses work and communicate better. With a focus on document storage and management, it helps teams share files efficiently and collaborate smoothly.
But if SharePoint hasn't quite been the solution you're looking for, these SharePoint alternatives have been pretty successful in tapping a share of the market, especially since they address and neutralize age-old SharePoint pain points. Some vendors even directly market themselves as SharePoint alternatives.
Table of contents
What is SharePoint?
To better understand how these SharePoint competitors are subverting the client base, we first need to understand what SharePoint is: what it offers, who it's for, and where it fails to delight.
So, what is SharePoint? Billed as team collaboration software, SharePoint offers the following features, depending on edition:
User dashboards
Document management and editing
Web publishing tools
Content management
Compliance management
Enterprise wikis
Tags and notes
Enterprise social networking (through Yammer)
Workflow and basic project management
Business intelligence integration (through Power BI)
The platform is available through three deployment models:
SharePoint Server (2019): This is the on-premises version, and a client access license (CAL) is required for each person or device on the server.
SharePoint Hybrid: This version syncs data between your on-premises server and SharePoint Online with OneDrive for Business.
SharePoint Online: This allows cloud-based access to SharePoint and is available through Office 365 for Business or as a standalone service. It's also licensed per user, per month.
Also Read: SharePoint vs OneDrive for Business
SharePoint is meant for organizations that need a document management system and storage, along with a way to collaborate on projects while not in the same office. It's generally used by larger organizations because they have the budget and technical resources needed to get the most out of the software. While smaller organizations can benefit from the features SharePoint offers, they generally spring for cheaper project management or task management tools.
Businesses that switch to a SharePoint alternative typically cite one of the following reasons for leaving SharePoint:
Too expensive: When you factor in the upfront price, plus maintenance costs, provisioning, and upgrades, the server-based version of SharePoint can cost a business thousands of dollars for a single license. Companies that successfully use SharePoint often hire a dedicated SharePoint specialist to configure, maintain, and update the system, which is quite unrealistic for the average small or medium-sized business.
Too complicated: SharePoint is less a single product than an ecosystem of product modules. This is good in terms of versatility, but doesn't always translate into "user-friendly," or even "buyer friendly," for that matter. It's probably why, if you Google "SharePoint," the second result is a post by Microsoft Support called "What is SharePoint?"
Too high-maintenance: Because of its complexity, especially in the server-based version, SharePoint requires a lot of time and IT resources to maintain.
Why should you consider a SharePoint alternative?
It's seldom that a major software platform is downright bad. In most cases, the organization and software are simply incompatible. For example, a business purchases SharePoint, attracted to some of its marketing promises and one or two core modules, but eventually realizes how broad and complex the product is—too broad for their needs. Then six months into their contract, they may be struggling with IT maintenance costs and lack the resources to properly use the system.
To avoid this, make sure the collaboration software you choose (or intranet or content management system or project management tool) is a good fit for your needs. You may also be interested in SharePoint alternatives if you're looking for a cloud storage service but don't need the robust features of an intranet platform and don't want to pay the higher price tag. If that's the case, there are plenty of cloud storage solutions on the market. Many offer enterprise-level encryption and access control for business accounts.
Alternatively, you may want a project management solution that includes document collaboration.
Best SharePoint alternatives
We focus on SharePoint alternatives that offer similar feature sets to SharePoint, exclusively employee collaboration and content management suites. With that in mind, here are six solutions that are good for both companies leaving SharePoint or buying a platform for the first time.
Google Workspace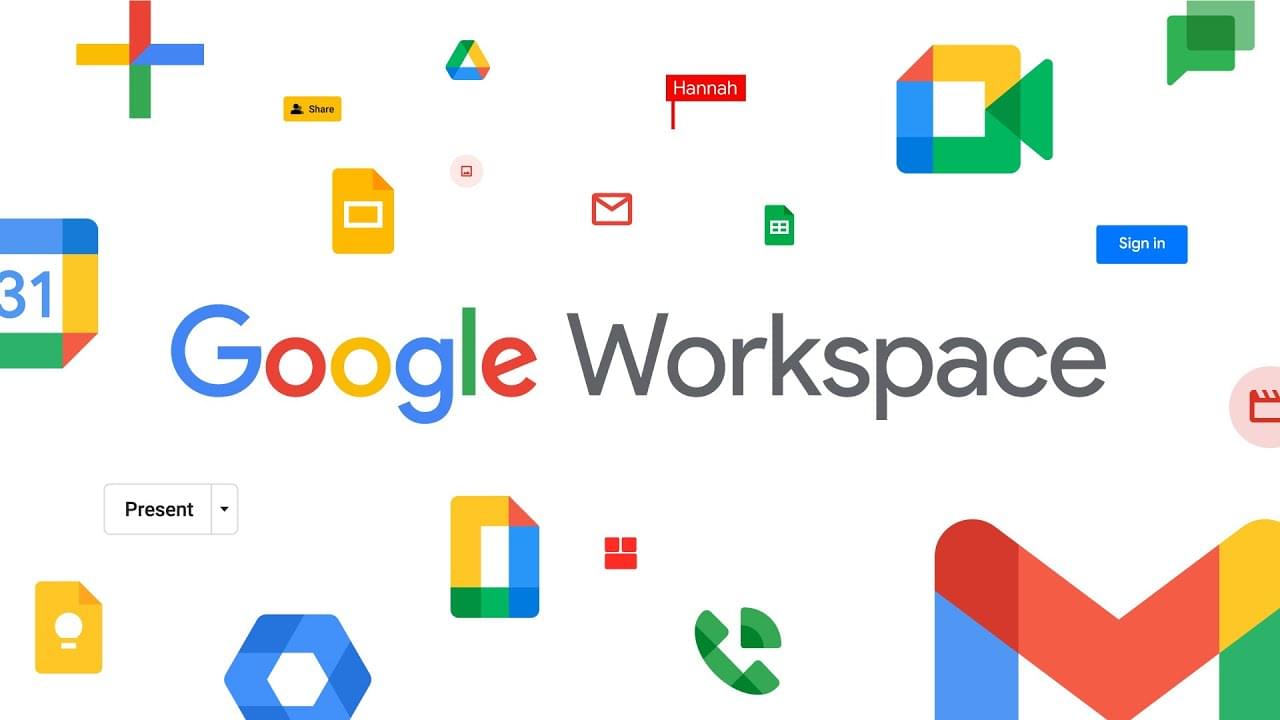 If you're familiar with Google's productivity apps, Google Workspace essentially takes these apps and optimizes them for business use under your company domain. The core package includes Gmail, Calendar, Drive, Docs, Sheets, Slides, Keep, and Meet.
More than 5 million businesses use Google Workspace to stay productive and collaborate across the enterprise. The Google ecosystem offers a diverse, affordable alternative to other commercial platforms like SharePoint. Google provides tools for email, file sharing, real time shared document editing, and communication. You can access all of these from any location and any device. Its administrative controls let you easily manage users, file security, data archives, and a range of other functions.
Unique Features:
Email and chat archiving
Drive file search
Built-in calendars and scheduling
Video conferencing
Simultaneous document editing
Intranet sites
Survey and form creation
Huddle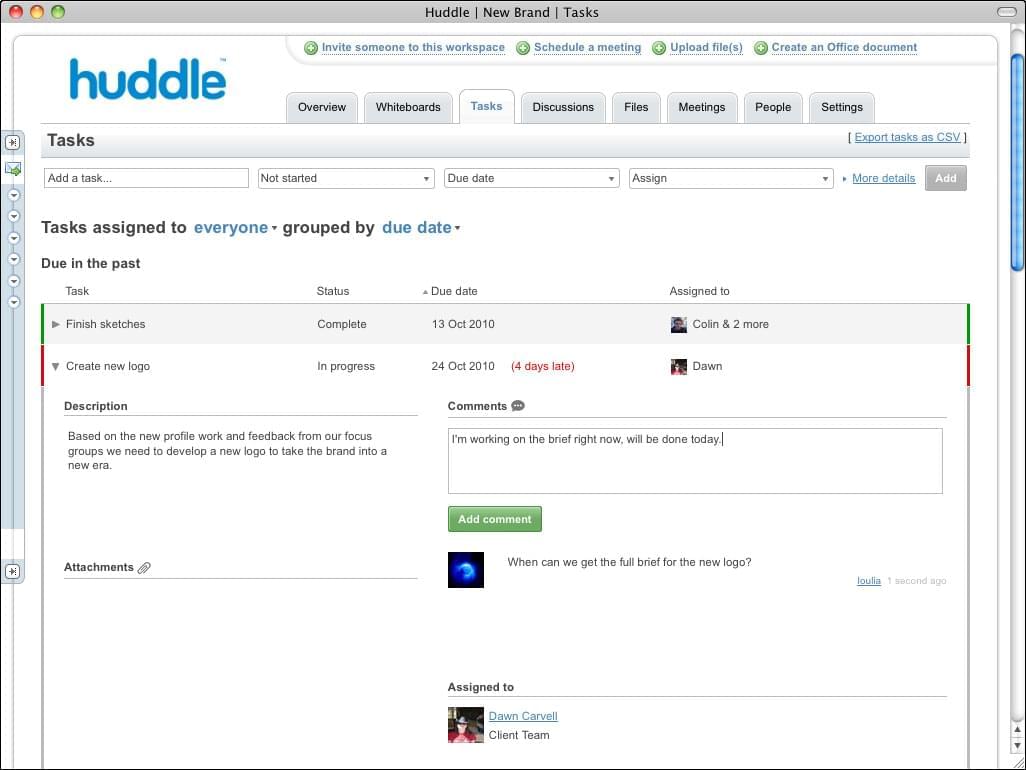 Huddle offers a ton of features for team collaboration and project management. Its platform is geared toward large enterprises and government agencies, and they are trusted by NASA, EPSON, and the U.S. Department of Defense.
Huddle helps businesses share files, collaborate on projects, and organize their workflows. Users can edit files directly within the application and enjoy complete version control, similar to what you'd find in a Google Doc. Huddle supports both mobile and desktop apps and offers native integrations for Salesforce, Zimbra, Centrify, and (ironically) Microsoft SharePoint.
As far as per-user cost, Huddle is more expensive than SharePoint Online and Office 365 for Business. But then again, it was never intended for the small budget company.
Unique Features:
Intelligent content dashboard
Automatic version control
Customized cloud workspaces
Social Collaboration
FedRAMP, EU Directive 95/46/EC adherence, and ISO 27001 certified data centers and offices, among other safeguards
Task management
Intelligent sharing and collaboration with version tracking and view timestamps
Box for Business
For consumers, Box is simply a cloud storage service. But to businesses, it's a powerful collaboration platform. Beyond basic file sharing, Box offers enterprise security, mobile synchronization, version control, and project management tools.
Through the IT console, administrators can set up retention policies (for example, to retain specific file types for HIPAA compliance), custom access controls, and security measures. A quick single sign-on gives users access to all modules of Box without compromising data security. Since it doesn't provide native document editing, Box integrates with Office 365 and other third-party apps.
Also Read: Box vs. Dropbox: Which is Best For Your Business?
Unique Features:
Custom branding
Mobile security controls (including mobile device management, or MDM, integration)
Project and task management
Workflows with Box Relay
Password-protected share links
Access stats and reporting
Compliant with HIPAA/HITECH, SEC 17a-4 (FINRA), DoD Cloud SRG, GDPR, GxP, ISO 27001/27018, SOC 1, SOC 2, and SOC 3
Confluence (by Atlassian)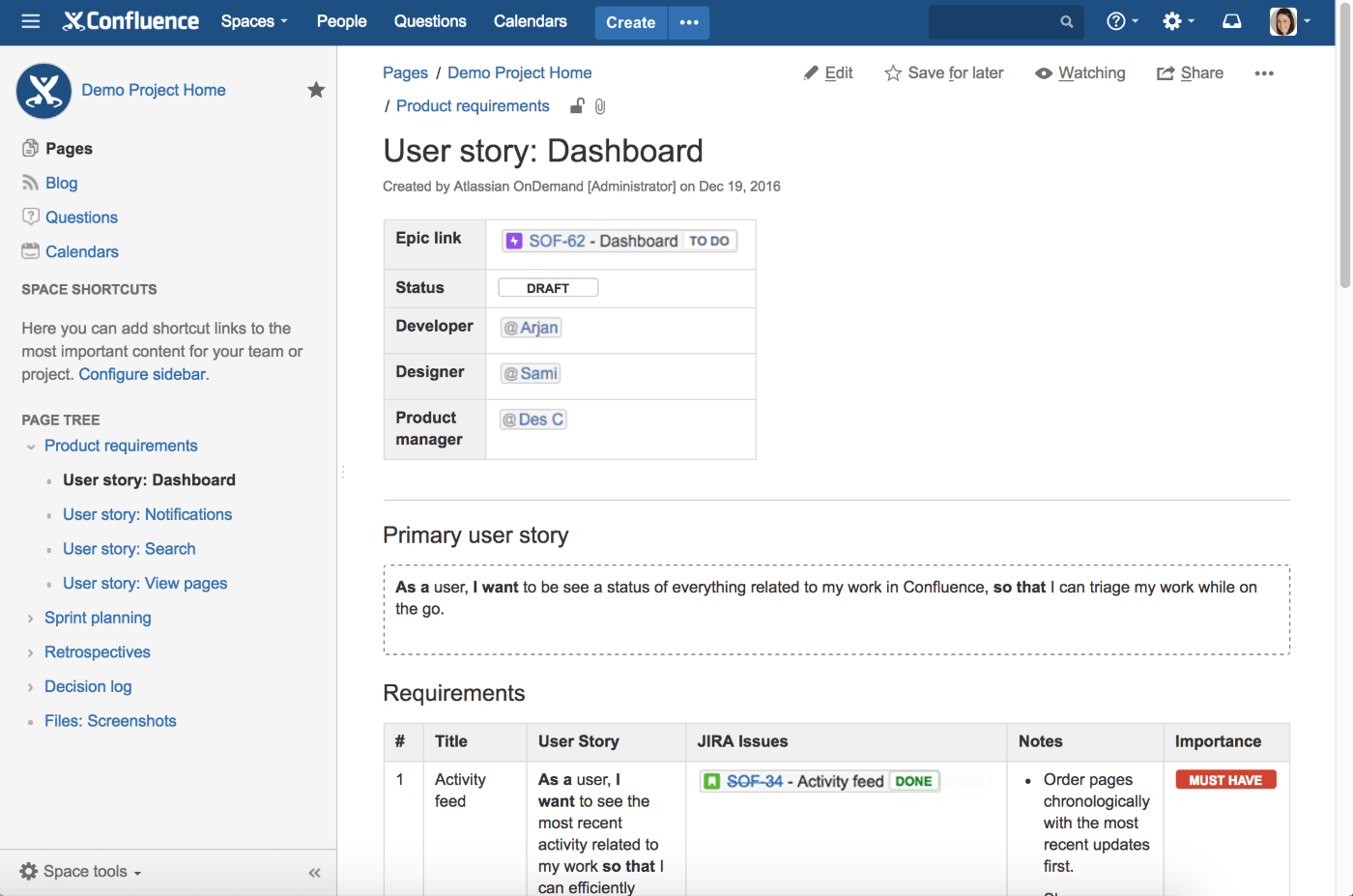 Confluence is a team collaboration solution owned by Atlassian—a vendor best known for its project management and software development tools. But Confluence isn't just for developers. It's a cloud-based platform designed to help any kind of agile team "create, organize, and discuss work."
The software lets you create unique spaces for each of your teams to store their work and collaborate in real time. Each space contains multiple pages, which use intuitive templates to capture meeting notes, project requirements and designs, and other assets. Through comments and @mentions, users can stay informed about changes to content and respond quickly to pressing issues. For greater elasticity, Confluence integrates with over 600 add-ons through the Atlassian Marketplace.
The system leans heavily toward software development project management, so if your teams aren't used to agile methodology (requirements, sprints, stories, releases, retrospectives, etc.), Confluence may not be the best fit.
Unique Features:
Advanced search function
Shared calendars
Task management
Agile development workflows
Shared document editing
Team sites/spaces
Team decision pages
GDPR, Privacy Shield, SOC 2, SOC 3, PCI DSS, ISO/IEC 27001, ISO/IEC 27018, and VPAT compliant
Source by IC Thrive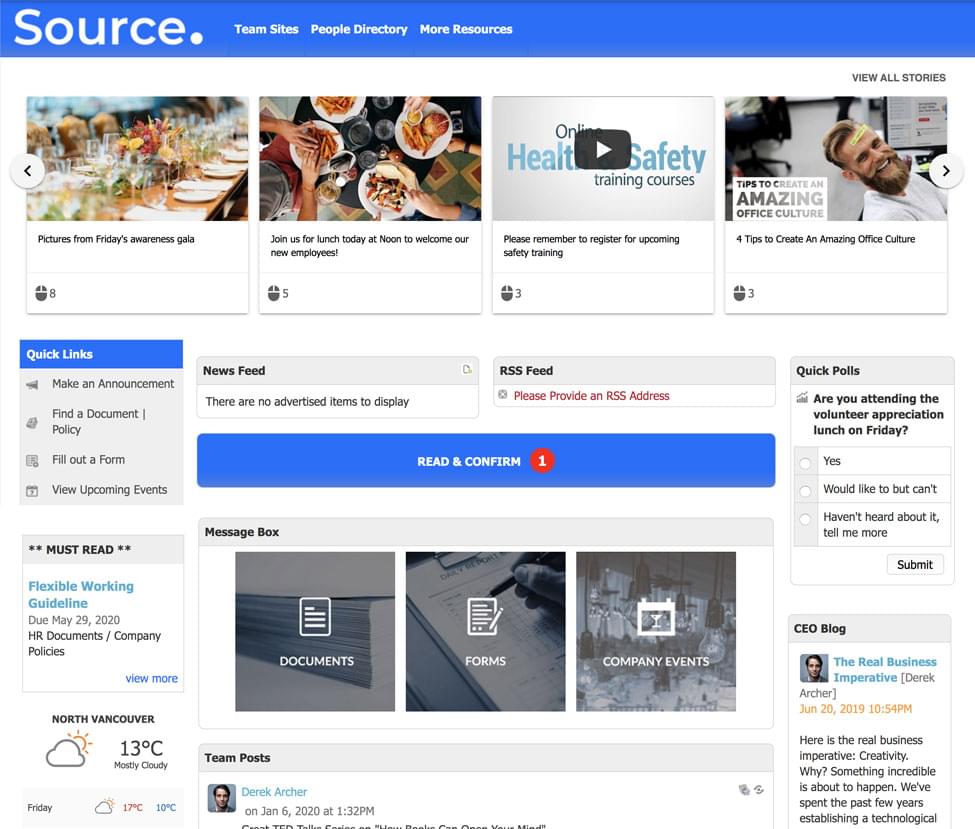 Source by IC thrive offers simple intranet platforms to help companies automate business processes, collaborate on work tasks, and keep employees engaged. The system is designed for easy implementation, but also to scale as businesses grow by offering a wealth of out-of-the-box features.
You'll get the standard fare: document management, team sites, calendars, and enterprise search. But Source also has some capabilities you might not expect—such as its innovative e-learning module, which lets HR managers create onboarding workflows and online training courses, or its social-style employee directory.
Unfortunately, this vendor doesn't offer on-demand pricing, which makes sense given the complicated infrastructure of an intranet platform, but it could be a big drawback for small-budget companies.
Unique Features:
Corporate social networking
Mobile intranet
Extranet portal (for secure third-party access)
Shared calendars
Help desk ticketing
Alerts and subscriptions
Employee milestones
Document editing
Company blogs
Company polling
E-learning
HTML editor and design-builder
Igloo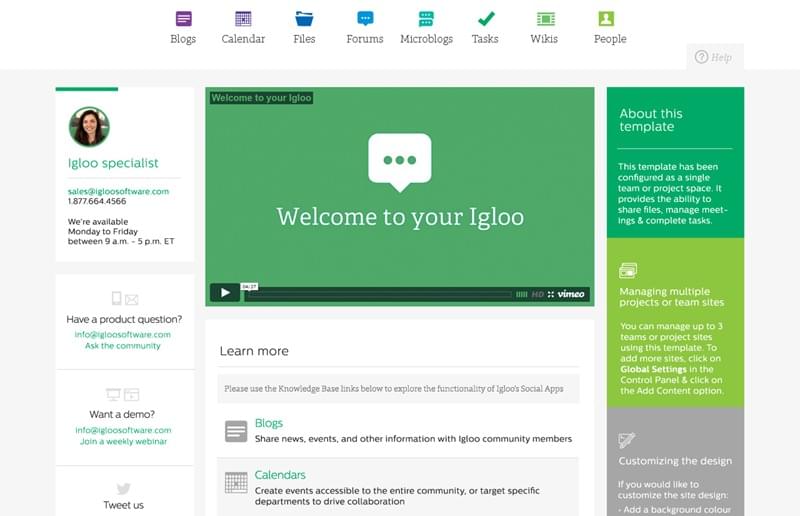 Igloo provides an intranet platform for businesses of various sizes and industries. They currently support over 10,000 collaboration sites, including those of IDC (International Data Corporation), Deloitte, and NetApp.
Their core product offering focuses on improving collaboration and information sharing through blogs, calendars, file sharing, forums, task management, and wikis. Igloo positions itself as a lower-cost, easier-to-use SharePoint alternative. Pricing is all-inclusive, with special pricing options for custom requirements or enterprise companies.
One significant drawback is Igloo's lack of in-app document editing. The software tracks version uploads and offers document previews, but you'll need to employ a separate program like Microsoft Office or Google Drive to create and edit your documents.
Unique Features:
@mentions and notifications
Moderated folders
Links to related content
Internal and external blogging, including WYSIWYG editor
Shared calendars
Discussion forums
Microblogs and wikis
Task and subtask management
Final thoughts
Although these SharePoint alternatives represent some of the stronger players on the market, this is by no means a comprehensive list. There are dozens of team collaboration and file sharing solutions to consider, and even more if you include project and workflow management apps like LeanKit or Planbox.
Businesses in different industries will likely favor certain features. For example, marketing teams may look for SharePoint alternatives that offer internal and external blogging features, an HTML editor and design-builder, and an intelligent content dashboard. These features will make it easier for them to create unique, engaging content and reach potential customers in more places.
By contrast, a managed services provider (MSP) should look for helpdesk ticketing, project and task management, and wikis. They need to be able to address client concerns quickly and tackle projects without too much redundancy. The right SharePoint alternative can increase their efficiency and overall client satisfaction.
1 Wrike
Wrike is a work management software trusted by 20,000+ companies worldwide. Streamline your document management with cloud-based, in-context file storage. Share documents within custom request forms and tasks, shorten your approval cycles with visual proofing, and quickly tag teammates for any file requests. Accelerate your delivery with Wrike's 400+ integrations, including other document management software. Documents are easy-to-find and task discussions and updates can be seen in seconds.
2 eFileCabinet
Empower your teams to work smarter so they can drive growth and improve profitability in a new way. Find more time in your day by automating your document-centric processes. Reduce interdepartmental silos by centralizing document access. Maintain compliance by implementing role-based permissions and bank-level security. This is all made possible by equipping your team with our award-winning cloud-based solution, Rubex.


Technology Advice is able to offer
our services
for free because some vendors may pay us for web traffic or other sales opportunities. Our mission is to help technology buyers make better purchasing decisions, so we provide you with information for all vendors — even those that don't pay us.