If you've tried to find HR software for your growing business, you've likely come across BambooHR. After all, they're one of the best HR vendors for small businesses. So now you're wondering:
Does it do everything I need it to? What's it gonna cost me? Is it worth it?
You're not alone. Many business owners just like you come to us with questions about BambooHR pricing, features, and rumors they've heard from third-party sites. To sort the myths from the facts, we spoke with Jonny Rejholec, VP of Product at BambooHR about their software, ideal customer, and why the heck you can't find pricing on their website.
For an unbiased look into all your burning BambooHR questions, read on.
BambooHR Overview
While many vendors say their product is a perfect fit for every business under the sun, BambooHR proudly claims SMBs as their niche. Their sweet spot is businesses with 5-1000 employees, but they have many customers outside that range. Rejholec says BambooHR's goal is to help businesses "make a successful transition from spreadsheets to software, so they can free up time for meaningful work."
BambooHR allows employers to centralize detailed employee information such as salary, job history, training, and benefits. It consolidates data from various business sources into a single view, which employers can then access, control, sort, and analyze. BambooHR also offers employee and manager self-service, an applicant tracking system, eSignature, performance management, and reports.
BambooHR Pricing
Now for the part every HR professional and their CFO wants to know: how much does BambooHR cost?
Like many vendors, BambooHR started out with a simple, tiered pricing structure. When they launched, you would buy whichever block matched your workforce size.
But as they started adding features, things got complicated.
Pricing went up according to the value the new features added, but Rejholec says the price increase "wasn't the best way to help customers." Not all businesses with a larger workforce were complex or needed the additional functionality.
There was also a flaw in the system. Let's say pricing at the second tier ends at 300 employees, but you have 306. Should you really have to pay for the entire price bump?
Most vendors would insist you do.
But their customers didn't think so — and the team at BambooHR heard them.
Since they are so focused on SMBs, BambooHR took the time to investigate how their customers actually wanted to pay. They learned the logical choice was to pull the strict pricing tiers and create a model based on the specific solution that each business needs.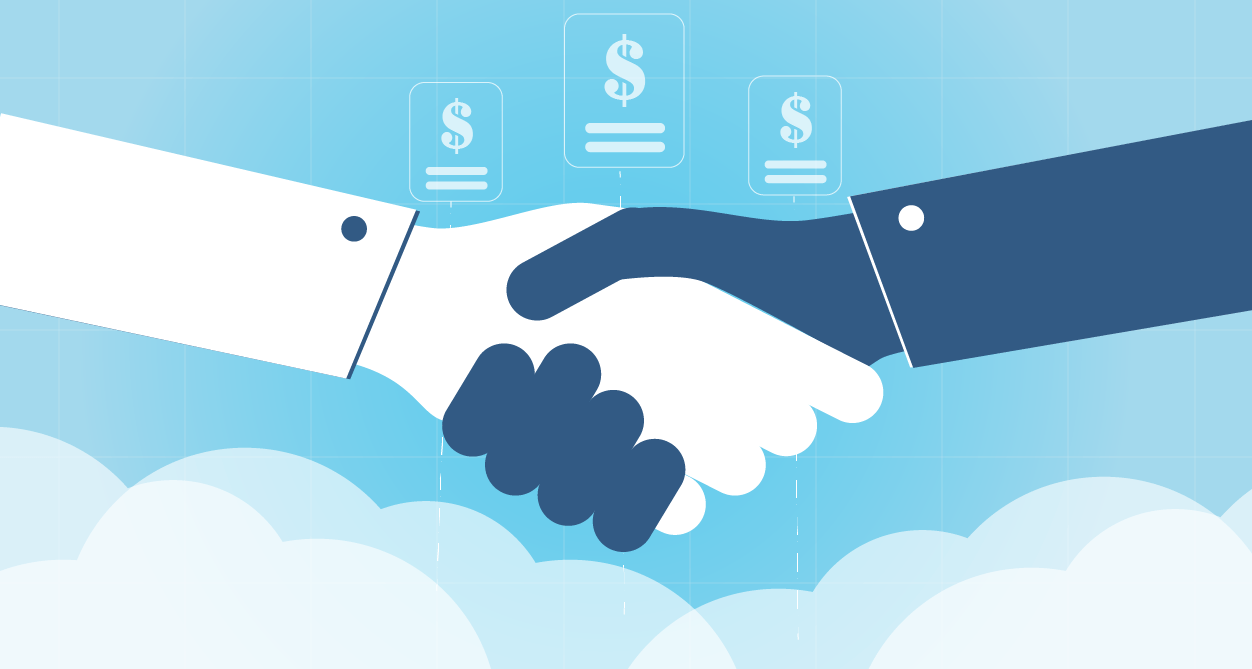 So now you pay a monthly subscription based on how many employees you have, plus an optional training fee. That's it. There's no extra charge for customization, multiple administrators, enhanced features, support, or inactive employees.
The lack of pricing on their website isn't intended to hide anything, Rejholec explains they simply made the change while evaluating "how customers react and how new customers feel about the pricing change."
So how do customers feel about BambooHR's new pricing structure?
While Rejholec didn't share hard numbers, he assured us businesses don't get hung up on the cost because they're still competitively priced in the HR software market. And more importantly, the pricing is "working much better to help clients as they grow."
And BambooHR offers a free trial and implementation services that help ease the transition as Rejholec explains:
"HR people are really busy — they're wearing a lot of hats. We offer the implementation piece and a lot of companies take advantage of it because it's a low fee and it's worth it."
BambooHR Features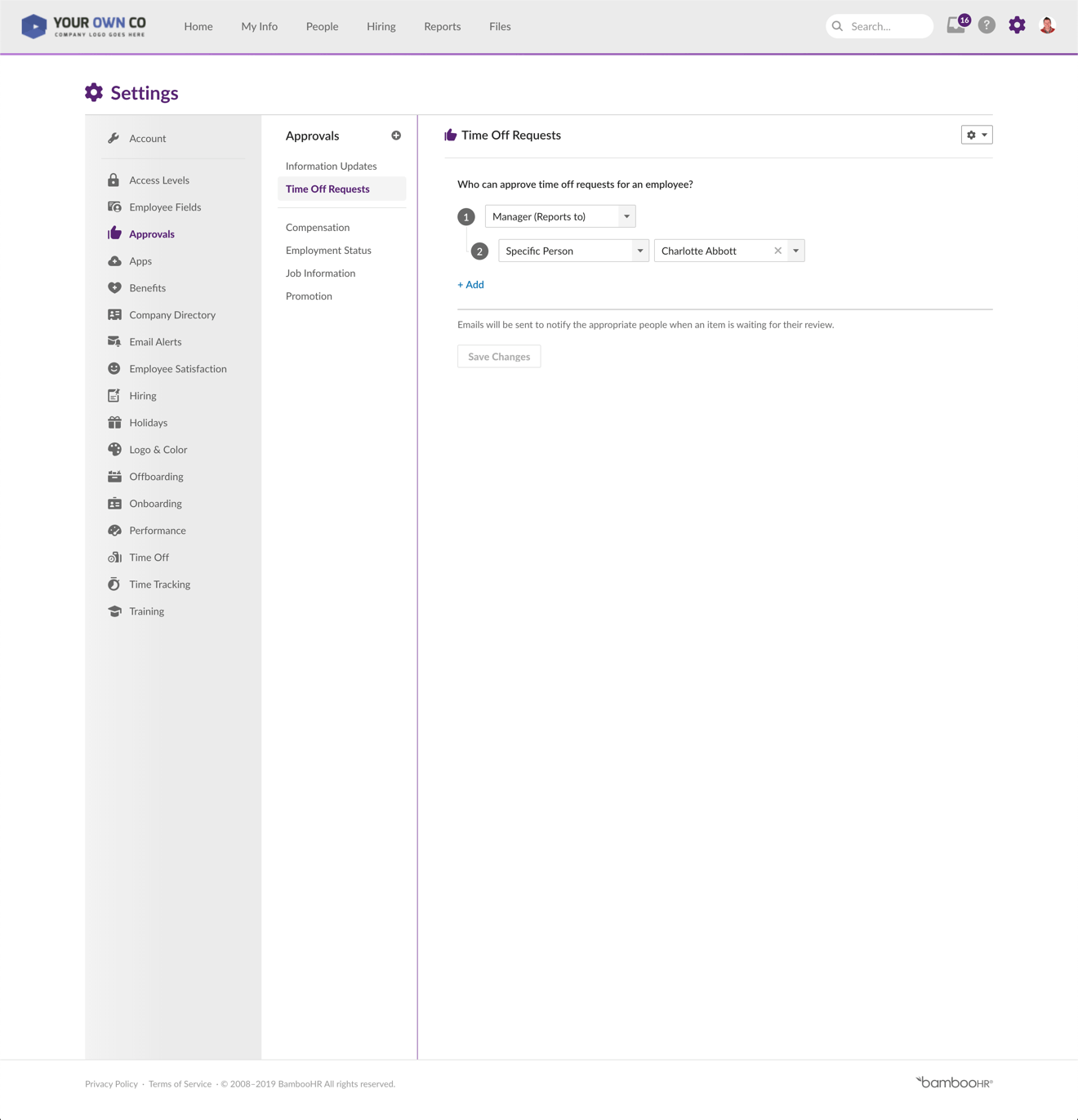 As far as features go, BambooHR offers functionality that's comparable to many alternatives available on the market:
Centralized employee database
Benefit and payroll administration
Employee and manager self-service
Global capabilities
Applicant tracking system
Time and attendance tracking
Document storage and management
eSignature
Performance management
Reports / Analytics
Alerts (for training deadlines, license renewals, birthdays, etc.)
Phone and email support
Web-based
Mobile App
Open API
Six languages (English, French Canadian, German, Spanish, Brazilian Portuguese, Dutch)
Pay per employee per month
No long-term contract
Free trial
Two BambooHR features worth exploring in-depth are their mobile app and their new performance management module.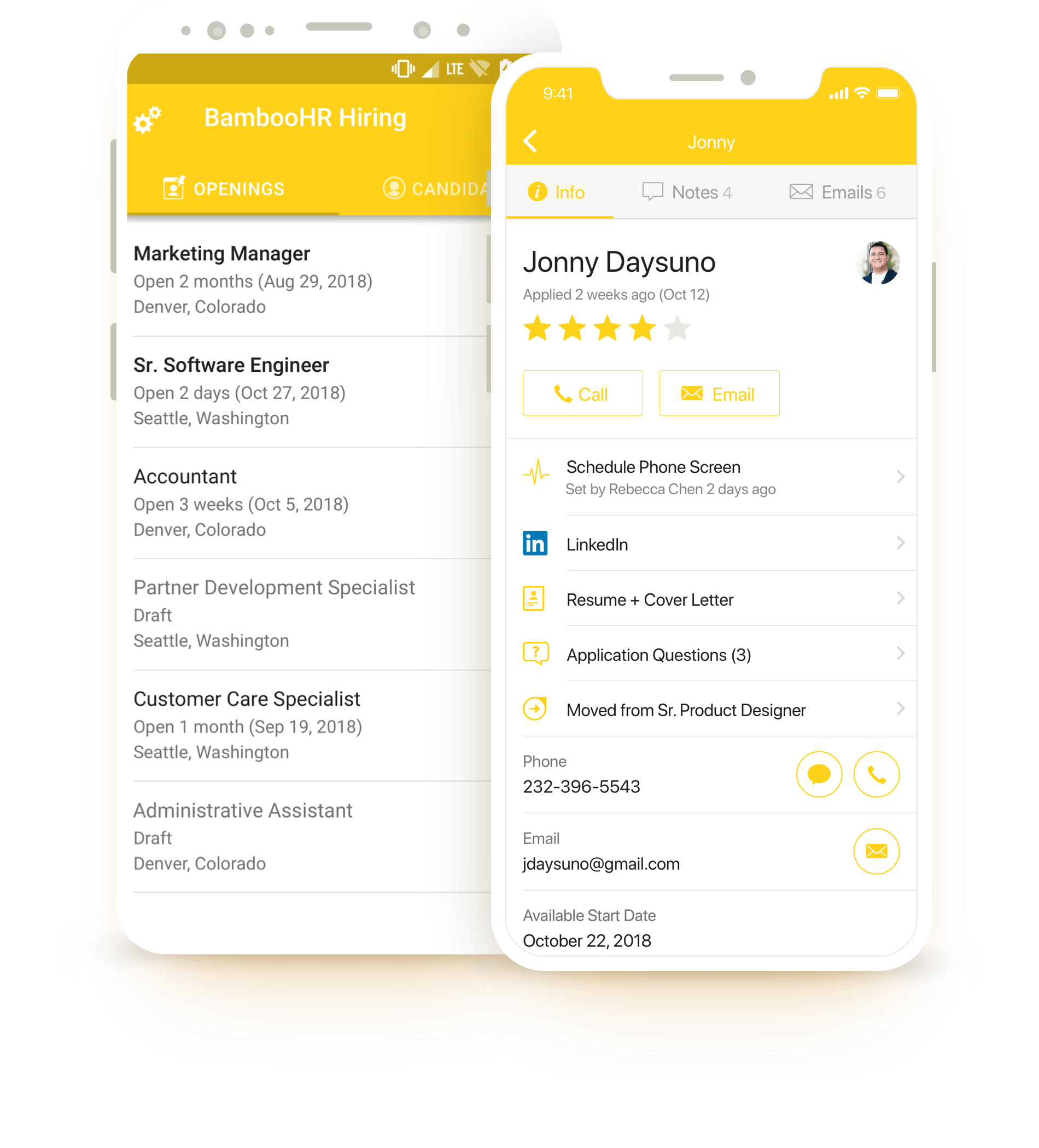 Though the way people work has changed over the years, most HR software hasn't. To combat this, BambooHR offers a mobile app designed for the modern workforce. Employees and managers can access a team directory on the go, as well as view a time off calendar that shows who's out for the day.
Are you out to dinner and discussing a trip with friends? Check your vacation time and request time off right from your phone. If you're a manager, you can approve requests by phone as well:
BambooHR's performance management module is another recent development created for the new workplace:
"Performance reviews are broken — they're a game everyone hates to play. Nobody looks at what the outcome of a performance review should be, which misses the point and you get a bunch of meaningless stuff that is inaccurate and doesn't fix behavior."
Rejholec says performance reviews should focus on the things that are most meaningful and strip away everything else. Modern performance management shouldn't occur just once a year but throughout the year.
BambooHR encourages performance reviews once a quarter, as well as continual goals that employees can collaborate and comment on. This makes performance management an every day experience with ongoing coaching and feedback. This is important since waiting months for a scheduled review means details are lost or irrelevant.
Reviews also include peer feedback and take into account job attributes that impact the happiness of employees, such as autonomy and the ability to do what they do well every day. Rather than feel like a chore, BambooHR wants managing performance to "inspire managers to identify which employees need attention and what they can do to help them."
Integrations
BambooHR has a built-in ATS, but also offers integration with industry leading applicant tracking systems such as Jobvite, Greenhouse, and CATS. When asked about this, Rejholec says it's because they want you to "use the systems you already love."
They offer many integrations to both fill the gaps in their offerings, as well as provide easy compatibility with the tools many SMBs already love, such as Payscale and Cornerstone OnDemand.
Customer Dedication
Above all else, BambooHR is committed to their customers. And not just because they listen to their customers' feedback. The company caters to their core market and isn't willing to compromise on the value they offer SMBs. For example, we asked what happens when a customer outgrows BambooHR. Do they fight to keep them on board?
Nope.
Rejholec says they "love when a customer graduates!" Even though many of their customers have over 1,000 employees and are happy with BambooHR, he admits that some companies say "we need X feature or we have to go."
To which BambooHR responds: "Sorry, we won't leave our focus on our small customers."
As companies grow and complexity increases, many look for succession planning, wellness programs, or other features. "We support succession planning, but we are not an LMS — we are not a complex system," Rejholec says. As a company's HR gets into enterprise complexity, "We say no, we aren't ready to go there, we will keep focusing on our target customer."
While many customers are willing to make it work through integrations and add-ons, others do "graduate" to other systems. But Rejholec says it's as simple as requesting an export from the team, "We are month to month, so customers can leave at any time — no contract."
Is BambooHR for you?
Of course, BambooHR is just one product available. To research more options, use our HR Software Guide to get personalized recommendations, call one of our in-house advisors, or download the guide below.
Although BambooHR doesn't offer some of the robust features of its competitors, the price structure is hard to beat, and the user experience is friendly. It's specifically designed to meet small business administrative needs and provide employees and managers with a modern self-service experience. For growing companies that want a head start on tracking things the right way, it might just be time to join the BambooHR cult.
Technology Advice is able to offer
our services
for free because some vendors may pay us for web traffic or other sales opportunities. Our mission is to help technology buyers make better purchasing decisions, so we provide you with information for all vendors — even those that don't pay us.