It's easy to take technological advancement for granted at times – you've probably heard stories from your parents or grandparents about how they only had three channels of black and white TV, or (gasp) had to listen to radio programs. Even recent advancements in technology seem like part of everyday life now: the iPhone is just barely 11 years old.
Many of the advancements in technology have made our quality of life better: giving us more access to knowledge, making us more comfortable. But some of the advancements we tend to overlook have the ability to not only make us more comfortable, but keep us alive. For example, the rate of motor vehicle deaths has decreased exponentially from 1978 to today, mostly due to advancements in airbags, seat belts, and crumple zones in cars.
One of the greatest areas of advancement in technology and science has been the medical field; advancements that are easy to overlook and forget the history of. A century ago, the flu killed between 50 and 100 million people. Today, even the worst cases of influenza result in a handful of deaths, usually in people who are elderly or have compromised immune systems.
But the goal with safety and health is to reach zero; to get to a place, eventually, where there are no fatalities from things like car crashes and influenza. We still have quite a ways to go to get there, but help in reducing these problems is coming, in some ways that may surprise you.
The Benefits – and Hazards – of the Modern Hospital
If you took the doctor who delivered you as a baby and dropped them into a modern hospital, chances are they wouldn't recognize much of the equipment. The tools of the trade have changed dramatically and at an advanced rate. Your standard x-rays and MRIs are still there just much, much more advanced in the past. Today's MRI machines provide a far greater level of detail then what was available 20 years ago: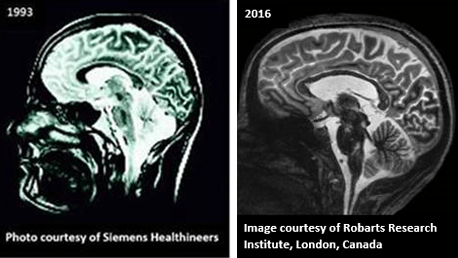 Today's doctors have no shortage of tools at their disposal for diagnosing and treating illness. We can now detect illnesses faster, lessening their severity and improving time of recovery. But these benefits come with a cost:
The Cost of Equipment: A state-of-the-art MRI machine can run up to $3 million dollars.
Equipment Management: All of these technical machines require close monitoring and regular maintenance. A malfunction in these machines can mean that illnesses are not detected, or the machine can cause harm to the patient.
The costs of something going wrong with these advanced machines and procedures can be staggering – to the tune of $3.2 billion in 2017, according to Diederich Healthcare. Medical equipment that is not properly maintained can cause misdiagnosis, injury the patient, or even infect patients if not sterilized correctly – all of which put the health of the patient and the liability of medical professionals at a huge risk.
Rules on Medical Device Identification
To help mitigate risks from hospital equipment and medical devices, the FDA has introduced a number of rules and protocols relating to the installation, repair, and maintenance referred to as Unique Device Identification (UDI). You can learn more about UDI compliance through the FDA's website, but at the most broad level, the UDI mandate requires the following:
Hospital equipment and medical devices that come in contact with patients must have their own unique identifier. In most cases for in-hospital equipment, a barcode is used. The UDI code is tied to a serial number of the device.
Each piece of equipment is required to have service records – identifying the distribution and use of these devices over time.
The primary goal for the UDI compliance mandate is to improve safety by creating a central database of devices, eliminating counterfeit products from the market, and improving the speed to recall if a device isn't working properly. The final phase of the law on UDI compliance kicks into effect this September.
How FSM Drives Patient Safety
Preventative maintenance is a huge part of keeping complex machines running. Your car is a prime example. You get the oil and tires changed at a regular interval which keeps the car running smoothly, and keeps you safe. You have it regularly checked by a mechanic to ensure small problems are addressed before they turn into larger ordeals.
Much of the same logic applies to the equipment in hospitals that helps to keep you healthy. MRI machines, surgical robots, and other equipment, everything from the bed you rest in to advanced cardiac imagery machines, must be inspected and maintained regularly to keep it in ideal working condition.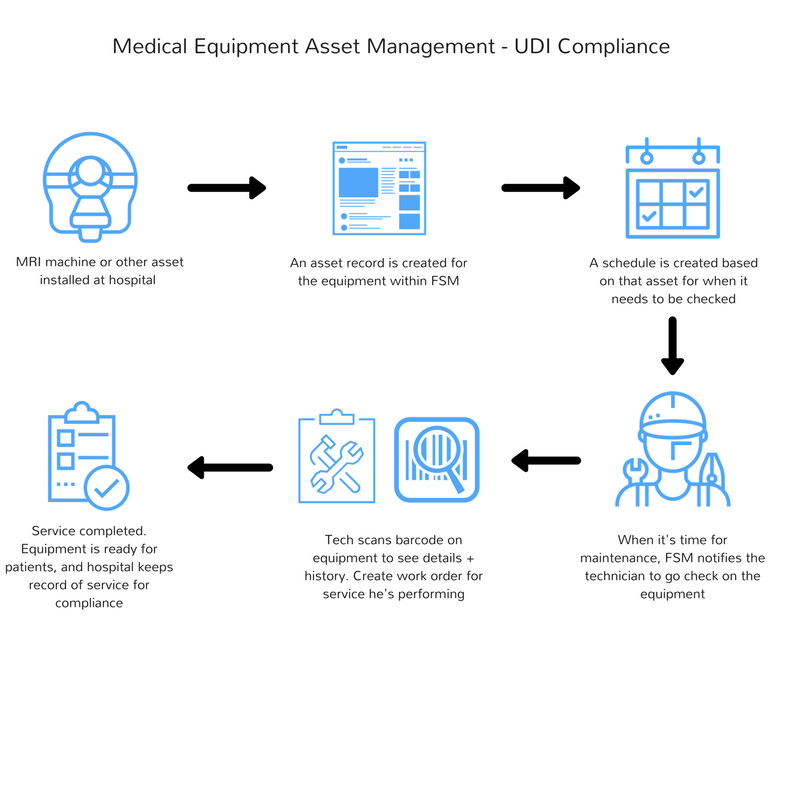 Field service management designed for medical device repair helps facilitate this process of preventative maintenance and repair in a number of ways:
Core FSM functions – work orders, scheduling, dispatching, and work documentation – allow hospitals and healthcare providers to keep a record of each time a piece of equipment has been installed, inspected, and repaired.
FSM software that includes asset management functionality allows technicians to create the medical equipment as an asset – which attaches work orders and documentation to that piece of equipment.
Field service software with advanced scheduling can help technicians create a recurring schedule for maintenance of these devices. In some FSM suites, technicians can even create settings such as service threshold, which gives them a range of dates on which they can service the equipment.
If the hospital is using barcodes for UDI compliance, in many cases FSM software can scan that barcode and pull up the full service history of that device, giving technicians detailed insight into what's already happened and what repairs or inspections that device is due for.
If your FSM suite has the ability to create digital forms, technicians can fill out any required government forms on the service of that equipment, right from their device.
FSM software has the ability, if configured correctly with the right features, to track every stage and every touchpoint for medical equipment. This sounds cool if you're really into asset management, but what are the real outcomes for patients and healthcare professionals?
Field service tools ensure that equipment is maintained and inspected regularly to prevent malfunctions from occurring.

Patients are cared for with safe equipment, improving recovery and reducing the chance of injury
Professionals can provide more effective care and reduce the incidence of malpractice complaints

When something does go wrong, healthcare professionals can review history of that equipment, to prevent it from happening again.
By ensuring the equipment is regularly inspected and serviced, hospitals can replace equipment less often, saving money and enabling them to provide more affordable care.
FSM makes it easier for hospitals to comply with FDA guidelines, reducing liability and potential fines for non-compliance.
Field service management is often associated with plumbers and exterminators, but the applications of it are much wider, including keeping you safe and enabling healthcare professionals to provide you with the best treatment possible.
Barry Dyke is the Marketing Specialist for ServiceBridge, a Chicago-based software company offering customized franchise management solutions for field service companies throughout the United States and the world.
Top Field Service Management Software Recommendations
Join over 200,000 home service pros already using Jobber. Jobber's powerful software helps you organize your business so you can win more jobs. Automate invoicing and start getting paid 4X faster. With Jobber, scheduling & dispatching has never been easier - and the mobile app lets you run your business from anywhere. Start a free trial today!
Commercial contractor?
10+ field technicians?
HVAC / mechanical, Electrical, or Plumbing?

Get the #1 all-in-one Field Service and Construction Management Software for commercial MEP contractors. Streamline your dispatch, quoting/invoicing, service, projects, and reports.

BuildOps boosts your revenue, maximizes profits, and improves communication between field and back-office.
Real-time interaction with your mobile workers. All kinds of businesses and industries leverage Synchroteam's power to mange their mobile workers efficiently, simplify business processes and optimize costs.
Synchroteam Field Service Management software works great for SMB, medium-sized business and enterprises in HVAC, Electrical, Inspection, Pest Control, Plumbing, Maintenance, Scheduling, & Security.
Learn more about Synchroteam - Field Service Management solution
Need a Little Help?
Talk with a software expert for free. Get a list of software that's great for you in less than 15 minutes.
Technology Advice is able to offer
our services
for free because some vendors may pay us for web traffic or other sales opportunities. Our mission is to help technology buyers make better purchasing decisions, so we provide you with information for all vendors — even those that don't pay us.