Asana is a household name in project management. It's also a yoga term that describes the place and the posture of the yogi or yogini. Probably not a coincidence. 
If you're looking for Asana alternatives related to yoga, you're confused and in the wrong place. Try Livestrong or Pinterest. If you're looking for Asana alternatives for project management, we can help.
Founded in 2008, Asana built a solid product and quickly matured into one of the most favored poster children of the project management software world. They've attracted the business of corporate giants, hot startups, STEM companies, and small teams, including the likes of Uber, Samsung, Tesla, United Way, and NASA (that's right, NASA). Some of our employees at TechnologyAdvice even use Asana to share task lists and manage personal productivity.
ALSO READ: Wrike vs. Asana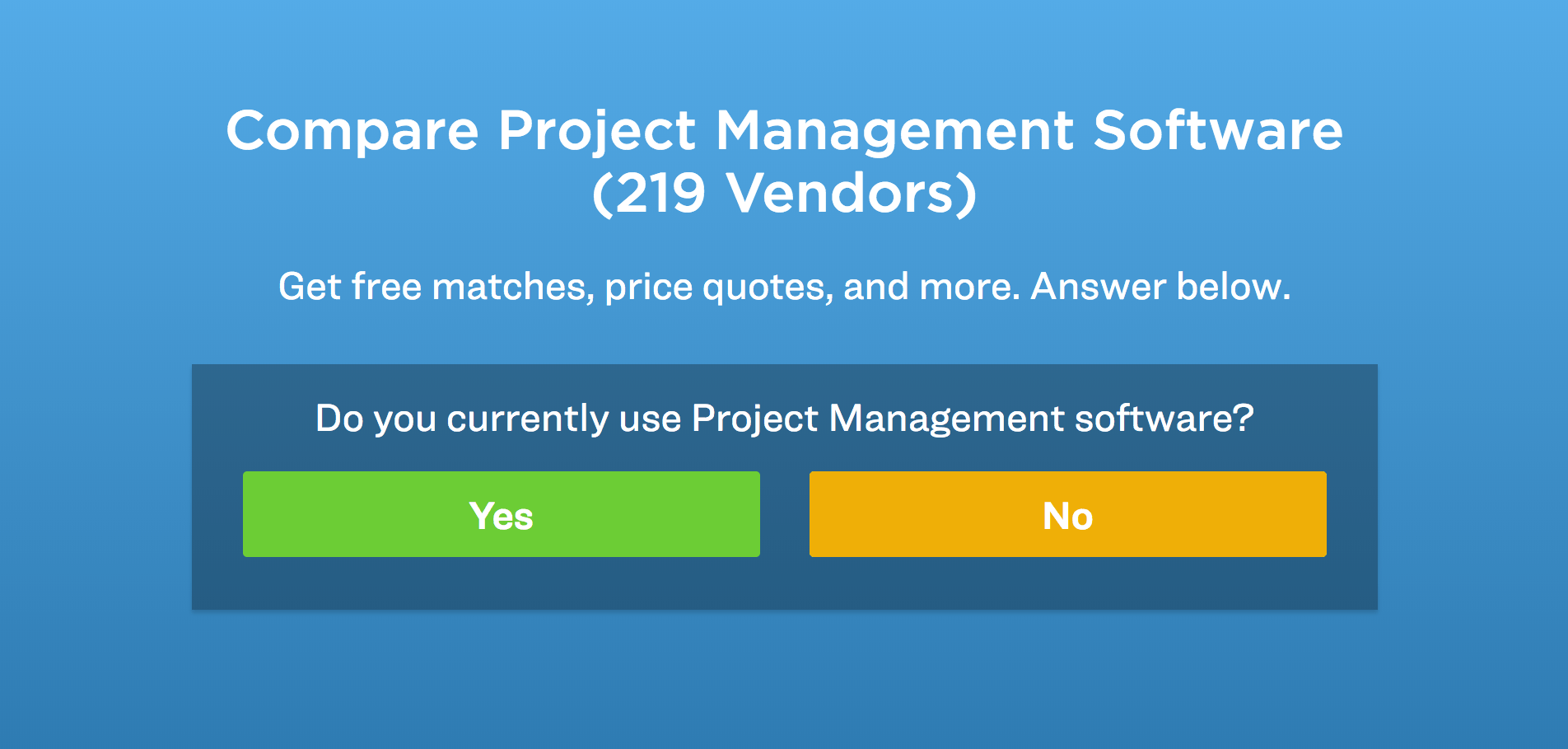 Part of the reason Asana has become so massively popular is that, well, their product is good. Asana is built around tasks and to-do lists. You can create these lists with ease, specify due dates, associate them with projects, and share them with your team. The navigation menu on the left holds all of your projects, and the dashboard shows an overview of your work in progress. Pretty simple, with a low learning curve — for most users, that's the beauty of Asana.  
But then, beauty is in the eye of the beholder. Maybe, for some reason, you don't think Asana is right for your needs. Or maybe you just want to compare all of your options before you make a commitment. In this article, we'll show you five Asana alternatives that offer similar functionality and can accommodate a wide variety of team-based project management needs.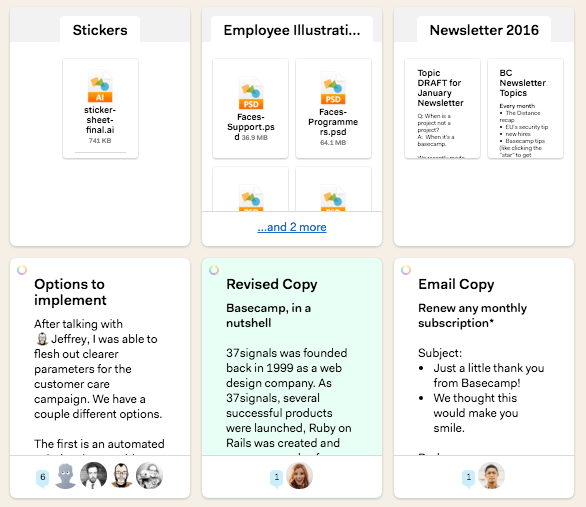 In the interest of showing you products that are actually similar to Asana, this list will prioritize flexibility and ease-of-use. In other words, we're looking for tools that can accommodate any use case and don't take six weeks to set up.
ALSO READ: 6 Basecamp Alternatives for Project Management
Basecamp is a perfect example. Much like Asana, the platform's focus is on task management, file sharing, and team communication. Basecamp also offers a powerful "universal search" feature, so you can find any items you need without clicking through a labyrinth of menus. To collaborate and get work done, you'll create to-do lists, assign due dates and users, add file attachments, and customize your view to keep track of everything (list or card view).
Other notable features include:
Message boards

Campfires (group chat)

Milestones

Automatic check-ins

"Pings" (1:1 messaging)

Notifications

Reports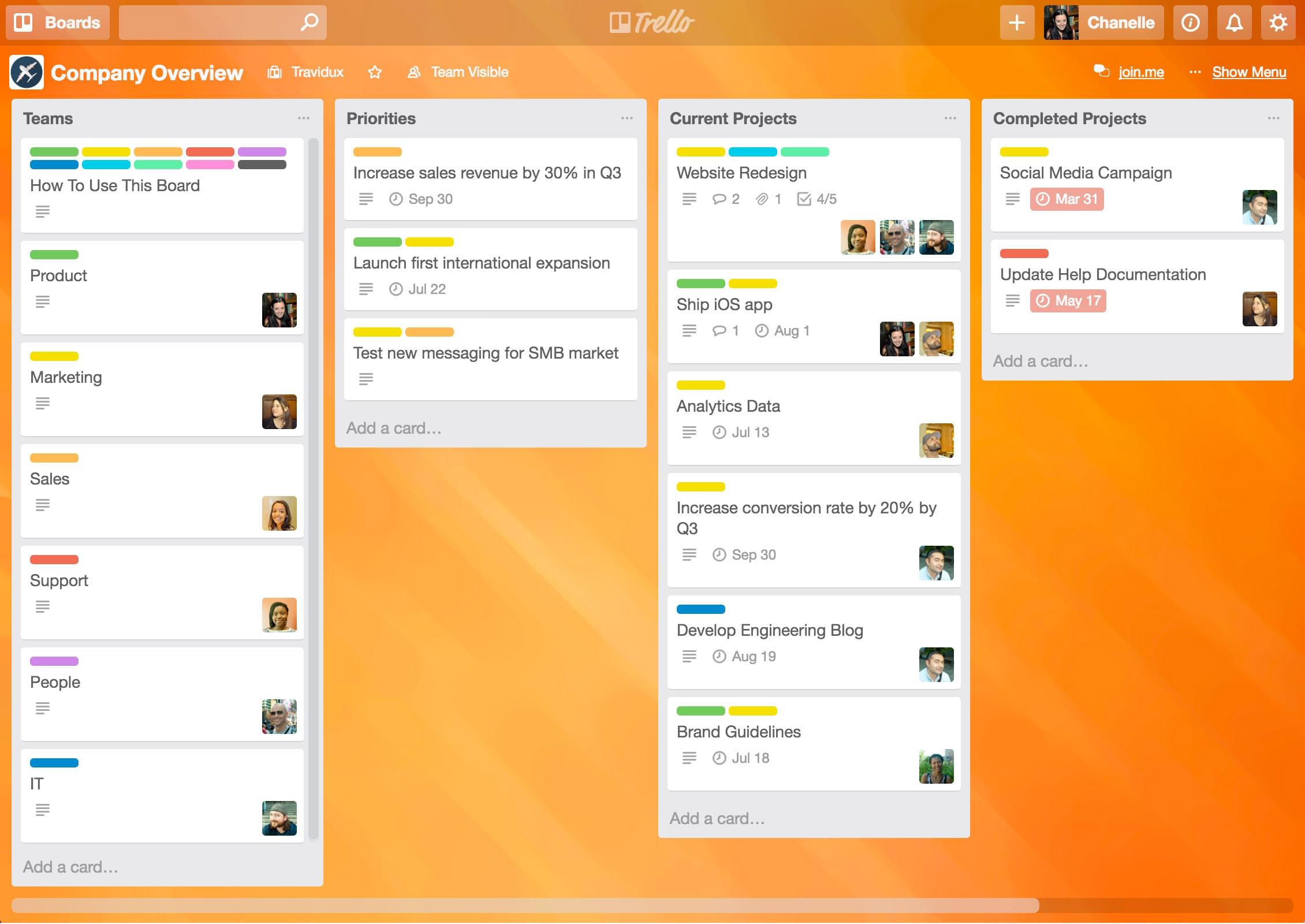 Trello is another perfect example of simplicity meets customization — except, in this case, you'll be dealing with a Kanban system instead of lists.
Trello's project hierarchy is simple: boards, lists, and cards. Boards usually represent a larger, ongoing project, such as an editorial calendar or a bug tracking process. You can use lists to organize specific stages of work in process or specific team members, and cards to track individual tasks. If that's not enough, you can also create checklists within each card, make comments, and add custom labels to improve visibility.
ALSO READ: Trello vs. Asana
Like Asana, Trello's basic version is free and incredibly easy to set up. If you pay for the business-class edition, you'll get access to "power-ups" (i.e. integrations) and additional layers of customization.
Other Trello features include email notifications, file sharing, and native mobile apps.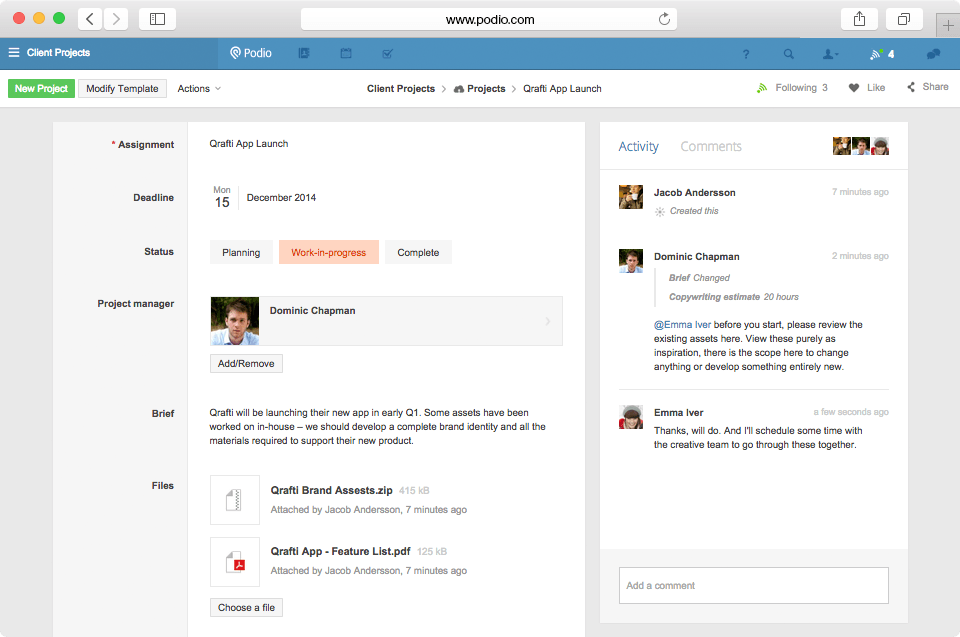 Podio is brought to you by Citrix, the same company behind the legendary video conferencing app, GoToMeeting, not to mention a line of networking solutions. Podio is a "customizable work management solution" designed to help teams organize around content, conversations, and processes.
Podio offers a broader feature set than the first two products on this list, and Asana itself. Perhaps most notably, the platform includes a built-in CRM database, where you can add and manage contacts, build webforms, and track a sales pipeline. Obviously, you aren't going to find the capabilities of Salesforce in a project management tool, but if your sales team wants to organize some of their work into projects, Podio isn't a bad choice.
Users can communicate via integrated chat messaging, public bulletins, comments, or the built-in social intranet. You can customize the information that appears on any of your workspaces (homepage, employee network, etc.) by moving, adding, and deleting "tiles."
Other Podio features include:
Meeting scheduling

Task management

Project deliverable tracking

File sharing

Calendars

Workflow automation

Built-in video chat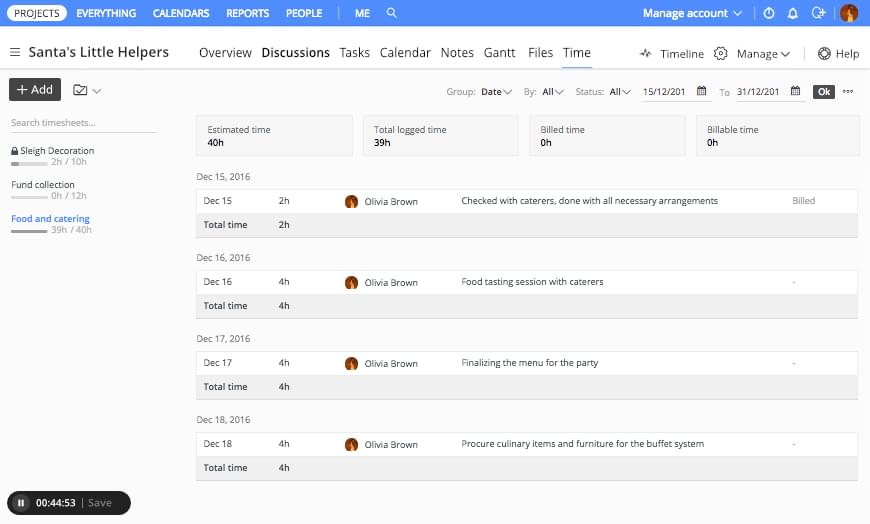 ProofHub is an online tool that leans a little toward the traditional PM school of thought, but still includes most of the features you'd expect from a 21st-century web app. And unlike most of the other tools on this list, that includes time tracking. If you need to clock billable hours for clients or analyze team productivity but don't want to buy a PM tool and a time tracker, ProofHub is worth a look.
Since this platform is a bit more advanced than the Trellos and Asanas of the world, it'll probably take some time to set up. Even so, you can use project templates to get moving without too much initial customization. Team members can collaborate via internal messaging, notes, discussions, and file sharing. Meanwhile, administrators can regulate access with custom roles and monitor progress with activity logs, Gantt charts, and graphical reports.
Additional features include:
Task management

Calendars

Document proofing

Email integration

Advanced search

IP restrictions

Native mobile apps

Whitelabeling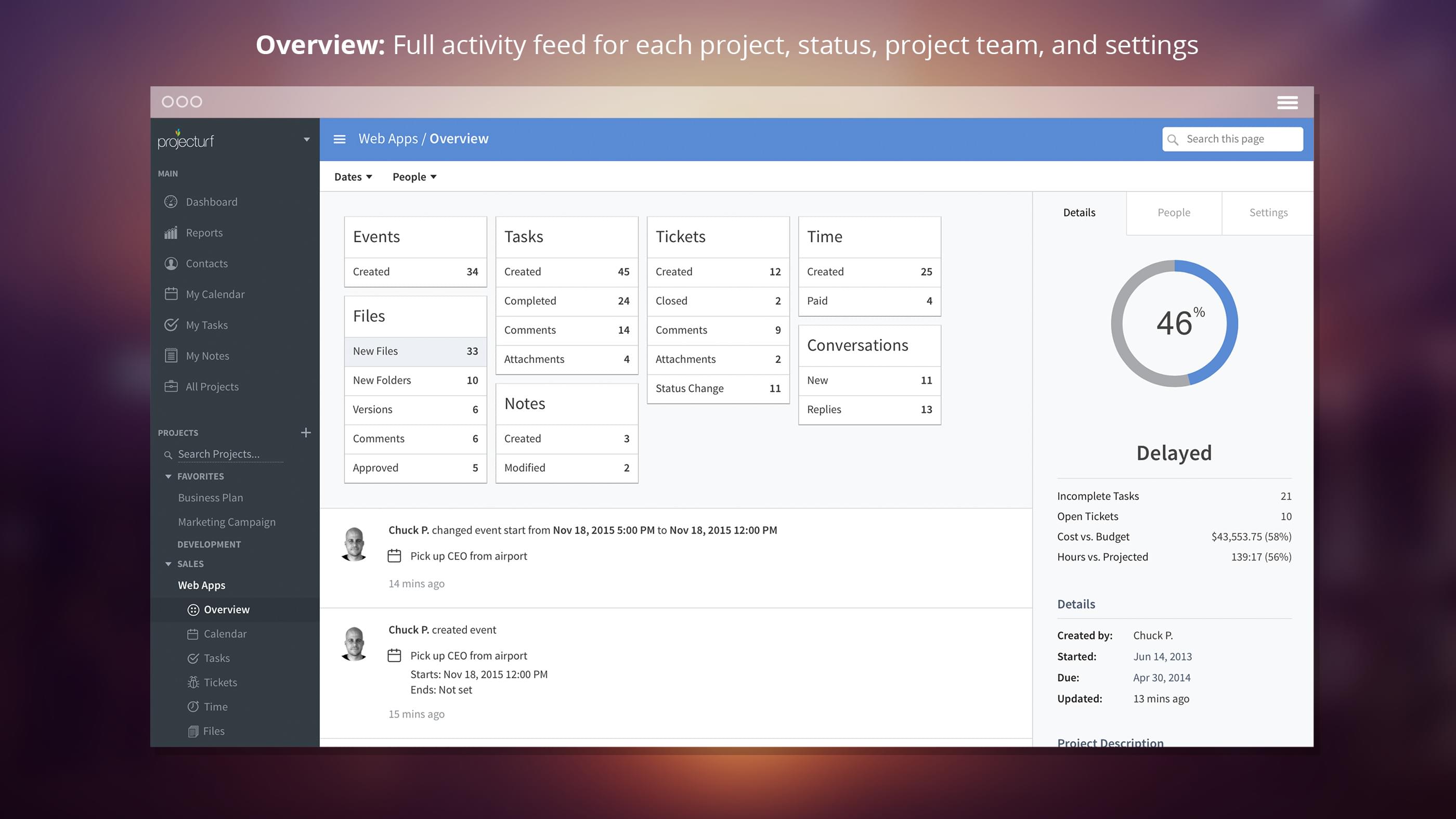 Projecturf is a smaller company (at least, according to my sleuthful LinkedIn reconnaissance), but they've built a solid reputation and large customer base that competes with the best. Their solution can accommodate the project needs of teams in media, professional services, non-profits, education, IT . . . you get the idea. Everyone.
Of all the products on this list, Projecturf probably bears the closest resemblance to Asana, but adds a few functions to court the interests of large companies. To be clear, it isn't a "project and portfolio management" (PPM) solution, but it may be one of the better choices on the list for enterprise use.
The project hierarchy is typical: projects, tasks, and subtasks. In addition to the standard PM fare (tasks, file sharing, comments, calendars, notifications), Projecturf gives customers a real-time activity feed, global views for a quick pulse check, and a contacts tab for storing info about stakeholders and team members.  
Other Projecturf features include:
Time tracking

Collaborative notes

Team management

Event scheduling

Custom reporting
* * *
None of these stand out to you? That's fine. It's totally fine. My feelings are a little hurt, but I still want to help you. You can use our Product Selection Tool to compare other project management solutions and get a custom recommendation based on your needs. Either that, or call one of our Technology Advisors for a free consultation. Good luck.