Key takeaways
From a design perspective, Sprout Social is much easier to look at and use.

Hootsuite favors function over form.
Hootsuite has the edge in reporting, though Sprout Social offers more extras, like social CRM and audience discovery.
Sprout Social vs. Hootsuite is a comparison of two fully-featured social media management tools. These products handle multiple social networks, so deciding between the two isn't just a question of choosing the longest feature list.
To find the advantages of one software over another, you have to look at how they execute their functions. Which solution has the most streamlined publishing? The more in-depth reporting?
Also read: Buffer vs. Hootsuite
To help you answer those questions for yourself, we'll compare Sprout Social and Hootsuite based on dashboards, publishing, scheduling, collaboration, reporting, and integration capabilities. If you want to save time on research, use our Social Media Marketing Product Selection Tool to get a free shortlist of social media management software recommendations. We'll ask you a few questions and then send you suggestions tailored to your needs.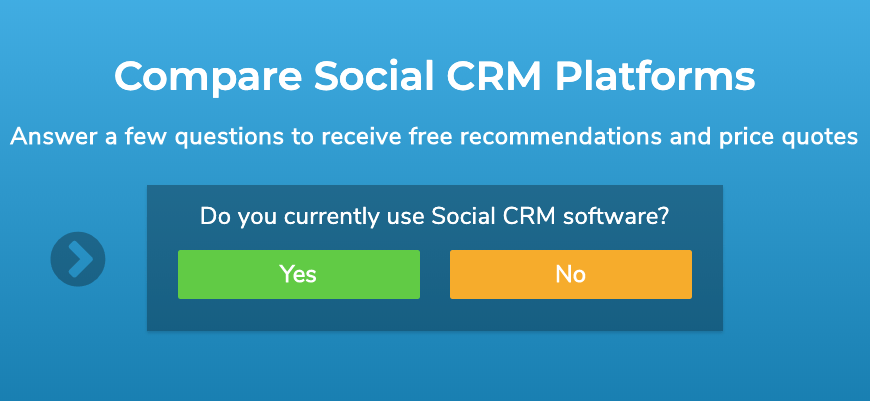 Sprout Social vs. Hootsuite: Overview
Founded in 2010, Sprout Social was built to help businesses and customers communicate more freely. In the six years since its inception, the company has raised over $100 million in venture capital and filed to go public in 2019.
Sprout Social was designed to give businesses an array of functionality while keeping the user experience inviting. Notable customers include Subaru, Ticketmaster, and Evernote.
Hootsuite was founded in 2008 under the moniker BrightKit. Its mission was simple: help businesses manage their social media accounts in one place. BrightKit eventually became Hootsuite, and the company now has 18 million users, over 1,400 employees, and offices in Vancouver, Toronto, New York, Mexico City, London, Paris, Hamburg, Sydney, and more.
Notable Hootsuite customers include Marketo, Mailchimp, SXSW, and GE.
Side-by-side comparison of Hootsuite and SproutSocial
| | | | | | |
| --- | --- | --- | --- | --- | --- |
| Product | Bulk Scheduling | Platform Certification & Training | Social CRM | Chatbots | Optimize Send Times |
| Hootsuite | | | | | |
| Sprout Social | | | | | |
Feed dashboards
Any true social media management tool will aggregate posts from multiple networks. The way the platform displays this information has a significant impact on usability.
Both Hootsuite and Sprout Social aggregate posts in a feed, but the way each product displays the feed is substantially different.
Hootsuite (pictured below) lets users build adjacent feeds across a single dashboard and customize the type of information that each feed displays. That means you can set up a feed for each of your social accounts and create more specific filters on each of those accounts — e.g., posts from Facebook or incoming tweets.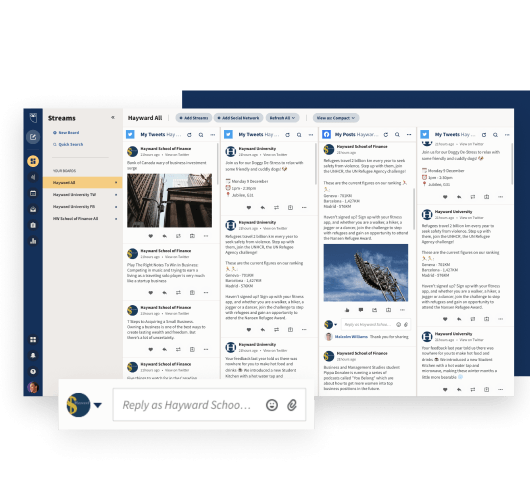 Once you have your feeds set up, you can interact with the content displayed in each one directly from Hootsuite, which makes responding to questions and comments across multiple networks a breeze.
Sprout Social (pictured below) forgoes the multi-columnar approach of its competitor and instead aggregates posts into a single feed. You can customize the information in the feed by checking and unchecking filters, and you can also move to a network-specific view (for example, everything from LinkedIn) with one click. One cool feature of Feeds in Sprout Social is that you can also add RSS feeds to help with sourcing content to share.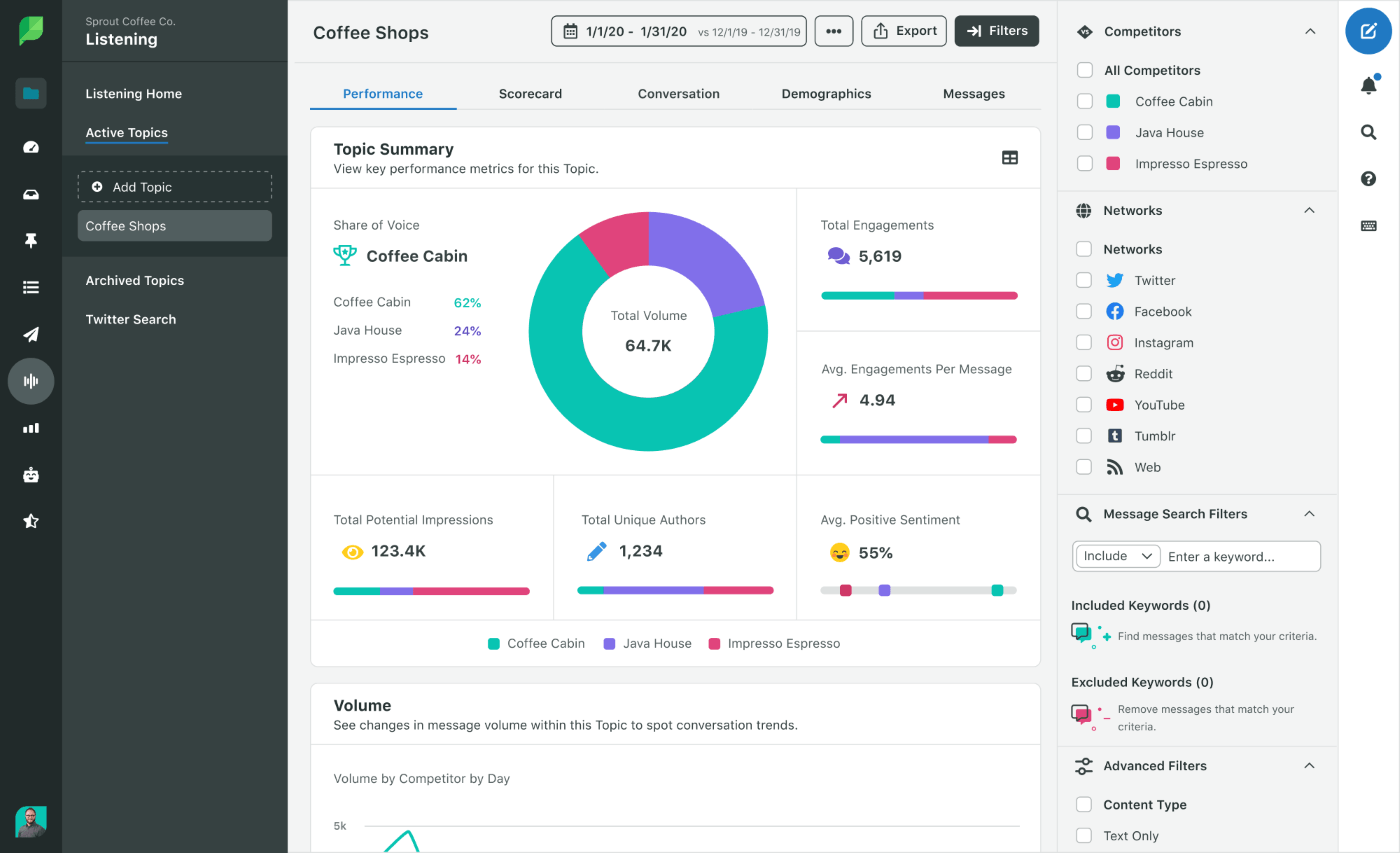 Like Hootsuite, Sprout Social lets you interact with and respond to messages directly from your feed. It also tracks which messages have been responded to and marks them with a green icon to prevent multiple users from responding to the same message. This is a minor feature, but it makes collaboration among team members much less complicated.
Publishing and scheduling
There isn't much difference in the publishing functionality of these two platforms. Both allow you to compose a message, choose which account it comes from, attach photos, shorten links, and choose a target audience from the main feed dashboard.
Both products also offer a draft function, so you can save posts that aren't ready for publication and return to them later. Hootsuite lets you schedule up to 50 posts at once by uploading a CSV file using the bulk schedule tool.
Sprout Social offers some extra data in the publishing department with its audience discovery function, which highlights people or accounts you should follow and spam or bot accounts you should probably unfollow. This is especially helpful for identifying relevant influencers.
Sprout Social also shows a brief history of your conversation with someone on Twitter if you're about to respond to their message. It pulls this data from its social CRM functionality, which is covered in more detail in the Extras section below.
For scheduling, Hootsuite and Sprout Social both offer a content calendar so you can schedule posts ahead of time. If you want to automate your posts, each system can choose posting times for you.
Both platforms also use a proprietary algorithm to decide which times you should post to elicit the most engagement from your audience.
Collaboration
Collaboration in the context of social media software mostly refers to permission settings and publishing approval rules.
Hootsuite lets you assign users one of three roles: super admin, admin, and default. If you want to manage employee Hootsuite accounts, you can apply one of the three permission settings to an entire team. Additional collaboration features in Hootsuite include the ability to assign social media replies to team members. This helps to prevent awkward situations like accidentally responding to customers twice.
Sprout Social offers similar administrative functionality, with permissions set based on a user's role and multi-step publishing approval. Users can also tag any post in the feed as a task and assign it to a person or team.
Tasks are divided into three types: general, sales lead, and support. You can view open and completed tasks under the Task tab.
To ensure two people don't reply to the same post in the feed view, Sprout Social will show when another user is responding to the post. For larger social teams, this feature can save a lot of time and prevent awkward double responses.
Reporting
Hootsuite's overview report divides your social accounts into four views: posts, followers, engagement, and metrics. This provides a broad view of your social channels' performance, but the system also lets users dig into the minutiae of social data points. Hootsuite lets you create custom reports, which you can then export to PDF, PowerPoint, Excel, or CSV files.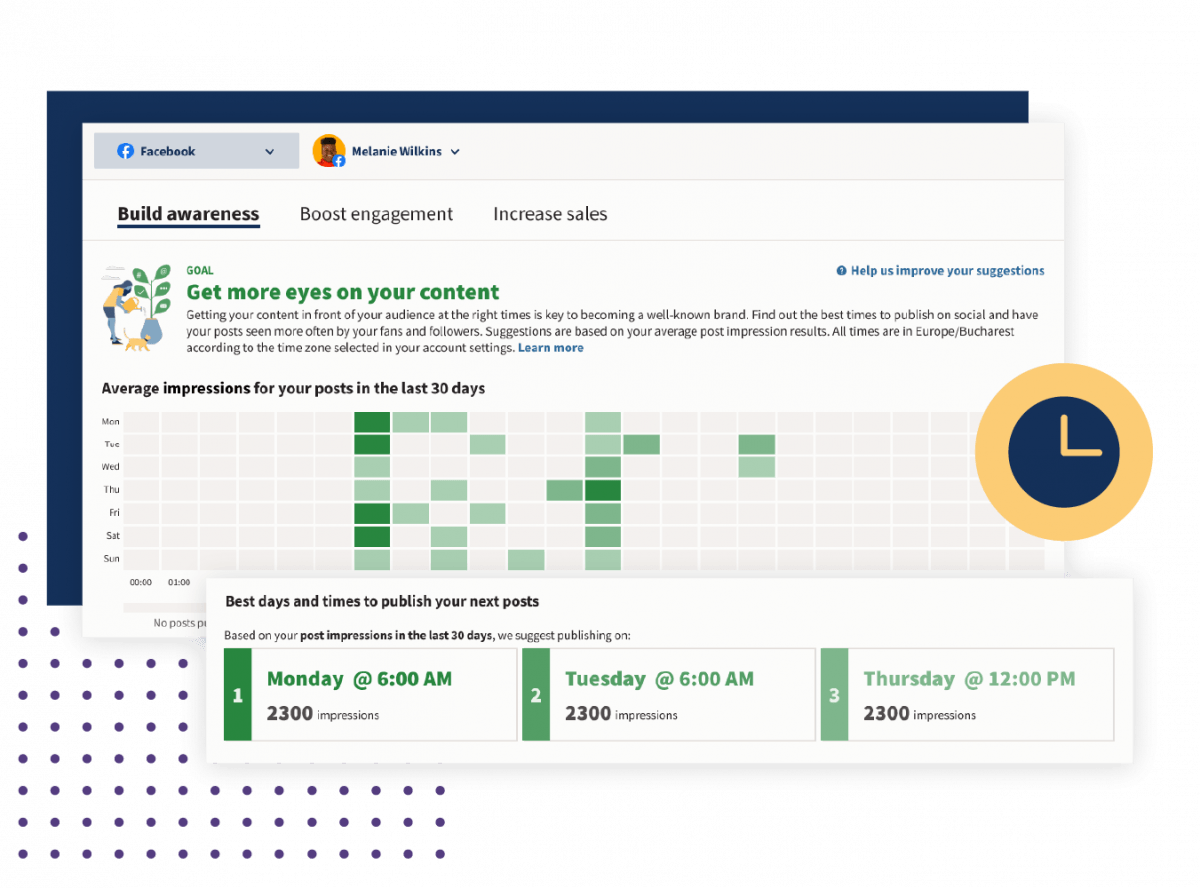 One helpful feature is the chart showing which days and times your posts are getting the most impressions and engagement. This optimizes your post times to drive more traffic. Additionally, the ROI report highlights the impact your social media campaigns have on leads and sales.
With Sprout Social, you can dive into engagement on a single platform, or compare how your posts are performing across all of your social media accounts. Competitor reports help you identify new opportunities for engagement by comparing your social accounts with theirs. The filters and queries also let you create your own custom reports, so you can compare your fall social campaign against the revenue numbers for that period.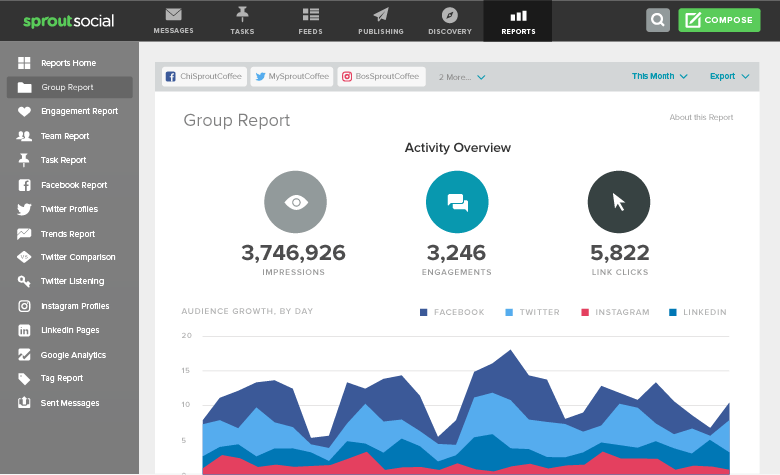 Sprout Social also includes a social listening feature as an add-on that tracks mentions of your brand across the web and pulls them into a single dashboard for review. With awareness of your customers' feelings, you can add, subtract, or alter products or services to meet their needs.
How do Sprout Social and Hootsuite's pricing models compare?
Hootsuite offers four pricing tiers to help you find the right option for your business. The lowest tier only allows one user and is great for small businesses. The base plan lets you schedule multiple posts in advance for up to 10 accounts, offers access to free app integrations, and has a social inbox to respond to customers.
However, the basic package caps your post boost spend at $500, and you won't get access to advanced features like customizable reports or a content library. At the top two tiers, you also get access to special add-ons, like social listening and ad campaign management.
Sprout Social offers three pricing levels, but rather than including a certain number of users, they charge per user per month. For larger teams, this could get cost-prohibitive quickly. The basic platform offers scheduling for up to five social accounts along with a social CRM and review management to read and respond to customer reviews.
For competitor reports, optimal send time scheduling, and advanced reports, you'll need to upgrade to a higher package. Add-ons are available at any plan level and include social listening and premium analytics.
Integrations and extras
Hootsuite has an upper hand in the area of third-party integration.
Hootsuite integrates with Twitter, Facebook, Instagram, Pinterest, and LinkedIn. They also have an app directory stocked with over 150 native integrations — 127 of which are free.
As an extra, Hootsuite users can make a landing page and run social contests and giveaways using the Campaigns function.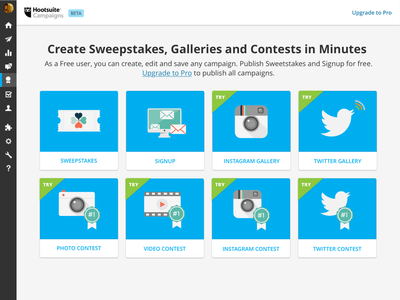 Sprout Social is compatible with the major networks mentioned above and provides native connectors for Zendesk, Uservoice, Google Analytics, Feedly, HubSpot, and TripAdvisor.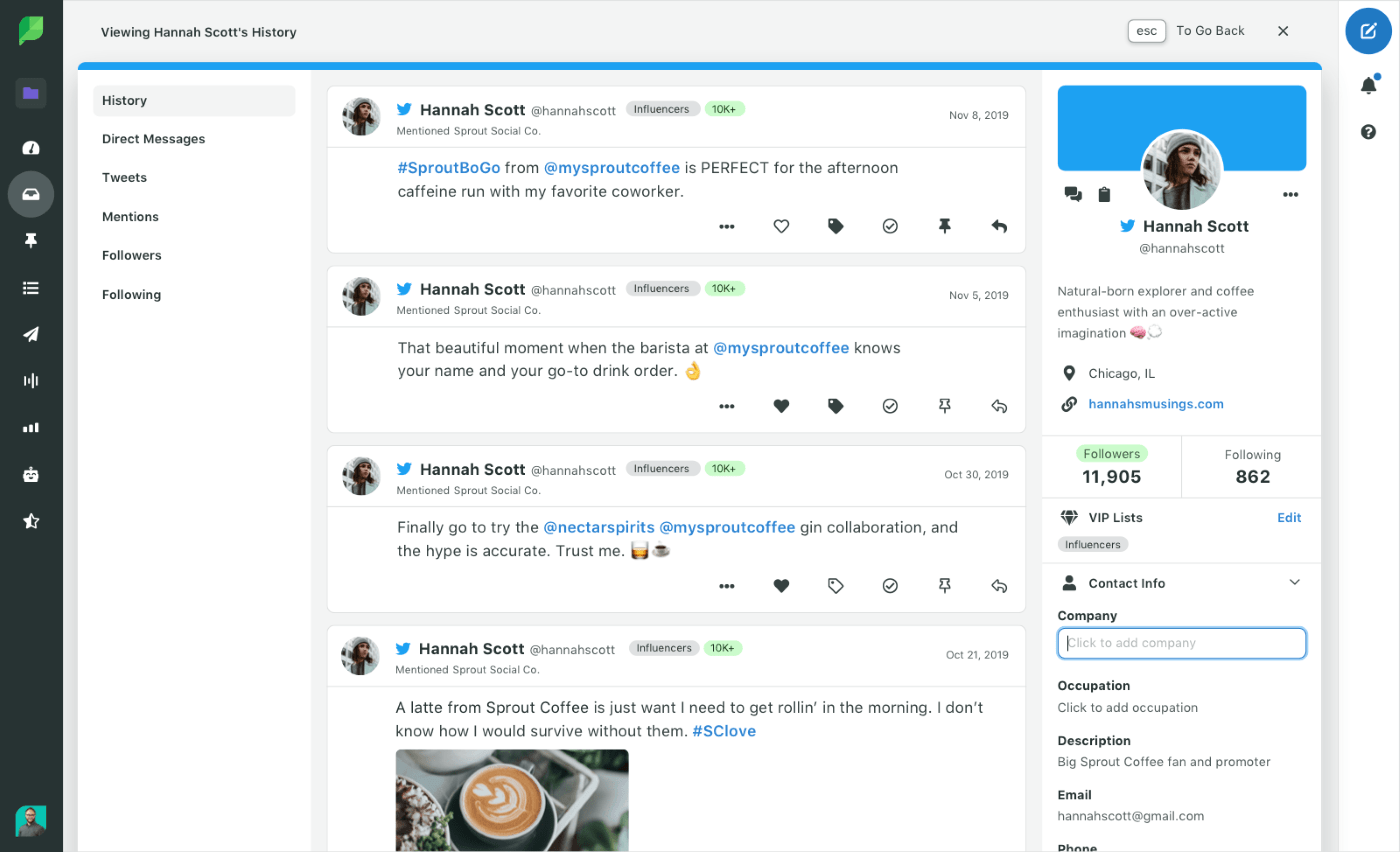 What Sprout Social lacks in integrations, it makes up for in extras — namely, its social CRM. For every account that follows you or that you follow, Sprout Social creates a record that stores interaction history as well as basic contact information. This information can be immensely helpful for salespeople, another way to build marketing and sales alignment.
Should you choose Sprout Social or Hootsuite?
Sprout Social and Hootsuite both license their products in tiered subscription models. Higher tiers are more expensive, but they also unlock more functionality and the ability to track more accounts.
From a design perspective, Sprout Social is much easier to look at and use. Hootsuite favors function over form. Hootsuite has the edge in reporting, though Sprout Social offers more extras, like social CRM and audience discovery.
In the end, it depends on what you're looking for. Both solutions are excellent tools for managing your social media, but the difference lies in which capabilities are most important to your organization.
If you're having trouble deciding, re-examine your requirements. Then use our Social Media Marketing Buyer's Guide to get a free list of personalized vendor recommendations.
---
Technology Advice is able to offer
our services
for free because some vendors may pay us for web traffic or other sales opportunities. Our mission is to help technology buyers make better purchasing decisions, so we provide you with information for all vendors — even those that don't pay us.