Project Management Software
Compare Over 215 Vendors
Do you currently use Project Management software?
What is Project Management Software?
Project management software is a software that helps project managers (PMs) and teams collaborate and meet goals on time while managing resources and cost. Functions may include task distribution, time tracking, budgeting, resource planning, team collaboration, and many more. Project management software is also referred to as Task Management Software or Project Portfolio Management (PPM).
Managing projects has grown increasingly complex over the past decade. Because of this complexity, large projects – particularly information technology undertakings — often finish past their due dates, over-budget, and with a lower than predicted return on investment.
Business professionals often rely on project management systems to help them oversee multiple endeavors. Similarly, companies today can more easily mitigate risk by identifying failing aspects of a project using time tracking software that forecasts completion dates for each phase of the project.
If you're looking for a specific type of project management tool, visit our other project management categories for product overviews, reviews, and to get recommendations:
In this guide, we'll provide a comprehensive project management systems comparison based on common features, and discuss how it can help your business gain a competitive edge. For a more detailed analysis of the best project management software solutions, download our Buyer's Guide.
Market Leader Breakdown
Best Project Management Software 2019
*List based on market share, market presence, company size, and project management software reviews.
Which Project Management software is right for your business?
Common Tools and Features
The term 'project management software' applies to a range of platforms, each with a slightly different mix of functionality. It's crucial that the software you select makes your projects easier to manage, and doesn't add unneeded complexity. The transition should be as smooth as possible. Let's examine the four major pillars of project management, and the commonly available tools on the market.
1. Planning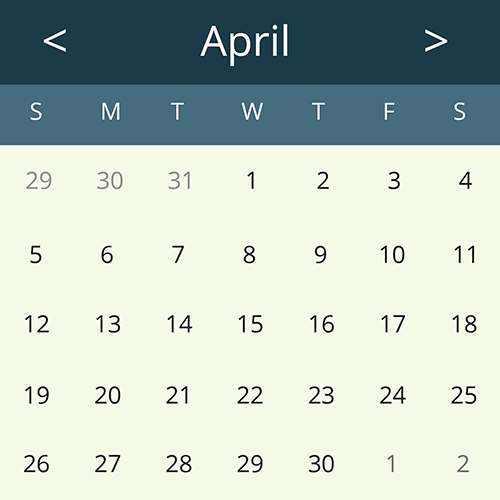 Planning a project first involves finding the team members with the necessary skills, and estimating how much resources a project will need. Additionally, it's of great benefit to both managers and their businesses if they can use historical data from past projects to forecast a completion date, estimate return on investment, and calculate the necessary resources.
Scheduling
Scheduling completion dates for all of the moving parts in a major project helps managers construct a more accurate timeline. Most of this software includes automatic alerts when due dates are approaching, or when a task is not completed on schedule. More robust interfaces include automatic reports that detail how close a project is to completion, based on the number of sub-tasks and goals that have been accomplished.
Timeline visualization is becoming an increasingly popular feature in less technical industries, with the Kanban approach being a prominent example. Kanban project tracking software is derived from a Japanese supply chain methodology called 'lean production.' Kanban lets you visualize tasks or projects via cards on a straight line or vertical funnel, which represents the production line. This lets users see their work, and move their tasks around, as if they were on a bulletin board or whiteboard. The screenshot below is an example of a Kanban interface, from PM software Kanbanize.
Forecasting
Forecasting usually involves extrapolating based off data from previous projects, and can be essential in calculating the ROI of a project before it major resources have been invested. Forecasting takes into account the time spent on each task as well as the resources required to complete each task relative to the organization's budget constraints and revenue goals. These types of tools can also help you predict potential risks and limitations.
Resource Allocation
Similar to forecasting, resource allocation tools help project managers visualize where their business is investing time, energy, and materials. Being able to quickly view the resources dedicated to a project and change them on the fly is an invaluable tool for both planning projects and pivoting during the lifetime of the project. Although it can be time-consuming to enter and set-up a detailed inventory of company (and human) resources, it allows for project managers to anticipate bottlenecks and proactively allocate resources.
2. Tracking and Management
Even the best laid plans will be disrupted over the lifecycle of the project. The bestproject management software provides the proper amount of granularity and monitoring to keep projects efficient and on track.
Time Tracking
As the name implies, time tracking software tracks the amount of time each project contributor spends on their assigned tasks. Besides simply measuring productivity, time tracking software also builds an archive of valuable data that can help businesses forecast completion dates for similar tasks or projects in the future. Time tracking is especially helpful when managing a team of remote or part-time employees. The image below shows the time tracking interface of Wrike.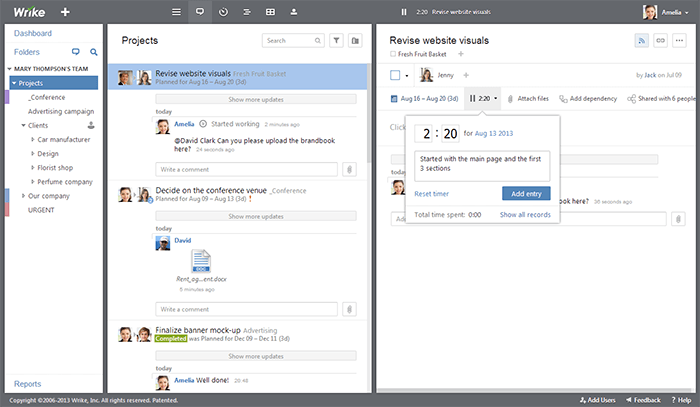 Task Management
Task management refers to the assignment of different responsibilities to various members of the project team. Being able to quickly determine who's contributed to what part of the project lets managers better identify bottlenecks and stay on top of the project's progress.
While the concept of task management is simple, the software can actually be fairly robust. In the case of large, complex projects that span different departments, tasks are very often interconnected or dependent. Certain software platforms geared towards these types of undertakings will feature the ability to assign dependencies to tasks, which helps managers determine where a breakdown in productivity is occurring and assign the necessary resources to fix the problem. Task dependencies are often represented through Gantt charts, such as the one below: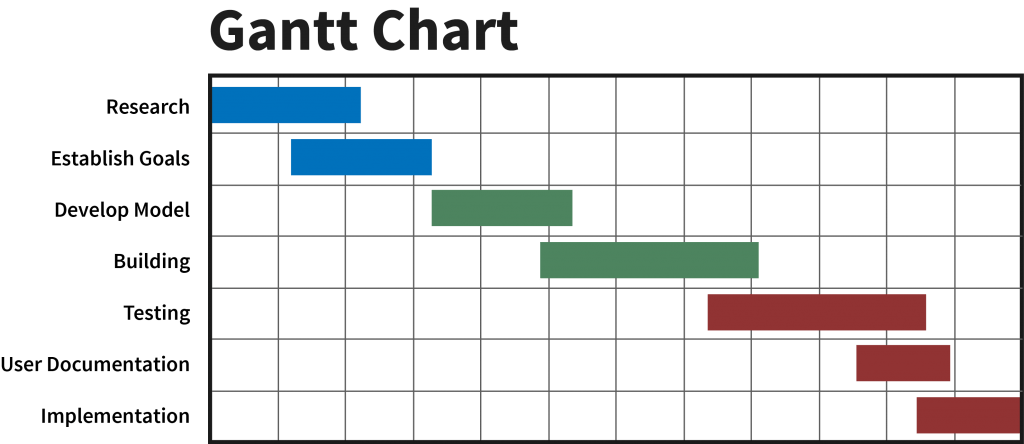 Other common features of task management include notes and tags. Adding notes to a task helps keep track of specific changes to the project or provide references for the strategy associated with each task. Adding tags to tasks makes them easier to filter and find through the PM software's native search functionality.
Permission Settings
Permission settings allow a PM to decide who can view, edit, or change tasks or sections of the software. A key part of managing a project effectively lies in vetting the access of each user on the platform. Judiciously metering out permissions also helps project managers avoid having to track down the sources of unauthorized changes to tasks or entire phases of the project.
Budgeting and Expense Tracking
Although software that budgets for projects, and businesses in general, comes in standalone versions, certain project management platforms include budgeting functions as well as expense tracking. While budgeting software is somewhat self-explanatory, expense and project tracking software can provide PMs with the added benefit of knowing how team members accrue expenses throughout the lifespan of the project. Similar to time tracking, expense tracking provides valuable data that can be used to forecast future project costs.
Analysis and Reports
Analysis and reporting functions let project managers view data in a form other than gantt charts. A robust analysis tool can present metrics around productivity in a visual fashion that makes the information easier to digest. This type of data can be critical to making mid-project pivots. If a particular task needs additional resources or a specific department is moving slower than others, in-depth analysis features will help PMs rectify or leverage the situation.
3. Collaboration
Once projects are underway, keeping the moving parts connected can be the biggest challenge. Collaboration tools help connect different departments, and make it easier to include distributed teams. Extensive collaboration features are more common among cloud-based software than on-premise solutions.
Document sharing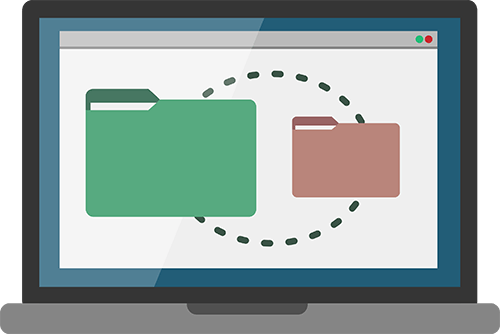 Typically, email is the most popular way to share documents between teams. Unfortunately, this often results in redundant communication as multiple messages are sent about the same issue. The basic structure of email also makes it difficult to find documents.
Software that lets team members share documents can improve productivity and increase efficiency. Many software platforms allow users to upload documents to specific projects or tasks, making it easy to locate resources.
The depth of such functionality varies from the simplicity of a system such as Google Drive, to full-fledged wikis that house all of a project's relevant materials. Some systems rely on message boards that team members can use to discuss ongoing issues or communicate updates.
Comprehensive sharing solutions often feature audit trails that record the history of each task and project. Audit trails let project managers view task progress and investigate challenges that team members may be experiencing.
Internal Messaging
Native messaging and meeting functions strengthen communications between team members. These features come in stand-alone versions, but can also be found in comprehensive or all-in-one project management platforms.
4. IT Project Management
IT projects often require a unique set of best practices and tools to move between stages of completion and offer the right amount of visibility to those involved. To that end, many development, help desk, and QA teams use dedicated IT project management software. Compared to traditional PM tools, IT project management software usually brings a heavier focus on Agile methodologies and a set of features that cater more specifically to developers and product managers:
Bug Tracking: Capture, log, and monitor the status of bugs in a software development project, whether that be an piece of of software for internal use, a customer-facing system, or software sold as a product.
Product Roadmaps: Agile project managers can create roadmaps that help their team see the bigger picture and work toward a common set of goals.
Backlogs/Stories: Create tasks as "user stories" related to a specific feature or issue; team members pull stories from the backlog one at a time to optimize work-in-progress and improve quality.
Subversion/Git hosting: Manage code directly inside the platform, instead of using an external repository.
Choosing a Project Management Software
Ready to start comparing project management software? Our Technology Advisors are here to help you find the perfect tool for your company's projects. Call for a free 5-minute consultation, or fill out the Product Selection Tool at the top of the page for fast, free recommendations based on your needs.
Which Project Management software is right for your business?