Find the Best Marketing Automation Software
Get free recommendations and price quotes. Answer below.
Do you currently use Marketing Automation software?
Compare Marketing Automation Tools Side by Side
Choose from our list of vendors below
TechnologyAdvice Guide to Marketing Automation Software
Marketing automation software is an advanced platform designed to help marketers capture leads, nurture them further down the funnel, and analyze lead behavior and campaign performance. No longer experimental technology, marketing automation tools are now an essential resource for B2B marketing and sales departments looking to grow their business.
While the goals of the two departments are the same, the systems they use are different. Customer relationship management (CRM) software currently functions as the go-to platform for sales departments. By maintaining detailed data on each customer, reps can stay informed of their customer's needs, as well as their position in the sales funnel. And while this is quite valuable to sales departments, CRM software isn't very good at serving the needs of marketing departments. That is to say, it's not good at scaling.The market has responded by producing marketing automation software.
Unfortunately, there are a great number of misconceptions about what exactly this software is and what it does. With so many different marketing automation tools on the market today, it's important to have an understanding of what they offer, as well as how they differentiate themselves from one another. This guide will begin by defining the technology, and then walking you through the most common features, prominent players, and trends in the marketplace. We'll also provide practical tips to help buyers choose the best marketing automation software for their team.
What is Marketing Automation?
Marketing Automation software (popular examples include Pardot, Hubspot, Eloqua) is designed to help marketers capture leads, develop relationships and move prospects through the sales funnel at scale. This includes several categories of functionality: email, social media, web marketing, and analytics. Marketing automation is an out-of-the-box method for harnessing customer data from multiple sources and developing strategies and tactics that work across different mediums.
While marketing automation does automate some processes, this software doesn't turn your brand into a robot. At least it shouldn't. Marketing automation simply lets you scale your efforts to build relationships with prospects across different channels to provide them with a consistent experience. And when you properly segment your audience, this technology actually allows you to build more meaningful relationships with your prospects by providing them with content that's relevant to their interests.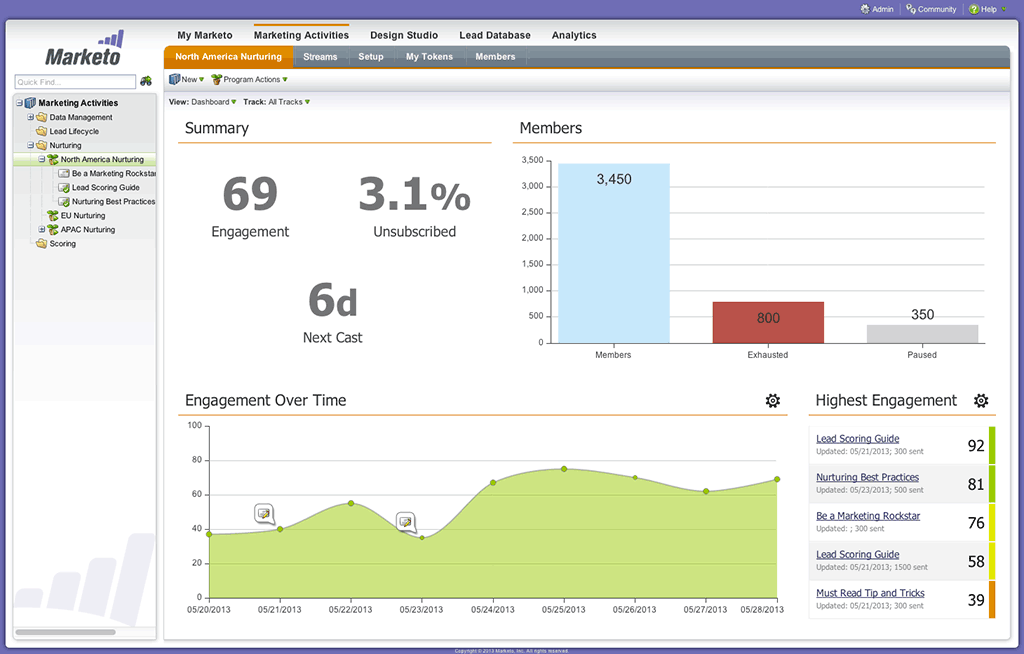 Marketing Automation Dashboard Example (Marketo).
---
Best In Class Overview
Best Marketing Automation Tools (by Specialty)
---
Common Tools
While CRM and MA software are inherently different, they do share some characteristics, namely the expansive amount of features that can be placed under each software. MA software is essentially more specialized, but can appear as a subset of CRM platforms in certain cases.
Regardless, the common features do exist in this market, and can be classified in the following ways.
1. Email Marketing

Email is one of the oldest forms of digital communication, but remains extremely effective. Although consumers have grown somewhat jaded to email marketing due to marketers' past and continued abuse of the medium, email remains one of the most effective means of communicating with your audience. This makes it an excellent starting place for marketing automation.
Email functionality is one of the core components of what marketing automation vendors offer, and every decent platform should include features that allow you to, at the bare minimum, send emails en mass to segmented audiences. More advanced platforms will send triggered emails after prospects take certain actions, such as filling out a form or downloading a piece of content. Creating, editing, and imbedding forms is another common marketing automation feature.
Basic
These features should come standard with most solutions, and should provide a good checklist for readers looking for a basic marketing automation software comparison.
Segmentation and Batch Emails
All marketing automation vendors include on their platforms functionality that allows users to send emails en mass to segmented groups of customers. Templates and a native email design are also common features. It should be noted that all of these functions make your marketing efforts more personal, rather than less.
By segmenting your prospects and communicating with each group in a way that's relevant to their interests, you're building trust. Robots don't do that (yet).
Follow Up Emails
Also known as trigger emails, this feature lets you set up an automated response email that prospects will receive once they take a certain action, such as downloading content or completing a form. Follow up emails offer your audience reassurance by confirming that their action was noticed by your organization, and that you are currently in the process of responding to their request.
Forms: A form creator gives you the freedom to create and edit your own email marketing forms. Forms are excellent methods for finding out more about your audience, or for driving engagement with a contest or promotion.
Advanced
These features offer users more advanced functions, and may not be found in every MA platform.
Personalized emails
More specifically, this feature lets you personalize the "from" section on your emails. Depending on the market, it's becoming more common to send emails with the name of a specific person in this section because it adds a human element to your marketing efforts. Another example of how to be a friendly human.
Split Testing
Synonymous with A/B testing, this email tool lets you run two different versions of the same email campaign. Once the campaign has run its course, you'll be able to tell which tactics were most effective. This could include design elements (such as color and button placement), or subject matter.
Mobile Optimization
Given the increasing prevalence of smartphones, the case could be made for moving this to the basic section. However, mobile optimization hasn't achieved ubiquitous status in the market yet, despite the fact that a significant number of people primarily check email on their phone.
2. Lead Nurturing
Lead nurture is a feature offered by some of the best marketing automation software tools. It helps companies track, segment, and communicate with leads in order to convert them from a prospect to a paying customer. Here are the basic and advanced lead nurture functions found in MA programs.
Basic
Lead Database
Similar to a CRM database, a marketing automation database offers an in-depth perspective of prospect behavior. It tracks common data, such as customer behavior on your website, in your email campaigns, on social media, and so forth.
Drip Campaigns
An example of a drip campaign builder from Eloqua.
The main form of moving prospects down the funnel, drip campaigns involve sending various types of content to prospects in order to encourage them to trust your organization, and thereby move them down the funnel. Drip campaigns are automated, and the content sent to prospects is meant to nudge the lead in a specific direction.
The best drip campaigns are set up as a logical progression from one action to the next. Did your prospect download a certain type of content from your website? The next step in the drip campaign is to follow up with an offer regarding that type of product, or with even more content about that same technology.
Drip campaigns most commonly occur through email, but they can also be expanded to social media.
Task and Alert Automation
A common overlap between CRMs and MA software, the automated alerts regarding tasks, such as a reminder of when to send out an email campaign or when to post about an upcoming webinar on social media, help keep you up to date with your marketing efforts and ensure you don't miss any opportunities.
Advanced
Segmentation
Quality segmentation that takes into account demographic information, professional details, and online behavior is the key to deliver relevant content to each individual prospect. This features relies heavily on lead score functionality.
Lead Scoring
Lead scoring is a methodology for ranking potential customers by their potential to convert into a lead. Each user's score determines the type of communication they receive from the organization, the frequency of that communication, and the department from which that communication originates. Lead scoring often combines demographic information along behavioral information, such as website activity, past purchases, and social media actions.
Lead scoring plays a huge part in determining the way organizations interact with prospects. Advanced lead scoring methodologies take into account recent behavior, and automatically adjust scores accordingly. A high lead score can be used as a reliable indication of buying intention, which can help your sales team determine what type of offer to make.
3. Social Media
Social media monitoring in HubSpot.
While certain standalone applications like Hootsuite and Buffer could be considered marketing automation, larger platforms will include many of the same message-scheduling features found such standalone platforms. MA software also often features social analytics tools that allow you to track what your audience is saying across social platforms, as well as who shares your content and with whom.
Additional social capabilities of this technology include creating polls, sweepstakes, and referral programs using a tool that's native to your MA platform. Event triggered capabilities also allow you to prompt prospects to share content at precisely the right time while they engage with your content.
4. Analytics and Reporting
After being able to scale concerted marketing efforts to larger audiences, getting in-depth analytics is the greatest benefit of automating your marketing efforts. Common analytics include measuring online website activity, which gives you a clearer view of your most effective messages and your most valuable content. Other common measurements include landing page performance, as well as medium and campaign attribution – which tracks and segments your web traffic sources.
More advanced software will include features for measuring SEO keyword analytics, which lets you know how your content and website are ranking in major search engines for specific queries. Additionally, some products enable you to measure ROI by campaign, and track metrics such as invested capital related to prospects, and revenue generated. Certain systems even go so far as to quantify the cost it takes to move leads through each phase of the sales process.
Broader Adoption Trends
Despite the surge of data and the increasing complexity of digital marketing, only an estimated 16 percent of B2B businesses are using marketing automation, according to SiriusDecisions. The lone industry where marketing automation has a solid foothold is Information and Technology, which boasts an adoption rate of around 65 percent. In other industries, the adoption rate is as low as two percent.
Although marketing automation is undoubtedly complex, it offers a number of substantial benefits at reduced labor costs. As digital marketing becomes increasingly complex and fragmented, adoption of marketing automation solutions will undoubtedly rise.
Making Your Final Decision
Selecting the best marketing automation software can be difficult. The right integrations, the specific A/B testing functions, the strength of reporting — there's a lot to consider and a lot of boxes to check.
You can use the Product Selection Tool above to compare marketing automation tools based on features, integrations, company size, and more. Have questions? Call one of our in-house Technology Advisors for a free, unbiased consultation.