Employee engagement software's recent surge in popularity comes as no shock since keeping employees engaged and listening to employee feedback is a great way to lower employee turnover. To help you sift through the many options out there, we rounded up some of the best employee engagement apps & solutions below. Read on for more info on employee engagement software, or use our Product Selection Tool at the top of the page to request your free, personalized software recommendations.
first

Product

Culture Amp

Features

TA Rating
5/5
360 Degree Feedback
Yes
Performance Management
Yes
Employee Awards
No
Mobile App
No

Culture Amp is an employee engagement software that helps managers uncover drivers for employee engagement within their organization.

first

Product Trakstar

Features

TA Rating
5/5
360 Degree Feedback
Yes
Performance Management
Yes
Employee Awards
Yes
Mobile App
No

Trakstar is a cloud-based employee engagement software that lets employees and managers work together to manage goals, share feedback, and view progress.

first

Product 15Five

Features

TA Rating
4.5/5
360 Degree Feedback
Yes
Performance Management
Yes
Employee Awards
Yes
Mobile App
Yes

15Five is an employee engagement software vendor that lets companies send pulse surveys, conduct quarterly reviews, monitor goal progress, and more.

first

Product Kudos

Features

TA Rating
5/5
360 Degree Feedback
No
Performance Management
Yes
Employee Awards
Yes
Mobile App
Yes

Kudos is an employee engagement software that lets managers harness the power of peer recognition, feedback, and surveys.

first

Product Fortay

Features

TA Rating
4.5/5
360 Degree Feedback
No
Performance Management
No
Employee Awards
No
Mobile App
No

Fortay is an employee engagement software that sends five-minute surveys to employees and gives teams an engagement pulse score.

first

Product TINYpulse

Features

TA Rating
4.5/5
360 Degree Feedback
No
Performance Management
Yes
Employee Awards
No
Mobile App
No

TINYpulse is an employee engagement software that sends one quick question to employees every week.

first

Product Officevibe

Features

TA Rating
4.5/5
360 Degree Feedback
Yes
Performance Management
No
Employee Awards
No
Mobile App
No

Officevibe is an employee engagement software that lets employers send pulse surveys that focus on 10 key metrics.

first

Product

Qualtrics

Features

TA Rating
3.5/5
360 Degree Feedback
Yes
Performance Management
Yes
Employee Awards
No
Mobile App
Yes

Qualtrics Employee Experience is an employee engagement software that helps managers identify productivity drivers to increase productivity and profit.
Table of contents
What is employee engagement software?
A subset of HR software, the best employee engagement apps & software can combine the most useful parts of survey, task management, gamification, and data analytics tools to give managers insight into how they can retain employees and keep them highly engaged in their work. Some HRIS systems or performance management software platforms include employee engagement features, but employers can also purchase employee engagement tools as stand-alone solutions.
According to a 2020 Gallup survey, companies with a high employee engagement rate see an 81% decrease in absenteeism, a 41% decrease in turnover (for low-turnover industries), and a 64% decrease in accidents — all metrics that are directly correlated to productivity and revenue growth. But employee engagement means different things for different organizations. Some companies value its potential for increasing sales, while others see employee engagement as a means of decreasing turnover or increasing the efficiency of training.
A software with the right features will help your company learn to identify an engaged employee, grow employee performance across your departments, and deepen your company's employee feedback culture. Employee engagement tools employ gamification, employee feedback, and data analytics in your workplace to improve employee morale, performance, and retention.
Features of employee engagement tools
The best employee engagement apps and software allow employers to request feedback from employees, analyze employee survey results, and set goals for improving employee engagement. An employee engagement software platform equips managers to do this through features that improve employee performance in multiple ways and across several priorities that contribute to the company's overall engagement strategy.
Pulse surveys
The number one way employee engagement tools helps managers measure employee sentiment is through pulse surveys. These are surveys that managers and the HR team can send to employees at regularly scheduled intervals to keep tabs on important metrics throughout the employee lifecycle.
While continuous feedback would produce too much data for the HR team to sift through, pulse surveys give teams a dedicated time every week or month to understand the team's engagement level. Survey results can be used for internal analysis or published when identifying a new engagement program.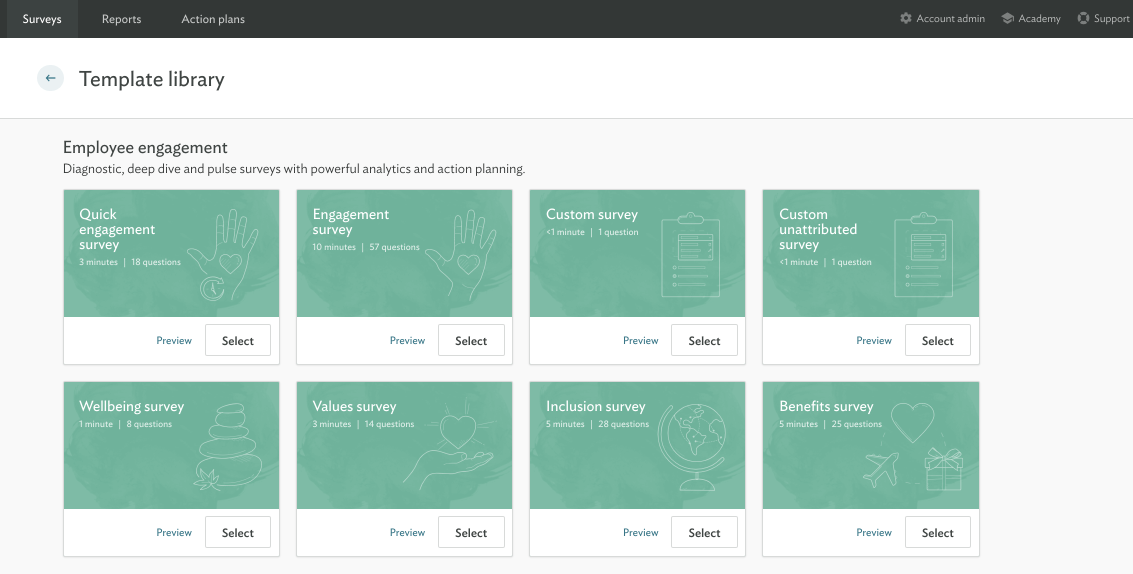 In Culture Amp, users can send weekly pulse surveys to see how employees are feeling about the metrics that move the company. Culture Amp offers a library of engagement survey templates for users to choose from, or users can create their own pulse surveys.
Survey customization and segmentation
Most employee engagement surveys let managers write their own questions in addition to a few free response questions. Employees can answer survey questions by selecting a choice on a scale of 1-5, by choosing a range of satisfied to dissatisfied, or by typing in custom responses.
Managers can send pulse surveys to the entire organization or segment surveys by department for more defined feedback. These employee engagement tools can identify engaged employees, surface actionable insights for the HR time, or define issues to bring up in the next performance review.
In Qualtrics Employee Experience, managers can create custom surveys to send out to employees for feedback. These surveys can be targeted at groups or individuals, and the answers can be anonymized and filtered into different groups for analysis.
Goals, KPIs, and priorities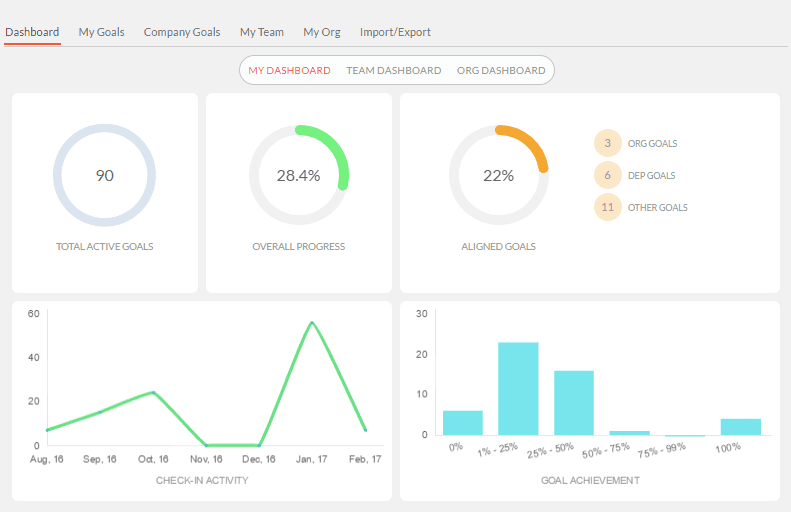 Some employee engagement solutions let employees set goals for the upcoming period, define key performance indicators (KPIs) that show progress toward that goal, and identify company-wide priorities.
Employee engagement tools give the managers and peers a visual understanding of the employee's major focal points for any work period, help align employee feedback with new goals, and provide actionable insight into next steps to complete their goals. Employees can mark goals as complete or incomplete, update their progress, and hold themselves accountable to the goals. Some systems allow employees to comment on goals if complications arise or priorities shift.
Goals, KPIs, and company priorities are a major part of a greater talent management strategy to help managers drive employee communication and ultimately achieve company goals.
Employee recognition and gratitude
People love being recognized for good work, and research shows that setting aside time to practice gratitude makes people happy. Employee engagement features capitalize on these facts through peer recognition and gratitude tools. Some employee engagement apps even provide employee reward systems where an employee can cash in digital recognition points for material incentives like gift cards.
This feature may go by different names depending on the platform you choose, but consistent employee recognition and gratitude practices can improve the company culture and even increase employee retention.
In Kudos, users can show appreciation to fellow employees by selecting from a variety of statements such as "Thank You," "Good Job," and "Impressive." You can also give awards, badges, and certificates, recognize birthdays and work anniversaries, and send a video recognition.
Survey templates
Writing surveys is hard, and it becomes even more difficult to come up with thought-provoking employee engagement survey questions for a weekly pulse survey. It can be challenging to come up with original questions, to word questions in a way that doesn't skew results, and to write questions that get to the heart of what you want to know. This is why so many employee engagement apps offer libraries of survey templates, often written by psychologists and data scientists.
Use survey templates to write questions in your company employee voice, provide custom questions for frontline employees or those in high-turnover positions, or just to change up your pulse survey cadence.
Long term progress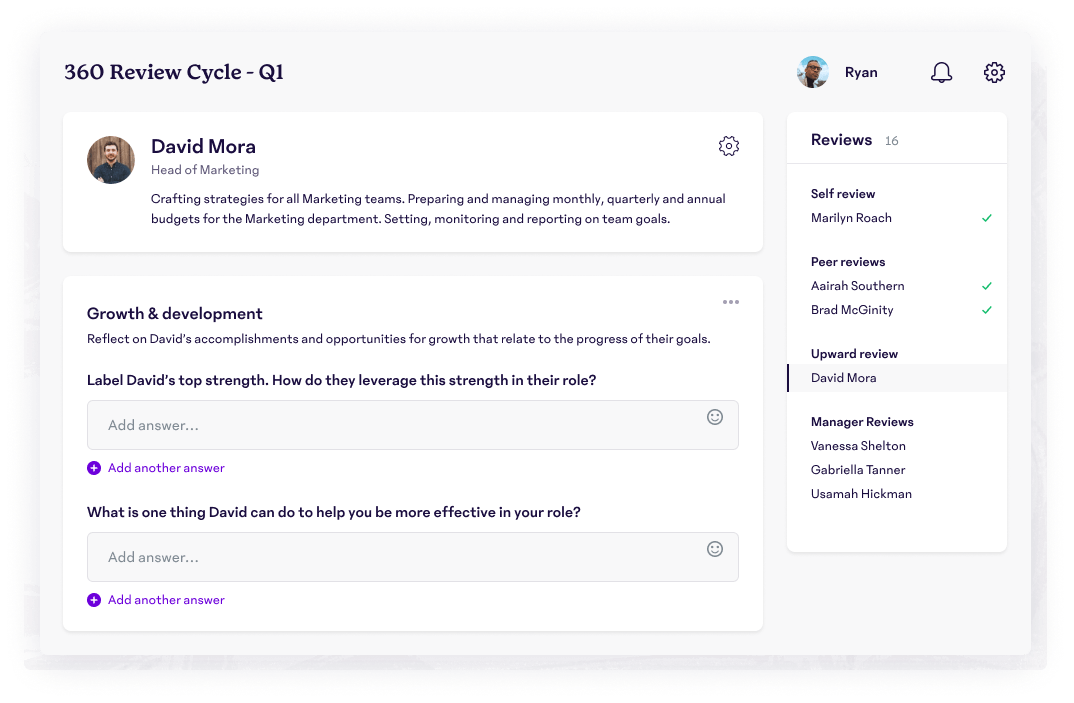 Managers use feedback tools to conduct regular temperature checks on the organization and improve internal communication, but this doesn't mean they can only focus on short term objectives with employees. Managers can also use employee engagement apps to define long term goals with employees and track employee progress and instill a workplace culture of continuous improvement. HR professionals and managers often use this feature to help all employees with professional development. They can also access analytics features that show progress over time and integrate with other business systems to identify areas for growth.
In 15Five, managers can fill out quarterly performance reports to help employees reach their long term goals. Team leaders or department heads can also set team-wide, department-wide, and organizational goals to keep everyone on the same page and to increase transparency within the company.
Reports and dashboards
While employees won't usually have access to them, most employee engagement tools let managers and HR staff analyze company-wide trends through reports and dashboards.
Managers can use this feature to view employee engagement rates, pulse survey completion rates, engagement rates by department, and even employee net promoter scores (eNPS) in some cases. Many products also connect employee data with HR, business intelligence, or predictive analytics software types to better understand how engagement affects revenue.
Notifications
Many employee engagement tools include automatic notifications. These tools can be used to remind people to complete pulse surveys and to notify them when they're recognized by co-workers. Instant gratification via feedback reinforces positive behavior, making employees more likely to improve over time as they use the employee engagement system.
Mobility
Though not a feature of the software itself, most employee engagement platforms now offer mobile applications. After downloading the mobile employee engagement app, employees can complete pulse surveys on the go. Which is a particularly attractive employee engagement app option for companies that manage large numbers of remote employees or employees who travel often.
Benefits of employee engagement software
Employee engagement software measures how committed employees are to their jobs, which is also an important metric for forecasting business success. Improving employee engagement translates to real dollars and cents in the form of increased wellbeing, lower employee turnover, improved customer experience, and less wasted time.
Who uses employee engagement software?
While businesses of all sizes benefit from using employee engagement software, medium to large sized businesses might realize better results than small businesses. Employees at small businesses often interact closely with co-workers and managers throughout the week, but in medium to large businesses, staying in regular contact with stakeholders becomes harder by several orders of magnitude. Employee engagement tools help bridge the gaps spanning departments and larger teams.
Companies with distributed workforces also reap benefits from employee engagement apps. Remote workers can feel isolated from the rest of the company, which leads to poor engagement rates and even reduced employee wellbeing in some cases. A good employee engagement platform in conjunction with regular check-in meetings can boost engagement among remote workers.
Top employee engagement vendors
Culture Amp
Industry rating: 4.9/5
Culture Amp is a top-rated employee engagement platform that lets managers send pulse surveys to employees, analyze results through analytics and action planning, and conduct performance evaluations, 360 reviews, and more.
---
Trakstar
Industry rating: 4.8/5
Trakstar is a cloud-based electronic performance appraisal solution with a bevy of features to support your HR department and help your managers provide feedback to their direct reports. Learn more
---
15Five
Industry rating: 4.6/5
15Five is a continuous performance management solution that helps employees grow and develop, in just 15 minutes each week. Learn more
---
Kudos
Industry rating: 4.6/5
Kudos has created an employee recognition system and corporate social network that empowers managers and employees to give meaningful recognition in real time. Learn more
---
Fortay
Industry rating: 4.5/5
Fortay is a data-driven "culture scaling" solution that helps leaders keep their organizational culture intact as they scale for growth. Learn more
---
TINYpulse
Industry rating: 4.5/5
To help company leaders understand how to make their employees feel engaged, inspired, and committed, TINYpulse provides a communication platform for workers to share their anonymous feedback. Learn more
---
Officevibe
Industry rating: 4.5/5
Officevibe offers a continual feedback system to help promote better employee morale, increase productivity, and reduce turnover. Learn more
---
Qualtrics Employee Experience
Industry rating: 4.3/5
Qualtrics Employee Experience gives managers real time insights into employee experience to help them identify opportunities for improvement and productivity drivers.
How to choose the best employee engagement solution
If you're unsure about which employee engagement tool is right for you, don't worry — TechnologyAdvice has your back. Our knowledgeable Technology Advisors will provide you with a free, no-hassle shortlist of the best employee engagement apps & software for your company's needs. Complete the form in the sidebar or at the top of the page to get your free software recommendations today!
Have questions? Our team of experts is ready to help! Give us a call at 877.702.2082.
Which Employee Engagement solution is right for your business?